On October 29, CSTONE Pharmaceuticals announced that it has reached a licensing agreement with LegoChem Biosciences to obtain the sole license to develop and commercialize LCB71 outside of Korea. LCB71 is an antibody-conjugated drug (ADC) targeting ROR1. The total amount of cooperation can exceed US$360 million.
Coincidentally, a week later, on November 5th, Merck & Co., Inc. and VelosBio jointly announced that the two parties have reached an agreement that Merck & Co., Inc. will spend US$2.75 billion to acquire VelosBio. VelosBio is a biomedical company dedicated to the development of "first-in-class" anti-cancer therapy targeting receptor tyrosine kinase-like orphan receptor 1 (ROR1). Its main product under research, VLS-101, is an antibody-conjugated drug (ADC) targeting ROR1. It is currently being used in a phase 1 clinical trial and a phase 2 clinical trial to treat blood cancers and solid tumors.
So what exactly is ROR1? Why is this target so popular with Merck and CStone? Continuing to read this article, you will find answers to above questions. This article contains the following parts:
1. What is ROR1?
ROR1 is a member of the receptor tyrosine kinase-like orphan receptor (ROR) family, which belongs to the receptor tyrosine kinase (RTK) family. Unlike the ROR family of nuclear receptors, ROR is a type of membrane receptor. They are closely related to the tropomyosin-related kinase receptor family (tropomyosin-related kinase, Trk), skeletal muscle specific tyrosine kinase-like receptor family (muscle specific knase, MuSK) and neurotrophic factor esterine kinase receptor family (NT-RTK). Since the ligand of the ROR protein was unknown when it was first discovered, it was defined as an orphan receptor [1].
ROR2 is another member of the ROR family, and the amino acid sequence homology between ROR1 and ROR2 is 58%. Among them, ROR1 contains two subtypes: complete cell membrane receptor type ROR1 and truncated variants. Truncated variants are mainly divided into two subtypes, including membrane-bound ROR1I without extracellular structure and soluble ROR1 with only extracellular structure [2]. In fact, there is no difference in the expression of soluble ROR1 between normal people and cancer patients. Moreover, the expression in serum is very low or undetectable, and has nothing to do with the progression or severity. However, the intact membrane-bound ROR1 is specifically expressed at a high level in a variety of tumor tissues [3]. Note that the ROR1 mentioned in the following all refers to the membrane-bound ROR1 with a complete structure.
2. The Structure of ROR1
ROR1 is a transmembrane receptor tyrosine kinase protein. The gene of ROR1 is located on chromosome 1p31.3 with a length of 2814bp. The protein encoded by ROR1 gene is composed of 937 amino acids and has a molecular weight of about 105 kDa. The structure of ROR1 is highly conserved among biological species, such as human and mouse ROR1 amino acid sequence homology can reach 97%. As shown in Figure 1, human ROR1 consists of an extracellular immunoglobulin-like domain (Ig), two cysteine-rich domains (FZD), a proximal membrane kringle domain, and a single transmembrane structure. On the intracellular side, ROR1 possesses an intracellular tyrosine kinase domain (TKD), two serine/threonine enrichment domains (S/TRD) and a proline enrichment domain (PRD) composed [4].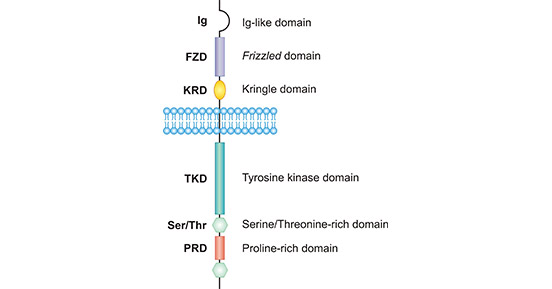 Figure 1. The structure of ROR1
*This figure is derived from the publication on Protein Cell [4]
3. The Function of ROR1
The immunoglobulin-like domain and cysteine-rich domain are related to the function of ROR1 binding ligand. The FZD domain consists of 10 conserved cysteine residues and 5 corresponding disulfide bonds. FZD structures are also found in smooth muscle family receptors (such as Smo), frizzled family receptors (such as sFRP), as well as carboxypeptidase Z (CPZ), collagen α1 XVIII and low-density lipoprotein receptor-related protein (LRP). Most of these proteins can bind to Wnt protein and participate in signal transduction of the Wnt pathway.
Currently, a large number of studies have confirmed that ROR1 also binds Wnt5a through FZD and activates the non-canonical Wnt signaling pathway [5] [6]. The Kringle domain is relatively conserved in the ROR family and consists of 80 amino acids [7]. Its structural feature is that it contains three ring structures formed by disulfide bonds, and these three ring structures are also involved in the process of ROR receptor recognition of Wnt protein.
The tyrosine kinase domain of ROR is highly conserved in organisms and is very similar to the tyrosine kinase domains of Trk and MuSK. But ROR1 protein has some amino acid sequence changes in this highly conserved region, suggesting that its intracellular kinase activity may change. The serine/threonine and proline-rich domains are composed of serine/threonine-rich domains, proline-rich domains, and serine/threonine-rich domains in series. There are potential phosphorylation sites in this region, which is related to downstream signal transduction.
4. Wnt5a/ROR1 and Tumor
At present, in terms of ROR1 signaling, mainstream evidence is that ROR1 can play an important role in a variety of physiological processes by mediating non-canonical Wnt signaling pathways, including regulating cell division, proliferation, migration, and cell chemotaxis, especially binding to Wnt5a. Wnt5a is a typical activator of non-canonical Wnt signaling pathway. It participates in the phosphorylation of NF-κB subunit p65, activates the NF-κB signaling pathway in tumor cells, promotes cell migration and invasion, EMT, cancer metastasis, etc. Next, let's learn more about how ROR1 activates tumor cells through the Wnt5a signaling pathway.
Wnt5a/ROR1 is highly expressed in various cancers. As the receptor of Wnt5a, ROR1 is involved in activating the NF-κB pathway of tumor cells. The NF-κB pathway is the helm of inflammation and immune regulation, and is constitutively activated in a variety of tumor types. As shown in Figure 2, Wnt5a activates the receptor ROR1 or FZD5, leading to Dv12/3 activation and Akt phosphorylation. Then, phosphorylated Akt promotes phosphorylation of IKKα to activate the IKK complex, which is responsible for the degradation of IκBα and the phosphorylating NF-κB subunit p65. And phosphorylated p65 transfers to the nucleus, promoting transcriptional expression of target genes including Wnt5a. The secretion of Wnt5a promotes a new round of autonomous feedback loop. The activation of the autonomous feedback loop ROR1/Akt/p65 pathway will further promote the secretion of pro-inflammatory factors (such as IL-6) and chemokines (such as CCL2).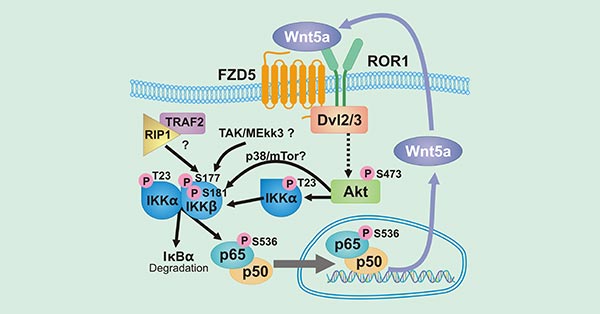 Figure 2. The diagram of Wnt5a/ROR1 signaling pathway
In addition, many studies have associated the expression of ROR1 with the activation of YAP/TAZ transcription, thereby enhancing tumorigenesis and chemoresistance [8] [9]. As shown in Figure 3, the binding of Wnt5a to the ROR1/FZD complex then further activates RhoA through binding to Gα12/13, thereby inhibiting Lats1/2 activity, leading to YAP/TAZ dephosphorylation and nuclear translocation. The YAP/TAZ translocated into the cell nucleus combined with TEAD can induce the transcription of genes involved in cell proliferation, stem cell self-renewal and tumorigenesis. Increased YAP/TAZ transcription can in turn up-regulate ROR1 expression [10].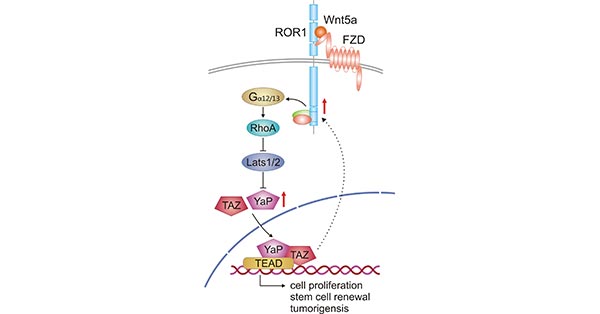 Figure 3. Crosstalk between Wnt5a-ROR1 signaling and YAP/TAZ signaling pathway
*This figure is derived from the publication on Cells [10]
5. The Clinical Significance of Targeting ROR1
ROR1 is considered to be a powerful potential target, because it is a tyrosine kinase receptor and has drug properties [11]. Secondly, it is expressed on the cell surface. More importantly, it is highly expressed in tumor cells, and the amount of expression in the organization is very low in adult health. At present, many companies are developing anti-cancer therapies targeting ROR1, including monoclonal antibodies, antibody-conjugated drugs (ADC), bispecific antibodies, and CAR-T therapy and other treatment modes (see the table below). Immune checkpoint therapy (ICT) has changed the treatment mode of many tumors. However, some tumor types have a low response rate to ICT. This is largely due to the high degree of immunosuppression in TME and lack of T cell infiltration in tumors. In this case, the use of ICT combined therapy targeting ROR1/Wnt5a may be able to solve the problem of low response rate.
Drug Name
Type of Drug
R&D Company
Indications
Status
Last Update Date
ROR1 CAR-T
Chimeric antigen receptor T cell therapy (CAR-T), gene therapy
Oncternal Therapeutics
Blood cancer and solid tumor
Preclinical phase
2020-09-30
HG-030
Chemical drugs
HitGen Pharmaceuticals Inc.
Tumor
Phase I
2020-09-27
NBE-002
Antibody conjugated drugs(ADC)
Nbe-Therapeutics Ag
Triple negative breast tumor
Phase II
2020-08-28
Cirmtuzumab
Humanized monoclonal antibody
Oncternal Therapeutics; University of California
Chronic lymphocytic leukemia
Phase II
2020-08-28
Mantle cell lymphoma
Phase II
Breast cancer
Phase I
ROR1R-CAR
Chimeric antigen receptor T cell therapy (CAR-T), gene therapy
The University Of Texas M.D. Anderson Cancer Center
Leukemia
Phase I
2020-08-28
APVO-425
Bispecific antibody
Emergent Biosolutions
Triple negative breast tumor
Preclinical phase
2020-08-28
JCAR-024
Chimeric antigen receptor T cell therapy (CAR-T), gene therapy
Fred Hutchinson Cancer Research Center
/
No progress
2020-08-28
VLS-101
Antibody conjugated drugs(ADC)
Velosbio
Blood cancer
Phase I
/
Solid tumor
Phase II
LCB71
Antibody conjugated drugs(ADC)
LegoChem Biosciences/ CStone Pharmaceuticals
/
Preclinical phase
/
KAN0439834
Small molecule inhibitor
Kancera
/
Preclinical phase
/
*Table data comes from public information
References
[1] Forrester WC. The Ror receptor tyrosine Kinase family [J]. CMLS Cell Mol Life Sci. 2002, 59:83-06.
[2] Boreherding N, Kusner D, Liu GH, et al. ROR1, an embryonic protein with an emerging role in cancer biology [J]. Protein Cell. 2014, 5:496-502.
[3] Baskar S, K wong KY, .Hofer T, et al. Unique cell surface expression of receptor tyrosine kinase ROR1 in human B-cell chronic lymphocytic leukemia [J]. Clin Cancer Res. 2008, 14:396-404.
[4] Nicholas Borcherding, David Kusner, Guang-Hui Liu, et al. ROR1, an embryonic protein with an emerging role in cancer biology [J]. Protein Cell. 2014, 5(7):496–502.
[5] Mikels AJ, Nusse R. Purified Wnt5a protein activates or inhibits β-catenin–TCF signaling depending on receptor context [J]. PLoS Biol. 2006, 4:e115.
[6] Nomi M, Oishi I, Kani S, et al. Loss of mRor1 enhances the heart and skeletal abnormalities in mRor2-deficient mice: redundant and pleiotropic functions of mRor1 and mRor2 receptor tyrosine kinases [J]. Mol Cell Biol. 2001, 21:8329–8335.
[7] Wamg HY, Lie T, Malbon CC, et al. Structure-function analysis of Frizzleds [J]. Cell Signal. 2006, 18: 934-941.
[8] Zhang, S., Zhang, H., Ghia, E.M., et al. Inhibition of chemotherapy resistant breast cancer stem cells by a ROR1 specific antibody [J]. Proc. Natl. Acad. Sci. USA. 2019, 116, 1370–1377.
[9] Islam, S.S., Uddin, M., Noman, A.S.M., et al. Antibody-drug conjugate T-DM1 treatment for HER2+ breast cancer induces ROR1 and confers resistance through activation of Hippo transcriptional coactivator YAP1 [J]. EBioMedicine. 2019, 43, 211–224.
[10] Hanna Karvonen, Harlan Barker, Laura Kaleva, et al. Molecular Mechanisms Associated with ROR1-Mediated Drug Resistance: Crosstalk with Hippo-YAP/TAZ and BMI-1 Pathways [J]. Cells. 2019, 8, 812: 2-12.
[11] Yun Chen, Liguang Chen, Jian Yu, et al. Cirmtuzumab Blocks Wnt5a/ROR1-Stimulation Of NF-κB To Repress Autocrine STAT3-Activation In Chronic Lymphocytic Leukemia [J]. Blood. 2019.