Upon mentioned leukemia, marrow transplantation and anemia as keywords of leukemia come to your mind. Leukemia is the most common cancer in children and teens, accounting for almost 1 out of 3 cancers. Usually, the number of new cases of leukemia diagnosed in the United States each year is about 14 per 100,000 men and women. It is the tenth most common cancer according to new cases diagnosed each year. Leukemia accounts for 3.5% of all new cancer cases in the United States. So what is the leukemia? And what are the types of leukemia? This article collect several FAQ of leukemia, including:
1. What is Leukemia?
Leukemia is a malignant clonal disease of hematopoietic stem cells. Leukemia cells in the clone will stop at different stages of cell development due to uncontrolled proliferation, differentiation failure, and obstructed apoptosis. In bone marrow and other hematopoietic tissues, leukemia cells proliferate and accumulate in large numbers, and infiltrate other tissues and organs, causing normal hematopoietic function to be inhibited. As the figure 1 shows, normal blood contains red blood cells (RBCs), white blood cells (WBCs), and platelets. Leukemia cells outnumber normal cells in leukemia.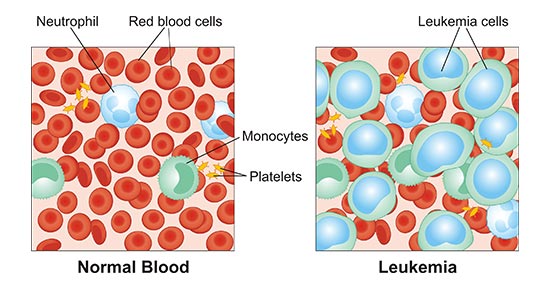 Figure 1. a diagram of components of normal blood and leukemia
Generally speaking, leukemia refers to cancers of the WBCs. WBCs play a vital role in protecting body from invasion by bacteria, viruses, and fungi. In leukemia, the WBCs have an abnormal unlike normal WBCs. They divide too quickly and eventually crowd out normal cells. Most of WBCs are produced in the bone marrow, but certain types of WBCs are also made in the lymph nodes, spleen, and thymus gland.
2. What are The Types of Leukemia?
In fact, there are many types of leukemia in clinic. Based on different speed of disease development, leukemia is divided into two types, including acute leukemia and chronic leukemia. In acute leukemia, leukemia cells multiply rapidly and the disease progresses quickly. In chronic leukemia, the disease progresses slowly and early symptoms may be very mild.
Most often, leukemia is a cancer of the white blood cells, but some leukemias start in other blood cell types. According to different cell types, leukemia is classified into two types. One is myelogenous leukemia developing from the myeloid cell line. Another is lymphocytic leukemia developing from the lymphoid cell line.
Hence, there are four major types of leukemia in clinic. As the following table shows, acute myelogenous leukemia is the most common form of leukemia. The five-year survival rate of chronic lymphocytic leukemia is the highest. Most childhood leukemias are acute lymphocytic leukemia (ALL). Most of the remaining cases are acute myeloid leukemia (AML). Chronic leukemias are rare in children.
| | Acute myeloid leukemia | Acute lymphocytic leukemia | Chronic myelogenous leukemia | Chronic lymphocytic leukemia |
| --- | --- | --- | --- | --- |
| Abbreviation | AML | ALL | CML | CLL |
| Prone group | Children and adults | Children | Adults | Adults |
| annual new cases in the United States | 21,000 | 6,000 | 9,000 | 20,000 |
| Five-year survival rate | 26.9% | 68.2% | 66.9% | 83.2% |
In addition to these four main types of leukemia, there also are various subtypes of leukemia. Subtypes of lymphocytic leukemia include hairy cell, Waldenstrom's macroglobulinemia, prolymphocytic, and lymphoma cell leukemia.
3. How does Leukemia Develop?
What causes leukemia? This question is frequently asked by patients and parents alike. As mentioned previously, blood has three types of cells, involving red blood cells, white blood cells, and platelets. White blood cells fight infection, red blood cells carry oxygen, and platelets help blood clot. Every day, your bone marrow produces billions of new blood cells, and most of them are red cells. When you have leukemia, your body produces more white cells than it needs.
These leukemia cells can't fight infection as well as white blood cells do. And because there are so many of them, they start to affect the function of your organs. Over time, you may not have enough red blood cells to carry oxygen, enough platelets to clot your blood, and enough normal white blood cells to fight infection.
Generally, leukemia develops when the DNA of some blood cells (mainly white cells) mutates or damages, disabling their ability to guide the action of cells. Certain abnormalities cause the cell to grow and divide more rapidly and to continue living when normal cells would die. Over time, these mutated cells replace the healthy blood cells and crowd out healthy blood cells in the bone marrow, leading to fewer healthy white blood cells, red blood cells and platelets, causing the signs and symptoms of leukemia.
4. What are the Symptoms of Leukemia?
Different types of leukemia can cause different problems. You might not notice any signs in the early stages. Although the signs and symptoms aren't enough to diagnose the disease, they can be clues for you and your doctor so that you can find the problem as soon as possible. When you do have symptoms, they may include:
Poor blood clotting: This can cause a person to bruise or bleed easily and heal slowly.
Red spots on the skin: These red spots, also called petechiae develop when immature white blood cells crowd out platelets, which are crucial for blood clotting.
Frequent infections: The white blood cells are crucial for fighting infection. If white blood cells don't function correctly, a person may develop frequent infections.
Anemia: As fewer effective red blood cells become available, a person may become anemic. This means that they do not have enough hemoglobin in their blood.
Additionally, the symptoms of leukemia also include weakness or fatigue, fever or chills, pain in your bones or joints, weight loss, night sweats, shortness of breath and swollen lymph nodes or organs like your spleen. Leukemia can also cause symptoms in organs that have been infiltrated by the cancer cells. For example, if the cancer spreads to the central nervous system, it can cause headaches, nausea and vomiting, confusion, loss of muscle control, and seizures. Furthermore, leukemia can also spread to other parts of your body, including: the lungs, gastrointestinal tract, heart and kidneys.
5. What are the Causes and Risk Factors of Leukemia?
What causes leukemia? This question is frequently asked by patients and parents alike [1]. Currently, scientists don't understand the exact causes of leukemia. It seems to develop from a combination of genetic and environmental factors. Most subtypes of childhood leukemia have their initial genetic mutation before birth [2] and only a fraction of these preleukemic clones will progress to the development of leukemia.
You can't prevent leukemia, but certain things (called risk factors) may trigger it. A risk factor is anything that affects your chance of getting a disease. But having one or more risk factors does not mean that you will get the disease. However, it's still important to know about the risk factors for leukemia because there may be things you can do that might lower your risk of getting it. The risks of leukemia include:
Exposure to high levels of radiation or chemotherapy: This could include having received radiation therapy or chemotherapy for a previous cancer, although this is a more significant risk factor for some types than others.
Certain viruses: The human T-lymphotropic virus (HTLV-1) has links to leukemia.
Exposure to benzene: This is a solvent that manufacturers use in some cleaning chemicals and hair dyes.
Have a family history of leukemia: Having siblings with leukemia can lead to a low but significant risk of leukemia. If a person has an identical twin with leukemia, they have a 1 in 5 chance of having the cancer themselves.
Have a genetic disorder like Down syndrome: Children with Down syndrome have a third copy of chromosome 21. This increases their risk of acute myeloid or acute lymphocytic leukemia to 2–3%, which is higher than in children without this syndrome.
Smoking, which increases your risk of developing acute myeloid leukemia (AML).
Immune suppression: Childhood leukemia may develop because of the deliberate suppression of the immune system. This might occur after an organ transplant when a child takes medications to prevent their body from rejecting the organ.
6. How to Diagnose Leukemia?
Leukemia may be suspected if you have concerning symptoms. Your doctor will begin with
Blood tests: a complete physical examination, but leukemia can't be fully diagnosed by a physical exam. So doctors will further to use blood tests, biopsies, and imaging tests to make a diagnosis.
Blood tests: A complete blood count is usually used to determine the numbers of RBCs, WBCs, and platelets in the blood.
Biopsies: Tissue biopsies can be obtained from the bone marrow or lymph nodes to look for evidence of leukemia. The type of leukemia and its growth rate can be identified by these small samples. Moreover, biopsies of other organs, like the liver and spleen, can suggest if the cancer has spread.
Once leukemia is diagnosed, it'll be staged. Staging helps your doctor determine your outlook. And a number of other tests can be used to assess the progression of the disease, including flow cytometry (determining their growth rate), liver function tests (whether leukemia cells are affecting or invading the liver), lumbar puncture (whether the cancer has spread to the central nervous system) and Imaging tests (such as X-rays, ultrasounds, and CT scans, help doctors look for any damage to other organs that's caused by the leukemia).
7. What are the Treatment of Leukemia?
The treatment of Leukemia usually depends on the type of the cancer a person has, their age, and their overall state of health. Some types of leukemia grow slowly and don't need immediate treatment. However, if treatment starts early, the chance of a person achieving remission is higher. Types of treatment for leukemia usually involves one or more of the following:
Watchful waiting: A doctor may not actively treat slower growing leukemias, such as chronic lymphocytic leukemia (CLL).
Chemotherapy, a primary treatment for AML, uses drugs to target and kill leukemia cells through a drip or a needle. According to different types of leukemia, you may take a single drug or a combination of different drugs. However, besides killing cancer cells, they can also damage noncancerous cells and cause severe side effects, including hair loss, weight loss, and nausea.
Radiation therapy uses high-energy radiation to destroy bone marrow tissue before a transplant. Radiation can be applied to a specific area or to your entire body.
Stem cell transplantation replaces diseased bone marrow with healthy bone marrow to create noncancerous blood cells, either your own or from a donor. This procedure is also called a bone marrow transplant. Before transplantation, your doctor will destroy the existing bone marrow with chemotherapy, radiation therapy, or both.
Immune therapy uses treatments that help your immune system recognize and attack cancer cells [3].
Targeted therapy uses tyrosine kinase inhibitors that target cancer cells without affecting other cells, reducing the risk of side effects. For example, imatinib (Gleevec) is a targeted drug that's commonly used against CML.
References
[1] Gary Dahl and Joseph Wiemels. What Causes Leukemia [J]? Pediatr Blood Cancer. 2015, 62:1123–1124.
[2] Greaves MF, Wiemels J. Origins of chromosome translocations in childhood leukaemia [J]. Nat Rev Cancer. 2003, 3:639–649.
[3] Evan M. Hersh, Jordan U. Gutterman, and Giora M. Immunotherapy of leukemia [J]. Medical Clinics of North America. 1976.