Exosome Isolation Kits
Exosomes are small membrane vesicles (30–150 nm) of endocytic origin, which are shed by all cell types under normal- and patho-physiological conditions. Exosomes have pleiotropic physiological and pathological functions and play significant roles in diverse pathological conditions such as cancer, infectious and neurodegenerative diseases.
Exosomes have received significant attention for their roles in pathobiological processes and are being explored as a tool for disease diagnosis and management. Consequently, various isolation methods based on different principles have been developed for exosome isolation such as differential ultracentrifugation, density gradient ultracentrifugation, ultracentrifugation, chromatography, magnetic bead immunoassay, polypolymer precipitation method, etc.
CUSABIO Exosome Isolation Kit purifies exosome by affinity purification. High Purity exosomes and other Evs (Extracellular vesicles) from cell culture medium and body fluid (high yield by normal microfiltration) can be easily obtained by this method.
Exosomes isolated by this product are suitable for the following downstream:
Transmission electron microscope analysis
Nanoparticle tracking analysis
NanoFCM analysis
Western Blot
Fluorescence quantitative (qPCR)
High-Throughput Sequencing
Features of CUSABIO Exosome Isolation Kits
It is suitable for the isolation of exosomes from the supernatant of a variety of cells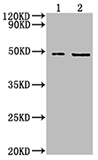 ENO1 (CSB-MA007670A0m)
Exosomes extracted from A375 cells,
A375 cell Lysate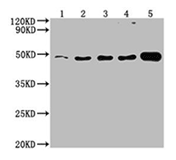 ENO1 (CSB-MA007670A0m)
Exosomes extracted from HEPG2 cells
Exosomes extracted from PC-3 cells
Exosomes extracted from Hela cells
Exosomes extracted from U87 cells
Hela cell Lysate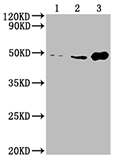 ENO1 (CSB-MA007670A0m)
Exosomes extracted from MG63 cells
Exosomes extracted from Ntera-2 cells
MG63 cell Lysate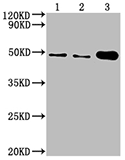 ENO1 (CSB-MA007670A0m)
Exosomes extracted from Raji cells
Exosomes extracted from U251 cells
Raji cell Lysate
High Purity- The exosomes extracted are complete in shape, spherical or dish-shaped, with uniform particles.

CUSABIO (CSB-EI0102, CSB-EI0110)
Complete shape
Approximately spherical
Uniform size

Company A
No clear exosome morphology was observed
High Yield - There are up to 3 x 1011 particles of purified exosomes per millilitre.
CUSABIO (CSB-EI0102, CSB-EI0110)
Particle size: 79.19 nm
Concentration: 3.08*1011 particles /mL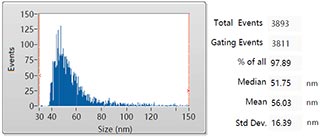 Company A
Particle size: 56.03 nm
Concentration: 9.62*108 particles /mL
High Efficiency –The exosomes extracted by CUSABIO Exosome Isolation Kit are superior to the other three well-known brand kits and comparable to ultracentrifugation.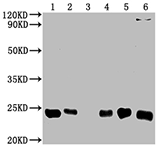 CD9 (CSB-MA004969A0m)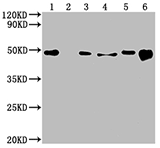 ENO1 (CSB-MA007670A0m)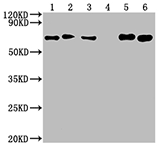 PKM (CSB-MA018072A0m)
CSB-EI0102(2T), CSB-EI0110(10T)
Company A
Company B
Company C
Ultracentrifugation
Hela Cell Lysate
Simple to use - Easily isolate exosomes using our simple and reliable protocol
Vesicles are structurally intact
No ultracentrifugation or phenol/chloroform step required
No equipment requirement
In addition, prices of CUSABIO exosome isolation kits are very competitive. We have an efficient production and management system so that we can manufacture premium reagents at less cost and our customers can get better quotes.
What's more, CUSABIO has a powerful technical support team and complete after-sales service here to meet the needs of every purchase so that you have no worry and save time & energy for your research.
CUSABIO Exosome Isolation Kits Catalog
Q&A
How to preserve the purified exosome vesicles?

Store at 4℃ for short term storage or -80℃ for long term storage. It is recommended to store it after aliquoting to avoid repeated freezing and thawing.

How to obtain exosome-free serum culture cells?

a. Ultra-centrifuge the cell culture serum for 10 hours to remove exosomes from the serum (aseptic operation).

b. Choose serum-free media for cell culture.

c. Choose exosome-free serum for cell culture.

How to identify the exosomes extracted from the cells?

WB validation of specific markers, transmission electron microscope (TEM), particle size (NanoFCM, NTA), etc.

What are the advantages of CUSABIO exosome isolation kit over ultracentrifugation

a. Simple, stable and highly repeatable.

b. No equipment requirement.
Any questions, please feel free to send emails to cusabio@cusabio.com.
More Information about Exosomes
Why Study Exosomes?
Extracellular vesicles (EVs) are small membrane vesicles, composed of a lipid bilayer with inserted transmembrane proteins, enclosing cytosolic components (protein, mRNA, and miRNA) derived from the EV-producing cells.
These EVs such as exosomes have been found in biofluids, including blood, saliva, urine, cerebrospinal fluid (CSF) and latex, act as messengers of intercellular communication networks. EVs carry lipids, proteins, and RNAs derived from their producing cells, and have potential as biomarkers specific to cell types and even cell states.
You can click here to know more about Exosomes.
How Do You Get Exosomes?
However, conventional methods (such as ultracentrifugation or polymeric precipitation) for isolating EVs have disadvantages regarding purity and feasibility. You can click here to get the comparision of five exosome isolation methods.
An exosome isolation kit can solve all your problems on exosome isolation. It is also the reason why CUSABIO keeps invest in developing high quality exosome isolation kits for so many years.