Recombinant antibodies
Recombinant antibodies are monoclonal antibodies which are produced in vitro using synthetic genes. Different from regular monoclonal antibodies, recombinant antibodies are prepared without animals. Instead, they are produced by detecting the gene sequence of the antibody; and then the gene is inserted into a suitable cell line to produce the antibody. Because the antibodies are for sure, even if the original cell line dies or is mutated, the required cell line can be generated by gene insertion. That guarantees the high specificity and stability of recombinant antibodies. In addition, compared with regular antibodies, recombinant antibodies can offer a higher level of consistency between batches.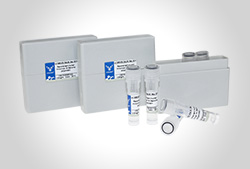 CUSABIO has been focused on the development and product of recombinant antibodies for more than 3 years. And there are 600+ recombinant antibodies available now. Except for recombinant antibodies'own advantages, CUSABIO recombinant rabbit monoclonal antibodies are also known for higher purity and affinity, as well as the minimal deviation between batches. We can guarantee the quality for we produce and validate each of our antibodies in-house.
Why Choose Us?
● Advanced Phage Display Technology
CUSABIO has been specialized in applying advanced phage display technologies for a wide range of service projects, especially development of recombinant antibody. Read more>>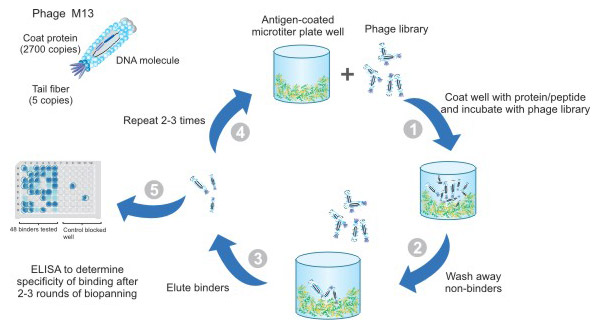 ● Various Types of Recombinant Antibody
CUSABIO offers various types of recombinant antibody, including full-length antibodies, scFv, Fab, sdAb, isotype/subtype and various forms of Fc fusion proteins.

● Rich Application Types
CUSABIO's recombinant antibodies have been validated on multiple platforms, including WB, IF, IHC, FC, IP, ELISA, GICA and Neutralising.
● High Consistency from Batch To Batch
● Continuity of Supply
Useful Resources
A stable and highly specific antibody plays an important role in obtaining real and repeatable experimental results. It is a big headache if the antibody used in the experiment does not work. And what's even worse is that you use the antibodies to repeat the same experiment but get inconsistent results.
It is estimated that the annual loss in research funding due to the use of antibodies without enough validation is about $ 800 million worldwide. At the same time, it has caused countless experimental failures, and a waste of precious samples and researchers'youth.
Nowadays, the antibody validations information provided by antibody manufacturers and academic articles is very helpful for you to select high-quality antibodies. However, there is still an inevitable problem: whether it is polyclonal antibodies extracted from animal serum or monoclonal antibodies produced by hybridomas, there are more or fewer differences between batches. And recombinant antibodies may finally solve this problem.
Information about Recombinant Antibodies
What are recombinant antibodies?
Recombinant antibodies refers to the application of molecular cloning and gene mutation technology to transform a gene coding sequence of an antibody to produce superior performance of antibodies, also known as genetically engineered antibodies. Comparing with monoclonal antibodies generated in vivo of living animals through hybridoma technology, recombinant antibodies are a type of monoclonal antibodies which are produced in vitro by using synthetic genes.
In recent years, the use of recombinant antibodies is becoming increasingly wider and deeper in both therapeutics and diagnostics. With significant advantages over conventional antibodies, recombinant antibodies become more and more favored. The most important point is that recombinant antibodies can maximize the humanization to solve the heterogeneity between different species.
Generally speaking, recombinant antibodies can be divided into three classes, including chimeric antibody, humanized antibody, fully humanized antibody and small molecular antibody.
The advantages of recombinant antibodies
Compared with traditional antibodies, recombinant antibodies have the advantages of being irresistible, which is one of the reasons for their gradually emerging. Here, we present the advantages one by one as follows:
High consistency and reproducibility.
High sensitivity and specificity.
Short production cycle.
No animal immunity.
Isotype switching.
Because recombinant antibodies have these unprecedented advantages, recombinant antibodies fulfill a large spectrum of functions spanning from research to diagnosis and treatment therapies for various diseases. Their specificity and low immunogenicity make them a great alternative to traditional forms of treatment, increasing the accuracy of targeting specific molecules and avoiding adverse side effects.
Additionally, for recombinant antibodies production, it follows principally similar workflow. Generally, it consists of five steps: the construction of antibody gene library, phage display, the separation of antibodies, the modification of the isolated antibodies, and the scaling up of the production of selected antibodies in the cell culture expression system.
Although the processes of recombinant antibodies production are same as workflow, we need to recognize that there are several obstacles to the production of recombinant antibodies, such as lower antibody production, and highly trained and experienced technicians. Due to the complexity and intensive high technology of recombinant antibody production, most scientists need to obtain them from outsourcing companies.
Read the article, The Overview of Recombinant Antibody, for more information.
Citations
S Antibody referenced in "A magneto-optical biochip for rapid assay based on the Cotton–Mouton effect of γ[email protected] Au core/shell nanoparticles", Journal of nanobiotechnology, 2021.
SARS-CoV-2 Spike RBD Nanobody referenced in "Potent antiviral activity of Agrimonia pilosa, Galla rhois, and their components against SARS-CoV-2", Bioorganic & Medicinal Chemistry, 2021.
HIF1A Antibody, CASP3 Antibody referenced in "PESV represses non-small cell lung cancer cell malignancy through circ_0016760 under hypoxia", Cancer cell international, 2021.
Phospho-ERN1 (S724) Antibody referenced in "The ER stress sensor inositol-requiring enzyme 1α in Kupffer cells promotes hepatic ischemia-reperfusion injury", Journal of Biological Chemistry, 2021.
CDK4 Antibody and CDK6 Antibody referenced in "Histone Deacetylase Inhibitor-Induced CDKN2B and CDKN2D Contribute to G2/M Cell Cycle Arrest Incurred by Oxidative Stress in Hepatocellular Carcinoma Cells Via Forkhead Box M1 Suppression", Journal of Cancer, 2021.
BIRC5 Antibody referenced in "LTBP4 Inhibits the Proliferation and Metastasis in Melanoma by Activating Hippo-YAP Signaling", Research Square, 2020.