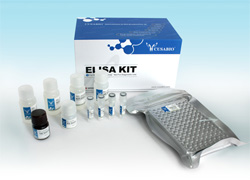 CUSABIO, an ELISA kits manufacturer, has a sound platform for the development of ELISA kit, mature antigen-antibody research and development system. CUSABIO ELISA kit mainly utilizes sandwich ELISA and competitive ELISA.
CUSABIO's capture antibodies can be polyclonal or monoclonal antibodies while our detection antibodies are monoclonal most of the time. CUSABIO's goal is to provide the highest quality ELISA kit and services for reasonable costs allowing our customers to focus their precious time and resources on advancing their own research. For that reason, our strict manufacturing and quality control standards allow us to offer the highest levels of performance and consistency with each ELISA kit you run.
CUSABIO ELISA kits provide our customers with the linearity range, linearity, lower limit of detection, precision, recovery, stability and natural samples detection that they expect due to strict validation testing. You can click the below link to view more information. https://www.cusabio.com/kit2.html
Nowadays, CUSABIO offers a broad range of ELISA kits covering over 9,000 different assay targets and involves many different research areas, including autoimmunity, biochemical, cardiovascular, immunology, metabolism, cell biology, cancer, et al. Compared with other companies'ELISA kits, we have numerated 8 reasons for choosing CUSABIO's ELISA kit.
Over 10-years effort on developing good research tools for our customers, we are trusted by thousands of researchers all around world. CUSABIO products are cited in more and more publications in well-known magazines such as Nature, PLOS One, JASN, Bio Factors, Society for Endocrinology, Scientific Reports, APS and so on. Click here to see more references.
Besides that, we provide replacement product or refund if the product doesn't perform as promised in the manual. Read more.
The enzyme-linked immunosorbent assay (ELISA), sometimes referred to as enzyme immunoassay (EIA), is a popular, simple, and cost-effect detection technique. It uses enzymes and antibodies or antigens to identify a substance in a liquid sample, such as serum/plasma, culture supernatant, and cell/tissue lysate. ELISA is a wet lab type analytic method, which is opposed to the dry lab analytic method that can use dry strips.
Once mentioned ELISA, the first problem is how to choose a right ELISA kit for experiment. Before that, you must distinguish the four common types of ELISA, including direct ELISA, indirect ELISA, sandwich ELISA and competitive ELISA, and figure out the advantages and disadvantages of each ELISA. For that reason, a sweet guy from CUSABIO have written an article named "four types of ELISA". You can click here to view the full text.
Then, you can choose a right type of ELISA for your experimental purpose. After that, you will meet the question mentioned in last paragraph: how to choose a right ELISA, because there are various kinds of ELISA kits in the market. Here are 11 tips for choosing your right ELISA kit, involving: the species studied, the analyte detected, purpose of the analysis, type of antibodies, requirement of sensitivity, et al. more details please click here.
After choosing your right ELISA kit, you should do the pre-experiment before your ELISA experiment. As for how to do the pre-experiment, you can click the following link to find the answer, https://www.cusabio.com/m-226.html.
Moreover, each CUSABIO's ELISA kit contains all the ELISA reagents for ELISA test and instructions or ELISA protocol. It illustrates detailed ELISA procedure steps. If you want to obtain the electronic format, you must enter CUSABIO's website and find out the page of product with the product code. Further, a sweet guy is prepared a universal ELISA process protocol for you, including direct ELISA protocol, indirect ELISA protocol and sandwich ELISA protocol.
In addition, the CUSABIO's technicians have summarized the process of ELISA data analysis after accomplished the experiment. And that process of ELISA data analysis has shown one by one in an article, you can click here to skim it.
Finally, research and development team from CUSABIO also collects ELISA troubleshooting and FAQs. ELISA troubleshooting, the common problems of ELISA experiment, mainly focus on abnormal results (also known as ELISA test results interpreted), and FAQs underlines other parts, such as application and selection of CUSABIO's products, shipping and Storage, et al.
All in all, CUSABIO aims to provide their customers with the critical reagents they need more rapidly and in a more cost-effective manner than can be done in their own labs. Besides that, combined with diagnostic kits development team, we are able to develop the kits with clinical diagnostic level, and make the quality in the leading place worldwide. We also offer food safety& drug residues ELISA kits, such as: Gentamicin (GEN), Kanamycin (KA), Aflatoxin, and so on. In addition, we provide replacement product or refund if the product doesn't perform as promised in the manual. Because of validation, we promise. CUSABIO's kits, you deserve to have them.
Note: If you have any question about CUSABIO's ELISA kit, involving ELISA kit price, delivery and quality, you can click the orange button to leave a message online for us.
The Latest Promotion

24T trial size is available for all ELISA kits except food safety ELISA kits.
Only one 24T trial size kit can be applied for each product for single customer. No quantity limit for products you can apply.
How to apply for 24T trial size:

StepⅠ: Search for the ELISA kit you need on our website.

StepⅡ: Apply for 24T trial size at product page.
More details