Cytokines are a large group of proteins that are important in cell signaling. They are produced by a broad range of cells, including immune cells, such as macrophages, B lymphocytes, T lymphocytes and mast cells, as well as endothelial cells, fibroblasts, and various stromal cells. Released cytokines has an effect on the behavior of cells around them. Cytokines may include growth factors, chemokines, interferons, interleukins, colony-stimulating factors, and tumour necrosis factors.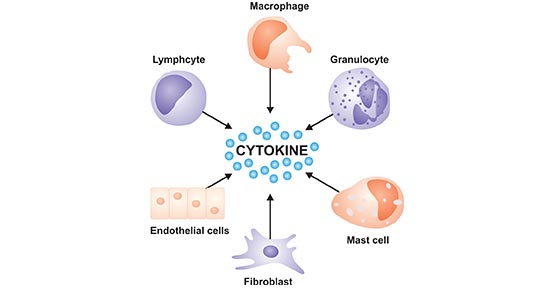 Figure 1. The main types of cell producing cytokines
Cytokine Family
Interleukin
Interleukins, also abbreviated as ILs, are a kind of cytokines, which play a critical role in cell processes regulation (cell growth, differentiation, and motility) and stimulating immune responses. They are originally discovered from leukocytes. Currently, they are found to be produced by a lot of cells including macrophages, lymphocytic cells with a solid structure and function.
Interferon
Interferon, also abbreviated as IFN, is a group of signaling protein made and released by host cells in response to the presence of several viruses, named for their ability to "interfere" with viral replication by protecting cells from virus infections. Interferons belong to the large class of proteins known as cytokines, molecules used for communication between cells to trigger the protective defenses of the immune system that help eradicate pathogens.
Growth Factor
Growth factor, a protein or a steroid hormone, is a naturally occurring substance that stimulates cell growth, differentiation, survival, inflammation, and tissue repair. Growth factors are important to regulate a variety of cellular processes, which can be secreted by neighboring cells, distant tissues and glands, or even tumor cells themselves. Normal cells show a demand for several growth factors to maintain proliferation and viability. Growth factors can exert their stimulation though endocrine, paracrine or autocrine mechanisms.
Tumor Necrosis Factor
Tumor Necrosis Factor (TNF) generally refers to TNFα. It is a cytokine that can directly kill tumor cells without obvious cytotoxicity to normal cells. Actually, tumor necrosis factor does not just include TNFα. It is a superfamily. The TNF superfamily refers to a superfamily of cytokines that can cause cell death. Nineteen proteins have been identified as part of the TNF family on the basis of sequence, function, and structural similarities.
Chemokine
Chemokines are a group of cytokines with small molecular weight whose main action is the recruitment of leukocyte subsets under homeostatic and pathological conditions. Their name is derived from their ability to act as a chemo-attractant to guide the migration of cells. Cells that are attracted by chemokines follow a signal of increasing chemokine concentration towards the source of the chemokine.
Colony Stimulating Factor
Colony-stimulating factors, also abbreviated as CSFs, are glycoproteins that bind to receptor proteins on the surfaces of hemopoietic stem cells, activating intracellular signaling pathways, then promoting production of a specific kind of blood cell (usually white blood cells, such as neutrophils) in response to infection. CSFs circulate in the blood, acting as hormones, and are also secreted locally.
Cytokine Receptor
Cytokine receptors are cell-surface transmembrane glycoproteins commonly composed of several subunits that bind specifically to cytokines and transduce their signals. We distinguish receptors whose subunits cross the cell membrane once from those that cross it more than that. There are main four types of cytokine receptors: immunoglobulin superfamily (IGSF), hematopoietic cytokine receptor superfamily, nerve growth factor receptor and chemokine receptor superfamily.
Immunoglobulin (Ig) Superfamily
The immunoglobulin superfamily (IgSF) is a large protein superfamily of cell surface and soluble proteins that are associated with the adhesion, binding and recognition processes of cells. immunoglobulin superfamily (IgSF) initially referred to Igs (also known as antibodies) and other proteins involved in the immune response and sharing the same 3D topology. Members of the IgSF include cell surface antigen receptors, co-receptors and co-stimulatory molecules of the immune system.
Haemopoietic Cytokine Receptor Superfamily
Hematopoiesis, the process of blood cellular components formation, begins in the early embryo and continues throughout life. Cytokines of the hematopoietic system include interleukins (ILs), colony-stimulating factors (CSFs), interferons, erythropoietin (EPO) and thrombopoietin (TPO). Haemopoietic cytokine receptor superfamily refers to a class of cytokine receptors, which are bound by cytokines of the hematopoietic system. The receptors can be composed of dimers of a single receptor or can be heterodimeric with a common signaling subunit and a unique ligand-binding chain. The receptors can be divided into three group, including erythropoietin receptor superfamily, Estrogen receptors (ERs) and interferon receptor family.
Nerve Growth Factor Receptor (NGFR)
Nerve growth factor receptor (NGFR), also known as tumor necrosis factor receptor (TNFR) superfamily, is a very important class of signal transduction molecules in the immune system. NGFR includes TNF receptors 1 and 2 (TNFR1 and 2), the low-affinity nerve growth factor receptor (NGFR), CD40, CD30, Fas, and others.
Chemokine Receptor Superfamily
Chemokine receptors are cytokine receptors found on the surface of certain cells that interact with a type of cytokine called a chemokine. They are a superfamily of G protein-coupled receptors (GPCRs) that control immune cell behavior; they promote chemotaxis, cell adhesion, and mediator release. There have been 20 distinct chemokine receptors discovered in humans. The chemokine receptor superfamily is divided into four classes based on the chemokine/ligand interaction motif to which they bind (CC, CXC, CX3C, or XC).