Cell Biology
Cell biology (developed from Cytology,) is a subject that studies the structure, function and behavior of cells. Cell biology is one of the frontier branches of modern life sciences. Cells are the basic unit of living creatures, and all living organisms are made up of cells. Cells can be divided into two major types: prokaryotic cells and eukaryotic cells, each of which has its own characteristics in cell structure and metabolism. CUSABIO collects the popular research topics in recent years, including: apoptosis, pyrolysis, autophagy, ferroptosis, etc.
1. What are Differences Between The Structure Of Prokaryotic Cells And Eukaryotic Cells?
As you know, All cells are divided into two types, including prokaryotic and eukaryotic cells. Both conduct necessary living functions but they differ in many aspects. The major difference between eukaryotic and prokaryotic cells can be summarized into two aspects as follows:
● The differentiation and evolution of the cell membrane system (as shown in Figure 1):
Eukaryotic cells are based on the differentiation of the membrane system. They first differentiate into two independent parts-the nucleus and the cytoplasm. The cytoplasm is divided into units with finer structures and more specific functions based on the membrane system (various important Organelles). The division of internal structure and functions of cells is an important mark that distinguishes eukaryotic cells from prokaryotic cells.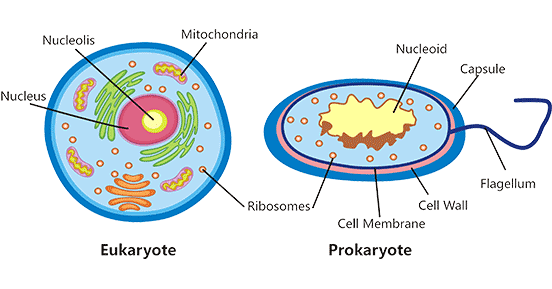 Figure 1. Schematic diagram of eukaryotic cells and prokaryotic cells
● Amplification and complication of the amount of genetic information and genetic devices:
The regionalization and specialization of internal structures and functions based on the differentiation of the cell's inner membrane system is a major leap in the evolution of cells, leading to the expansion of genetic equipment and corresponding changes in gene expression. The genome of eukaryotic cells is generally much larger than that of prokaryotic cells, and the DNA as a carrier of genetic information has also changed from the circular to linear.
2. Cell Processing
Apoptosis is a form of programmed cell death. It is an active process of cell death after being regulated by specific genes. It is also a normal cellular physiological response. Apoptotic cells will eventually be processed by phagocytes in the body.
Pyrolysis, also known as cell inflammatory necrosis, is a kind of programmed cell death, which is manifested by the continuous expansion of cells until the cell membrane ruptures, which leads to the release of cell contents and activates a strong inflammatory response.
Necrosis is cell death induced by extreme physical, chemical or other serious pathological factors, and it is pathological cell death. The membrane permeability of necrotic cells increases, causing the cells to swell, and the organelles are deformed or enlarged. There is no obvious morphological change in the nucleus at the early stage, and finally the cell ruptures.
Autophagy is a stress process in eukaryotic cells, which involves the degradation and circulation of many signal pathways, biological macromolecules and damaged organelles in the cell.
3. CUSABIO Featured Products Related to Cell Biology
● Protein Products
● Antibody Products