As the COVID-19 outbreaks in the world, we urgently need safe and effective antiviral antibodies to as new drugs and treatment options for combating the new coronavirus (SARS-CoV-2). When it comes to therapeutic antibodies, monoclonal antibodies (mAb) will come to our mind. Indeed, monoclonal antibodies (mAbs) are the largest and fastest growing fields in the pharmaceutical industry. During the SARS and MERS outbreaks, some neutralizing monoclonal antibodies were developed and confirmed their potential in treating coronavirus infections. However, their clinical utilization is still hindered by the time-consuming and expensive antibody production process of eukaryotic systems. Here, we focus on a new type of antibody, which is an antibody developed against the shortcomings of mAb. It is a single-domain antibody made of camel immunoglobulin, also known as VHH or Nanobody. So what is Nanobody? And what are the advantages of Nanobody?
1. How was Nanobody Discovered?
Nanobodies (Nbs) are characteristic by small molecular weight, and their unique molecular structure. These features make them suitable for many fields such as disease diagnosis and treatment.
Nanobodies were discovered in the 1980s. Two college students complained to Hamers (a professor of immunology from the Free University of Brussels in Belgium) that the results of the experimental courses arranged by the school were known and not challenging. So Professor Hamers gave the remaining half a liter in the refrigerator to study the camel blood of sleeping sickness to Muyldermans etc. and told them to try to purify the camel antibody from it. Muyldermans and others were surprised to find that some of the antibodies purified from camel blood did not belong to the standard type of all vertebrates, but were a completely new, simpler variant antibody. This result puzzled everyone. Hamers immediately set up a research team to conduct special research on this antibody. From then on, the camel antibody has rapidly evolved from a student's experiment to the main project studied by Hamers and colleagues. In 1993, Hamers et al. reported for the first time on Nature that there is a heavy-chain antibody (HcAb) that naturally lacks light chains in camelids and sharks [1]. Compared with conventional monoclonal antibodies, except for the lack of a light chain, there is no CH1 region between the heavy chain variable region and the hinge region, only one heavy chain variable region (VHH) and two conventional CH2 and CH3 regions. The VHH is so-called Nanobody. For the structure of Nanobody, we will introduce in the next section.
2. What is Nanobody?
Nanobodies (Nbs), also known as VHH antibodies, are antibodies with a single variable domain located on a heavy chain, derived from the Alpaca heavy chain IgG antibody (HCAb). Nbs are often seen as an alternative to conventional antibodies, and have significant differences in both production and use that influence their suitability. The main difference between Nbs and conventional antibodies has to do with their structure and their domains. As the figure 1 shows, conventional antibodies have two variable domains, called VH and VL, which offer each other stability and binding specificity. Nbs have VHH domains and lack VL domains, but are still highly stable. Lacking the VL domain also means Nbs have a hydrophilic side.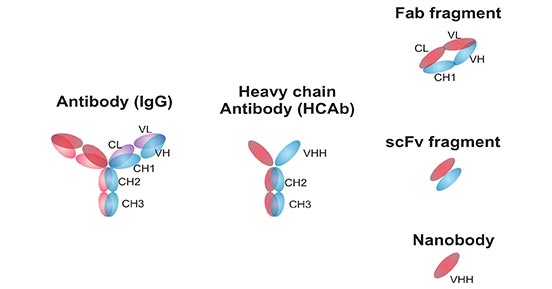 Fig 1. Structures and schematic representation of antibodies and antibody fragments
*This diagram is derived from the publication published on Anal Bioanal Chem [2]
The VHH fragment of the heavy chain antibody is different from the VH characteristics of the conventional antibody, but the VHH structure cloned and expressed separately has the structural stability equivalent to the original heavy chain antibody and the binding activity with the antigen, which is currently known to bind the target antigen, the smallest unit [3]. The structural analysis results show that the VHH crystal is 2.5nm wide and 4.8nm long, and its molecular weight is only about 15KDa.
3. What is the Production of Nanobody?
Nanobodies (Nbs) are increasingly becoming popular as reagents for research with a larger number of papers utilizing Nbs appearing in the literature. On September 3, 2018, EMA approved the Sanofi Nanobody drug (Caplacizumab, also called Cablivi) for the treatment of adult acquired thrombotic thrombocytopenic purpura (aTTP). Cablivi became the first specific aTTP therapeutic drug and the first nanobody drug to be marketed.
With the first Nanobody drug approved, how to produce stable Nbs with large scale becomes an urgent problem to be solved. Currently, immune libraries are the most common option for the production of Nbs. As the figure 2 shows, the genetic information can be obtained through active immunization using an immunogen or using non-immunized Camelidae animals (such as camels, dromedaries, llamas, or alpacas) by collection of blood which contains the lymphocytes. Upon the specific sequence is amplified and inserted in a cloning vector, the screening process to isolate the most suitable Nbs is performed by phage display technology, or using other methods like cell surface display, mRNA/cDNA display, or MS spectrometric identification [4]. The most commonly used strategy to carry out this sort of screening is based on phage display selection.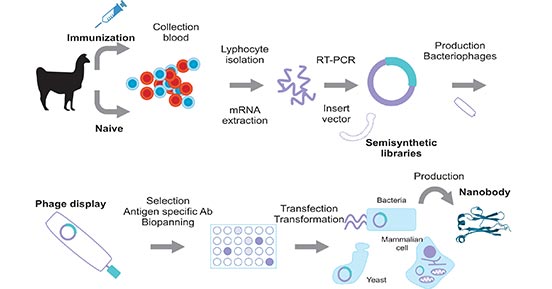 Fig 2. Nanobody production scheme using a phage display library
*This diagram is derived from the publication published on Anal Bioanal Chem [2]
4. What are the Advantages of Nanobody?
The unique characteristics of Nanobodies (Nbs) have some significant advantages over traditional antibodies. They combine the ideal properties of monoclonal antibodies with some beneficial properties of small molecule drugs.
Nbs are very stable in nature and maintain biological activity under high temperature conditions, which are easy to transport and store. Moreover, Nbs are stable under strong acid and alkali conditions, so oral preparations can be prepared, while traditional antibodies are easily decomposed under high temperature, strong acid and alkali conditions, and need to be stored at low temperature [5] [6];
Nbs can penetrate deep into the antigen due to its structural characteristics [7], so they can recognize antigens that traditional antibodies cannot access;
Nbs are very small, can enter the inside of tumor tissues to completely remove the tumor, and can also enter brain tissues through the blood-brain barrier [8]. The molecular weight of traditional antibodies is ten times that of Nbs, and the tissue permeability is poor;
Nbs have a simple structure and can be produced on a large scale in simpler microbial systems such as E. coli and yeast, which significantly reduces R&D and production costs and solves the problem of large-scale preparation of antibody products.
However, Nbs still have some obstacles as in vitro diagnostic reagents. Due to the small molecular weight of Nbs, their structures need to be modified before they can be used in the development of clinical diagnostic kits. However, the commonly used structural modification techniques will negatively affect the biological activity of Nbs, thus seriously restricting the application of Nanobody products.
5. What are the Applications of Nanobody?
Nbs have a number of interesting applications, and many of them are early stages of development. These applications include basic research to clinical therapeutics. These applications are primarily divided into three parts, involving research, diagnosis and therapy.
The Applications of Nanobody in Research
Nbs as affinity capture reagents: comparing with larger antibody formats, Nbs have higher capacity binding surfaces and lower nonspecific background binding due to their small size and single domain format [9]. With their monovalent mode of binding, they can be eluted under mild conditions, and their high stability allows repeated use [10].
Nbs as crystallization chaperones: Nbs exhibit a good track record as chaperones to crystallize challenging proteins because of their ability to lock proteins in a particular conformation, stabilize flexible domains, and shield aggregating surfaces from solvents [11] [12]. They have been used in a number of protein crystallization studies, and same properties have also been exploited to stabilize amyloid-β protofibrils and prevent formation of mature amyloid fibrils.
Intracellular target imaging & immunomodulation: Antibodies acting inside living cells are called "intrabodies". As Nbs fold surprisingly well into functional entities, even in the reducing intracellular environment, Nbs are expressed inside cells fused with a fluorescent protein which can be used to track the activity of their antigen in living cells [13]. They can also be used to functionally knock out the antigen in the cell, and fused with signal peptides to be targeted to specific subcellular compartments.
The Applications of Nanobody in Diagnosis
Nbs as probes in novel biosensors: Nbs can be used in biosensors in the fields of medicine, environment, and food analysis. Their site-specific functional motifs are easy to introduce and their small size allows for a high capacity binding surface, leading to higher sensitivity.
Nbs for noninvasive in vivo imaging: Nbs can be used as a tracer for noninvasive molecular imaging to study disease processes due to their small size, which allows for rapid tissue penetration and blood clearance.
The Applications of Nanobody in Therapy
Nbs in Antivenom therapy: Polyclonal immunoglobulin fragments are being currently used to produce antivenoms with low potency and unstable effectiveness. Moreover, they also possess severe adverse effects. The small size of Nbs allows them to diffuse through the body with a bio-distribution, which matches that of the small venom toxin, and after the nanobody captures the venom, the complex is still small enough to be rapidly eliminated by the kidneys.
Nbs against infections: Nbs can be developed as an agent against bacterial, viral, and parasitic infections. A Phase I trial of Nbs targeting respiratory syncytial virus showed that Nbs could fight infection. Nbs lack the Fc region of a conventional antibody, so they do not neutralize and eliminate the pathogen. However, they have their own inherent neutralizing effect.
Nbs in Immune-based therapeutics: Nbs can be used to combat cancer and other diseases by inhibiting ligand-receptor interactions, such as antagonizing anti-von Willebrand factor to block the initiation of thrombosis, or inhibiting anti-TNF-α to treat arthritis.
6. The Latest Progression of Nanobody Research in SARS-CoV-2 Therapy
In this section, we collect several latest progression of Nanobody research in SARS-CoV-2 therapy as follows:
On May 5, 2020, Jason S. McLellan, et al. published a study entitled "Structural Basis for Potent Neutralization of Betacoronaviruses by Single-Domain Camelid Antibodies" on the Cell. The study found that he isolation of single-domain antibodies (VHHs) from a llama immunized with prefusion-stabilized coronavirus spikes. These VHHs neutralize MERS-CoV or SARS-CoV-1 S pseudotyped viruses, respectively. The study also showed that cross-reactivity between the SARS-CoV-1 S-directed VHH and SARS-CoV-2 S and demonstrated that this cross-reactive VHH neutralizes SARS-CoV-2 S pseudotyped viruses as a bivalent human IgG Fc-fusion. These results of the study provide a molecular basis for the neutralization of pathogenic betacoronaviruses by VHHs and suggest that these molecules may serve as useful therapeutics during coronavirus outbreaks [14].
On May 14, 2020, researchers from Fudan University in China published a paper titled "Identification of Human Single-Domain Antibodies against SARS-CoV-2" online on the Cell Host & Microbe. Researchers have successfully established a phage-displayed human single-domain antibody library. This versatile platform can rapidly isolate human Nanobodies (Nbs) and screen SARS-CoV-2 antibodies. Nbs can not only be used alone but also cooperate with other antibodies; the small size feature has also become an ideal building block for bispecific or multispecific antibodies, effectively preventing the emergence of viral escape mutations and many other advantages. Therefore, these fully human Nanobodies are expected to be developed as effective preventive and therapeutic drugs for clinical treatment of COVID-19 [15].
On June 6, 2020, a scientific research team from China published a study entitled "Development of an inactivated vaccine candidate, BBIBP-CorV, with potent protection against SARS-CoV-2" online on the Cell. They reported the pilot-scale production of an inactivated SARS-CoV-2 vaccine candidate (BBIBP-CorV) that induces high levels of neutralizing antibodies titers in mice, rats, guinea pigs, rabbits and nonhuman primates to provide protection against SARS-CoV-2. Moreover, BBIBP-CorV exhibits efficient productivity and good genetic stability for vaccine manufacture. These results support the further evaluation of BBIBP-CorV in a clinical trial [16].
References
[1] Hamers-Casterman, C., T. Atarhouch, et al. Naturally occurring antibodies devoid of light chains [J]. Nature. 1993, 363:446-448.
[2] J.-Pablo Salvador & Lluïsa Vilaplana. Nanobody: outstanding features for diagnostic and therapeutic applications [J]. Bioanal Chem. 2019.
[3] Cui Li, Zhuoran Tang, et al. Natural Single-Domain Antibody-Nanobody: A Novel Concept in the Antibody Field [J]. J Biomed Nanotechnol. 2018. 14:1-19.
[4] Liu W, Song H, et al. Recent advances in the selection and identification of antigen-specific nanobodies [J]. Mol Immunol. 2018, 96:37–47.
[5] Perez JM, Renisio JG, et al. Thermal unfolding of a llama antibody fragment: a two-state reversible process [J]. Biochemistry. 2001, 40(1):74–83.
[6] Dumoulin M, Conrath K, et al. Single-domain antibody fragments with high conformational stability [J]. ProteinSci. 2002, 11(3):500–15.
[7] Conrath KE, Lauwereys M, et al. Beta-lactamase inhibitors derived from single-domain antibody fragments elicited in the Camelidae [J]. Antimicrob Agents Chemother. 2001, 45(10):2807–2812.
[8] McMurphy T, Xiao R, et al. The anti-tumor activity of a neutralizing nanobody targeting leptin receptor in a mouse model of melanoma [j]. PLoS One. 2014, 9(2):e89895.
[9] Verheesen P, Ten Haaft MR, et al. Beneficial properties of single-domain antibody fragments for application in immunoaffinity purification and immuno-perfusion chromatography [J]. Biochim. Biophys. Acta. 2003, 1624(1–3), 21–28.
[10] Gholamreza HassanzadehGhassabeh, Nick Devoogdt, et al. Nanobodies and their potential applications [J]. Nanomedicine. 2013, 8(6): 1013–1026.
[11] Baranova E, Fronzes R, et al. SbsB structure and lattice reconstruction unveil Ca2+ triggered S-layer assembly. Nature. 2012, 487(7405):119–122.
[12] Rasmussen SGF, Choi H-J, et al. Structure of a nanobody-stabilized active state of the beta(2) adrenoceptor [J]. Nature. 2011, 469(7329): 175–180.
[13] Ries J, Kaplan C, et al. A simple, versatile method for GFPbased super-resolution microspcopy via nanobodies [J]. Nat. Methods. 2012, 9(6), 582–584.
[14] Daniel Wrapp, Dorien De Vlieger, et al. Structural Basis for Potent Neutralization of Betacoronaviruses by Single-Domain Camelid Antibodies [J]. Cell. 2020, 181(5): 1004-1015.
[15] Yanling Wu, Cheng Li, et al. Identification of Human Single-Domain Antibodies against SARS-CoV-2 [J]. Cell Host & Microbe. 2020, 27(6):891-898.
[16] Hui Wang, Yuntao Zhang, et al. Development of an inactivated vaccine candidate, BBIBP-CorV, with potent protection against SARS-CoV-2 [J]. Cell. 2020.