With the COVID-19 cases springing up in multiple regions yet again, the prevention and treatment of COVID-19 has become a research priority for academic and pharmaceutical scientists. Extensive clinical data have demonstrated that complement system is overly active in COVID-19 patients, which is the main factor for the cytokine storm as well as the respiratory distress syndrome (ARDS), or multi-organ failure (MOF). Since over-activation of the complement system is the trigger for the subsequent set of symptoms of COVID-19, is it possible to intervene molecules related complement system and develop new therapeutic strategies?
Intriguingly, in July 2020, a paper published on Nature entitled "Association of COVID-19 inflammation with activation of the C5a-C5aR1 axis", revealed the association of COVID-19 with the activation of the C5a-C5aR1 axis. In this case, inhibiting C5a-C5AR1 restrained the activity of complement system, which restore the function of immune system and prevent body from viral infection. Presently, many of scientists reported an interest and curiosity about complement system. C5AR1, as the receptor for C5a, certain C5AR1-targeted drugs are already in the clinical stage, which are favored by the pharmaceutical company.
1. What is the Complement System?
Before we get to know the C5AR1 target, let's understand the complement system. Complement refers over 30 soluble proteins, membrane-bound proteins and complement receptors, which is technically named complement system. As an important component of the body's natural immunity, complement plays an important role in eliminating antigens and upkeeping the balance of the body's internal environment. However, when complement is expressed abnormally, it can cause different disease. Therefore, complement can prevent body from infection, but on the downside, it is a mediator of immunopathological processes that cause tissue damage, inflammatory reactions and allergic reactions. In recent years, however, studies have increasingly uncovered the role of the complement system as a facilitator in a variety of diseases (e.g. vasculitis, lupus nephritis, retinal diseases, cancer etc.). Targeting components of the complement system for drug development has also emerged as a new idea for the treatment of related diseases.
In the case of COVID-19, when the virus infects the body, it is not that triggers an overwhelming and potentially fatal immune response. As mentioned earlier, COVID-19 infection could over-activate the complement system, leading to the cytokine storm and multi-organ failure (How does COVID-19 induce a cytokine storm? Click for previous articles).
2. What's the C5AR1?
C5AR1 (C5a allergenic toxin chemotactic receptor, C5a-R or CD88) is a classical G protein-coupled receptor. C5AR1, also known as the complement fragment C5a receptor. C5AR1 plays a key role in the innate immune response. As part of the complement system, C5AR1 interacts with C5a, which in turn exerts pro-inflammatory effects. C5AR1 is expressed primarily on granulocytes, monocytes, dendritic cells, and MDSCs (myeloid-derived suppressor cells) in a variety of tumor tissues. Numerous studies have shown that targeting this process can cause a variety of related diseases, including chronic kidney disease, cardiovascular disease, neurological disorders, and cancer. More importantly, a study reported in Nature have confirmed that severe COVID-19 is associated with a systemic inflammatory response, accompanied by lung and kidney damage. This study provides important biomarkers and potential therapeutic approaches for COVID-19. In particular, it offers a glimpse of a new therapeutic target for ongoing studies of complement inhibitors for COVID-19.
3. How's Mechanism of C5AR1-C5a in COVID-19?
In the human body, C5AR1 binds to C5a to trigger inflammatory signals. Abnormal complement activation leads to excessive C5AR1-C5a signals, which in turn triggers the body's self-attack and overreaction that is the cause of many auto-inflammatory diseases. In patients with COVID-19, scientists have found that activation of the C5AR1-C5aR recruits and activates lung neutrophils and monocytes, which are involved in ARDS development. The study noted that increased soluble C5a was proportional to COVID-19 severity; also, C5AR1 expression was increased in myeloid-derived cells in peripheral blood and lung, suggesting that the C5AR1-C5aR axis may be involved in ARDS development.
As depicted in Figure 1, C5AR1-C5a involvement in COVID-19 suggested that SARS-CoV-2 enters human airway epithelial cells by binding to ACE2 receptors located on type II alveolar cells. In non-severe COVID-19 (left), infection remains confined to epithelial cells due to efficient action of the immune system, C5AR1-C5a binds and recruits bone marrow cells but does not trigger an inflammatory storm; in severe COVID-19 (right), SARS-CoV-2 undergoes immune escape, crosses epithelial cells and infects endothelial cells. C5AR1-C5a further recruited myeloid and endothelial cells and release large amounts of inflammatory cytokines, inducing a COVID-19-associated cytokine storm and endotheliitis-associated microthrombosis, which in turn triggers a fulminant disease characterized by acute respiratory failure. Therefore, blocking the C5AR1-C5aR axis would limit myeloid infiltration in damaged organs and prevent the severe pulmonary inflammation and endotheliitis associated with ARDS in COVID-19 patients.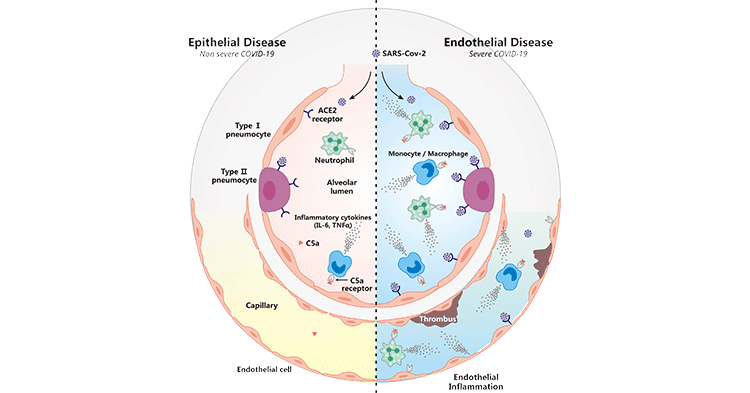 Figure 1. C5AR1-C5a is involved in the regulation of COVID-19
4. C5AR1-Targeted Drugs in the Clinical Trials
On October 8, 2021, first FDA-approved C5AR1 (Avacopan) inhibitor was launched by ChemoCentryx company for the treatment of neutrophil cytoplasmic autoantibody-associated vasculitis and sarcoidosis. Furthermore, Shanghai I-Mab Biopharma company's TJ-210001 (MOR044254) is in clinical phase I for solid tumor treatment. In terms of COVID-19 treatment, C5AR1 clinical drug development is challenging and has not yet translated into clinical benefit, but it is worth looking forward to.
Presently, complement drugs have received increasing attention. ChemoCentryx' share price has doubled to a market value of $2.7 billion as a direct result of the FDA approval of Avacopan. Currently, four targets within the complement system family, C5a, C3, C5 and C5AR1, have all been focused for new COVID-19 treatments. And the prominent role of C5a-C5AR1 axis in the pathogenesis of COVID-19 provides important ideas for the drug design. Targeting C5a/C5AR1 has been supported by ample evidence from clinical trials. At present, clinical studies targeting C5AR1 in the treatment of COVID-19 are worthy of further investigation, which offers a unique opportunity to address the most compelling global challenge.
To fully assist pharmaceutical companies in the C5AR1 research, CUSABIO is offering C5AR1 active protein products.
Recombinant Human C5AR1-VLPs Experimental Validation Data of Active Protein
● High Specificity Validated by Western blot (WB).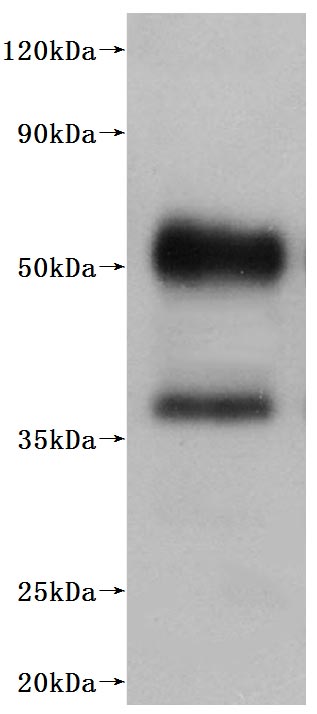 ● Excellent Bioactivity Validated by Functional ELISA.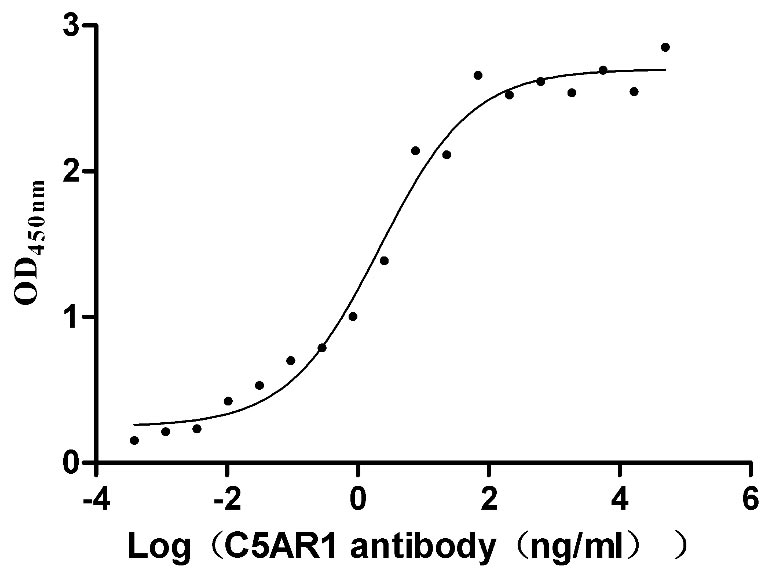 Immobilized human C5AR1 at 10 μg/ml can bind anti-C5AR1 recombinant antibody (CSB-RA003996A0HU). The EC50 is 1.239-3.760 ng/mL.
References
[1] Carvelli, Julien, et al. "Association of COVID-19 inflammation with activation of the C5a-C5aR1 axis." nature 588.7836 (2020): 146-150.
[2] 2. Das, Aurosikha, Lalita Mohan Behera, and Soumendra Rana. "Interaction of Human C5a with the Major Peptide Fragments of C5aR1: Direct Evidence in Support of "Two-Site" Binding Paradigm." ACS omega 6.35 (2021): 22876-22887.
[3] Chouaki Benmansour, Nassima, Julien Carvelli, and Eric Vivier. "Complement cascade in severe forms of COVID-19: Recent advances in therapy." European Journal of Immunology 51.7 (2021): 1652-1659.
[4] Ishida, Torao, et al. "A Greater increase in C5aR1-level at onset and a smaller decrease in IgG-level after recovery in severer COVID-19 patients: a new analysis of existing data with Ishida's t-test1 and t-test2." (2021).
[5] Lim, Endry HT, et al. "Complement inhibition in severe COVID-19-Blocking C5a seems to be key. "EClinicalMedicine 35 (2021).
[6] Apostolidis, Sokratis A., et al. "Signaling through FcγRIIA and the C5a-C5aR pathway mediates platelet hyperactivation in COVID-19." bioRxiv (2021).