Streptococcus pneumoniae (S. pneumoniae) is a major cause of pneumonia, meningitis, sepsis and other serious illnesses worldwide. In November 2010, the WHO announced that between 700,000 and 1 million children under the age of five die of pneumococcal disease each year worldwide, and in 2015 that number will drop to 300,000. But even so, seven children under the age of five suffer from pneumococcal disease caused by streptococcus pneumoniae every minute. So what is S. pneumoniae? And who is at risk? Continuing to read this article…
1. What is Streptococcus Pneumoniae?
S. pneumoniae, also known as pneumococcus, are gram-positive, facultative anaerobic member of the genus Streptococcus [1]. In 1881, G. Stermberg in the U.S. and L. Pasteur in France isolated the bacterium, which was originally named Pneumococcus. It was officially named Streptococcus pneumoniaein 1974 because of its close resemblance to Streptococcus. S. pneumoniae is usually shaped like slightly pointed cocci. Individual S. pneumoniae bacterium usually measures between 0.5 and 1.25 micrometers in diameter. Typically, Streptococcus Pneumoniae is completely enclosed by polysaccharide capsules, which makes it such an effective virus. Its cell wall is made up of peptidoglycan, about six layers thick, and lipoteichoic acid which is attached to the membrane by a lipid moiety.
The genome of S. pneumoniae is a closed, circular DNA structure that contains between 2.0 and 2.1 million base pairs depending on the strain. It has a core set of 1553 genes, plus 154 genes in its virulome, which contribute to virulence and 176 genes that maintain a noninvasive phenotype. Among different types of strains, genetic information can vary up to 10% [2].
2. What are The Diseases Caused by Streptococcus Pneumoniae Infection?
S. pneumoniae is extracellular, opportunistic pathogen that colonizes the mucosal surfaces of the human upper respiratory tract (URT), and may be isolated from the nasopharynx of 5–90% of healthy persons, depending on the population and setting. Up to 27–65% of children and <10% of adults are carriers of S. pneumoniae and carriage involves a commensal relationship between the bacterium and the host. Local spread, aspiration or seeding to the bloodstream results in invasive inflammatory diseases [3] [4] [5] (Fig. 1). S. pneumoniae is a leading bacterial cause of a wide range of infections, including otitis media, pneumonia, sepsis and meningitis. Among of them, pneumonia is the most common disease caused by S. pneumoniae infection. Additionally, it can also cause invasive Streptococcus pneumoniae disease in sterile parts of the central nervous system, abdominal cavity, joints, heart valves, and pericardium through blood circulation. As all of these diseases are 'dead ends' in the life cycle of the organism, the bacterial factors that cause invasive diseases must also be adaptive for colonization and transmission.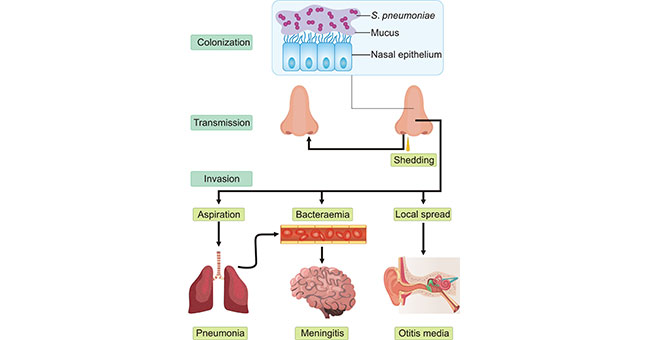 Figure 1. The life cycle of Streptococcus pneumoniae and the pathogenesis of pneumococcal disease
*This figure is derived from the publication on Nat. Rev. Microbiol. [6]
Regarding of pneumonia caused by S. pneumoniae infection, it is more common during winter and early spring. In tropical climates with dry and rainy seasons, pneumococcal disease tends to occur more in the dry season. Moreover, travelers are more likely to get pneumococcal disease if they spend time in crowded settings or in close contact with children in countries where pneumococcal vaccine is not routinely used.
3. Who is at Risk?
As previously mentioned, The S. pneumoniae is found and survives the mucosal surfaces of the human upper respiratory tract of a person, such as the nose, skin, throat and nasal cavity more precisely the nasopharynx. Although it does not cause any harm to the human body, this bacterium is known to pave the way for various diseases in the people who have weak immune systems. Therefore, certain people are at risk and should watch out for the symptoms of it, including people above 65 years old, infants and toddlers (the infants or children below the age of 2 years), alcoholics, after surgery or serious illness, chain smokers and people with a weak immune system.
4. What are the Symptoms of Streptococcus Pneumoniae Infection?
S. pneumoniae is the primary cause of pneumococcal diseases in people whom have very low immune systems, children and elderly people. These diseases are contagious and spread through contact with people who are ill or who carry the bacteria in their throat. Therefore, it is recommended to watch out for the symptoms of pneumococcal disease. The infections of the pneumococcal disease mostly happen around the sinuses, bloodstream, lungs, middle ear and meninges which is the lining of the spinal cord and brain which ultimately results in meningitis.
Hence, a few of the streptococcus pneumoniae symptoms infection are: cough, chills and fever, difficulty in breathing, rapid breathing, pain in the chest, headache, stiff neck, low alertness, confusion, sensitivity to light, increased heart rate, a sensation of cold and shivering and shaking, discomfort and pain, sweaty skin, short breath, sleepiness, ear pain, the swollen or red eardrum, bloodstained sputum, nausea and vomiting and drowsiness.
5. How to Diagnose Streptococcus Pneumoniae Infections?
Usually, doctors can diagnose pneumonia based on your symptoms, physical exam, lab tests and chest x-ray. If doctors suspect invasive pneumococcal disease, like meningitis or bloodstream infections, they collect samples of cerebrospinal fluid or blood and send them to a laboratory for bacterial cultivation, which is the main technique used to diagnose the causative bacterium in cases of middle ear infection and sinusitis. The bacteria can be identified if neutrophils are present in the sample and if there are more than ten gram-positive diplococci.
If the results of the test are inconclusive, or if further tests are required, the bacteria can be investigated further by being streaked onto blood agar. When this test is performed, the S. pneumoniae should start to exhibit alpha-hemolysis, where the blood agar has areas of green coloring around the colonies of the bacteria that has been streaked onto the agar. However, this test is not always conclusive because other members of the Streptococcus bacteria also exhibit similar reactions and can cause alpha-hemolysis. In order to confirm this test to be conclusive, the streaked organisms should also exhibit sensitivity to optochin or bile, which can more conclusively prove that the bacteria is S. pneumoniae.
6. What are Treatments for Streptococcus Pneumoniae Infection?
Pneumococcus can spread from a person to another. You can get S. pneumoniae from respiratory droplets from the nose or mouth of an infected person. It is common for people, especially children, whom carry the bacteria in their throats without being sick. Moreover, accumulating evidence has suggested that factors such as Ply (CUSABIO provides ply with the species of serotype 4 and serotype 2) that contribute to the disease state by enhancing inflammation also promote the transmission of S. pneumoniae [7]. Antibiotic is the most common treatment for pneumococcal disease. The symptoms of pneumococcal pneumonia usually go away within 12 to 36 hours after you start taking medicine. However, some bacteria such as S. pneumoniae have become resistant to some of the antibiotics used to treat these infections. Such antibiotic resistance is increasing worldwide because these medicines have been overused or misused.
Antibiotic treatment for invasive pneumococcal infections typically includes 'broad-spectrum' antibiotics until results of antibiotic sensitivity testing are available. Broad-spectrum antibiotics work against a wide range of bacteria. Once the sensitivity of the bacteria is known, a more targeted antibiotic may be selected.
7. How to Protect Yourself from Streptococcus Pneumoniae Infection?
Prevention of a person from S. pneumoniae is getting them vaccinated with a vaccine which is known as Pneumonia vaccine. This kind of vaccine is recommended to children below 2 years of age, adults above 65 years of age and everyone else who have weak immune systems.
Taking a pneumonia vaccine shot helps to prevent the harmful, life-threatening and contagious pneumococcal disease that this bacteria cause. It thus also helps in preventing a person from all the other diseases that follow pneumococcal diseases.
There are two kinds of pneumonia vaccines available that helps to prevent Streptococcus pneumoniae bacteria, including conjugate pneumococcal vaccine (PCV13) and polysaccharide pneumococcal vaccine (PPV23). So how to choose pneumococcal vaccine, and what are the differences between PCV13 and PPV23? You can find the answers to the above questions on the following table.
| | PCV13 | PPV23 |
| --- | --- | --- |
| Different ingredients | PCV13 is a polysaccharide protein-binding vaccine and effectively stimulate the immune system of infants and young children to produce sufficient protective antibodies, and have immune memory; | PPV23 is a polysaccharide vaccine, contains only pneumococcal capsular polysaccharide antigen, without carrier protein and can't stimulate effective immune response in babies under 2 years old |
| Other name | 13-valent pneumococcal conjugate vaccine | 23-valent pneumococcal polysaccharide vaccine |
| Different serotypes of preventable pneumococcal bacteria | PCV13 is a vaccine that protects against 13 strains serotypes of pneumococcal bacteria: 1, 3, 4, 5, 6A, 6B, 7F, 9V, 14, 18C, 19A, 19F and 23F. | PPV23 is a vaccine that protects against 23 strains serotypes of pneumococcal bacteria: 1, 2, 3, 4, 5, 6B, 7F, 8, 9N, 9V, 10A, 11A, 12F, 14, 15B, 17F, 18C, 19F, 19A, 20, 22F, 23F, and 33F. |
| Different vaccination age | It is suitable for babies from 6 weeks to 2 years old. | It is suitable for high-risk groups over 2 years old and elderly over 50 years old. |
| Different vaccination procedure | The routine vaccination procedure is one dose of each for basic immunization at 2, 4, and 6 months, and one dose for booster immunization at 12-15 months. A total of 4 doses are given. | Just one dose are given. |
| Salt content | Into a muscle | Into a muscle or under the skin |
| Produced by different companies | It is made by Wyeth Pharmaceuticals and marketed by Pfizer Inc. | It is made by Merck & Co., Inc. |
In terms of PCV13, you must note that the first dose can be given as early as 6 weeks of age, followed by doses 2 and 3 every 4-8 weeks, and 3 doses of basic immunization can be completed at the latest before 7 months of age. Besides, you may ask whether you still need to be vaccinated if you have already had pneumonia? Why do you still get pneumonia after being vaccinated?
Actually, there are many pathogens that can cause pneumonia, and S. pneumoniae is the most common one. Moreover, S. pneumoniae is a big family, more than 90 kinds have been discovered. Even if you have had pneumonia before, you are only infected with one or more of them at most, which does not mean you are resistant to the remaining pneumococcus. In another words, pneumonia vaccine can only prevent pneumonia caused by S. pneumoniae, but it can't help other diseases such as viral pneumonia and mycoplasma pneumonia.
References
[1] Ryan KJ, Ray CG, eds. Sherris Medical Microbiology. McGraw Hill. 2004, ISBN 978-0-8385-8529-0.
[2] van der Poll T, Opal SM. Pathogenesis, treatment, and prevention of pneumococcal pneumonia [J]. Lancet. 2009, 374 (9700): 1543–56.
[3] Abdullahi, O. et al. The prevalence and risk factors for pneumococcal colonization of the nasopharynx among children in Kilifi District, Kenya [J]. PLoS ONE. 2012, 7, e30787.
[4] Yahiaoui, R. Y. et al. Prevalence and antibiotic resistance of commensal Streptococcus pneumoniae in nine European countries [J]. Future Microbiol. 2016, 11, 737–744.
[5] Bogaert, D., De Groot, R. & Hermans, P. W. Streptococcus pneumoniae colonisation: the key to pneumococcal disease. Lancet Infect. Dis. 2004, 4, 144–154.
[6] Jeffrey N. Weiser, Daniela M. Ferreira and James C. Paton. Streptococcus pneumoniae: transmission, colonization and invasion [J]. Nat. Rev. Microbiol. 2018.
[7] Lipsitch, M. & Moxon, E. R. Virulence and transmissibility of pathogens: what is the relationship [J]? Trends Microbiol. 1997, 5, 31–37.