Accompanied by great success of PD-(L)1, immunotherapy become the next revolution in cancer treatment, but tumor tissue is commonly infiltrated with a large number of immunosuppressive cells, leading to the unsatisfactory response to tumor immunotherapy in patients. For solid tumor treatment, the most important factor to improve the therapeutic efficacy is to dismantle the inhibitory effect of the tumor microenvironment (TME) on immune effector cells. Therefore, the study of regulatory T cells (Tregs) that specifically target and remove infiltrating tumor tissues is an inevitable direction to improve the limitations of PD-1.
Tregs have been identified to play a critical role in tumor immunotherapy and it functions as an inhibitor in the pathological immune response mediated by autoreactive cells. With the launch of CTLA4 and CCR4 drugs, the emergence of CCR8 has attracted even more attention. CCR8, a target that used to be almost unnoticed, has become the most promising candidate for new antitumor drugs, exciting the passion of pharmaceutical companies.
1. How Does CCR8 Become an Attractive Target?
On September 1, 2020, Gilead Sciences, Inc. announced that it had acquired the co-development rights to the CCR8-targeting antibody JTX-1811 from Jounce Therapeutics Inc. for $805 million. Jounce's stock valuation soared by 70% after this notable agreement. Meanwhile, CCR8 officially stepped into the spotlight.
On September 2, 2020, Shanghai Harbour BioMed company mentioned its monoclonal antibody HBM1022 at the 16th Annual Protein Engineering Summit (PEGS), with an anticipated Investigational New Drug ( (IND) application in 2022.
In February 2021, Vaccinex Inc. announced that Surface Oncology company had acquired an interest in the development of the CCR8 antibody (SRF114), and that month, Surface Oncology's share price rose sharply. Surface Oncology now has a market capitalization of $3.3 billion.
In February 2021, Amgen acquired Five Prime for $1.9 billion to expand pipeline of new cancer drugs, which includes the CCR8 monoclonal antibody FPA157 and is expected to file an IND in the first half of 2022.
In May 2021, Bristol-Myers Squibb (BMS) initiated a clinical trial of the CCR8-targeting monoclonal antibody BMS-986340 to evaluate its efficacy and safety under administered alone and in combination with Nivolumab in a variety of solid tumors.
In August 2021, Nanjing Immunophage Biotech company announced that the IND for its self-developed CCR8 inhibitor (IPG7236) was approved by the FDA. In September, Immunophage completed $14M in Pre-A round, which will be used for the Phase I clinical trials and commercialization preparation.
It is believed that interest in CCR8 from domestic and international biopharmaceutical companies will continue to rise.
2. What's the CCR8?
CCR8 is a member of the chemokine receptor subfamily and belongs to the G protein-coupled receptors. Human CCL1 is the major ligand for CCR8, and other ligands are CCL8, CCL16 and CCL18. CCR8 is specifically expressed on tumor-infiltrating regulatory T cells (Treg) and is also expressed on both Th2 cells and tumor cells; however, it is largely not expressed on peripheral blood Treg or normal tissues.The main role of CCR8 is to participate in the recruitment of Tregs and Th2 cells to inflammatory and tumor sites. Numerous studies indicated that high expression of CCR8 is associated with a variety of cancers, including colorectal cancer, breast cancer, gastric cancer, metastatic brain cancer, and metastatic liver cancer, especially on Tregs cells isolated from breast cancer. Thus, the CCR8 becomes a significant research target that attracts researchers' attention in recent years.
3. How's the Mechanism of CCR8+ Tregs in TME?
Before explaining the mechanism, let's firstly understand what is regulatory T cells (Tregs). Tregs are a group of specific CD4-positive lymphocytes, which functions to suppress excessive and uncontrolled immune responses. Nevertheless, Tregs are major responsible for suppressing the immune response of immune cells that attack tumors.
But how does the roles of CCR8+Tregs play in TME? As denoted in Figure 1, tumor stem cells CAF and TAM secrete CCL1 into TME, which binds to and activates CCR8 on a variety of cells. The roles of the CCR8-CCL1 as follow: i. In tumor cells, to cause tumor cell proliferation, migration, and anti-cell apoptosis; ii. In vascular endothelial cells, to promote angiogenesis as well as tumor growth; iii. In CD4+ T cells, to enhance the conversion of CD4+ T cells towards Tregs and recruitment of Tregs; iv. In Tregs, responsible for the recruitment of Tregs to inflammatory or tumor sites.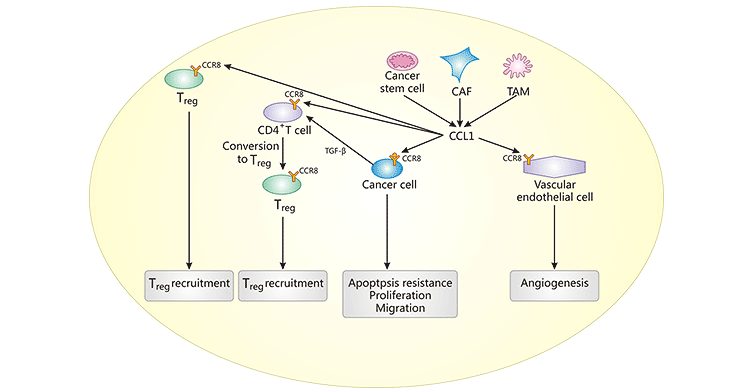 Figure 1. The role of the CCR8-CCL1 axis
The CCR8-CCL1 not only recruits CCR8+ Tregs into TME, as presented in Figure 2, but also induces upregulation of FOXP3 and CD39, which are essential for Treg suppression, and IL-10. Therefore, the process enhances the immunosuppressive ability of Treg. CCR8 was found to be significantly upregulated in tumor-infiltrating Tregs in human breast cancer compared to Tregs in normal tissues, suggesting that CCR8 is a promising therapeutic target on Tregs in TME without causing systemic autoimmunity. Thus, antibodies targeting CCR8 to remove Treg cells from the TEM would improve the immunotherapy.
Figure 2. Mechanism of CCR8+ Tregs tumor-infiltrating in TME
4. How's the Clinical Prospects of CCR8?
Of late, there are six CCR8 targeting drugs under clinical trials because of the fact that CCR8 research is still in the early stage. Foreign pharmaceutical companies include Gilead, BMS, Five Prime (which has been acquired by Amgen); domestically, Nanjing Immunophage Biotech company and Shanghai Harbour BioMed company have started to get involved. In addition, a domestic Biotheus company has applied two patents, which is CCR8 monoclonal antibody and CCR8xCTLA-4 bispecific antibodies. As a promising target in immunotherapy, it is undoubted that more CCR8 targeted drugs will be out with an increased attention in more companies.
Drug Name
Research Phase
Company
Indications
Last update date
JTX-1811
GS-1811
Clinical Phase I
Gilead
Solid tumors
2021-08-26
IPG-7236
Clinical stage unknown
Nanjing Immunophage Biotech
Solid tumors
2021-08-20
SRF-114
preclinical
Surface Oncology
Tumors
2021-08-24
FPA-157
preclinical
Five Prime Therapeutics
Amgen
Solid tumors
2021-08-24
HBM-1022
preclinical
Shanghai Harbour BioMed
Tumors
2021-08-24
BMS-986340
preclinical
Bristol-Myers Squibb
Tumors
2021-08-24
Data source: Pharmacodia
To fully serve pharmaceutical companies in the research of CCR8, CUSABIO is offering CCR8 active protein products. Welcome to contact us.
Recombinant Human CCR8-VLPs Experimental Validation Data for Active Protein
● High Specificity Validated by Western blot (WB).
● Excellent Bioactivity Validated by Functional ELISA.
● Correct Structure Validated by TEM.
References
[1] Karin, Nathan. "Chemokines and cancer: new immune checkpoints for cancer therapy. "Current opinion in immunology 51 (2018): 140-145.
[2] Das, Suvendu, et al. "Tumor cell entry into the lymph node is controlled by CCL1 chemokine expressed by lymph node lymphatic sinuses." journal of Experimental Medicine 210.8 (2013): 1509-1528.
[3] Whiteside, Sarah K., et al. "CCR8 marks highly suppressive Treg cells within tumours but is dispensable for their accumulation and suppressive function ." Immunology (2021).
[4] Roose, Heleen, et al. "Investigation of the best therapeutic approach to target CCR8 expressed on tumor regulatory T cells to boost anti-tumor immune responses." (2021): 1732-1732.
[5] Korbecki, Jan, et al. "CC chemokines in a tumor: a review of pro-cancer and anti-cancer properties of receptors CCR5, CCR6, CCR7, CCR8, CCR9, and CCR10 ligands." international journal of molecular sciences 21.20 (2020): 7619.