Growth hormone 1, also known as somatotropin, or growth hormone (GH). It is a member of the growth hormone/prolactin family. It is a single peptide chain protein hormone secreted by pituitary gland. The role of this hormone is to promote growth and affect metabolism. In addition, studies have shown that growth hormone has a wide range of physiological effects on neurological diseases, especially in nerve repair and neuroprotection. Mutations or deletions in the gene can cause growth hormone deficiency and short stature.
1. GH1 Gene
The human genome contain five GH-related genes: human growth hormone (hGH), human chorionic growth prolactin-A (hCS-A), human chorionic growth prolactin-B (hCS-B), human chorionic growth prolactin-like (hCS- L), human auxin variant (hGH-V) [1]. They have the same transcriptional direction but are separated by a 6-13 kb long gene interval. The five genes have about 91% to 99% sequence homology, and each gene contains 5 exons and 4 introns. The five genes are grouped together to form a gene cluster, which is located on the long arm q22-24 of chromosome 17, with a total length of 66.5 kb.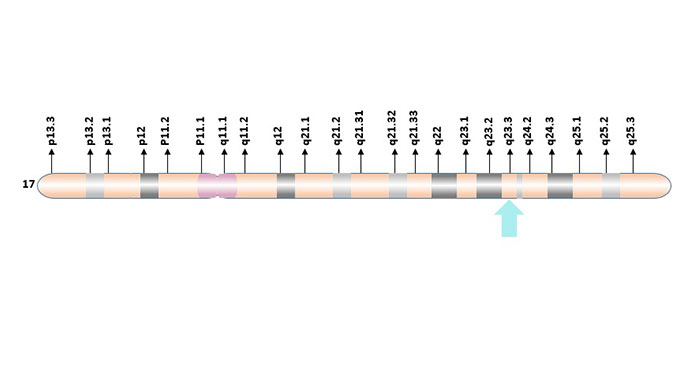 Figure 1 Localization of GH1 gene
The GH1 gene is mainly transcribed and expressed in the growth hormone secreting cells of the anterior pituitary, and is expressed in a small amount in lymphocytes. GH gene expression in lymphocytes may play a role in local paracrine/autocrine immune regulation. The other four genes are primarily expressed in the placenta and play a role in fetal and placental growth and development. These five genes are first translated into prohormones and then processed into bioactive forms by enzymatic hydrolysis [2].
2. Structure of GH1
HGH can exist in various forms: monomer, homologous monomer polymer, molecular fragment, monomer and its binding protein complex, etc. It mainly includes four molecular weight: 22 kDa, 20 kDa, 17 kDa and 5 kDa [3]. Among them, 22 kDa hGH is the most abundant growth hormone in the human, and most of the growth hormone is secreted in this molecular form. It is a single-chain, non-glycosylated hydrophilic globulin containing 191 amino acids. HGH includes four anti-parallel α-helices, which are necessary for GH to interact with its receptors.
3. Regulation of GH1 Gene
Several molecular subtypes of growth hormone are secreted by the pituitary gland and released into the bloodstream. GH is secreted in a pulsating manner, and its secretion has fluctuation, with the largest change range at night and the most vigorous secretion at puberty, and then gradually decreases with the increase of age.
The secretion of growth hormone (GH) in pituitary gland is controlled by two kinds of hypothalamic peptides: GH releasing hormone (GHRH) and somatotropin release inhibiting factor (SRIF).
GHRH is the main regulatory factor of GH, which promotes the transcription and release of GH gene. Somatostatin inhibits the secretion of growth hormone by inhibiting the growth nutrition response of growth hormone to GHRH. The third factor is Ghrelin, which stimulates growth hormone secretion, although its role in physiological regulation of growth hormone secretion is controversial [4].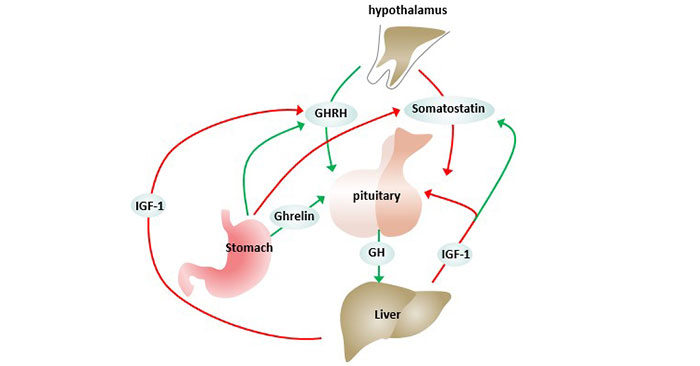 Figure 2 Regulation of GH by endogenous substances
In addition, there are many factors that affect the secretion of growth hormone, such as age, gender, diet, exercise, stress and other hormones. Glucose and fatty acids inhibit the secretion of growth hormone, and circulating concentrations of GH and IGF-1 inhibit the secretion of growth hormone by negative feedback. Sleep, stress, exercise and low blood sugar increase growth hormone production. The production of growth hormone decreases with age and obesity, the rate of GH secretion in adolescents is about 700 μg/day, and the rate of GH secretion in healthy adults is about 400 μg/day. The rate of growth hormone secretion peaks in adolescence and then declines throughout life, approximately 15% per decade.
4. The Function of GH
Human growth hormone has a wide range of physiological functions. HGH mainly affects the growth, metabolism and differentiation of cells by affecting the growth axis of GH-IGF1, promotes protein synthesis, and accelerates the metabolism of fat and minerals, so as to make bones, viscera and muscles grow. It can also affect immune tissue, brain tissue, hematopoietic system function.
4.1 Increase Muscle Strength
In the process of protein synthesis, hGH promotes the uptake of amino acids in cells, promotes the transcription of mRNA in the nucleus, strengthens the synthesis of tRNA, and accelerates the synthesis of proteins. Human growth hormone enhances muscle strength and enhances individual body energy by stimulating collagen synthesis in skeletal muscles and tendons. For adults with HGH deficiency, long-term HGH treatment can normalize muscle strength [5].
4.2 Regulates Bone Growth
The release of growth hormones is crucial to regulating bone growth, especially during puberty. Increased height in childhood is one of the most important roles of growth hormone. GH activates the MAPK/ERK pathway by binding to receptors on target cells and stimulates the division and proliferation of chondrocytes. Human growth hormone speeds bone regeneration, making it a key part of bone healing. Topical application of growth hormone significantly accelerates fracture healing without systemic adverse effects [6].
4.3 Help Fat People Lose Weight
HGH can promote the breakdown of fat in animals. Impaired secretion of human growth hormone will result in loss of lipolytic function. Insulin resistance and visceral/abdominal obesity are common in adults with hormonal growth defects. Therefore, human growth hormone can play a therapeutic role in helping obese people lose weight.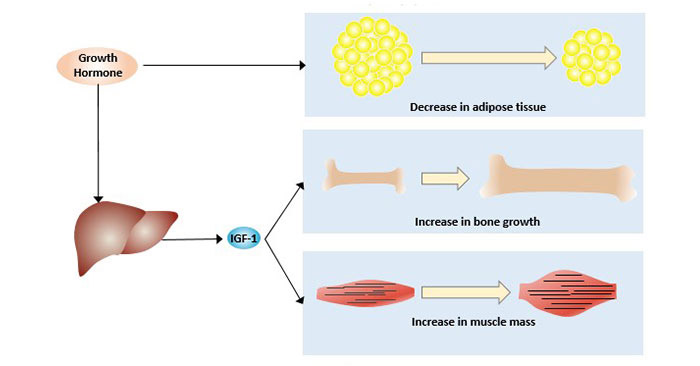 Figure 3 The function of growth hormone
4.4 Reduce the Risk of Cardiovascular Disease
Studies have shown that growth hormone deficiency can alter lipoprotein metabolism and increase the risk of cardiovascular disease [7].
4.5 Improves Erectile Dysfunction
In addition to promoting the growth of animals, growth hormone is also involved in regulating a variety of physiological activities in animals, such as the development and maturation of gonads. Recent studies have shown that human growth hormone is associated with male reproductive function and sexual maturity, while lack of growth hormone is associated with erectile dysfunction and loss of sexual desire. Growth hormone may cause penile erection by stimulating the activity of the human corporal smooth muscle cell, making it a potential natural medicine for the treatment of impotence. [8].
4.6 Better Mood and Cognition
Growth hormone plays a vital role in mental and emotional health and maintaining high energy levels. Adults with growth hormone deficiency are more likely to suffer from depression. Studies have shown that growth hormone therapy in adults with growth hormone deficiency can improve their cognitive function and mood [9]. Although growth hormone replacement therapy has been proposed to treat depression caused by growth hormone deficiency, the long-term effects of this therapy are not clear [10].
4.7 Regulate Immune Function
Human growth hormone can regulate immune function, increase thymocyte activity, affect B cell development and function, and enhance NK killing activity [11] [12].
In addition, growth hormone is involved in the development, differentiation and functional integration of brain neurons. Numerous studies have shown that growth hormone can stimulate the regeneration of neurons, astrocytes, endothelial cells and oligodendrocytes, as well as the formation of myelin sheath and dendritic diversity [13].
5. Side Effects of GH
The GH1/IGF-1 system plays an important role in regulating the growth and development of the body by regulating cell proliferation, differentiation and apoptosis. Excess and lack of GH1 can cause some diseases.
5.1 Excessive GH1
GH1/IGF-1 axis plays an important role in the occurrence and development of cancer [14]. Studies have shown that elevated levels of IGF-1 in serum are significantly associated with the risk of developing esophageal cancer.
The most common disease with excess GH is a pituitary tumor consisting of growth hormone cells in the anterior pituitary. Prolonged excess GH causes acromegaly, along with sweating, nerve pressure (carpal tunnel syndrome), muscle weakness, excessive sex hormone binding globulin (SHBG), insulin resistance or even type 2 diabetes, and reduced sexual function.
5.2 GH1 Deficiency
Growth hormone deficiency (GHD) is a disease caused by insufficient growth hormone (GH). Its general characteristic is lack of height. The signs and symptoms of growth hormone deficiency vary with age:
In childhood, growth hormone deficiency is characterized by growth failure, stunted growth and delayed sexual maturation.
In adults, it is mainly characterized by abnormal body composition, decreased aerobic exercise capacity and quality of life, and adverse changes in lipid and carbohydrate metabolism and cardiovascular function.
In addition, the following symptoms may occur: depression, hair loss, sexual dysfunction, memory loss, inattention, and the like.
6. Mechanism
The action mode of GH on the organism can be divided into direct action and indirect action.
Direct action: GH binds to the extracellular domain of the GH receptor to form a GH-GHR complex. The complex binds to another receptor molecule to form a dimer, and the dimeric receptor tyrosine is phosphorylated by the tyrosine kinase (JAK2), thereby activating the JAK2-STAT pathway. This pathway mediates cell-to-cell signaling, alters the Ca2+ transport pathway, regulates contractile and cytoskeletal expression.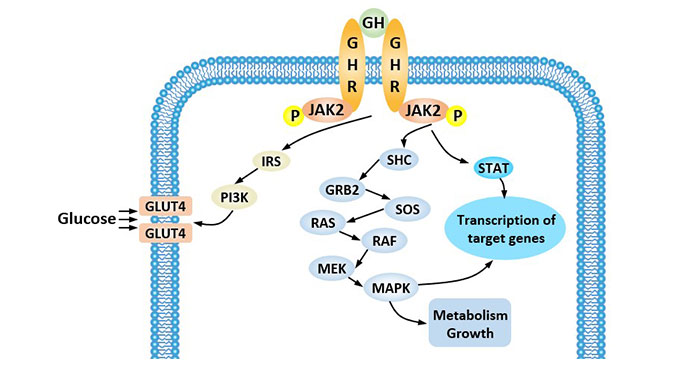 Figure 4 The mechanism of GH on organism
Indirect effects: GH binds with growth hormone binding protein (GHBP), stimulating target organs to produce insulin-like growth factor-1 (IGF-1), and GHBP then binds with IGF-1 receptor to exert its function.
This relationship between growth hormone and IGF-1 is also called the GH/IGF-1 axis. The liver is the main target organ of growth hormone and the main site for the production of IGF-1. IGF-1 promotes the growth of a variety of tissues.
7. History of Drug Development
Until 1985, growth hormone for treatment was extracted from human pituitary glands collected at autopsy. Since 1985, human growth hormone derived from the pituitary has been replaced by recombinant human growth hormone (rHGH) produced by genetically engineered bacteria produced by recombinant DNA technology.
As of 2005, recombinant growth hormones available in the United States include Nutropin (Genentech), Humatrope (Lilly), Genotropin (Pfizer), Norditropin (Novo) and Saizen (Merck Serono). In 2006, the Food and Drug Administration (FDA) approved a version of rHGH called Omnitrope (Sandoz).
8. GH1 and Disease Treatment
Exogenous growth hormone can be used to treat children or adults with growth hormone deficiency, but it can only be used in limited circumstances due to the possible side effects of exogenous growth hormone therapy. In addition, rhGH is also used in the treatment of Turner syndrome (gonad dysfunction syndrome), renal insufficiency. Due to its regulatory effect on the immune system, it also has broad prospects in organ transplantation, rheumatism, anti-infection, anti-aging and the like.
GH replacement therapy can improve body composition [15], including reducing fat mass, increasing lean meat mass, increasing bone density, improving blood lipid levels, reducing cardiovascular risk factors, and improving psychosocial health.
The abuse of growth hormone can also be harmful. For example, it increases the risk of diabetes, arteriosclerosis, uremia and malignancy. The toxic effect increased with the increase of dose and time [16].
In addition, the growth hormone synthesized by the DNA recombination technique is completely identical to the amino acid alignment sequence of the growth hormone secreted by the human body. After taking rhGH, it is not possible to directly distinguish exogenous growth hormone (hGH) from endogenous growth hormone by blood test and urine test. Therefore, it is very difficult to directly determine whether an athlete abuses rhGH, and these factors all lead to an increase in rhGH abuse. Therefore, it is necessary to establish an effective detection method to inhibit the abuse of rhGH [17].
References
[1] Wu Z. A New Nonisotopic, Highly Sensitive Assay for the Measurement of Human Placental Growth Hormone: Development and Clinical Implications [J]. The Journal of clinical endocrinology and metabolism, 2003, 88(2).
[2] Handwerger S, Freemark M. The Roles of Placental Growth Hormone and Placental Lactogen in the Regulation of Human Fetal Growth and Development [J]. Journal of Pediatric Endocrinology & Metabolism, 2000, 13(4): 343-356.
[3] Palo E F D, Filippis V D, Gatti R, et al. Growth hormone isoforms and segments/fragments: Molecular structure and laboratory measurement [J]. Clinica Chimica Acta, 2006, 364(1-2): 0-76.
[4] Van d L A J, Tschop M, Heiman M L, et al. Biological, Physiological, Pathophysiological, and Pharmacological Aspects of Ghrelin [J]. Endocrine Reviews, 2004, 25(3): 426-457.
[5] Tavares A B W, Micmacher E, Biesek S, et al. Effects of Growth Hormone Administration on Muscle Strength in Men over 50 Years Old [J]. International Journal of Endocrinology, 2013(1): 942030.
[6] Schmidmaier, Wildemann, Heeger, et al. Improvement of fracture healing by systemic administration of growth hormone and local application of insulin-like growth factor-1 and transforming growth factor-β1 [J]. Bone, 2002, 31(1): 165-172.
[7] Rosen T, Eden S, Larson G, et al. Cardiovascular risk factors in adult patients with growth hormone deficiency [J]. Acta Endocrinologica, 1993, 129(3): 195.
[8] Becker A J, Uckert S, Stief C G, et al. Serum levels of human growth hormone during different penile conditions in the cavernous and systemic blood of healthy men and patients with erectile dysfunction [J]. Urology, 2002, 59(4): 609-614.
[9] Lasaite L, Bunevicius R, Lasiene D, et al. Psychological functioning after growth hormone therapy in adult growth hormone deficient patients: endocrine and body composition correlates [J]. Medicina, 2004, 40(8): 740-744.
[10] Prodam F, Caputo M, Belcastro S, et al. Quality of life, mood disturbances and psychological parameters in adult patients with GH deficiency [J]. Panminerva Medica, 2012, 54(4): 323.
[11] Kimata H, Yoshida A. Effect of growth hormone and insulin-like growth factor-I on immunoglobulin production by and growth of human B cells [J]. Journal of Clinical Endocrinology & Metabolism, 1994, 78(3): 635-641.
[12] Auernhammer C J, Feldmeier H, Nass R, et al. Insulin-like growth factor I is an independent coregulatory modulator of natural killer (NK) cell activity [J]. Endocrinology, 1996, 137(12): 5332-6.
[13] Aberg D. Role of the Growth Hormone/Insulin-Like Growth Factor 1 Axis in Neurogenesis [J]. Endocrine development, 2010, 17: 63-76.
[14] Jerome L. Deregulation of the IGF axis in cancer: epidemiological evidence and potential therapeutic interventions [J]. Endocrine Related Cancer, 2003, 10(4): 561-578.
[15] Hoffman A R, Kuntze J E, Baptista J, et al. Growth Hormone (GH) Replacement Therapy in Adult-Onset GH Deficiency: Effects on Body Composition in Men and Women in a Double-Blind, Randomized, Placebo-Controlled Trial [J]. The Journal of Clinical Endocrinology & Metabolism, 2004, 89(5): 2048-2056.
[16] Saugy M. Human growth hormone doping in sport [J]. British Journal of Sports Medicine, 2006, 40(Supplement 1): i35-i39.
[17] McHugh C M. Challenges in Detecting the Abuse of Growth Hormone in Sport [J]. Clinical Chemistry, 2005, 51(9): 1587-1593.