Recently, international academic Journal Clinical Cancer Research published a study entitled "AMG 757, a half-life extended, DLL3-targeted bispecific T-Cell engager, shows high potency and sensitivity in preclinical models of small-cell lung cancer". It suggested that AMG 757, a novel therapeutic agent targeting DLL3, has a compelling safety and efficacy profile in preclinical studies making it a viable option for DLL3-expressing SCLC tumors [1]. In this regard, on European Lung Cancer Conference 2021 (ELCC Virtual 2021) which has just concluded, DLL3 is considered as a promising new target in clinical treatment for SCLC. Currently, more and more researchers are looking for DLL3-targeted agents to treat tumors. But, what is DLL3? How's the progress of DLL3 in tumor research? Today, let's get to know it.
1. What is the Structure and Function of DLL3?
Delta-Like Ligand 3 (DLL3), a single transmembrane protein that attaches to the cell surface, is a member of the Notch ligand family. The human DLL3 gene is localized on chromosome 19q13 and has an open reading frame length of approximately 1800 bp [2]. The human DLL3 protein consists of 619 amino acids and is characterized by a Delta/Serrate/LAG-2 (DSL) domain, six epidermal growth factor (EGF)-like repeats, and a transmembrane domain (Figure 1) [3, 4]. The DSL gene sequence at the extracellular N-terminal domain is highly conserved in the ligand family, which is an essential structure for binding to the Notch receptor. DLL3 is composed of short intracellular domain and its function remains unclear. It is rarely expressed in normal tissues, but many findings suggested that DLL3 is highly expressed in SCLC and other neuroendocrine tumors, which offers potential for DLL3-targeted therapeutic design [5]. In recent years, an increasing number of studies suggested that DLL3 can bind to different Notch receptors and participate in complex biological activities, exerting pro- or anti-cancer effects.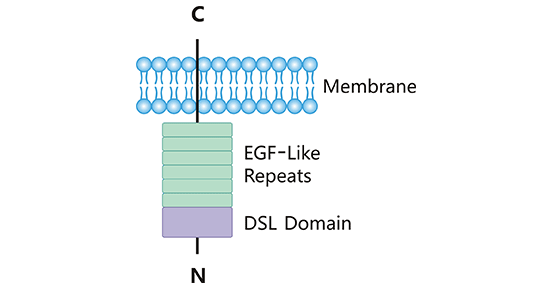 Figure 1. The structure of DLL3
*The figure was derived from Frontiers in Immunology publication [3]
2. What are the Receptors for the Ligand DLL3?
The ligand DLL3 functions directly or indirectly in biological functions via binding to Notch receptors. There are four Notch receptors (Notch 1-4), which are conserved single-pass transmembrane proteins [6]. Notch receptors contain three parts: a transmembrane, extracellular, and intracellular domains. As shown in Figure 2, the extracellular domain (N-terminal) of its Notch receptor consists of a variable number of EGF-like repeat fragments and a negative regulatory region (NRR) in the near-membrane region, which is composed of three Lin12/Notch repeat fragments (LNR) and a heterodimerization region (HD); the intracellular domain usually consists of a region of protein-binding RPBJ-associated molecule (RAM), seven anchor protein repeat fragments, a transcriptional activation region (TAD), and a PEST region (proline/serine/threonine-rich) [3].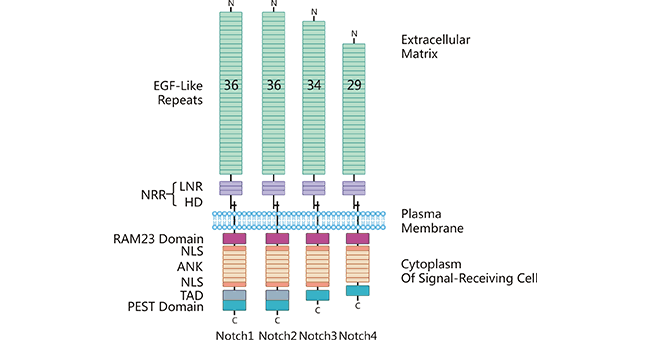 Figure 2. The structure of receptor Notch 1-4
*The figure was derived from Frontiers in Immunology publication [3]
Unlike other Notch ligands, the current researches suggested that DLL3 is an inhibitory Notch ligand. The ligand DLL3 binds to Notch receptors and has an inhibitory effect on the Notch signaling pathway [7]. In SCLC, DLL3 could bind to Notch1 receptor, leading to the inhibition of Notch signaling pathway. As the Notch signaling pathway targeted genes, the expression levels of HES1 and HEY1 were down-regulated, which contributed to the deregulation of tumor and promoted the SCLC development [8]; Besides, DLL3/Notch2 could increase the cell cycle protein expression (CyclinD1 and CyclinD3), suggesting that DLL3/Notch2 may promote the proliferation of SCLC cells by upregulating expression levels of cell cycle proteins [9]. In addition, the binding of DLL3 and Notch receptor is closely associated with other tumors. For example, DLL3/Notch2 is involved in the regulation of proliferation and invasion of pituitary adenomas [10]; DLL3/Notch2/Notch4 binding is essential for melanoma cell growth and survival [11]; DLL3/Notch2/Notch3 binding in ovarian cancer mediates cell proliferation and differentiation, which are associated with poor survival [12]. Overall, DLL3 could bind to different Notch receptors and play multiple roles in cell proliferation, differentiation, and apoptosis. However, the exact molecular mechanisms still remain unknown.
3. How Does the DLL3-Mediated Signal Transduction Pathway?
As previously mentioned, DLL3 is an inhibitory Notch ligand. Numerous studies have found that the ligand DLL3 inhibits Notch signaling pathway by binding to Notch receptors, affecting communication between neighboring cells and thus regulating cell development, whereas the specific mechanism has not yet been elucidated. In addition to the Notch signaling pathway, DLL3 also functions in other signaling pathways. For example, DLL3 activates phosphoinositol-3-kinase/serine-threonine protein kinase B (P13K/Akt) by inhibiting the Notch signaling pathway. As DLL3 expression was upregulated, the expression levels of Wnt-1 and Wnt-4, as well as Wnt-targeted genes (Axin-2 and Lef-1) were upregulated, suggesting that DLL3 is involved in the activation of the Wnt signaling pathway. Moreover, it has also been demonstrated that DLL3 regulates the Notch/Wnt signaling pathway by regulating the cyclic expression of Nrarp [13].
DLL3 may participate in several signaling pathways, involving the activation and expression of a series of genes. And DLL3 in tumorigenesis plays an oncogenic or tumor-suppressive role depending on the cellular context. Therefore, further studies on the expression and mechanism of DLL3 in various tumors will be of great significance to the pathogenesis, treatment, and prevention of tumors.
4. The Role of DLL3 in Tumor Diseases
As mentioned earlier, DLL3 can exert either pro- or anti-cancer effects. Procarcinogenic effects of DLL3 have been reported in small cell lung cancer [14, 15], breast cancer [16], pituitary tumors [10], and acute myeloid leukemia [17], but anticarcinogenic effects in hepatocellular carcinoma [18], glioma [19], and malignant glioma [20].
In small cell lung cancer, DLL3 is highly expressed in more than 80% of patients; however, it is normally expressed in normal tissue. Clinical studies have shown that the higher expression of DLL3 indicated the lower survival of patients, suggesting that overexpression of DLL3 in SCLC had a negative correlation with patient survival [21].
In primary hepatocellular carcinoma (HCC), it has been suggested that DLL3 expression is inhibited by hepatitis B virus-induced DNA methylation and histone acetylation. Inhibitors of histone deacetylase could restore DLL3 expression in HCC. The re-expressed DLL3 could inhibit cell growth and induce apoptosis in primary hepatocellular carcinoma [22].
Additional studies have shown that DLL3 is aberrantly expressed in a variety of cancers, exerting different functions. For example, DLL3 is highly expressed in neuroglioma cells with isocitrate dehydrogenase (IDH) mutations, as well as in glioma cells with 1p/19q deletion [23, 24]; in pancreatic cancer, activated DLL3 could stimulate Notch signaling pathway and thus promote tumor cell growth [25]; in melanoma, the DLL3/MAPK signaling pathway could enhance cell proliferation and migration [26, 27]; in endometrial tumor, high expression of DLL3 is associated with poor survival and progression-free survival [28].
5. DLL3 Targeted Therapy and Clinical Prospect
In recent years, the immunotherapeutic approach targeting DLL3 has been identified in clinical trials. Rova-T (Rovalpituzumab tesirine) is a first-in-class antibody-drug, which is currently in clinical phase III, albeit the results of clinical phase II were unsatisfying. AMG-757 developed by Amgen is a bispecific antibody targeting DLL3/CD3. AMG757 for SCLC is under evaluation in a phase I clinical study. Other therapeutic agents in the clinical phase include HPN-328 and 89Zr-DFO-SC16.56. DLL3, as an important Notch ligand, is closely related to the tumorigenesis. More pharmaceutical companies are involved in the development of DLL3-targeted agents. Ongoing clinical trials of DLL3-targeted agents were shown in the table below.
Drug Name
Research Phase
Company
Indications
Last update date
Rovalpituzumab tesirine
Clinical Phase III
AbbVie;
Stemcentrx;
Small cell lung cancer;
Solid tumors;
Melanoma;
Medullary carcinoma of the thyroid;
Glioblastoma;
Prostate cancer;
Neuroendocrine carcinoma;
2020-09-30
HPN-328
Clinical Phase II
Harpoon Therapeutics;
Small cell lung cancer;
2021-04-09
AMG-757
Clinical Phase I
Amgen;
Small cell lung cancer;
Prostate cancer;
2020-08-28
89Zr-DFO-SC16.56
Clinical Phase I
Memorial Sloan Kettering Cancer Center;
Small cell lung cancer;
2020-08-28
*This data was derived from pharmacodia
References
[1] Giffin, Michael J., et al. "AMG 757, a Half-Life Extended, DLL3-Targeted Bispecific T-Cell Engager, Shows High Potency and Sensitivity in Preclinical Models of Small-Cell Lung Cancer." Clinical Cancer Research 27.5 (2021): 1526-1537.
[2] Bulman, Michael P., et al. "Mutations in the human delta homologue, DLL3, cause axial skeletal defects in spondylocostal dysostosis." Nature genetics 24.4 (2000): 438-441.
[3] Steinbuck, Martin Peter, and Susan Winandy. "A review of notch processing with new insights into ligand-independent notch signaling in T-cells." Frontiers in immunology 9 (2018): 1230.
[4] Hu, Bingxin, et al. "Over-expression of human Notch ligand Delta-like 3 promotes proliferation of human gastric cancer cells in vitro." Nan Fang yi ke da xue xue bao= Journal of Southern Medical University 38.1 (2018): 14-19.
[5] Saunders, Laura R., et al. "A DLL3-targeted antibody-drug conjugate eradicates high-grade pulmonary neuroendocrine tumor-initiating cells in vivo." Science translational medicine 7.302 (2015): 302ra136-302ra136.
[6] Stanley, Pamela. "Regulation of Notch signaling by glycosylation." Current opinion in structural biology 17.5 (2007): 530-535.
[7] Chapman, Gavin, et al. "Notch inhibition by the ligand DELTA-LIKE 3 defines the mechanism of abnormal vertebral segmentation in spondylocostal dysostosis." Human molecular genetics 20.5 (2011): 905-916.
[8] Deng, San-Ming, et al. "The Notch ligand delta-like 3 promotes tumor growth and inhibits Notch signaling in lung cancer cells in mice." Biochemical and biophysical research communications 483.1 (2017): 488-494.
[9] Venkatesh, Deepak, et al. "RhoA-mediated signaling in Notch-induced senescence-like growth arrest and endothelial barrier dysfunction." Arteriosclerosis, thrombosis, and vascular biology 31.4 (2011): 876-882.
[10] Wang, Jianpeng, et al. "EGFL7 participates in regulating biological behavior of growth hormone–secreting pituitary adenomas via Notch2/DLL3 signaling pathway." Tumor Biology 39.7 (2017): 1010428317706203.
[11] Ding, Xiaojie, Fuyao Li, and Li Zhang. "Knockdown of Delta-like 3 restricts lipopolysaccharide-induced inflammation, migration and invasion of A2058 melanoma cells via blocking Twist1-mediated epithelial-mesenchymal transition." Life sciences 226 (2019): 149-155.
[12] Jia, Dongyu, et al. "NOTCH2/NOTCH3/DLL3/MAML1/ADAM17 signaling network is associated with ovarian cancer." Oncology letters 17.6 (2019): 4914-4920.
[13] Huang, Jianling, et al. "DLL3 is regulated by LIN28B and miR-518d-5p and regulates cell proliferation, migration and chemotherapy response in advanced small cell lung cancer." Biochemical and biophysical research communications 514.3 (2019): 853-860.
[14] Sabari, Joshua K., et al. "Unravelling the biology of SCLC: implications for therapy." Nature reviews Clinical oncology 14.9 (2017): 549-561.
[15] Vitorino, Philip, et al. "Rova-T enhances the anti-tumor activity of anti-PD1 in a murine model of small cell lung cancer with endogenous Dll3 expression." Translational oncology 14.1 (2021): 100883.
[16] Ayyanan, Ayyakannu, et al. "Increased Wnt signaling triggers oncogenic conversion of human breast epithelial cells by a Notch-dependent mechanism." Proceedings of the National Academy of Sciences 103.10 (2006): 3799-3804.
[17] Yan, S., et al. "Expression profile of Notch‐related genes in multidrug resistant K562/A02 cells compared with parental K562 cells." International journal of laboratory hematology 32.2 (2010): 150-158.
[18] Maemura, Kentaro, et al. "Delta-like 3 is silenced by methylation and induces apoptosis in human hepatocellular carcinoma." International journal of oncology 42.3 (2013): 817-822.
[19] Turchi, Laurent, et al. "Tumorigenic potential of miR‐18A* in glioma initiating cells requires NOTCH‐1 signaling." Stem Cells 31.7 (2013): 1252-1265.
[20] Jungk, Christine, et al. "Spatial transcriptome analysis reveals Notch pathway-associated prognostic markers in IDH1 wild-type glioblastoma involving the subventricular zone." BMC medicine 14.1 (2016): 1-16.
[21] Bauer, Todd M., et al. "ORAL02. 01: safety and efficacy of single-agent rovalpituzumab tesirine, a DLL3-targeted ADC, in recurrent or refractory SCLC: topic: medical oncology." Journal of Thoracic Oncology 11.11 (2016): S252-S253.
[22] Hamamoto, Hiroki, et al. "Delta-like 3 is silenced by HBx via histone acetylation in HBV-associated HCCs." Scientific reports 8.1 (2018): 1-11.
[23] Spino, Marissa, et al. "Cell surface Notch ligand DLL3 is a therapeutic target in isocitrate dehydrogenase–mutant glioma." Clinical Cancer Research 25.4 (2019): 1261-1271.
[24] Mizoguchi, Masahiro, et al. "Molecular characteristics of glioblastoma with 1p/19q co-deletion." Brain tumor pathology 29.3 (2012): 148-153.
[25] Song, Hai‑Yan, et al. "Expression of Notch receptors and their ligands in pancreatic ductal adenocarcinoma." Experimental and therapeutic medicine 16.1 (2018): 53-60.
[26] Kiniwa, Yukiko, et al. "Delta-like protein 3 promotes proliferation and migration of melanoma via MAPK activation." Journal of Dermatological Science 84.1 (2016): e176.
[27] Nakahara, Satoshi, et al. "AT-rich interaction domain-containing protein 3B has a potential to be a new stem cell marker of melanoma." Journal of Dermatological Science 84.1 (2016): e176-e177.
[28] Wang, Juan, et al. "Upregulated delta-like protein 3 expression is a diagnostic and prognostic marker in endometrial cancer: a retrospective study." Medicine 97.51 (2018).