In every human tissue, new cells are constantly being created while existing cells are constantly dying, so as to keep the total number of cells within the physiologically appropriate range. Cells in the human body have a self-life, that is, cells do not live forever inside the human body. Some cell deaths are physiological, while others are pathological. Research on the process of cell death has become a hot spot in biology and medical research. It has been known that there are at least two ways of cell death, namely necrosis and apoptosis.
In this text, we will describe the necrosis and apoptosis, their respective morphological patterns, their association and differences, as well as their respective related diseases.
1. What Is Necrosis?
Necrosis originated from the ancient Greek term nekrōsis and later moved to modern Latin to necrosis. It is the death of local tissues and clustered cells caused by pathological changes within the living body. It is a passive process of cell death in which cells are subject to internal and external hazards that cause irreversible injury to cells. These noxious stimuli include ischemia, trauma, hypoxia, pathogens, and various mediators such as ROS and calcium [1] [2]. Under pathological conditions, diverse forms of tissue damage often terminate in necrosis.
Necrosis describes the orchestrated collapse of a cell featured with cellular swelling, chromatin flocculation, dilatation of the mitochondria and endoplasmic reticulum, plasma membrane disruption, overflow of cellular content, as well as random degradation of genomic DNA [3] [4]. Cytoplasmic contents released into the extracellular space activate the immune system, resulting in inflammatory responses.
2. Morphological Patterns of Necrosis
Necrosis can present itself as many types of morphological patterns. In pathology, necrosis is divided into six characteristic morphologic patterns: coagulative necrosis, caseous necrosis, liquefactive necrosis, fat necrosis, fibrinoid necrosis, and gangrenous necrosis [5].
2.1 Coagulative Necrosis
Coagulative necrosis is a form of necrosis during which necrotic tissues become gray or beige and relatively dry solid coagulation because of water loss and protein coagulation. The normal architecture of necrotic tissues can maintain for several days following cell death. And it is commonly seen in ischemic or hypoxia of organs such as the heart, kidney, and spleen [6].
2.2 Caseous Necrosis
Caseous necrosis refers to the form of necrosis with a curdled or cheese-like gross appearance. It is a special type of coagulative necrosis. Large amounts of mycolic acids released by the M. tuberculosis cell wall may be responsible for this morphological pattern of necrosis. Caseous necrosis primarily occurs in the granulomas of bovine tuberculosis (caused by Mycobacterium Bovis) [7].
2.3 Liquefactive Necrosis
Liquefactive necrosis, also called colliquative necrosis, is characterized by partial or complete digestion of necrotic tissues and transformation into a viscous liquid mass and is seen with infections. Hydrolytic enzymes released by bacteria or lysosomes dissolve organelles in cells experiencing necrosis, leading to morphological appearance [8]. The necrotic tissue is sometimes creamy yellow due to pus formation. Liquefactive necrosis occurs mainly in tissues that contain less protein and more lipids (e.g., brain) or produce more proteases (e.g., pancreas).
2.4 Gangrenous Necrosis
Gangrenous necrosis is a grossly visible form of necrosis due to ischemia resulting from obstructive occlusion of the vasculature. There are two main types of gangrene: dry and wet. Dry gangrene mostly occurs at the extremities where arteries are blocked and venous reflux is unblocked. In dry gangrene, the tissue is usually dark brown, dry, and shriveled, with a clear dividing line from the surrounding healthy tissues. Wet gangrene occurs mostly in internal organs connected to the outside world, but also in extremities where arteries and veins are blocked. In wet gangrene, the tissue is visibly swollen, dark blue, dirty green, dirty black, and foul-smelling, with a blurry boundary from the surrounding healthy tissues.
2.5 Fat Necrosis
Fat necrosis is almost only found in the context of acute pancreatitis or physical trauma to adipose-heavy tissues such as the breast. Its appearance ranges from complex intra-cystic masses to solid nodules [9].
2.6 Fibrinoid Necrosis
Fibrinoid necrosis is characterized by the presence of fibrous tissue formed by amorphous eosinophilic materials [10]. It occurs among the interstitium, collagen fibers, and small blood vessel walls.
3. What Is Apoptosis?
Apoptosis is a genetically regulated form of cell death. In contrast to necrosis, apoptosis is an active and naturally occurring physiological process. It is a ubiquitous phenomenon during the development of organisms and is an orderly and active way of cell death determined by genes [11]. It is responsible for the focal deletion of cells during normal embryonic development. In addition to embryogenesis, apoptosis also plays a role in aging and many diseases [12].
Apoptosis starts with cell shrinkage, ruffling of the plasma membrane, nuclear fragmentation, margination and condensation of chromatin, disintegration of mitochondria and release of cytochrome c into the cytoplasm, followed by the formation of apoptosomes and subsequent DNA fragmentation, and rapid ingurgitation of the corpse by adjacent phagocytes [3] [4] [11].
In the process of apoptosis, there involves two core pathways: extrinsic pathway and intrinsic pathway [13].
4.1 Extrinsic Pathway
Apoptotic signaling through the extrinsic pathway is mediated by death receptors (DRs). Extracellular ligands such as TNF-α and Fas-L bind to their cognate death receptors (DRs) FasR and TNFR1, leading to the formation of a death-inducing signaling complex (DISC) [14]. Caspase-8 within the DISC complex is activated and then sheds from the DISC, promoting the activation of the executor caspase-3, caspase -6, or caspase -7, thus conducting the morphological changes of the apoptosis.
4.2 Intrinsic Pathway
The intrinsic pathway refers to the mitochondrial-mediated pathway evoked by various extracellular and intracellular stresses, such as growth factor starvation, oxidative stress, and DNA damage [15]. When cells are exposed to these stimuli, the Bax/Bak is activated and then inserted into the mitochondrial membrane, promoting the mitochondria outer membrane permeabilization (MOMP) and subsequent leakage of cytochrome c [16]. The cytochrome c combines with Apaf–1 and procaspase-9 to form apoptosome followed by the activation of caspase-3 cascade of apoptosis [16].
5. What Are the Associations and Differences between Necrosis and Apoptosis?
Both necrosis and apoptosis are forms of cell death in multicellular organisms. However, their final morphological changes are quite different. Here are differences of morphological changes between necrosis and apoptosis.
| Differences | Necrosis | Apoptosis |
| --- | --- | --- |
| Cause | Pathological changes or severe injury | Physiological or pathological changes |
| Occurrence Range | Large areas of tissue or contiguous cell groups | Individual cells |
| Cell Membrane | Rupture; loss of plasma membrane integrity | Plasma membrane ruffles but remains intact until apoptotic bodies form |
| Chromatin | Flocculent | Chromatin condensation under the nuclear envelope in a semilunar shape |
| Organelle | Organelle disintegration due to cellular swelling; dilatation of the mitochondria and endoplasmic reticulum | swelling of cytoplasmic organelles; organelles still function even after the cell death |
| Cell Size | Cytoplasmic swelling; becomes bigger | Shrinkage; volume reduction of the nucleus and cytoplasm |
| Apoptotic Body | No; cells autolysis; the residual fragments are swallowed by macrophages | Yes; swallowed by adjacent cells or macrophages |
| Genomic DNA | Random DNA degradation; the electrophoretic map is smeared | Controlled degradation; karyolysis, pyknosis, karyorrhexis; the electrophoretic map is in a ladder shape |
| Phagocytosis | Phagocytized by phagocytes | Phagocytized either by phagocytes or adjacent cells |
| Protein Synthesis | No | Yes |
| Regulation Process | Passive | Genetically regulated |
| Inflammation | Yes; leakage of cell contents | No |
| Influence | Always harmful to the organism; untreated necrosis may be fatal. | Beneficial; aberrant activity may cause diseases. |
Different from apoptosis, which is a part of programmed cell death, necrosis is an uncontrolled and accidental process initiated by noxious stimuli such as trauma. Necrosis is a kind of autologous damage under pathological phenomenon. It affects contiguous cell groups. And it participates in the activation of the immune system and thus defends the body against pathogens.
However, apoptosis is an active and predefined cell suicide involving the activation, expression, and regulation of a series of genes that direct cells destroy themselves but keep a smooth functioning in the body. It is a caspase-dependent pathway and needs to consume ATP. Apoptosis destroys individual cells. It is responsible for the maintenance of the cell number in the body. Additionally, apoptosis does not elicit an associated inflammatory reaction.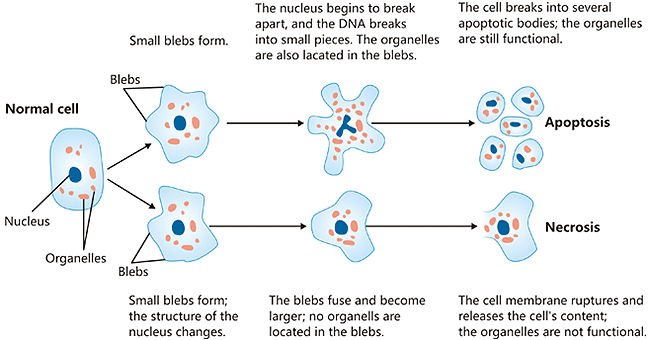 Figure:Structural alterations during necrosis compared to the apoptosis
*The picture is cited from Wikipedia
6. Diseases Related to Necrosis or Apoptosis
Apoptosis is involved in Alzheimer's disease, amyotrophic lateral sclerosis, Parkinson's disease, Huntington's disease, and other debilitating diseases.
Necrosis is commonly seen in acute and chronic liver diseases and also might happen during other several diseases including neurodegenerative and autoimmune diseases, and cancer [16]. Necrosis is associated with chronic inflammation, which could facilitate the proliferation of tumors [17].
7. Proteins Associated with Necrosis or Apoptosis
Studies have found that several proteins take part in necrosis, such as HMGB1, lactate dehydrogenase (LDH), and myoglobin [18]. Many molecules have been demonstrated to be involved in apoptosis, especially proteins, including the caspases, death receptors, the amyloid-B peptide, the Bcl-2 family of proteins, the p53 gene, and the heat shock proteins.
CUSABIO have always been committed to the research and development of various of premium proteins, antibodies and ELISA kits. The following are the proteins on necrosis and apoptosis provided by CUSABIO.
Types of Cell Death
Proteins
Necrosis
HMGB1, lactate dehydrogenase (LDH), myoglobin, enolase, 14-3-3 proteins (14-3-3 protein beta/alpha, 14-3-3 protein eta, 14-3-3 protein theta), HSP90, α-actinin, Trim72
Apoptosis
Caspases
caspase-1, caspase-2, caspase-3, caspase-4, caspase-5, caspase-6, caspase-7,caspase-8, caspase-9, caspase-10, caspase-11
Death receptors/ligands
Fas/ FasL, TNF-α-TNFR1, DR3/ TRAMP, DR4/ TRAIL-R1
DR5/TRAIL-R2
Adapter molecules
FADD, TRADD
amyloid-B peptide (Abeta)
Bcl-2 family
Bcl-2, Bcl-xL, Bcl-w, A1/Bf11, Boo (Diva), Nr13, Mcl-1, Bid, Bad, Bik, Hrk, Bim (Bod), Bnip3, Nix, Noxa1, Puma alpha, Bax, Bak, Bok (Mtd), Bcl-xS
Tumor suppressor
P53
Heat-shock proteins
Hsp70, Hsp27 and Hsp90
Neuronal thread protein
AD7c-NTP
References
[1] W. X. Zong and C. B. Thompson. Necrotic death as a cell fate [J]. Genes & Development, vol. 20, no. 1, pp. 1–15, 2006.
[2] W. X. Zong, D. Ditsworth, et al. Alkylating DNA damage stimulates a regulated form of necrotic cell death [J]. Genes & Development, vol. 18, no. 11, pp. 1272–1282, 2004.
[3] Majno G, Joris I. Apoptosis, oncosis, and necrosis. An overview of cell death [J]. Am J Pathol. 1995;146:3–15.
[4] Rosario A Caruso, Giovanni Branca, et al. Mechanisms of coagulative necrosis in malignant epithelial tumors (Review) [J]. Oncol Lett. 2014 Oct; 8(4): 1397–1402.
[5] Kumar V, Abbas AK, et al. N (2010). Robbins and Cotran pathologic basis of disease (8th ed.) [J]. Philadelphia, PA: Saunders/Elsevier. pp. 12–41.
[6] Tonnus W, Meyer C, et al. The pathological features of regulated necrosis [J]. J Pathol. 2019 Apr;247(5):697-707.
[7] Margaret A. Miller and James F. Zachary. Mechanisms and Morphology of Cellular Injury, Adaptation, and Death [J]. Pathologic Basis of Veterinary Disease (Sixth Edition) 2017, Pages 2-43.e19.
[8] Krishna M. Patterns of necrosis in liver disease [J]. Clin Liver Dis (Hoboken). 2017 Aug;10(2):53-56.
[9] Narges Vasei, Azita Shishegar, et al. Fat necrosis in the Breast: A systematic review of clinical [J]. Lipids in Health and Disease volume 18, Article number: 139 (2019).
[10] I M Bajema and J A Bruijn. What stuff is this! A historical perspective on fibrinoid necrosis [J]. J Pathol. 2000 Jul;191(3):235-8.
[11] Kerr JF, Wyllie AH, Currie AR. Apoptosis: a basic biological phenomenon with wideranging implications in tissue kinetics [J]. Br J Cancer. 1972;26:239–257.
[12] Andrew G Renehan, Catherine Booth, et al. What is apoptosis, and why is it important [J]? BMJ. 2001 Jun 23; 322(7301): 1536–1538.
[13] Elmore S. Apoptosis: a review of programmed cell death [J]. Toxicol Pathol. 2007 Jun; 35(4):495-516.
[14] Guicciardi ME and Gores GJ. Life and death by death receptors [J]. FASEB J. 2009 Jun; 23(6):1625-37.
[15] Schmitt CA and Lowe SW. Apoptosis and therapy [J]. J Pathol 1999; 187:127-137.
[16] Rehmat Jan and Gul-e-Saba. Chaudhry. Understanding Apoptosis and Apoptotic Pathways Targeted Cancer Therapeutics [J]. Adv Pharm Bull. 2019 Jun; 9(2): 205–218.
[17] Lotze MT, Demarco RA. Dying dangerously: Necrotic cell death and chronic inflammation promote tumor growth [J]. Discov Med. 2004;4(24):448–56.
[18] Kurt D Marshall, Michelle A Edwards, et al. Proteomic mapping of proteins released during necrosis and apoptosis from cultured neonatal cardiac myocytes [J]. Am J Physiol Cell Physiol. 2014 Apr 1;306(7):C639-47.