Generally speaking, a secondary antibody binds with a primary antibody that is directly attached to the target antigen. In this words, we mention two groups of antibody, one is primary antibody and another is secondary antibody. The two groups of antibody are very popular in various immune experiments. And someone is always confused by the two groups. If you still have puzzle about it, you can click here.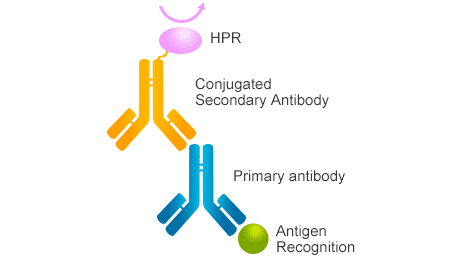 Figure 1. The mechanism of secondary antibody
In this article, we primary focus on how to choose appropriate secondary antibody. In order to resolve this question, we collect several typical questions for secondary antibody as follows:
1. What is the host species of the primary antibody?
As known to all, where the primary antibody is derived from, and the corresponding secondary antibody is also an antibody against the species. In another word, secondary antibodies are directed against the host species of the primary antibody. Therefore, you will need a secondary antibody that is raised in a species different than the host species of the primary antibody to avoid the species reactivity. For example, if your primary antibody is a mouse-derived monoclonal antibody, the secondary antibody is selected as an anti-mouse secondary antibody (goat anti-mouse or rabbit anti-mouse). If the primary antibody is a rabbit-derived polyclonal antibody prepared from rabbit serum, the corresponding secondary antibody needs to select a secondary antibody against rabbit. That is, the corresponding secondary antibody against the species is selected according to the species source of the primary antibody.
2. What is the class (isotype) and/or subclass of the primary antibody?
In addition to being consistent with the species source of the primary antibody, the secondary antibody also needs to match the class or subclass of the primary antibody, especially when working with monoclonal antibodies. Polyclonal antibodies, however, are mainly typically IgG or IgG-like class immunoglobulins, so the corresponding secondary antibody is an anti-IgG antibody.
Comparing with polyclonal antibody, monoclonal antibodies are more complex. Because monoclonal antibodies have different classes and subtypes, the corresponding secondary antibodies also need to be selected based on these subtypes. They are most commonly developed in mice and occasionally in rats, hamsters or rabbits. For example, if the primary monoclonal antibody is mouse IgM, the desired secondary antibody should be anti-Mouse IgM.
If the monoclonal primary antibody is one of mouse IgG subclasses (IgG1, IgG2a, IgG2b and IgG3), then almost all anti-mouse IgG can be combined with it, or you can choose to specifically target this subclass. But if the subclass of the primary antibody is not known, then you can choose the anti-Mouse IgG F(ab) secondary antibodies which has an ability to recognize most mouse immunoglobulin subclasses. Here, we collect the immunoglobulin classes and subclasses as follows:
Immunglobulin Classes: IgG, IgM, IgA, IgE, IgD
Human Immunoglobulin Subclasses: IgG1, IgG2, IgG3, IgG4, IgA1, and IgA2
Mouse Immunoglobulin Subclasses: IgG1, IgG2a, IgG2b, IgG3
Light Chains: Kappa, Lambda
Heavy Chains: IgG (gamma), IgM (mu), IgA (alpha), IgD (delta), IgE (epsilon)
As you read here, you may feel that choosing a right secondary is very difficult for so many classes and subclasses of human and mouse IgG(s). Yeah, I agree with you. If you want to obtain more accurate experiment data, you should do it repeatedly.
Note: one common factor among these IgG(s) are the light chains (kappa and lambda). In other words, IgG, IgM, IgA, IgD and IgE all have either kappa or lambda light chains. The heavy chain, however, is class specific.
3. What is the Species of Secondary Antibody?
In general, there is no evidence of species specific difference in the quality of secondary antibodies-that is, the secondary antibody derived from goats and the secondary antibody derived from sputum are not much different in general experiments. Therefore selection of the host species should be based on other criteria.
However, in some special experiments, such as double-label experiments, if one of the primary antibodies is of goat origin and the other is of mouse origin, the corresponding secondary antibodies are resistant to goat and anti-mouse secondary antibodies, respectively. The secondary antibody cannot be selected from goat or mouse sources. Choosing the corresponding secondary antibody from the sputum source is very suitable for a double-labeled immunoassay. Double-labeled two are resistant, so choose the third source of antibodies.
4. Do I need a pre-absorbed secondary antibody?
Pre-absorbed antibody, also known as cross-adsorption antibody, is a kind of antibody that have been processed to eliminate reactivity from immunoglobulins of undesired species, antibody fragments and/or cell and tissue samples, improving the specificity of an antibody. It is recommended to use a secondary antibody that is pre-adsorbed to the species that you are detecting. Here, we enumerate two situations for you when you have to choose a pre-absorbed secondary antibody.
Choose pre-absorbed antibodies when western blotting tissues and cells that also have high levels of immunoglobulins. Pre-adsorbed secondary antibodies are less likely to interact with endogenous immunoglobulins and which may reduce non-specific background.
If you are use two different secondary antibodies in the same assay (multiple labeling) you want to ensure that neither secondary antibody recognizes each other.
5. What kind of label do I choose?
In general, secondary antibodies can be either enzyme labeled (horseradish peroxidase HRP and alkaline phosphatase AP or its derivatives APAAP, PAP), fluorescence labeled (FITC, Alexa-Fluor, Qdot) or biotin conjugated. The secondary antibody to which label is selected depends primarily on the specific experiment.
For western blot and ELISA, the most commonly used secondary antibody is the enzyme-labeled secondary antibody, while the fluorescence labeled secondary antibody is usually used in cell or tissue labeling experiments (cyto-immunochemistry, tissue immunochemistry, flow cytometry). Horseradish peroxidase or alkaline phosphatase-labeled secondary antibodies can also be used in the treatment.
If you want to amplify the detection signal to a greater extent, you can use the biotin/avidin detection system. In some fluorescence detection schemes, different fluorescent labels need to be selected; while gold particle labeled secondary antibodies are more commonly used in immunoelectron microscopy.
6. Do I Use an Affinity Purified Antibody or an IgG Fraction?
Affinity purified antibodies are isolated by separating monospecific antibodies from other antiserum proteins and non-specific immunoglobulins by solid phase affinity chromatography. Recently, affinity purified antibodies are generally more popular with increased specificity, low background, greater sensitivity and lot-to-lot consistency.
However, the advantage of using affinity purified antibodies or IgG fractions will depend on the type of binding expected. In some cases, the IgG fraction lost during the purification process is also considered, because it contains antibodies with high affinity, especially when the amount of the antigen of interest is small, the high affinity IgG moiety is particularly important. In general, IgG Fractions can be used in turbidimetric assays. Most other immunoassays should use affinity purified antibodies. If you are uncertain choose a secondary antibody that has been affinity purified.
7. When is an F(ab) or F(ab')2 fragment antibody necessary?
F(ab')2 fragment: This antibody is composed of two Fab fragments linked by disulfide bonds for binding antigens. In an experimental setting, enzyme pepsin cleaves below the hinge region, so a F(ab')2 fragment and a pFc' fragment is formed. These antibodies are used in specific cases, such as the need to avoid antibodies and cells with Fc receptors.
Fab fragments: The antigen-binding (Fab) fragment is a region on an antibody that binds to antigens. It is composed of one constant and one variable domain of each of the heavy and the light chain. The variable domain contains the paratope (the antigen-binding site), comprising a set of complementarity determining regions, at the amino terminal end of the monomer. They have only one binding site and are generally used to block endogenous immunoglobulins. In an experimental setting, the enzyme papain can be used to cleave an immunoglobulin monomer into two Fab fragments and an Fc fragment.
F(ab')2 antibody fragments are used in assay systems where the presence of the Fc region may cause problems. Samples such as lymph nodes, spleen, and peripheral blood preparations contain cells with Fc receptors (macrophages, B lymphocytes, and natural killer cells) which could bind the Fc region of intact antibodies, causing high background staining. Use of F(ab')2 fragments ensures that any antibody binding observed is not due to Fc receptors.