1. Basic Information of EGFR Protein
Epidermal growth factor receptor (EGFR), referred to as EGFR, ErbB-1 or HER1, is a member of the epidermal growth factor receptor (HER) family of receptor tyrosine kinases (RTKs). It is widely distributed in mammalian epithelial cells, fibroblasts, glial cells, keratinocytes and other cell surfaces, and is an important transmembrane receptor.
HER family members also include HER2 (erbB2, NEU), HER3 (erbB3) and HER4 (erbB4), which play an important regulatory role in the cellular physiological process.
EGFR is located on the surface of the cell membrane and is activated by ligands such as EGF to induce intracellular tyrosine kinase activation by dimerization, and further activates downstream cell signaling pathways to complete transmembrane signal transduction.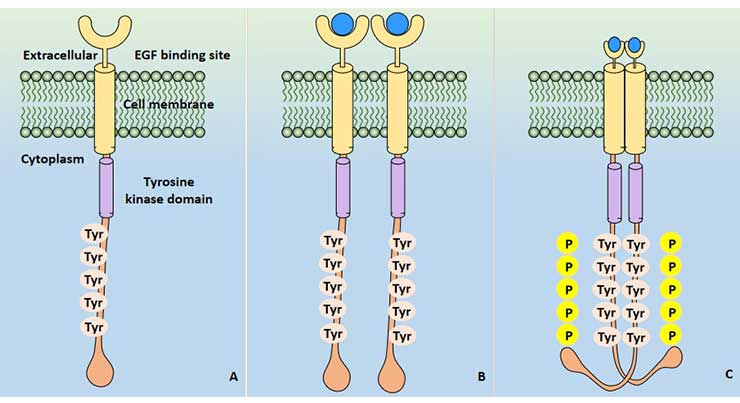 Figure 1 EGFR signal activation
Six EGFR ligands have been discovered so far: epidermal growth factor (EPF), transforming growth factor alpha (TGFA), amphiregulin (AR), betacelluin (BTC), heparin-binding EGF (HBEGF) and epiregulin (EPR). Among them, EGF and TGF - alpha are the most important ligands of EGFR.
EGFR plays an important role in signal transduction, cell proliferation, differentiation and various regulatory mechanisms, but it is often over-expressed and out of control in human tumors, and thus has become a hot spot in tumor diagnosis and treatment research.
2. The Structure of EGFR Protein
The hEGFR gene is located on human chromosome 7p, and its encoded product is a single-strand transmembrane protein containing 1210 amino acid residues with a molecular weight of 134 kDa. The peptide fragment is further glycosylated at the 11th to 12th aspartic acid residue and its molecular weight increases to 170 kDa, becoming a mature EGFR.
cDNA cloning revealed that human and murine EGFR structures are approximately 80% homologous, indicating that EGFR is highly conserved in evolution.
EGFR can be divided into three parts: extracellular region, transmembrane region and intracellular region.
The extracellular region is a 621 amino acid residue at the N-terminus, comprising the binding domain of the ligand EGF, and it can be further subdivided into regions I to IV.
The transmembrane region is a helical hydrophobic region composed of 23 amino acid residues, which is linked to the extracellular region by a proline to immobilize the receptor on the membrane.
The intracellular region shares 542 amino acid residues and is divided into three parts: juxtamembrane region, tyrosine protein kinase region and C-terminal.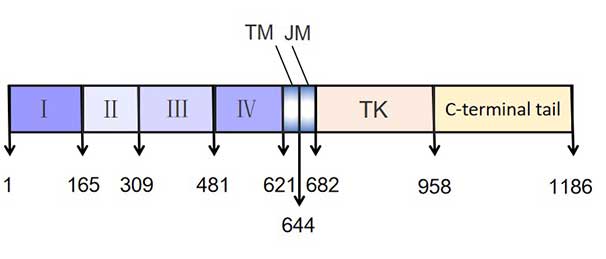 Figure 2 The structure of EGFR
3. EGFR Protein Signaling Pathway
After EGFR dimerization, intrinsic protein kinases activate and TK phosphorylation activates three major downstream signaling pathways: Ras/Raf/MEK/ERK/MAPK pathway, PI3K/Akt (PKB) pathway and JAK/STAT pathway. Three signal transduction pathways eventually mediate a series of processes including cell differentiation, survival, migration, invasion, adhesion and cell damage repair.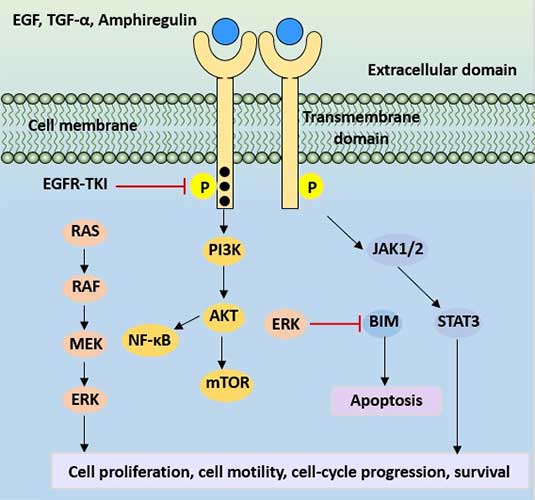 Figure 3 EGFR protein signaling pathway
4. EGFR and Tumor
EGFR is widely distributed on the surface of mammalian epithelial cells, fibroblasts, glial cells, keratinocytes, etc., and is closely related to tumor cell proliferation, angiogenesis, tumor invasion, metastasis and inhibition of apoptosis. The overexpression of EGFR plays an important role in the evolution of malignant tumors, and EGFR expression and function abnormalities exist in various human malignant tumor tissues and tumor cell lines.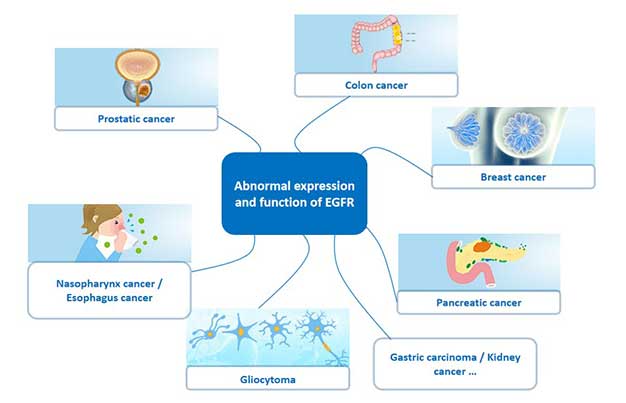 Figure 4 Cancer associated with abnormal expression of EGFR
In many solid tumors, such as lung cancer, breast cancer, ovarian cancer, cervical cancer and prostate cancer, it has been found that a large proportion of tumor patients have high or abnormal expression of EGFR, as shown in the following table.
Table 1 The proportion of abnormal EGFR expression in patients with different types of tumors
| Types of cancer | EGFR expression rate |
| --- | --- |
| Lung cancer | 40-80% |
| Breast cancer | 14-91% |
| Gastric cancer | 33-74% |
| Colon cancer | 25-77% |
| Pancreatic cancer | 40-80% |
| Prostatic cancer | 40-80% |
| Renal cancer | 50-90% |
| Ovarian cancer | 35-70% |
| Head and neck neoplasm | 36-100% |
EGFR signaling pathway has positive and negative regulation on tumor cells. The deepening of research on the relationship between abnormal signal transduction and tumors has made people more and more aware of the importance and feasibility of tumor treatment aim at abnormal signal transduction, and proposed the new concept of "interference therapy in signal transduction".
Interference therapy in signal transduction is to use monoclonal antibodies, immunotoxins, tyrosine kinase inhibitors, antisense nucleotides, dominant negative mutants and other substances to interfere with the abnormal part in signal transduction pathway, so as to achieve the purpose of inhibiting tumor growth.
The overexpression and/or mutations of EGFR in many tumors are closely related to the occurrence, development and prognosis of many tumors, providing theoretical basis and experimental basis for EGFR-targeted tumor therapy and interference therapy targeting EGFR signal transduction pathway. Currently, the most common treatments available are monoclonal antibody drug intervention and tyrosine kinase inhibitor drug intervention.
5. EGFR Antibody Drugs
EGFR monoclonal antibodies can bind to EGFR, compete with and block the binding of ligands such as EGF and TGFα. It can also be coupled with anticancer drugs or toxins to inhibit the proliferation of human tumor cells expressing EGFR and induce apoptosis.
In vitro, it can inhibit the angiogenic factors secreted by tumor cells and prevent the migration of endothelial cells; in vivo, it can inhibit the expression of tumor cell angiogenic factors and reduce the neovascularization and metastasis of tumor cells.
Currently, there are four EGFR monoclonal antibodies approved worldwide, namely cetuximab, panitumumab, necitumumab and nimotuzumab:
Cetuximab: Its trade name is Erbitux. It is a patented drug of ImClone Systems and Bristol-Myers Squibb. It was approved by the FDA in the United States in 1997 for the treatment of metastatic colorectal cancer. Later, it was approved for the treatment of head and neck cancer. In 2004, it was approved by the CFDA for listing in China.

At present, the indications approved by Erbitux in the world are: Metastatic head and neck cancer, non-metastatic head and neck cancer, metastatic colorectal cancer, non-small cell lung cancer, etc. Cetuximab binds EGFR specifically with an affinity about 5 to 10 times higher than that of endogenous ligands, hinders the binding of endogenous ligands of EGFR, thus inhibiting the function of the receptor, and further induces EGFR endocytosis, leading to the down-regulation of the receptor number.

Necitumumab: a monoclonal antibody that binds to the human epidermal growth factor receptor (EGFR), thereby blocking the binding of EGFR to its ligand.

The monoclonal antibodies target and destroy only certain cells in the body, which may help protect healthy cells from damage. Necitumumab is used to treat certain types of non-small cell lung cancer and is usually used in combination with other cancer drugs.

Panitumumab: The trade name is Vectibix, an IgG2 monoclonal antibody with high affinity to EGFR. Panitumumab is developed by using XenoMouse technology of Abgenix. It is a fully humanized monoclonal antibody that reduces the probability of immune response and improves the safety.

Nimotuzumab: It is approved by CFDA on January 7, 2008, is China's first self-developed monoclonal antibody for the treatment of malignant tumors. It is mainly used in clinical practice. Clinically, it is mainly used in combination with radiotherapy to treat stage III/IV nasopharyngeal carcinoma with positive expression of epidermal growth factor receptor (EGFR).
The development of antibody drugs is a hot spot in the global biotechnology industry and occupies an extremely important position in the field of biopharmaceutical, which is considered to be one of the mainstream directions of current biomedical research and development. Globally, biologic drugs account for 60% of the research projects targeting EGFR.
Anti-EGFR monoclonal antibody drugs have the functions of blocking tumor cell cycle progression, accelerating tumor cell apoptosis, inhibiting tumor angiogenesis, inhibiting tumor invasion and metastasis, and enhancing radiotherapy and chemotherapy effects. Therefore, it has received much attention in cancer treatment.
6. EGFR Tyrosine Kinase Inhibitors
A tyrosine kinase (TK) inhibitor is a small molecule that targets the intracellular tyrosine signaling pathway. By inhibiting the activity (reversible or irreversible) of receptor tyrosine kinase, it blocks the activation signal of intracellular region after the binding of cell surface receptor and ligand, thus inhibiting the final biological effect of signal transduction pathway. The EGFR RTK inhibitor is abbreviated as EGFR-TKI (epidermal growth factor receptor tyrosine kinase inhibitor), which acts directly on EGFR intracellular protein tyrosine kinase and competes with ATP for binding to the tyrosine kinase domain, reversible or Irreversible inhibition of tyrosine kinase phosphorylation.
The first-generation inhibitors are adenine loops that mimic ATP. By competing with ATP at the ATP binding site of the EGFR kinase domain, they interfere with the auto-phosphorylation of the EGFR kinase domain and inhibit the activity of EGFR, thereby blocking the downstream signal transmission pathway, inhibiting the growth of tumor cells and promoting cell apoptosis.
Table 2 First-generation EGFR inhibitor
| Target | Name | Time of approval | Adaptation disease | Company |
| --- | --- | --- | --- | --- |
| EGFR | Gefitinib | 2003 | non-small cell lung cancer | AstraZeneca |
| EGFR | Erlotinib | 2004 | non-small cell lung cancer, pancreatic cancer | Roche |
| EGFR/HER2 | Lapatinib | 2007 | HER2 overexpressed breast cancer | GlaxoSmithKline |
Since most patients with first-generation inhibitors will develop drug resistance, researchers have gradually developed a second generation of EGFR inhibitors (irreversible covalent inhibitors).
Table 3 Second-generation EGFR inhibitor
| Name | Research status | Company |
| --- | --- | --- |
| Giotrif | It was approved by FDA in 2013 (NSCLC) | Boehringer Ingelheim |
| PF-00299804 | Ph Ⅲ (NSCLC) | Pfizer |
| HKI-272 | Ph Ⅲ (Breast cancer) | Wyeth |
The second-generation inhibitors have a series of serious dose-dependent side effects, such as rash, diarrhea, nausea, fatigue, etc., which will affect the clinical therapeutic effect. Therefore, the development of the third generation of EGFR kinase inhibitors has been promoted.
The core structure of the third-generation EGFR inhibitor mainly includes three types of structures: quinazoline nucleus, pyrimidine nucleus, pyrimidine and heterocyclic nucleus.
With the expansion of AZD9291 clinical drug population, the drug-resistant mutation of EGFR-L858R/T790M/C797S triple mutation was also identified in patients. The triple mutation of EGFR caused AZD9291 to lose its original efficacy. The triple mutation of EGFR cause AZD9291 to lose its potency. This group of people is still relatively small, but the fourth-generation EGFR inhibitors developed for the three mutations have entered the preclinical research stage.
7. Significance of EGFR Protein Research
Currently, monoclonal antibody drugs targeting the extracellular domain of EGFR are available. These monoclonal antibodies have the characteristics of strong targeting and less toxic side effects. They are clinically combined with radiotherapy for the treatment of EGFR-positive tumors and have achieved certain efficacy.
However, there are still some problems with anti-EGFR antibody drugs at present. Anti-EGFR monoclonal antibodies cannot be used alone in the treatment of tumors and need to be combined with radiotherapy or chemotherapy. In addition, there are few types of tumor treatment in clinical practice, which to some extent limit the clinical use of anti-EGFR monoclonal antibodies.
Small molecule inhibitors targeting EGFR receptor tyrosine kinase emerge one after another and show good activity in clinical studies. All these provide reference for the design and development of small molecule EGFR inhibitors with better activity and stronger selectivity in the future. However, the problem of drug resistance due to mutations is still not fully solved, and the development of mutant selective EGFR inhibitors is still urgent. In conclusion, anti-tumor therapy targeting EGFR has become one of the most active fields in cancer research and has made great progress. However, anti-tumor therapy targeting EGFR still has many defects to be improved. CUSABIO provides highly active EGFR recombinant protein to facilitate the research of anti-tumor drugs targeting EGFR.
Product Name: Recombinant Human Epidermal growth factor receptor(EGFR),partial
Code: CSB-MP007479HURead More>>
Purity:

(Tris-Glycine gel) Discontinuous SDS-PAGE (reduced) with 5% enrichment gel and 15% separation gel.

Activity:

Measured by its binding ability in a functional ELISA. Immobilized EGFR at 1 μg/ml can bind human EGFR antibody, the EC50 of human EGFR protein is 2.867-3.571 ng/ml.