In May, 2020, the world's first CAR-T therapy targeting Claudin 18.2 was approved in the US; in June, 2020, the world's first Claudin 18.2/PD-L1 bispecific antibody preclinical data was presented at the AACR; and on July 1, 2020, Amgen and PepsiCo received approval for their CD3/ Claudin 18.2 dual antibody clinical application in China. On the same day, Trunsun announced the completion of the first patient dosing of Claudin 18.2 monoclonal antibody in the US clinical trial. This series of developments has brought the CLAUDIN 18.2 target back into the limelight.
Recently, Sahin U has done an FAST study named "a randomised phase II study of zolbetuximab (IMAB362) plus EOX versus EOX alone for first-line treatment of advanced Claudin 18.2-positive gastric and gastro-oesophageal adenocarcinoma". The results show a survival benefit of Zolbetuximab in combination with chemotherapy for Claudin 18.2 high expression G/GEJ/EC. This study further validates that drugs against Claudin 18.2 have shown potential for gastric cancer treatment [1]. So why has Claudin 18.2 suddenly becomes an "internet sensation"? Please continue to reading…
1. What is Claudin18.2?
Claudin-18, also known as CLDN18, belongs the Claudin (CLDN) protein family discovered by ShoichiroTsukita and colleagues in 1998. Claudins are crucial components of tight junctions which are specialized membrane domains at the most apical region of polarized epithelial and endothelial cells [2]. Claudins are found in almost all vertebrates. For most species there are only a few Claudins, but humans have 26 Claudins except for the CLDN-13 gene. Among of these Claudins, CLDN18 has two isoformses, CLDN18.1 and Claudin 18.2. CLDN18 is a major constituent of tight junctions in lung and stomach epithelia. In the lung, the splice variant 18.1 is predominantly expressed, while in stomach epithelium, the major variants is claudin-18.2. Note that Claudin 18.2 is only expressed in differentiated epithelial cells on the gastric mucosa and not in any other healthy tissues under normal physiological conditions. However, it is highly expressed in primary malignant tumors such as gastric, breast, colon and liver cancers.
2. What is the Structure of Claudin18.2?
The human CLDN18 gene locus on chromosome 3q22 covers approximately 35 kb and is organized in 6 exons and 5 introns (Fig. 1). It has two distinct exon 1s (exons 1a and 1b), which are transcribed and variably spliced to produce two isoformses, CLDN18.1 and Claudin 18.2, with different sequences at the N-terminal end only.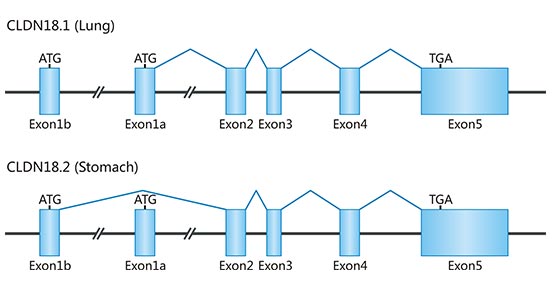 Figure 1. Gene structure of CLDN18
*This diagram is derived from reference 3.
CLDN18.1 and Claudin18.2 both consist of 261 amino acids, both have four transmembrane structural domains (Figure 2), with the NH2 and COOH ends located intracellularly and two extracellular loops (Extracellular Loops: ECL1, ECL2). Only 7 amino acid residues differences exist on the sequence of approximately 50 amino acids in CLDN18.1 and Claudin 18.2 ECL1 [5].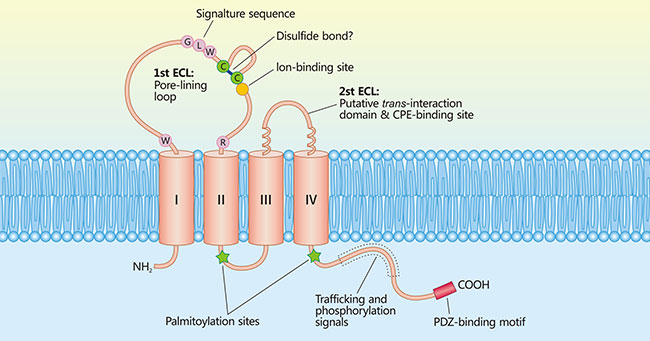 Figure 2. Model of claudin protein
*This diagram is derived from reference 4.
As mentioned before, Claudin18.2 is a tissue restricted marker that is expressed only in short-lived differentiated cells of the gastric mucosa, suggesting that it plays a role in the specific requirements of epithelial layer integrity of the stomach [6] [7]. Claudin18.2 expression is not lost upon malignant transformation and therefore observed in a large fraction of gastric cancers.
3. What is the Role of Claudin18.2 in Cancer?
Aberrant expression of claudins can lead to structural damage and impaired function of epithelial and endothelial cells, and their aberrant expression in a variety of tumors of epithelial origin suggests that claudins may play an important role in tumor invasion and metastasis. Different claudins are expressed on different tissues, their altered function has linked to formation of cancers of respective tissues [8]. Claudin-1 expression has been shown to have prognostic value in colon cancer [9], claudin-18 in gastric cancer [10], and claudin-10 in hepatocellular carcinoma [11] [12].
Currently, Claudin 18.2 is the most well-studied Claudin family protein. As mentioned before, in normal tissues, Claudin 18.2 is restricted to express in differentiated epithelial cells of the gastric mucosa and is not expressed in the gastric stem cell region, which is highly selective. And monoclonal antibodies in normal tissues are largely inaccessible. However, the development of malignant tumors leads to the disruption of tight junctions, exposing the Claudin 18.2 epitope on the surface of tumor cells as a specific target. Thereby, in the field of gastric cancer, therapeutic antibodies against Claudin 18.2 theoretically have greater anti-cancer potential and lower toxicity. Additionally, aberrantly activated Claudin 18.2 is also frequently observed in pancreatic adenocarcinoma, esophageal, ovarian and lung cancers [13] [14]. In gastric cancer cell lines, Claudin 18.2 has been shown to be involved in tumor-cell proliferation and chemotaxis.
A study has implied that the significant variability of Claudin 18.2 in cancerous and normal tissues may result from the fact that the CREB binding site in the promoter region of Claudin 18.2 is highly CpG methylated in normal tissues, whereas in normal cells the level of CpG methylation is reduced during carcinogenesis and thus CREB is involved in the activation of Claudin 18.2 transcription [6].
4. What are the Targeted Claudin 18.2 Therapies?
Claudin18.2 acts as a cell membrane surface protein with an exposed extracellular structure allowing antibody binding and these characteristics suggest that Claudin18.2 is an ideal target for the development of therapeutic monoclonal antibodies. Although Claudin18.2 is an ideal target for gastric cancer and pancreatic cancers, because claudin18.1 differs from Claudin18.2 by only 7 amino acid residues in the extracellular structural domain ECL1, the design of an antibody that specifically recognizes only Claudin18.2 but not claudin18.1 has become a challenge in the development of monoclonal antibodies for this target. Therefore, many pharmaceutical companies are currently focusing on Claudin18.2, but few are able to obtain breakthrough on this target due to the difficulty in obtaining high quality Claudin18.2 antigens.
Currently, the types of products targeting Claudin 18.2 worldwide include monoclonal antibodies, bispecific antibodies, CAR-T and ADCs. Among of them, the number of monoclonal antibodies in development is the highest. Here, we list the latest progression of targeted Claudin 18.2 drugs development on the following table.
| Drug name | Phase | Company | Indications | Types | Updated date |
| --- | --- | --- | --- | --- | --- |
| Zolbetuximab IMAB362 | Phase III | Astellas Pharma Global Development Inc | Esophageal cancer; gastric cancer; adenocarcinoma; pancreatic cancer; gastrointestinal disease; cystic lymphadenoma; pain; solid tumors | Monoclonal antibody | 2020-08-28 |
| LCAR-C18S CAR-T cell therapy | Phase I | Shanghai Oriental Hospital | Gastric cancer | CAR-T | 2020-11-06 |
| Q-1802 | Phase I | QureBio Ltd | Solid tumors | Bispecific antibody | 2021-04-16 |
| LM-102 | Phase I | LaNova Medicines Limited | Solid tumors | Bio-drug | 2021-04-25 |
| TJ-CD4B | Phase I | I-MAB Biopharma Co., Ltd | Tumors | Bispecific antibody | 2021-04-01 |
| Recombinant humanized anti-CLAUDIN 18.2 monoclonal antibody (CARsgen) | Phase I | Carsgen Therapeutics Ltd | Solid tumors; gastric cancer; pancreatic cancer | Monoclonal antibody | 2020-08-28 |
| KD-022 (Nanjing KAEDI Biotech) | Phase I | Nanjing KAEDI Biotech, Inc. | Tumors | CAR-T | 2020-11-06 |
| Claudin18.2 (CLAUDIN18.2) humanized monoclonal antibody(Mabspacebio)(Claudin18.2) | Phase I | Mabspace Biosciences Co Ltd | Gastric cancer; solid tumors; tumors; cholangiocarcinoma; gallbladder cancer; lung cancer; oesophageal cancer | Monoclonal antibody | 2021-04-19 |
| HBM-1029 | Pre-clinic | Harbour BioMed | Solid tumors | Monoclonal antibody | 2020-09-11 |
| HLX-58 | Pre-clinic | Shanghai Henlius Biotech Co., Ltd. | Solid tumors | Unknown | 2021-01-04 |
| BNT-212 | Pre-clinic | Biontech Se | Solid tumors; pancreatic cancer | CAR-T | 2021-03-16 |
| SOT-102 | Pre-clinic | Sotio | Solid tumors | ADC | 2021-04-13 |
Among of these drugs, the most advanced drug currently in development against Claudin18.2 is IMAB362 (Zolbetuximab, claudiximab) developed by Ganymed and Astellas. IMAB362 is a human-mouse chimeric antibody that specifically recognizes and binds to the extracellular structural domain (ECL1) of the Claudin18.2 protein, without binding to any other member of the claudin family, especially claudin18.1. IMAB362 induces apoptosis in human pancreatic cancer cells cultured in vitro that are positive for Claudin18.2 protein. The ability of killing tumor cells is directly related to the level of Claudin18.2 expression on the surface of the tumor cells. The combination of the chemotherapeutic agent gemcitabine could upregulate the expression of Claudin18.2 in human pancreatic cancer cells and enhance its mediated ADCC effect.
References
[1] Sahin U, TürECi Ö, Manikhas G, et al. FAST: a randomised phase II study of zolbetuximab (IMAB362) plus EOX versus EOX alone for first-line treatment of advanced CLAUDIN18.2-positive gastric and gastro-oesophageal adenocarcinoma [J]. Ann Oncol, 2021. 32(5): 609-619.
[2] Schneeberger EE, Lynch RD. The tight junction: a multifunctional complex [J]. Am J Physiol Cell Physiol. 2004, 286: C1213-28.
[3] Özlem Türeci; Michael Koslowski; Gerd Helftenbein, et al. Claudin-18 gene structure, regulation, and expression is evolutionary conserved in mammals [J]. Gene. 2011, 481(2), 83–92.
[4] Gunzel, D.; Yu, A. S. L. Claudins and the Modulation of Tight Junction Permeability [J]. Physiological Reviews. 2013, 93(2), 525–569.
[5] Klamp, T. et al. Highly specific auto-antibodies against claudin-18 isoform 2 induced by a chimeric HBcAg virus-like particle vaccine kill tumor cells and inhibit the growth of lung metastases [J]. Cancer Res. 2011, 71, 516-527.
[6] Sahin U, Koslowski M, Dhaene K, et al. Claudin-18 splice variant 2 is a pan-cancer target suitable for therapeutic antibody development [J]. Clin Cancer Res. 2008, 14: 7624–34.
[7] Patrick Micke, Johanna Sofia Margareta Mattsson, Karolina Edlund, et al. Aberrantly activated claudin 6 and 18.2 as potential therapy targets in non-small-cell lung cancer [J]. Int. J. Cancer. 2014, 135, 2206–2214.
[8] Morin PJ. Claudin proteins in human cancer: promising new targets for diagnosis and therapy [J]. Cancer Res. 2005, 65(21): 9603–6.
[9] Resnick MB, Konkin T, Routhier J, et al. Claudin-1 is a strong prognostic indicator in stage II colonic cancer: a tissue microarray study [J]. Mod Pathol. 2005, 18(4): 511–8.
[10] Sanada Y, Oue N, Mitani Y, et al. Downregulation of the claudin-18 gene, identified through serial analysis of gene expression data analysis, in gastric cancer with an intestinal phenotype [J]. J Pathol. 2006, 208(5): 633–42.
[11] Cheung ST, Leung KL, Ip YC, et al. Claudin-10 expression level is associated with recurrence of primary hepatocellular carcinoma [J]. Clin Cancer Res. 2005, 11(2 Pt 1): 551–6.
[12] Prabhsimranjot Singh, Sudhamshi Toom and Yiwu Huang. Anti-CLAUDIN 18.2 antibody as new targeted therapy for advanced gastric cancer [J]. Journal of Hematology & Oncology. 2017, 10:105.
[13] Risa Akizuki, Shun Shimobaba, Toshiyuki Matsunaga, et al. Claudin-5, -7, and -18 suppress proliferation mediated by inhibition of phosphorylation of Akt in human lung squamous cell carcinoma [J]. Biochimica et Biophysica Acta. 2017, 1864: 293–302.
[14] Zhu, G., et al. Author Correction: Targeting CLAUDIN18.2 by CD3 Bispecific and ADC Modalities for the Treatments of Gastric and Pancreatic Cancer [J]. Sci Rep. 2019, 9(1): 16735.