The uterus is the hollow, pear-shaped pelvic organ where fetal development occurs. It is very vulnerable to various diseases. Endometrial cancer is one of them, a malignant tumor that occurs in the uterus. It is one of the most common tumors in the female reproductive organs. In 2020, the American Cancer Society estimates that there will have been approximately 65,620 diagnoses of cancer of the body of the uterus and 12,590 deaths from cancers of the uterus body in the U.S. These estimates include both endometrial cancers and uterine sarcomas. Up to 10% of uterine body cancers are sarcomas, so the actual numbers for endometrial cancer cases and deaths are slightly lower than these estimates. So what is endometrial cancer? And how to prevent yourself from it? Continuing to read this article…
1. What is Endometrial Cancer?
Endometrial cancer, sometimes also called uterine cancer, starts in the layer of cells that form the lining (endometrium) of the uterus (Figure 1). Most uterine cancers start as endometrial cancer. Other types of cancer can form in the uterus, including uterine sarcoma, but all of them are much less common than endometrial cancer. Endometrial cancer affects mainly post-menopausal women. The mean age of women diagnosed with endometrial cancer is 61 years, with most cases diagnosed in women between the ages of 50 and 60 years [1] [2]. It's uncommon in women under the age of 45.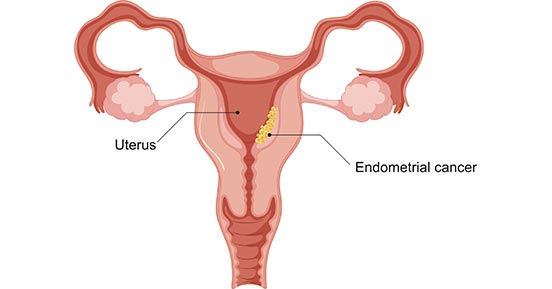 Figure 1. a diagram of endometrial cancer
According to the National Cancer Institute, approximately 3 in 100 women will be diagnosed with endometrial cancer at some point in their lives. More than 80 percent of people with endometrial cancer survive for five years or longer after receiving the diagnosis.
2. What are The Types of Endometrial Cancer?
Endometrial cancer commonly has been classified into two types. Type I commonly is estrogen-related and accounts for about 80% of endometrial cancers. It usually occurs in younger, obese, or perimenopausal women. These tumors are usually low-grade and mainly secondary to endometrial hyperplasia. The degree of malignancy is not high, and it is closely related to estrogen exposure without progesterone resistance. The risk factors for type I endometrial cancer are relatively clear, including exposure to more endogenous estrogen or exogenous estrogen. These tumors may show microsatellite instability and mutations in PTEN, PIK3CA, K-ras, and CTNNBI [3].
Type II is relatively rare. It was originally called non-estrogen-dependent. It occurs in an older cohort of women than type I, and is mainly high-grade serous cell carcinoma and clear cell carcinoma. These tumors may exhibit p53 mutations in approximately 10–30% of cases. Type II disease represents up to 10% of cases. The epidemiologic profile of women with type II disease is not certain. In this article, we focus on the type I endometrial cancer.
3. What Are The Symptoms of Endometrial Cancer?
Unlike most other cancers in the U.S, endometrial cancer is rising in both incidence and associated mortality [4]. The patient with endometrial cancer usually has some symptoms as follows:
Vaginal bleeding: A small number of early endometrial cancers may have no symptoms and are difficult to detect clinically. But 90% of the main symptoms of endometrial cancer are various vaginal bleeding, including after menopause and between periods. Among of them, Postmenopausal vaginal bleeding is the main symptom of endometrial cancer patients, and more than 90% of postmenopausal patients see a doctor with vaginal bleeding symptoms.
Menstrual disorders: About 20% of endometrial cancer patients are perimenopausal women, and only 5%-10% of young women under 40 years old. Patients may present with changes in the length or heaviness of menstrual periods.
Abnormal vaginal discharge: a small amount of serous or bloody discharge can be seen in the early stage. In the late stage, local infection and necrosis occurred due to the increase in tumor volume, and foul-smelling pus and blood-like fluid was discharged.
Pain: It is mostly low abdominal pain and discomfort, which can be caused by empyema or effusion in the uterus. In the late stage, the disease spreads to the parauterine tissue ligaments or compresses nerves and organs, and lower limbs or lumbosacral pain may also occur.
Others: The enlarged uterus in the lower abdomen can be palpable in advanced patients, and systemic failure such as anemia, weight loss, fever, and cachexia can occur.
4. How is Endometrial Cancer Diagnosed?
Endometrial cancer is most often diagnosed after a woman see a doctor. The doctor will ask about the woman's symptoms, risk factors, and medical history. Moreover, the doctor will also do a pelvic exam and a physical exam. Procedures used to diagnose endometrial cancer usually include:
Examining the pelvis. During a pelvic exam, your doctor carefully inspects the outer portion of your genitals, and then inserts two fingers of one hand into your vagina and simultaneously presses the other hand on your abdomen to feel your uterus and ovaries. Additionally, He or she also inserts a device called a speculum into your vagina. The speculum opens your vagina so that your doctor can view your vagina and cervix for abnormalities.
Using sound waves to take pictures of the inside of the body. A transducer or probe gives off sound waves and picks up the echoes as they bounce off the organs. A computer translates the echoes into pictures. Your doctor may recommend a transvaginal ultrasound to look at the thickness and texture of the endometrium and help rule out other conditions.
To find out exactly what kind of endometrial change is present, the doctor usually does the following procedures.
Using a scope to examine your endometrium. During a hysteroscopy, your doctor inserts a very thin, flexible, lighted tube via your vagina and cervix into your uterus.
Removing a sample of tissue for testing. To get a sample of cells from inside your uterus, you'll likely undergo an endometrial biopsy. This involves removing tissue from your uterine lining for laboratory analysis.
Dilation and curettage (D&C). If biopsy sample doesn't provide enough tissue or if the biopsy results are unclear, a D&C must be done. During D&C, tissue is scraped from the lining of your uterus and examined under a microscope for cancer cells.
5. What are The Stages of Endometrial Cancer?
Over time, endometrial cancer can potentially spread from the uterus to other parts of the body. Once you have been diagnosed as endometrial cancer, doctor works to determine the stage of your cancer. Tests used to determine your cancer's stage may include a chest X-ray, a computerized tomography (CT) scan, positron emission tomography (PET) scan and blood tests (including complete blood count and CA-125 blood test). The final determination of your cancer's stage may not be made until after you undergo surgery. Generally, the cancer is classified into five stages based on how much it has grown or spread:
| Stages | Description |
| --- | --- |
| Stage 0 | Cancerous cells remain where they started, on the surface of the inner lining of the uterus. |
| Stage 1 | The cancer has spread through the inner lining of the uterus to the endometrium and possibly to the myometrium — the middle layer of the uterine wall. |
| Stage 2 | The cancer is present in the uterus and cervix. |
| Stage 3 | The cancer has spread outside the uterus, but not as far as the rectum or bladder. It might be present in the fallopian tubes, ovaries, vagina, and/or nearby lymph nodes. |
| Stage 4 | The cancer has spread beyond the pelvic area. It might be present in the bladder, rectum, and/or distant tissues and organs. |
6. What are The Risk Factors for Endometrial Cancer?
A risk factor is anything that increases your chance of getting a disease. Different cancers have different risk factors. Some risk factors, such as smoking or sun exposure, can be changed. But, others, like a person's age or family history, can't be changed. The epidemiology of endometrial cancer includes women with genotypic and phenotypic risk, including:
Obesity - raises oestrogen levels. Obesity is one of the most important risk factors for this disease, and as rates of obesity have risen, rates of endometrial cancer have also increased. Obesity and conditions associated with metabolic syndrome, including diabetes and polycystic ovary syndrome, are risk factors for the development of endometrial cancer [5] [6] [7]. In the U.S, 57% of all endometrial cancers are attributable to obesity.
Reproductive, menstrual, and medical risk comorbidities can increase or decrease the risk of a woman having development of endometrial cancer [8]. Continuous estrogen stimulation, albeit it exogenous or endogenous, like taking estrogen after menopause, birth control pills, or tamoxifen, can alter the normal endometrial cycle.
Using an intrauterine device (IUD) for birth control seem to have a lower risk of getting endometrial cancer. Information about this protective effect is limited to IUDs that do not contain hormones.
Age. The risk of endometrial cancer increases as a woman gets older.
Family history. Endometrial cancer tends to run in some families with the history of endometrial, colorectal, or breast cancer.
7. What are The Treatments for Endometrial Cancer?
The stage of endometrial cancer is the most important factor in choosing treatment. In another word, Treatment depends upon the stage. Generally speaking, surgery is the first treatment for almost all women diagnosed as endometrial cancer. The operation includes removing the uterus, fallopian tubes, and ovaries. Lymph nodes from the pelvis and around the aorta may also be removed and tested for cancer spread. And pelvic washings may be done, too. The tissues removed at surgery are tested to see how far the cancer has spread (the stage, please see the section 5). Depending on the stage of the cancer, other treatments, such as radiation and/or chemotherapy may be recommended.
For some women who still want to be able to get pregnant, surgery may be put off for a time and other treatments tried instead. If a woman isn't well enough to have surgery, other treatments, like radiation, will be used.
References
[1] Sorosky JI. Endometrial cancer [J]. Obstet Gynecol. 2008, 111: 436–47.
[2] Joel I. Sorosky. Endometrial cancer [J]. OBSTETRICS & GYNECOLOGY. 2012, 120 (2): 383-397.
[3] Prat J, Gallardo A, Cuatrecasas M, et al. Endometrial carcinoma: pathology and genetics [J]. Pathology. 2007, 39: 1–7.
[4] Henley SJ, Ward EM, Scott S, et al. Annual report to the nation on the status of cancer. I. National cancer statistics [J]. Cancer. 2020, 126: 2225-49.
[5] Lauby-Secretan B, Scoccianti C, Loomis D, et al. Body fatness and cancer — viewpoint of the IARC Working Group [J]. N Engl J Med. 2016, 375: 794-8.
[6] Saed L, Varse F, Baradaran HR, et al. The effect of diabetes on the risk of endometrial cancer: an updated a systematic review and meta-analysis [J]. BMC Cancer. 2019, 19: 527.
[7] Karen H. Lu, and Russell R. Broaddus. Endometrial Cancer [J]. N Engl J Med. 2020, 383: 2053-64.
[8] Brinton LA, Berman ML, Mortel R, et al. Reproductive, menstrual, and medical risk factors for endometrial cancer: results from a case-control study [J]. Am J Obstet Gynecol 1992, 167: 1317–25.