Rogers Brambell first proposed the idea of a fragment crystallizable (Fc) receptor system for immunoglobulin G (IgG) after the investigation of the transmission of maternal antibodies to fetuses and neonates [1]. Since then, various in vivo and in vitro studies about Fc receptors have not been suspended. In particular, the emergence of monoclonal antibody-mediated cancer immunotherapy has highlighted the roles of Fc receptors.
Here, we summarize an article about Fc receptors from the following aspects, involving definition, classification, functions, signaling mechanisms, and applications. We hope this information can give help your research.
1. What Is the Fc Receptor?
When talking about the Fc receptor, we have to first introduce the Fc region of antibodies.
1.1 Fc Region
The Fc region is the trunk portion of the Y-shaped antibody and consists of two heavy chains each bearing two or three constant domains depending on the class of the antibody. It was originally observed to crystallize readily and therefore was named the Fc fragment.
As shown in the figure 1, an IgG monomer can be cleaved into two Fab (fragment antigen-binding) fragments and one Fc fragment by the papain in an experimental setting. The Fc region is the base of the 'Y'-shaped antibody that interacts with Fc receptors and some proteins of the complement system. This property allows antibodies to activate the immune system, inducing different antibody-mediated physiological effects, including detection of opsonized particles, cell lysis, degranulation of mast cells, basophils, and eosinophils, and other processes. Its top variable sections can bind to antibody specifically. If you want know more things about antibody, please click here.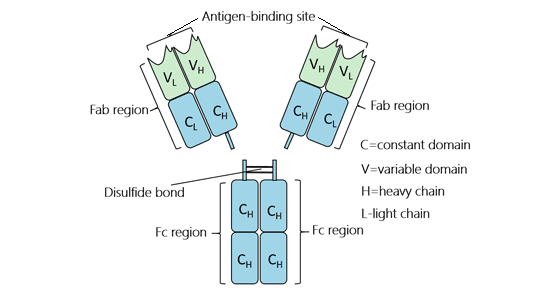 Figure 1. The structure of IgG antibody isotype
1.2 Fc Receptors
Fc receptors (FcRs) are a series of cell-surface proteins that specifically recognize the Fc region of an antibody. They are the only class of receptors responsible for the functions of immunoglobulins and plays a role in regulating immune activity. And they are found on certain immune cells, including B lymphocytes, natural killer cells, macrophages, neutrophils, and mast cells. FcRs recognize antigen-antibody complexes, bind to the Fc part of several Ig classes and subclasses, and transmit signals to cells of the immune system, triggering a wide array of downstream effector functions.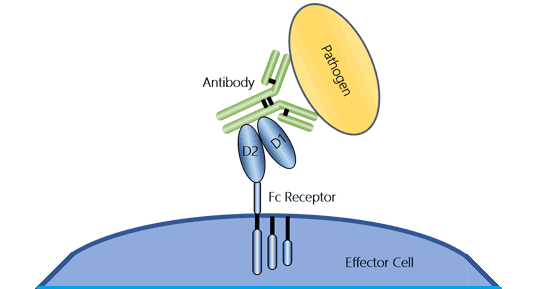 Figure 2. The illustration of an Fc receptor
2. Types of Fc receptors
The classification of FcRs is dependent on the Ig isotype of their ligands, including IgG, IgA, IgE, IgM, and IgD. Commonly, Fc gamma receptor (FcγR) and neonatal FcR (FcRn) binds IgG, Fc alpha receptor (FcαR) bind IgA, Fc epsilon receptor (FcεR) binds IgE, Fcα/µR (CD351) binds IgM, and FcδR binds IgD.
2.1 Fc-gamma Receptor
FcγR is the major class among the five classes of FcRs. It is subdivided into three classes based on genetic homology: FcγRI (CD64) , FcγRII (CD32), and FcγRIII (CD16) [2]. Each type is encoded by specific genes located in the same region of the long arm of chromosome 1 [3] [4]. There are also several closely related genes for each FcgR which have different antibody affinities due to the different molecular structure, including FcγRI, FcγRIIa (CD32a), FcγRIIb (CD32b), FcγRIIc (CD32c), FcγRIIIa (CD16a), and FcγRIIIb (CD16b) [5].

Figure 3. The structure of Fc gamma receptors
As the figure 3 shows, FcγRI binds to IgG more strongly than FcγRII or FcγRIII does. FcγRI has an extracellular portion composed of three immunoglobulin (Ig)-like domains, one more domain than others. This characteristic allows FcγRI to bind a signal IgG molecule (or monomer). But please note that all of FcγRs must bind multiple IgG molecules within an immune complex to be activated. Among of FcγRs, FcγRI, FcγRIIa, FcγRIIc and FcγRIIIa possess a classic cytoplasmic ITAM (immunoreceptor tyrosine-based activation motif) signaling domain and can activate effector immune cell. As a counterpoint to the activating FcγRs, FcγRIIb being the only inhibitory FcγR possesses a cytoplasmic ITIM (immunoreceptor tyrosine-based inhibitory motif) that mediates signaling activity [6]. In the following Table 1, we compare the features of all FcγRs to each other.
Table 1. The feature of Fc gamma receptors
Name
FcγRI
FcγRIIa
FcγRIIb
FcγRIIc
FcγRIIIa
FcγRIIIb
Function
Activating
Activating
Inhibitory
Activating
Activating
Act as a GPI-anchored protein
Expression
Lymphoid
Not expressed
Not expressed
B cell and Plasma cell
NK cell
NK cell
Not expressed
Myeloid
Monocyte, DC and macrophage
Monocyte, DC and macrophage
Monocyte, DC, and macrophage
Not expressed
Monocyte, DC and macrophage
Not expressed
Granulocyte
Neutrophil and eosinophil
Neutrophil
Neutrophil, mast cell, and basophil
Not expressed
Not expressed
Neutrophil, mast cell, and eosinophil
Affinity
High
Low
Low
Low
Low
Low
2.2 Fc-alpha Receptor
FcαR is the receptor specific for IgA which binds IgA with low affinity. As the sole IgA Fc receptor, FcαRI (CD89) is specifically expressed on cells of the myeloid lineage, including neutrophils, eosinophils, monocytes/macrophages, dendritic cells, and Kupffer cells [7-9]. FcαRI expression is constitutive and independent of the presence of IgA ligand because it is expressed at similar levels on cells of patient deficient in IgA [10]. The structure of FcαR is shown in the figure 4.

Figure 4. The structure of Fc alpha receptor and Fc epsilon receptors
A single gene encoding FcαRI has been isolated, which is located within the leukocyte receptor cluster on chromosome 19. The FcαRI lacks canonical signal transduction domains but can associate with two FcRγ signaling chains that bear an activation motif (ITAM) in the cytoplasmic domain, allowing activatory functions FcαRI expressed alone mediates endocytosis and recycling of IgA [11].
Table 2. The feature of Fc alpha receptor
| Receptor name | Principal antibody ligand | Affinity for ligand | Cell distribution | Effect following binding to antibody |
| --- | --- | --- | --- | --- |
| FcαRI (CD89) | IgA | Low (Kd > 10−6 M) | Monocytes Macrophages Neutrophils Eosinophils | Phagocytosis Induction of microbe killing |
*The content of Table 2 is derived from Wikipedia.
2.3 Fc-epsilon Receptor
FcεR is an Fc receptor for IgE. FcεR is a multimeric complex receptor, the α-chain of which is responsible for IgE binding and β- and γ-chains of which is used for signal transduction [12]. There are two known FcεRs: FcεRI and FcεRII.
The high-affinity receptor FcεRI is capable of binding monomeric IgE (it has two Ig-like domains). The classical Fc epsilon receptor I is tetrameric. FcεRI is found on epidermal Langerhans cells, eosinophils, mast cells, and basophils [13] [14]. Based on its cellular distribution, FcεRI plays a crucial role in controlling allergic responses.
FcεRII (CD23) is a low-affinity receptor for IgE. It controls B cell growth and differentiation and participates in IgE-mediated immunity. And it exists in two isoforms: FcεRIIa (CD23a) and FcεRIIb (CD23b). FcεRIIa is constitutively expressed by B cells. FcεRIIa possesses a classical tyrosine-based endocytosis signal in the tail domain that assists receptor uptake into clathrin-coated pits, modulating B-cell functions such as proliferation and adhesion. FcεRIIb is inducibly expressed in B cells and monocytes by the IgE switch factor IL-4. Structurally, FcεRIIb contains critical asparagine and proline residues that regulate IgE-dependent phagocytosis. The structure of FcεRs are shown in the figure 4.
Table 3. The feature of Fc epsilon receptors
| Receptor name | Principal antibody ligand | Affinity for ligand | Cell distribution | Effect following binding to antibody |
| --- | --- | --- | --- | --- |
| FcεRII (CD23) | IgE | Low (Kd > 10−7 M) | B cells Eosinophils Langerhans cells | Possible adhesion molecule IgE transport across human intestinal epithelium Positive-feedback mechanism to enhance allergic sensitization (B cells) |
| FcαRI (CD89) | IgA | Low (Kd > 10−6 M) | Monocytes Macrophages Neutrophils Eosinophils | Phagocytosis Induction of microbe killing |
*The content of Table 2 is derived from Wikipedia.
2.4 Neonatal Fc Receptor
FcRn is a unique FcR harboring three functions corresponding to IgG. FcRn mediates IgG transport across epithelial barriers from mother to offspring for passive immunity [15]. In adults, FcRn is an IgG chaperone protecting it from catabolism and promoting antigen presentation [16].
2.5 Fcα/μR
Shibuya et al. identified the Fcα/μR in humans and mice in 2000, a novel FcR for IgM and IgA [17]. Different from its closely relative polymeric immunoglobulin receptor (poly-IgR), which is expressed on epithelial, Fcα/μR is constitutively expressed on the majority of B-lymphocytes and macrophages in the spleen and at the center of the secondary lymphoid follicles. Fcα/μR is involved in the primary stage of immune defense against microbes.
3. What Are the Fuctions of the Fc Receptor?
FcRs exert a wide array of biological roles, mainly focused on immune system. FcRs expressed on various hematopoietic cells are key components for activating or downregulating immune responses, all of which maintain the immune system homeostasis. And their functions initiate with cross-linking with antigen-antibody complexes.
3.1 Regulation of Immune Responses
First, FcRs prominently plays an important role in the positive and negative modulation of immune responses. Activating FcRs crosslink antigen-antibody complexes, leading to phagocytosis, antibody-dependent cellular cytotoxicity (ADCC), superoxide generation and the release of pro-inflammatory mediators [18]. The inhibitory FcR (FcγRIIB) inversely suppresses various cellular responses, such as B cell proliferation and mast-cell degranulation.
3.2 Uptake of Immune Complexes
Second, FcRs function to ingest antigen-antibody complexes. The internalization of antigen-antibody complexes through FcRs results in the degradation of these immune complexes (ICs) and prime of the MHC class I or class II-mediated antigen-presentation pathway [19]. The receptors more efficient at absorbing and degrading immune complexes are macrophages, whereas dendritic cells are more specialized for antigen presentation.
3.3 Transcellular Transport of Antibodies
FcRn and poly-IgR are involved in the transcellular transfer of antibodies. FcRn is responsible for the transplacental transfer of maternal IgG to the fetus, and poly-IgR transfers IgA to mucosal surfaces.
Additionally, some FcRs have shown to modify lymphocyte differentiation.
4. Fc Receptor Signaling Mechanisms
Upon the Fc region of antibody binding to a special Fc receptor, a series of signaling mechanisms are triggered in the effector cell. Based on recent researches, the signaling mechanisms of the Fc gamma receptor, Fc-alpha receptor, and Fc epsilon receptor are more lucid than other Fc receptors. In this division, we briefly summarize the mechanism of the Fc gamma receptor, Fc- alpha receptor, and Fc epsilon receptor respectively.
4.1 Fc gamma Receptor Signaling
FcγR is an essential participant in many immune system effector functions, such as phagocytosis of opsonized, the release of inflammatory mediators, and antibody- dependent cellular cytotoxicity. Here, we primarily illustrate the mechanism of FcγR-mediated phagocytosis.
Phagocytosis plays a crucial role in host-defense mechanisms by the uptake and destruction of infectious pathogens. In higher organisms, specialized cell types, including macrophages, neutrophils, and monocytes, take part in this process. Upon opsonization with IgG, foreign extracellular materials are recognized by FcγRs. Cross-linking of FcγRs initiates a variety of signals mediated by tyrosine phosphorylation of multiple proteins, which lead to the formation of phagosomes through the actin cytoskeleton rearrangements and membrane remodeling. Nascent phagosomes undergo a process of maturation that involves fusion with lysosomes. The acquisition of lysosomal proteases and release of reactive oxygen species are crucial for the digestion of engulfed materials in phagosomes.
In addition to phagocytosis of opsonized virions, activating FcγRs also significantly impact granulocyte function, triggering effector responses that eventually efficiently and rapidly protect host cells from viral infection. FcγR crosslinking shows pleiotropic effects on leukocyte function. On dendritic cells, FcγR-mediated phagocytosis of IgG immune complexes is related to increased endosomal maturation and lysosomal fusion, promoting antigen processing and presentation on MHC class II molecules [20-22].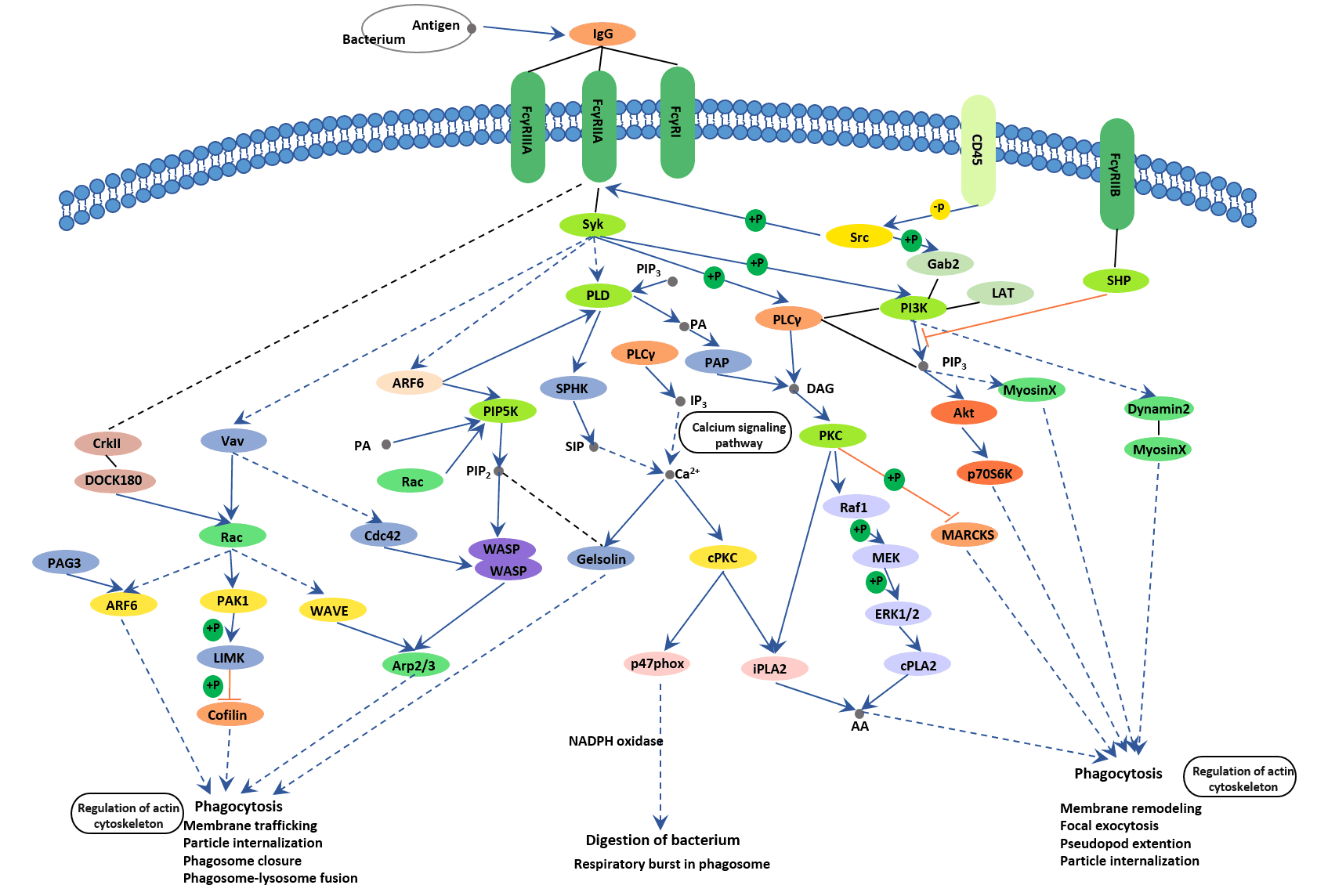 Figure 5. The picture of Fc gamma R mediated phagocytosis
4.2 Fc-alpha Receptor Signaling
FcαRI is a member of the multichain immune recognition receptor (MIRR) family. Lack of canonical ITAM signaling motif. For this reason, the signaling transduction of FcαRI is dependent on association with the FcR γ−chain subunit, forming the trimer FcαRIα/γγ [23]. The FcR γ-chain was initially described as a component of FcεRI and FcγRI, expressed on mast cells and monocytes, respectively. The FcαRIα-FcRγ interaction is strong and depends on oppositely charged residues in their transmembrane regions.
As the Figure 6 shows, FcRγ-ITAM is initially phosphorylated by the Src kinase Lyn, which leads to the recruitment and phosphorylation of Syk and Btk are modulated by cell stimulation with interferon-γ and/or phorbol ester, indicating that activation of these tyrosine kinases through FcαRI may depend on the level of cell priming at inflammatory sites [24].
FcαRI cross-linking triggers calcium release from intracellular stores in neutrophils and induction of NADPH oxidase activity that is sensitive to inhibition by PI 3- kinase inhibitors. FcαRI can also associate with Grb2, Shc, SHIP, and SLP-76, suggesting the formation of adaptor complexes to regulate signaling [25].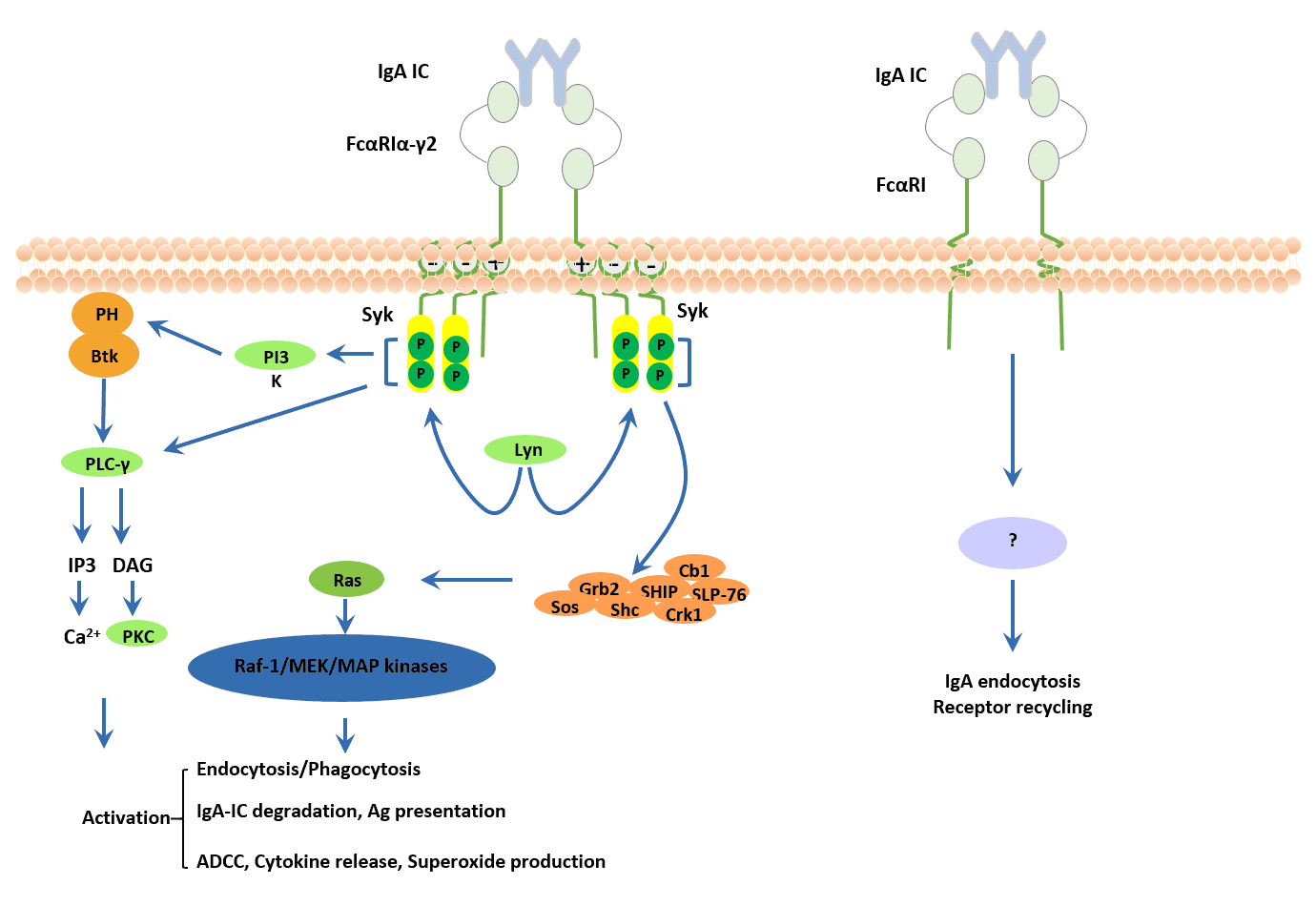 Figure 6. Signaling pathways triggered by FcαRI
4.3 Fc epsilon RI Signaling
Fc epsilon RI signaling pathways in mast cells are initiated via the interaction of antigen with IgE combined to the extracellular domain of the alpha chain of Fc epsilon RI. The activation pathways are regulated both positively and negatively by the interactions of numerous signaling molecules. Mast cells that are thus activated release preformed granules that contain biogenic amines (especially histamines) and proteoglycans (especially heparin). The activation of phospholipase A2 causes the release of membrane lipids followed by the development of lipid mediators such as leukotrienes (LTC4, LTD4, and LTE4) and prostaglandins (especially PDG2). There is also secretion of cytokines, the most important of which are TNF-alpha, IL-4, and IL-5. These mediators and cytokines contribute to inflammatory responses.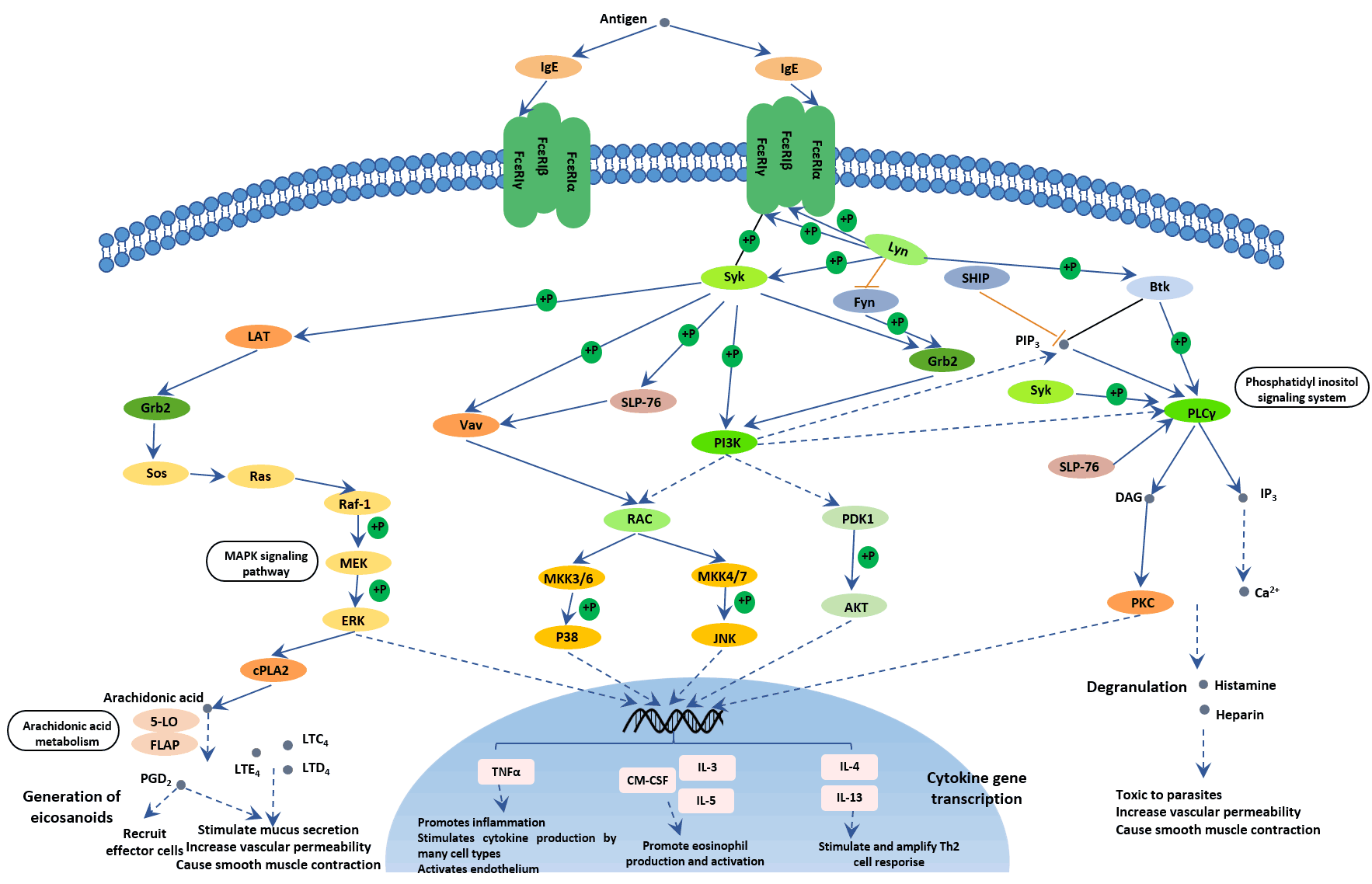 Figure 7. The picture of Fc epsilon RI signaling pathway
5. Applications of Fc Receptors
For monoclonal antibody-mediated cancer therapies, FcR-bearing immune effector cells definitely have a prominent place. FcγRs on leukocytes engage to the Fc regions of IgG- opsonized tumor cells, resulting in the destruction of tumor cells through the ADCC or ADCP action [26]. Evidence has shown that antibodies whose Fc part preferentially bind to activating FcγRs exhibit greater repression of tumor growth and metastasis.
FcγRs activate the cytotoxic activity of FcγR-bearing cells such as NK cells, monocytes, and macrophages and enhance antigen presentation by dendritic cells when bound by the Fc part of therapeutic antibodies, both of which contribute to FcγRs' determinant role in the therapeutic activity of monoclonal IgG antibodies [27] [28]. Clynes R and his colleagues revealed that the anti-tumor effects of mAbs such as anti-CD20 and anti-HER2 antibody required the presence of the signal-transducing Fcγ chain through studies in FcR-deficient nude mice [29]. The Fcγ chain is involved in the activation of FcγRI and FcγRIII receptors expressed on monocytes, macrophages, and NK cells.
FcRs also play an important role in the initiation of antibody-mediated defense against detrimental pathogens. They often contribute to both the pathogenesis and progression of immune complex (IC) mediated autoimmune diseases. Besides, functional FcR polymorphisms may greatly affect the functions of effector cells, providing diversity in host responses associated with various infectious, inflammatory, and autoimmune diseases. The polymorphisms of FcRs may also affect the development or severity of autoimmune diseases. FcRs have therefore become potential targets for inflammatory autoimmune diseases' treatment.
References
[1] Gessner JE, Heiken H, et al. The IgG Fc receptor family [J]. Ann Hematol 1998, 76(6):231 – 248.
[2] Ravetch JV, Perussia B. Alternative membrane forms of Fc gamma RIII (CD16) on human natural killer cells and neutrophils [J]. J Exp Med 1989, 170(2):481 – 497.
[3] James D Mellor, Michael P Brown, et al. A critical review of the role of Fc gamma receptor polymorphisms in the response to monoclonal antibodies in cancer [J]. J Hematol Oncol. 2013, 6:1-10.
[4] Sondermann P, Szymkowski DE, et al. Harnessing Fc receptor biology in the design of therapeutic antibodies [J]. Curr Opin Immunol. 2016, 40:78-87.
[5] Otten MA, van Egmond M. The Fc receptor for IgA (FcalphaRI, CD89) [J]. Immunology Letters. 2004, 92 (1–2): 23–31.
[6] Geissmann F, Launay P, et al. A subset of human dendritic cells expresses IgA Fc receptor (CD89), which mediates internalization and activation upon cross-linking by IgA complexes [J]. J. Immunol. 2001, 166:346–52.
[7] van Egmond M, van Garderen E, et al. FcαRI-positive liver Kupffer cells: reappraisal of the function of immunoglobulin A in immunity [J]. Nat. Med. 2000, 6:680–85.
[8] Heystek HC, Moulon C, et al. Human immature dendritic cells efficiently bind and take up secretory IgA without the induction of maturation [J]. J. Immunol. 2002, 168:102–7.
[9] Chevailler A, Monteiro RC, et al. Immunofluorescence analysis of IgA binding by human mononuclear cells in blood and lymphoid tissue [J]. J. Immunol. 1989, 142:2244– 49.
[10] Monteiro RC, Van De Winkel JG. IgA Fc receptors [J]. Annu Rev Immunol.2003, 21:177-204.
[11] Ochiai K, Wang B, et al. A review on Fc epsilon RI on human epidermal Langerhans cells [J]. International Archives of Allergy and Immunology. 1994, 104 Suppl 1 (1): 63–4.
[12] Prussin C, Metcalfe DD. IgE, mast cells, basophils, and eosinophils [J]. The Journal of Allergy and Clinical Immunology. 2006, 117 (2 Suppl Mini-Primer): S450–6.
[13] Pfefferkorn LC, Yeaman GR. Association of IgA-Fc receptors (FcαR) with FcεRI γ2 subunits in U937 cells. Aggregation induces the tyrosine phosphorylation of γ2 [J]. J. Immunol. 1994, 153: 3228–36.
[14] LaunayP, LehuenA, et al. IgA Fc receptor (CD89) activation enables coupling to syk and Btk tyrosine kinase pathways: differential signaling after IFN-γ or phorbol ester stimulation [J]. J. Leukoc. Biol. 1998, 63:636–42.
[15] Lang ML, Shen L, et al. Fcα receptor cross-linking causes translocation of phosphatidylinositol-dependent protein kinase 1 and protein kinase B alpha to MHCclassII peptide-loading-like compartments [J]. J. Immunol. 2001, 166:5585– 93.
[16] Alderson KL, Sondel PM: Clinical cancer therapy by NK cells via antibody-dependent cell-mediated cytotoxicity [J]. J Biomed Biotechnol 2011, 2011:379123.
[17] Ravetch JV, Bolland S. IgG Fc receptors [J]. Annu Rev Immunol 2001, 19:275 – 290.