Proteins were first described by the Dutch chemist Gerardus Johannes Mulder and named by the Swedish chemist Jöns Jacob Berzelius in 1838 [1]. After that, the world of proteins opens up. Proteins, a group of biological macromolecular compounds, are widely existed in various organisms. They are the physical basis for all life, and almost all life activities are related to proteins, such as growth, development, movement, and reproduction.
Proteins are made up of many amino acids linked by peptide bonds and disulfide bonds. The sequence of amino acids on protein molecules and the resulting three-dimensional structure constitute the diversity of protein structure. Protein structure, including primary, secondary, tertiary and quaternary structures, determines protein function.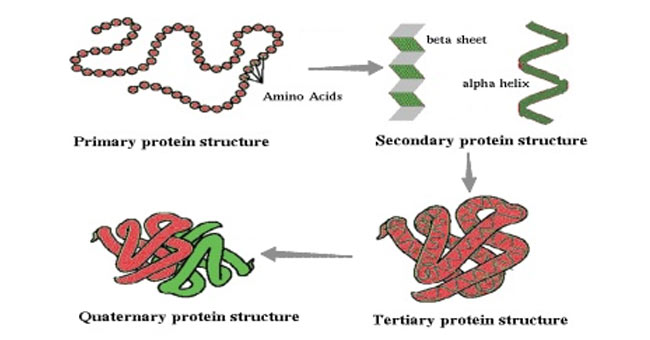 Figure 1: Protein structure
Proteins have many functions, which are performed on the basis of their biological activity. In this article, we will introduce protein biological activity from five aspects, including definition, protein denaturation, detection, research significance, and applications.
1. What is Biological Activity of Proteins?
Biological activity of proteins is embodiment of various protein functions. Or you can understand the concept that a protein must have activity, it can perform its function. A protein with biological activity is called an active protein, namely, an active protein has biological activity. Theoretically, native proteins are all active proteins, while recombinant proteins are not always active proteins because the production of recombinant proteins is a complex process in which many factors are crucial for their bioactivity, such as an ideal expression system, a suitable expression vector, purification, etc.
2. Protein Denaturation
Under the action of some physical and chemical factors, the specific spatial structure of proteins is destroyed, resulting in the change of their original physical and chemical properties and loss of biological activity. This phenomenon is called protein denaturation, and these proteins are known as denatured proteins or inactive proteins[2].
The process of protein denaturation is commonly irreversible. Denatured proteins are usually solid, insoluble in water and other solvents. And they also lose the properties of the original proteins. In other words, denatured proteins do not have biological activity and no longer perform specific biological functions. For an enzyme, it loses its catalytic capacity; it loses its ability to bind to an antigen for an antibody. The main causes of denaturation are heat, ultraviolet light, intense agitation, and strong acids and bases.
3. How to Measure the Biological Activity of Proteins
3.1 Why Do We detect the Biological Activity of Proteins?
The biological activity of a protein is closely related to its three-dimensional structure, group modification, and the environment in which it is placed. Any change in conditions may affect the biological activity of the protein.
With the development of science and technology, especially the breakthrough of protein expression system technology, the protein acquisition pathway transitions from chemical extraction to biosynthesis, but no matter which way to obtain the target protein, it may lead to the loss of the original spatial conformation and group modification, resulting in changes in protein activity, which requires us to make new judgments on the activity of the protein in vitro.
3.2 The ways of Biological Activity of Proteins Detection
There are many ways to measure the biological activity of proteins. We primarily introduce three avenues here.
Cell Proliferation Assay
Cell proliferation assay is suitable for the determination of the bioactivity of the proteins that promote the proliferation of specific cells[3].
CCK-8 kit, short for cell counting kit-8, is a WST-8 based repaid and highly sensitive assay widely used in cell proliferation. WST-8 is a compound similar to MTT (methyl thiazolyl tetrazolium) that can be converted into orange and highly water-soluble formazan by some mitochondrial dehydrogenases in the presence of an electron mediator (1-Methoxy PMS). The more and faster the cells proliferate, the darker the color. For the same cell, there is a linear relationship between the shade of color and the number of cells.
Add 100 ul cell suspension to each of the Wells (the well number depens on the experiment);

37 ℃, 5% CO2, incabution 24 hours

Add 10 ul CCK-8 sulution to the wells;

gently shake the solution to mix evenly
Measure O.D. at 450 nm in the microplate reader

Incubate for 1 to 4 hours in the incabutor
Figure 2: Cell proliferation assay
Chemotaxis Assay
Chemotaxis is the movement of organisms in response to chemical stimuli. Chemotaxis assay is used to detect protein activity of chemokine family, some complement and some interleukin-like cytokines with chemokine activity[4][5].
Chemotactic experiments in microcellular Chambers were designed based on the chemotactic active migration of target cells (monocytes, neutrophils or lymphocytes, etc.) through a filter membrane of a certain aperture. A membrane (polycarbonate membrane) divides the compartment into upper and lower sections. The target cells are above and the chemokine is below. The chemokines from a gradient through the filter membrane and the cells pass through the membrane holes along the gradient and adhere to the membrane. We can measure the chemokine ability of the chemokines by counting the number of cells on the surface under the filter membrane.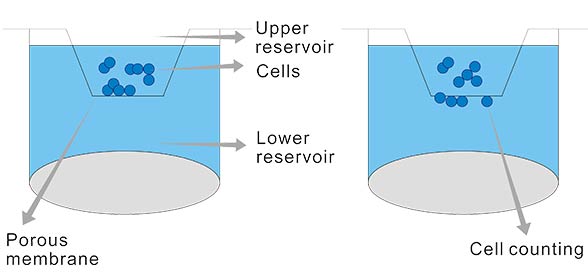 Figure 3: Chemotaxis Assay
Functional ELISA Assay
Functional ELISA assay is useful for the detection of activity of certain chemokines or receptor membrane proteins. We can use corresponding ELISA Kits matched with the target protein to detect its activity.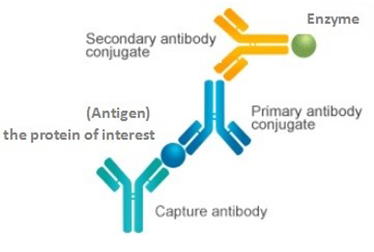 Figure 4: Sandwich ELISA
In addition, invasion experiments or scratch tests are applied to the determination of protein activity that promotes tumor cell invasion.
4. The importance of Protein Biological Activity for Research
Proteins are an important kind of substances in the research field. Many experiments use protein functions, such as protein interactions, ELISA, and Western Blotting. The researchers can study the protein and other aspects by its protein biological activity, which may promote the discovery of disease pathology or related biomarkers.
5. Applications Related to Protein Biological Activity
Since protein function directly reflects their protein activity, the application of protein activity means the application of their function. In another angle, proteins mainly include enzymes, cytokines, hormones, antibodies, so protein biological activity accordingly manifests as catalytic activity, immune activity, regulatory activity, and specific combination with antigens, etc.
5.1 Applications of Protein Biological Activity in Medicine
In the past, plagues and infectious diseases took off many people' lives. Now, many targeted vaccines appear in the market, like the hepatitis B vaccine, influenza vaccine[6], HPV vaccine[7], and chicken pox vaccine[8]. They protect us against some particular infectious diseases[9]. These vaccines are inactive viruses that act as antigens causing the body to produce corresponding antibodies. When the virus reappears in the body, the antibody specifically binds to the antigen (virus), and the antibody also recruits and binds to immune cells, such as macrophages, triggering phagocytosis and thereby destroying the virus.
Recent research has shown that a peptide antagonist, known as 6KApoEp, can reduce the buildup of amyloid beta proteins associated with Alzheimer's disease and tau pathology in the brain, as well as improving learning and memory in mice genetically engineered to mimic symptoms of Alzheimer's disease.
Some targeted drugs use probe molecules that can specifically bind to target molecules, such as antibodies, peptides, sugar chains, and nucleic acids, to be coupled to the drug or its carrier surface by chemical or physical methods, so as to achieve targeted effects.
5.2 Applications of Protein Biological Activity in Biology
Protein biological activity is widely applied in biology due to numerous protein functions.
Protein-protein interactions: An important way for protein to play a regulatory role. Furthermore, protein-protein interactions can detect the function of a target protein.
Protein chip: also known as a protein microarray, is a high-throughput method used to track the interactions and activity of proteins and determine their functions[10].
Antibody validation: Antibodies are one of the most commonly used laboratory reagents[11]. Unverified antibodies may lead to a lack of repeatability, which can waste time and money. Therefore, antibody validation is very important. Antibody validation is a method to verify specificity (the capacity of an antibody to distinguish between different antigens), prove affinity (the strength of an antibody binding to an epitope), test whether antibodies can achieve acceptable results in specific applications[12].
5.3 Applications of Protein Biological Activity in Cosmetic Field
As we all know, collagen is the most abundant protein in the body, accounting for more than 30 percent of the total protein in the body. It is also a substance that keeps the body young and prevents aging. Therefore, collagen is slowly entering the realm of beauty and skin care.
Active collagen has a strong permeability to the skin. It can combine with skin epithelial cells through the cuticle, participate in and improve the metabolism of skin cells, and enhance the activity of collagen in the skin. It also can maintain the integrity of cuticle moisture and fiber structure, improve the living environment of skin cells and promote the metabolism of skin tissues, promote blood circulation, and achieve the goal of moisturizing the skin.
In short, protein biological activity is the embodiment of protein function. In this article, several ways of measuring protein biological activity are introduced. When testing the activity of a protein of interest, which method is chosen depends on which protein it belongs to. With the progress of science and technology, protein activity plays an increasing role in biological research, disease research and beauty field.
References
[1] Harold H. Origin of the Word 'Protein' [J]. Nature. 1951, 168 (4267): 244.
[2] Wetlaufer, D.B. Reversible and irreversible denaturation of proteins in chromatographic systems [J]. Makromolekulare Chemie. Macromolecular Symposia. 1988, 17(1): 17–28.
[3] Adan A, Kiraz Y, et al. Cell Proliferation and Cytotoxicity Assays [J]. Curr Pharm Biotechnol. 2016, 17(14):1213-1221.
[4] Koppelhus U., Hellung-Larsen P. et al. An improved quantitative assay for chemokinesis in Tetrahymena [J]. Biol Bull. 1994, 187 (1): 8–15.
[5] Leick V., Helle J. A quantitative assay for ciliate chemotaxis [J]. Anal Biochem. 1983, 135 (2): 466–9.
[6] Fiore AE, Bridges CB, et al. Seasonal influenza vaccines [J]. Curr. Top. Microbiol. Immunol. 2009, 333. pp. 43–82.
[7] Chang Y, Brewer NT, et al. Evaluating the impact of human papillomavirus vaccines [J]. Vaccine. 2009, 27 (32): 4355–62.
[8] Liesegang TJ. Varicella zoster virus vaccines: effective, but concerns linger [J]. Canadian Journal of Ophthalmology. Journal Canadien d'Ophtalmologie. 2009, 44(4): 379–84.
[9] Orenstein WA, Bernier RH, et al. Field evaluation of vaccine efficacy [J]. Bulletin of the World Health Organization. 1985, 63 (6): 1055–68.
[10] Melton, Lisa. Protein arrays: Proteomics in multiplex [J]. Nature. 2004, 429 (6987): 101–107.
[11] Hsi ED. A practical approach for evaluating new antibodies in the clinical immunohistochemistry laboratory [J]. Arch Pathol Lab Med. 2001, 125:289–294.
[12] Willingham MC. Conditional epitopes. is your antibody always specific? [J]. J Histochem Cytochem. 1999, 47:1233–1236.