Immune checkpoint therapy, mainly including anti-CTLA-4 therapy and anti-PD-1/PD-L1 therapy, which targets regulatory pathways in T cells to enhance antitumor immune responses by blocking the inhibitory signals of the immune system. This therapy has led to important clinical advances and provided a new weapon against cancer, and has elicited durable clinical responses and, in a fraction of patients, long-term remissions where patients exhibit no clinical signs of cancer for many years.
The world's first PD-1 inhibitor, Opdivo was developed in 2004. By the end of 2018, the FDA approved six PD-1/PD-L1 mAbs and three PD-1 inhibitors. Why is PD-1/PD-L1 always attracting researchers' attention, and the heat is lasting? In this article, we illustrate this issue from this following sections:
1. What is PD-1/PD-L1?
1.1 What is PD-1?
Programmed death receptor-1 (PD-1), also known as cluster of differentiation 279 (CD279), is a member of the CD28 superfamily and is a type I transmembrane protein composed of 268 amino acids. It was discovered in 1992 by Professor Tasuku Honjo and colleagues at Kyoto University in a screen for gene involved in apoptosis. It can be expressed on the surface of immune cells such as T cells and B cells.
However, when T cells were not activated, PD-1 was hardly expressed, and PD-1 was expressed on the surface of T cells only after T cell activation.it has a role in regulating the immune system's response to the cells of the human body by down-regulating the immune system and promoting self-tolerance by suppressing T cell inflammatory activity [1] [2].
1.2 What is PD-L1?
Programmed death-ligand 1 (PD-L1), also known as B7-H1, was first discovered by Chinese scholar Professor Chen Lieping in 1999 as the third member of the B7 family. Subsequently, B7-H1 was renamed Programmed Death Receptor Ligand-1, because it was identified as a ligand of PD-1, and several human cancer cells expressed high levels of B7-H1 by Tasuku Honjo and Gordon Freeman of Harvard Medical College. And blockade of B7-H1 reduced the growth of tumors in the presence of immune cells. At that time it was concluded that B7-H1 helps tumor cells evade anti-tumor immunity [3] [4].
PD-L1 is a 40kDa type 1 transmembrane protein that has been speculated to play a major role in suppressing the adaptive arm of immune system during particular events such as pregnancy, tissue allografts, autoimmune disease and other disease states such as hepatitis. Normally the adaptive immune system reacts to antigens that are associated with immune system activation by exogenous or endogenous danger signals.
As previously mentioned, PD-1 binds to PD-L1, which are receptor and ligand for each other. But studies have shown that the two are not one-to-one. In addition to binding to PD-L1, PD-1 can also bind to PD-L2. PD-L2 also belongs to the B7 family. Like PD-L1, it is mainly expressed in antigen-presenting cells (DC cells, macrophages, etc.). When combined with PD-1, it can inhibit T cell proliferation and cytokine production. Immune tolerance is related. Similarly, PD-L1 has also been discovered and can be combined with other receptors, but is still being explored [5].
2. The signaling pathway of PD-1/PD-L1
T cell activation is dependent on a "dual signal" system, the first signal refers to the specific combination of the T cell receptor with the major histocompatibility complex (MHC); and the second signal refers to the interaction of antigen presenting cells (APCs) and co-stimulatory molecules on the surface of the T cell [6]. Negatively regulated costimulatory molecules are also commonly referred to as immune checkpoints and are primarily used to limit excessive activation of the immune system.
PD-L1 is one of the most important immune checkpoint. In addition to constitutively low expression in APCs and various non-hematopoietic cells, it also can be induced to express by inflammatory cytokines, including interferon (IFN) and tumor necrosis factor (only TNF-α) and vascular endothelial growth factor (VEGF). As shown in the figure 1, in the tumor microenvironment, tumor cells and tumor-associated APCs highly expressed PD-L1, and tumor infiltrating lymphocytes expressed PD-1 under long-term stimulation of tumor antigen. PD-L1 binds to PD-1 and induces T cell apoptosis, disability, and depletion, thereby inhibiting the activation, proliferation and anti-tumor function of tumor antigen-specific CD8+ T cells, and achieving tumor immune escape [7].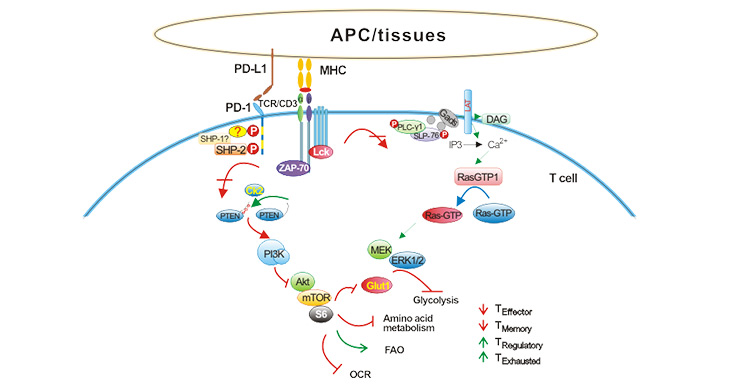 Figure 1. The signaling pathway of PD-1/PD-L1
3. PD-1/PD-L1 and Cancer immunotherapy
Cancer immunotherapy is a treatment that controls and eliminates tumors by restarting and maintaining the tumor-immune cycle and restoring the body's normal anti-tumor immune response. These treatments include monoclonal antibody of immune checkpoint inhibitors, therapeutic antibodies, cancer vaccines, cell therapy, and small molecule inhibitors.
In recent years, there are many studies and progress of cancer immunotherapy, and these thig has shown strong anti-tumor activity in the treatment of various cancers, such as melanoma, non-small cell lung cancer, kidney cancer and prostate cancer. Currently, immuno-therapeutics have been approved for clinical use by the US Food and Drug Administration (FDA). Because of its excellent efficacy and innovation, cancer immunotherapy was named the most important scientific breakthrough of the year by Science magazine in 2013. Current cancer immunotherapy mainly refers to anti-CTLA-4 treatment and anti-PD-1/PD-L1 treatment. Here we specifically understand anti-PD-1/PD-L1 treatment.
At present, six PD-1/PD-L1 inhibitors that have been marketed globally are all macromolecular antibody drugs. Although antigen-antibody binding is utilized, the mechanism of PD-1 and D-L1 antibodies is different. As shown in the figure 2, PD-1 mAb binds to PD-1 on the surface of T cells, preventing PD-1 from binding to PD-L1 or PD-L2, and releasing the tumor-specific T cell killing ability of inhibition. The PD-L1 antibody only blocked the binding of PD-L1 and PD-1, but had no effect on the binding of PD-L2 and PD-1 [8] [9].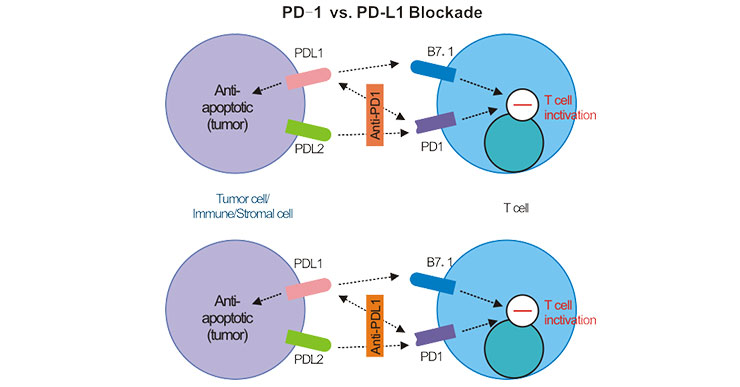 Figure 2. PD-1 vs. PD-L1 Blockade
4. The latest researches of PD-1/PD-L1 drug
Here, we list the six antibody drugs of PD-1/PD-L1 which has been marketed globally. As the Table 1 shows:
Table 1. The list of marketed antibody drugs of PD-1/PD-L1
| Drug Name | Sponsor | Target | Indications | Approved Date |
| --- | --- | --- | --- | --- |
| Opdivo (Nivolum) | Bristol-Myers | PD-1 | Non-small cell lung cancer, Malignant melanoma, renal cell carcinoma (RCC), Head and neck squamous carcinoma (HNSCC), Urothelial carcinoma、Colorectal cancer, Liver cancer, Classical Hodgkin lymphoma | 2014-06 |
| Keytruda (Pembrolizumab) | Merck | PD-1 | Non-small cell lung cancer, Malignant melanoma, Hodgkin's lymphoma, Urothelial carcinoma, Colorectal cancer, Gastric cancer, Adenocarcinoma of gastroesophageal junction, Cervical cancer, Head and neck squamous carcinoma (HNSCC) | 2014-09 |
| Tecentriq (Atezolizu) | Roche | PD-L1 | Non-small cell lung cancer, Urothelial carcinoma | 2016-10 |
| Bavencio (Avelumab) | Merck and Pfizer | PD-L1 | Merkel cell carcinoma, Bladder cancer | 2017-03 |
| Imfinzi (Durvalumab) | AstraZeneca | PD-L1 | Urothelial carcinoma, Non-small cell lung cancer | 2017-05 |
| Cemiplimab(Libtayo) | Sanofi and Regeneron | PD-1 | Metastatic cutaneous squamous cell carcinoma (CSCC) or locally advanced unresectable CSCC patients | 2018-09 |
5. The FAQ of cancer therapy of PD-1/PD-L1
Combined with clinical, we have summarized four major problems common to PD-1/PD-L1 tumor immunotherapy:
5.1 What is the drug of PD-1/PD-L1 monoclonal antibody?
PD-1/PD-L1 monoclonal antibody is an immune checkpoint inhibitor and is an antibody-based cancer immunotherapy. Its mechanism is to enhance the recognition of tumor cells by immune cell T cells in vivo, thereby achieving the effect of killing tumors. It can be said that the drug kills tumor cells by enhancing our own immunity.
At present, there are six drugs approved for marketing abroad, among which the three most commonly used drugs are PD-1 monoclonal antibody opdivo and Keytruda and PD-L1 monoclonal antibody Tecentriq. These three drugs are widely used in a variety of cancers. Currently, the FDA-approved cancers involve melanoma, pulmonary sputum, kidney thin, Hodgkin's lymphoma, head and neck squamous cell carcinoma and urothelial carcinoma. In addition, clinical trials have been carried out in more cancerous species, and good results have been achieved.
5.2 How to inject the PD-1/PD-L1 monoclonal antibody?
Opdivo, Keytruda, and Tecentriq are all intravenous infusions, but specific infusion requirements are slightly different:
Opdivo is diluted with 0.9% sodium chloride injection or 5% glucose, and the concentration doesn't exceed Img/mL-10mg/mL. Be careful to dissolve, don't shake vigorously. The infusion time can be more than 60min.
Keytruda also is diluted with 0.9% sodium chloride injection or 5% glucose, and the concentration doesn't exceed Img/mL-10mg/mL. Be careful to dissolve, don't shake vigorously. The infusion time can be more than 30 minutes.
Tecentriq was injected with 250 mL of 0.9% sodium chloride. Be careful to dissolve, do not shake vigorously. The first infusion time exceeds 60 minutes. If it is tolerated, each infusion time can exceed 30 minutes.
Monitor vital signs during the injection process, slow down the drip rate or interrupt the injection if there is any discomfort.
5.3 How long does the PD-1/PD-L1 monoclonal antibody generally take effect? If it works, do you need to continue to apply it all the time? Can I stop it?
As mentioned in Problem 1, tumor immune-pharmaceuticals treat disease by enhancing the indirect action of immune cells to kill tumor cells, and are slower than traditional targeted drugs. Given that the onset of immunotherapy may be 3 months after the first dose, some clinical trials of immunotherapy require patients to be considered for survival beyond 12 weeks. Patients with a PS score of 2 in the NCCN guidelines should be treated with immunotherapy.
Based on current research data, patients are recommended to use it for a long time if the treatment is effective. Until the disease progresses, replace the other treatment options. Some patients have achieved CR (complete disease remission) after a period of treatment, and for a long time, doctors sometimes consider stopping the drug.
5.4 Will PD-1/PD-L1 monoclonal antibody be as resistant as other targeted therapies?
Based on currently limited clinical data, it indicates that some patients with effective PD-1/IPD-L1 antibodies will eventually relapse. This group of patients can be divided into two types: one is that the patient is very effective after taking the drug. Well, relapse after stopping the drug, but re-use of PD-1 antibody will still be effective. This type of relapse is not really resistant. Another type of patient refers to a type of patient whose medication has not stopped, but the tumor grows again which had subsided (up to the PR standard) before. This group of patients is currently considering recurrence due to drug resistance, and patients should consider changing other treatment options in a timely manner.
References
[1] Ishida Y, Agata Y, et al. Induced expression of PD-1, a novel member of the immunoglobulin gene superfamily, upon programmed cell death [J]. The EMBO Journal. 1992, 11 (11): 3887–95.
[2] Bardhan K, Anagnostou T, et al. The PD1: PD-L1/2 Pathway from Discovery to Clinical Implementation [J]. Frontiers in Immunology. 2016, 7: 550.
[3] Ribas A. Tumor immunotherapy directed at PD-1 [J]. N Engl J Med. 2012, 366(26):2517-9.
[4] Dong H, Strome SE, et al. Tumor-associated B7-H1 promotes T-cell apoptosis: a potential mechanism of immune evasion [J]. Nature Medicine. 2002, 8 (8): 793–800.
[5] Lieping Chen. Defining and Understanding Adaptive Resistance in Cancer Immunotherapy [J]. Trends Immunol. 2018, 39(8):624-631.
[6] Boussiotis Vassiliki A. Molecular and biochemical aspects of the PD-l checkpoint pathway [J]. N Engl J Med. 2016, 375(18): 1767-1778.
[7] Gordon Sydney R, Maute Roy L, et al.PD-1 expression by tumor-associated macrophages inhibits phagocytosis and tumour immunity [J].Nature. 2017, 545(7655):495-499.
[8] Pardoll DM. The blockade of immune checkpoints in cancer immunotherapy [J]. Nature reviews. Cancer. 2012, 12:252–264.
[9] Weiping Zou, Jedd D. Wolchok, et al. PD-L1 (B7-H1) and PD-1 Pathway Blockade for Cancer Therapy: Mechanisms, Response Biomarkers and Combinations [J]. Sci Transl Med. 2016, 8(328): 328rv4.