A novel coronavirus ( SARS-CoV-2) was identified in Wuhan, Hubei Province, China in December of 2019. The SARS-CoV-2 has resulted in thousands of cases of lethal disease in China, with additional patients being identified in a rapidly growing number internationally (click here to konw more information about SARS-CoV-2). SARS-CoV-2 (formly named 2019-nCov) was reported to share the same receptor, Angiotensin-converting enzyme 2 (ACE2), with SARS-CoV. So what is ACE2? And how does SARS-CoV-2 invade human body via ACE2? Are there any other targets for SARS-CoV-2 invasion?
1. What is ACE2?
Angiotensin-converting enzyme 2 (ACE2), also known as ACAH, was identified as the first reported ACE homologue in 2000. The protein encoded by this gene belongs to the angiotensin-converting enzyme family of dipeptidylcarboxydipeptidases. Both ACE2 and ACE belong to the renin-angiotensin-aldosterone system (RAAS) and kallikrein-bradykinin system (KKS) families. ACE2 is a metalloproteinase with a total length of 805 amino acids. It is a type I transmembrane glycoprotein with a single extracellular catalytic domain. The human ACE2 gene has been cloned and mapped to the X chromosome.
Like ACE, ACE2 has two domains: an amino-terminal catalytic domain and a carboxy-terminal domain. The catalytic domain has an active site called the zinc metallopeptidase domain (HEXH motif) and shows 41.8% sequence identity with the amino domain of ACE (Figure 1). The carboxy-terminal domain of ACE2 has 48% sequence identity with Collectrin. Collectrin is a non-catalytic protein that has key roles in renal amino acid reabsorption, pancreatic β-cell proliferation, and possible insulin exocytosis.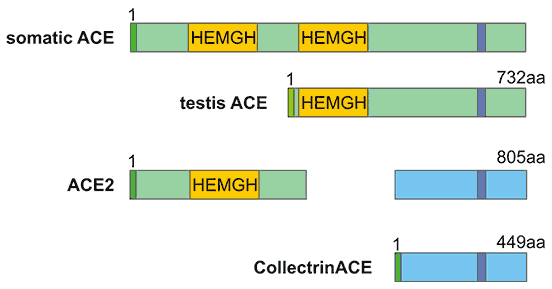 Figure 1. The structure comparison of ACE and ACE2
2. What is The Primary Role of ACE2?
Earlier studies revealed that ACE2 is mainly localized in the heart, kidney, and testis, and is expressed at low levels in many other tissues, especially the colon and lung. Later studies have also shown that ACE2 also plays an important role in other organs such as the liver and intestine . Both ACE and ACE2 belong to the M2 family of metalloproteinases, and their active site domains are exposed to the extracellular surface to promote the metabolism of circulating peptides. As mentioned, both ACE and ACE2 use zinc-catalyzed reactions to coordinate the conserved histidine in the active site to promote nucleophilic attack of water molecules on the carbonyl bond of the substrate and form non-covalently bound intermediates.
Unlike ACE, ACE2 is a suppressor of renin-angiotensin system (RAS). When ACE catalyzes angiotensin I (AngI) to convert to the potent vasoconstrictor angiotensin II (AngII) , ACE2 cleave Ang I to produce inactive angiotensin 1-9 peptide (Ang 1-9). Ang 1-9 can be converted to angiotensin 1-7 (Ang 1-7) by ACE. On the other hand, ACE2 can hydrolyze AngII to Ang (1-7), and the efficiency of hydrolyzing AngII is 400 times than that of AngI. It suggests that ACE2 mainly generates Ang 1-7 by hydrolyzing AngII. Furthermore, Ang 1-7 acts on the Mas receptor to exert cardiovascular protection of diastolic blood vessels, anti-inflammatory, anti-proliferation, anti-fibrosis, anti-alveolar epithelial cell apoptosis, and anti-oxidative stress, thereby antagonizing the biological effects of Ang II (Figure 2). In the living body, the ACE/AngⅡ/AT1R axis and the ACE2 / Ang 1-7 / MAS axis balance each other, which not only makes up for the deficiency, but also prevents overcorrection.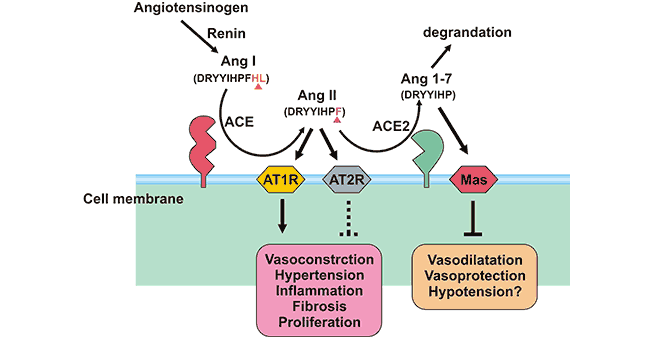 Figure 2. The role of ACE2 and ACE
ACE2 has a strong affinity for type 1 and type 2 receptors of Ang II and regulates blood pressure, humoral balance, inflammation, cell proliferation, hypertrophy, and fibrosis. Moreover, the tissue specific expression of ACE2 suggests that it may play a role in regulating cardiovascular and renal functions and fertility.
3. In Which Organizations is ACE2 Mainly Expressed?
The expression of ACE2 is organ-specific, mainly expressed in the kidney, cardiovascular and gastrointestinal systems. In normal lung tissue, ACE2 is present in both type I and type II alveolar epithelial cells. Several studies have indicated that both SARS-CoV-2 and SARS-CoV enter human cells through the ACE2 receptor on the surface of human cells. So comparing with tissues without ACE2, tissues expressing ACE2 are accessible to invad by the SARS-CoV-2. This also lays a theoretical foundation for the main transmission and prevention methods of COVID-19.
For the eyes, ACE2 is usually located on the luminal surface of epithelial cells. It means that the possibility of SARS-CoV-2 infecting the human body through the surface of the eyeball is very low. However, the eye is not only one eyeball, but also the mucous membranes of the upper and lower eyelids, so washing your hands frequently and not rubbing your eyes with your hands are still very important to protect yourself from SARS-CoV-2.
In addition, alveolar epithelial cells and small intestinal epithelial cells have high levels of ACE2 protein, which can explain why COVID-19 is a lower respiratory tract disease, but some patients develop symptoms of diarrhea. Furthermore, nasal cavity and oral mucosa also have ACE2 receptor expression, which indicates that it is necessary to wear a mask. But the spleen, thymus, lymph nodes, bone marrow, and immune cells are all ACE2-negative. According to current data, COVID-19's greatest harm to the human body is still acute lung injury.
4. How Does SARS-CoV-2 Invade Human Body Via ACE2?
ACE2 not only plays an important role in the cardiovascular system, but also plays a role in lung diseases as a receptor for SARS-CoV-2. So how did SARS-CoV-2 invade the human body through ACE2? Recent studies have further confirmed that S (Spike glycoprotein) of SARS-CoV-2 is a key protein in mediating virus invasion into host cells.
SARS-CoV-2 invades lung cells by binding S protein to ACE2. The affinity between ACE2 and the RBD (receptor binding domain) of SARS-CoV-2 is 10 to 20 times higher than its affinity with the RBD of the SARS virus. The S protein of SARS-CoV-2 exists in the form of a trimer. Each monomer contains approximately 1,300 amino acids, of which more than 300 amino acids constitute the "receptor binding domain" (RBD), where the S protein is bound to ACE2 .
After entering the human body, the virus mainly activates the immune system and causes lung damage through cytokines and inflammatory factors. So what role does ACE2 play in the pathological pathway of coronavirus-induced lung injury?
Combined with the studies of SARS (Figure 3), after coronavirus enters the human body, we found that the expression of ACE2 is down-regulated, leading to a decrease in ACE2 levels in the lungs. While the levels of ACE is not affected. Imbalance of ACE2 and ACE in the lungs, elevated AngII levels over-activate AT1a receptors in the lungs, leading to increased capillary permeability in the lungs. Then pulmonary edema occurs, which induces dry cough, and aggravates inflammation and apoptosis, accelerating lung damage. At the same time, the decrease of ACE2 level leads to activation of the Des-Arg bradykinin-BK1 receptor pathway, which further aggravates symptoms and amplifies lung inflammation and injury.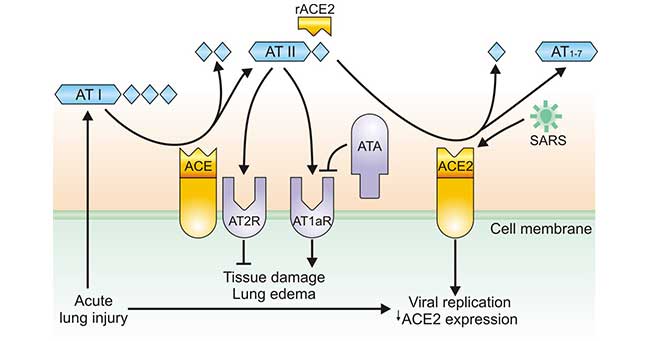 Figure 3. Regulation of ACE and ACE2 during coronavirus-induced lung injury
5. The Progression of COVID-19 Treatment
With the exposure of ACE2 as a target for SARS-CoV-2 invasion, blocking the combination of virus and ACE2 has become one of the therapeutic directions. Previous studies in the treatment of SARS have found that the use of soluble ACE2 receptors or antibodies against ACE-2 can be used to block the binding of SARS-CoV and this receptor, thereby disrupting the process of viral infection of cells.
On January 31st, Markus Hoffmann et al. in Leibniz Primate Institute, Germany, published an article entitled "The novel coronavirus 2019 (2019-nCoV) uses the SARS-coronavirus receptor ACE2 and the cellular protease TMPRSS2 for entry Into target cells" on bioRxiv. It demostrats that SARS- CoV-2 enters the human body through the SARS-CoV receptor ACE2, and the cellular protease TMPRSS2 is used for SARS-CoV-2 S (Spike glycoprotein) triggering. TMPRSS2 inhibitors prevent SARS-CoV-2 entry and are a treatment option. Finally, the study showed that serum from patients with SARS during recovery stage neutralized the entry of SARS-CoV-2-S. The findings reveal important commonalities between SARS-CoV-2 and SARS-CoV infections, and provide potential targets for antiviral intervention.
On February 7, Dr. Robert L. Kruse from Johns Hopkins Hospital in the United States published an article "Therapeutic strategies in an outbreak scenario to treat the novel coronavirus originating in Wuhan, China". It reveals that compared to blockers binding to ACE2 receptors, the use of soluble ACE2 to fuse with the immunoglobulin Fc domain (ACE2-Fc) can block the entry of 2019-nCoV and help the immune system to build lasting immunity . In addition, ACE2-Fc treatment can also supplement the reduction of ACE2 levels in the lungs during infection, thus directly treating acute respiratory distress syndrome.
6. Are There Any Other Targets for SARS-CoV-2 Invasion?
At present, the prevention and treatment of coronavirus is the most urgent research hotspot in the scientific and medical filed. In addition to ACE2, are there any other targets for SARS-CoV-2 invasion? We have combined SARS studies and listed the following targets related to coronavirus research:
7. The Latest Progression of ACE2 Research
In this section, we collect several latest progression of ACE2 research as follows:
On March 30, 2020, two studies about ACE2 were published online in Nature. One is the "Structure of the SARS-CoV-2 spike receptor-binding domain bound to the ACE2 receptor" from Wang Xinquan and Zhang Linqi of Tsinghua University, and the second is the "Structural basis of receptor recognition by SARS-CoV-2" from Professor Li Fang of the University of Minnesota.

These two studies revealed that the crystal structure of the complex of receptor-binding domain (RBD) on the surface of SARS-CoV-2 and human receptor ACE2 protein, and accurately located the interaction site of ACE2 and SARS-CoV-2 RBD. Moreover, they clarified the structural basis and molecular mechanism of the SARS-CoV-2 spike glycoprotein-mediated cell infection, providing evidence to the development of therapeutic antibody drugs and the design of vaccines [7] [8].

On April 24, 2020, a study was published on Nature Communications entitled "Neutralization of SARS-CoV-2 spike pseudotyped virus by recombinant ACE2-Ig" online (Related research results were published on the preprint platform bioRxiv on February 2).

Scientists from Second Military Medical University have developed new antibodies that neutralize SARS-CoV-2. They generated a recombinant protein by connecting the extracellular domain of human ACE2 to the Fc region of the human immunoglobulin IgG1. Moreover, the researchers also used a fusion protein containing an ACE2 mutant with low catalytic activity. The fusion proteins are then characterized. As these fusion proteins exhibit cross-reactivity against coronaviruses, they have potential applications in the diagnosis, prophylaxis, and treatment of SARS-CoV-2 [10].

On May 4, 2020, the research team of Fan Xianqun from the Ninth People's Hospital affiliated to Shanghai Jiaotong University School published a study entitled "Genetic alteration, RNA expression, and DNA methylation profiling of coronavirus disease 2019 (COVID-19) receptor ACE2 in malignancies: a pan-cancer analysis" on the Journal of Hematology and Oncology. The study revealed that the genetics of ACE2 and the analysis of epigenetic pan-cancer for the first time [11].
Recently, the research teams from Harvard Medical School and several teams jointly published a study entitled "SARS-CoV-2 receptor ACE2 is an interferon-stimulated gene in human airway epithelial cells and is detected in specific cell subsets across tissues" on Cell. The researchers determined the targets of SARS-CoV-2 by analyzing single-cell sequencing results of humans, non-human primates and mice. They found that ACE2 and TMPRSS2 were co-expressed in type II lung cells, absorptive intestinal cells, and nasal secretory cells. In addition, the researchers found that ACE2 is a human ISG in airway epithelial cells in vitro and confirmed it in vivo [12].
References
[1] Xu X, Chen P, et al. Evolution of the novel coronavirus fromthe ongoing Wuhan outbreak and modeling of its spike protein for riskof human transmission[J]. Sci China Life Sci. 2020.
[2] Zhou P, Yang X, et al. A pneumonia outbreak associated with anew coronavirus of probable bat origin[J]. Nature. 2020.
[3] View ORCID ProfileMarkus Hoffmann, Hannah Kleine-Weber, et al. The novel coronavirus 2019 (2019-nCoV) uses the SARS-coronavirus receptor ACE2 and the cellular protease TMPRSS2 for entry into target cells [J]. bioRxiv. 2020.
[4] Daniel Wrapp, Nianshuang Wang, et al. Cryo-EM Structure of the 2019-nCoV Spike in the Prefusion Conformation [J]. bioRxiv. 2020.
[5] Imai Y, Kuba K, Rao S, et al. Angiotensin-converting enzyme 2 protects from severe acute lung [J]. Nature. 2005, 436(7047): 112-116.
[6] Wenhui Li, Michael J Moore, et al. Angiotensin- converting enzyme 2 is a functional receptor for the sars coronavirus [J]. Nature. 2003, 426(6965):450–4.
[7] Jun Lan, Jiwan Ge, et al. Structure of the SARS-CoV-2 spike receptor-binding domain bound to the ACE2 receptor [J]. Nature. 2020, 581:215–220.
[8] Jian Shang, Gang Ye, et al. Structural basis of receptor recognition by SARS-CoV-2 [J]. Nature. 2020, 581:221–224.
[9] Vanessa Monteil, Hyesoo Kwon, et al. Inhibition of SARS-CoV-2 Infections in Engineered Human Tissues Using Clinical-Grade Soluble Human ACE2 [J]. Cell. 2020, 181 (4): 905-913.
[10] Changhai Lei, Kewen Qian, et al. Neutralization of SARS-CoV-2 spike pseudotyped virus by recombinant ACE2-Ig [J]. Nature Communications. 2020, 11, 2070.
[11] Peiwei Chai, Jie Yu, et al. Genetic alteration, RNA expression, and DNA methylation profiling of coronavirus disease 2019 (COVID-19) receptor ACE2 in malignancies: a pan-cancer analysis [J]. Journal of Hematology & Oncology. 2020, 13 (43).
[12] Carly G.K. Ziegler, Samuel J. Allon, et al. SARS-CoV-2 Receptor ACE2 Is an Interferon-Stimulated Gene in Human Airway Epithelial Cells and Is Detected in Specific Cell Subsets across Tissues [J]. Cell. 2020, 181 (5):1016-1035.