3. The Most Popular Targets in Breast Cancer Treatment
As you known, breast cancer is the most common female cancer in the world, the second leading cause of cancer death after lung cancer, and the main cause of death in women aged 20 to 59. With the further study of breast cancer mechanism, the target of breast cancer treatment has been gradually found.
HER2 for The Treatment of Breast Cancer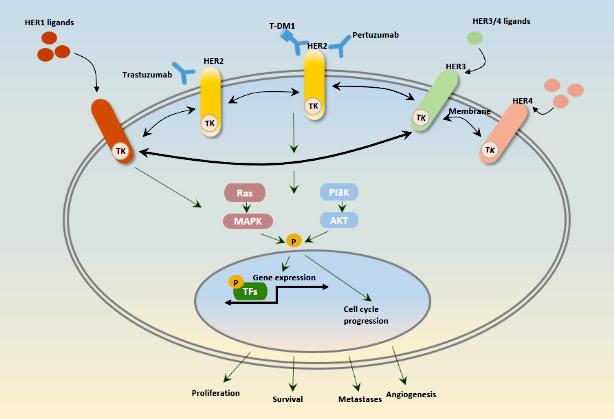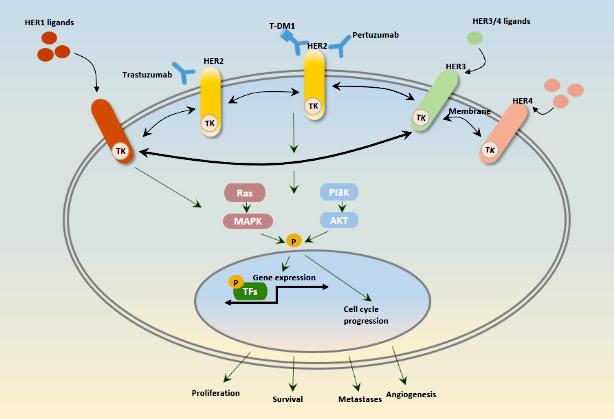 HER2 (also known as ERBB2), a member of the HER family of tyrosine kinase receptors (HER1–4), is an essential breast cancer oncogene. Emerging evidence founded that a significant correlation exists between ERBB2 overexpression and reduced survival of breast cancer patients, and amplification of ERBB2 occurs in 30% of early-stage breast cancers[21]. Treatment with the anti-HER2 monoclonal antibody trastuzumab has revolutionized the outcome of patients with this aggressive breast cancer subtype, but intrinsic and acquired resistance is common. With the further study of breast cancer mechanism, growing understanding of the biology and complexity of the HER2 signaling network and of potential resistance mechanisms has guided the development of new HER2-targeted agents. Combinations of these drugs to more completely inhibit the HER receptor layer, or combining HER2-targeted agents with agents that target downstream signaling, alternative pathways, or components of the host immune system, are being vigorously investigated in the preclinical and clinical settings[22]. As shown in the figure 1, the HER2 network and HER2-targeted therapy for HER2+ breast cancer.
Androgen Receptor for The Treatment of Breast Cancer
Androgen receptor (AR) is a steroid hormonal receptor that belongs to the nuclear receptors family together with estrogen (ER), progesterone (PR), glucocorticoid and mineralcorticoid receptor. Recent data suggest that triple negative breast cancer (TNBC) is not a single disease, but it is rather an umbrella for different ontology-profiles such as mesenchymal, basal like 1 and 2, and the luminal androgen receptor (LAR). The LAR subtype is characterized by the expression of the Androgen Receptor (AR) and its downstream effects. Notwithstanding the role of the AR in several signaling pathways, its impact on a biological and clinical standpoint is still controversial. The LAR subtype has been associated with better prognosis, less chemotherapy responsiveness and lower pathologic complete response after neoadjuvant treatment. Clinical evidence suggests a role for anti-androgen therapies such as bicalutamide, enzalutamide and abiraterone, offering an interesting chemo-free alternative for chemo-unresponsive patients, and therefore potentially shifting current treatment strategies[23].
Beside the two targets, there are still several targets for treatment of breast cancer, such as The CXCL12-CXCR4 chemotactic pathway, Adipose tissue, EP4, et al. These targets not only are genes, but also are tissue or signaling pathway. Despite our remarkable success in breast cancer research, there is still a long way to go to study the mechanism of breast cancer.
References
[1] Vlahopoulos, SA. Aberrant control of NF-κB in cancer permits transcriptional and phenotypic plasticity, to curtail dependence on host tissue: molecular mode [J]. Cancer biology & medicine. 2017, 14: 254-270.
[2] Wu Y, Deng J, et al. Stabilization of snail by NF-kB is required for inflammation-induced cell migration and invasion [J]. Cancer Cell. 2009, 15:416-28.>
[3] Park BK, Zhang H, et al. NF-kB in breast cancer cells promotes osteolytic bone metastasis by inducing osteoclastogenesis via GM-CSF [J]. Nat Med. 2007, 13:62-9.
[4] Huang S, DeGuzman A, et al. Nuclear factor-kB activity correlates with growth, angiogenesis, and metastasis of human melanoma cells in nude mice [J]. Clin Cancer Res. 2000, 6:2573-81.
[5] Nakshatri H, Bhat-Nakshatri P, et al. Constitutive activation of NF-kappaB during progression of breast cancer to hormone-independent growth [J]. Molecular and cellular biology. 1997, 17:3629-39.
[6] Xiao J,Duan X,et al. The inhibition of metastasis and growth of breast cancer by blocking the NF-κB signaling pathway using bioreducible PEI-based/p65 shRNA complex nanoparticles [J]. Biomaterials. 2013, 34(21):5381-90.
[7] Yanjie Kong, Fubin Li, et al. KHF16 is a Leading Structure from Cimicifuga foetida that Suppresses Breast Cancer Partially by Inhibiting the NF-κB Signaling Pathway [J]. Theranostics. 2016, 6(6):875-86.
[8] Federica Fusella, Laura Seclì, et al. The IKK/NF-κB signaling pathway requires Morgana to drive breast cancer metastasis [J]. Nat Commun. 2017, 8(1):1636.
[9] Zugmaier G, Ennis BW, Deschauer B et al. Transforming growth factors type beta 1 and beta 2 are equipotent growth inhibitors of human breast cancer cell lines [J]. J Cell Physiol. 1989, 141(2): 353–361.
[10] E. M. de Kruijf, T. J. A. Dekker, et al. The prognostic role of TGF-b signaling pathway in breast cancer patients [J]. Ann Oncol. 2013, 24(2):384-90.
[11] King. D, Yeomanson. D, et al. PI3King the Lock: Targeting the PI3K/Akt/mTOR Pathway as a Novel Therapeutic Strategy in Neuroblastoma [J]. Journal of pediatric hematology/oncology. 2015, 37 (4): 245–51.
[12] Atlas N. Comprehensive molecular portraits of human breast tumours[J]. Nature. 2012, 490(7418):61–70.
[13] Raphael, Jacques; Desautels, Danielle. Phosphoinositide 3-kinase inhibitors in advanced breast cancer: A systematic review and meta-analysis [J]. European Journal of Cancer. 2018, 91: 38–46.
[14] Liu T, Yacoub R, et al. Combinatorial efects of lapatinib and rapamycin in triplenegative breast cancer cells [J]. Mol Cancer Ther. 2011, 10(8):1460–1469.
[15] Cossu-Rocca P, Orru S, et al. Analysis of PIK3CA mutations and activation pathways in triple negative breast cancer [J]. PLoS ONE 2015, 10(11):e0141763.
[16] Ooms LM, Binge LC, et al. The inositol polyphosphate 5-phosphatase PIPP regulates AKT1-dependent breast cancer growth and metastasis [J]. Cancer Cell. 2015, 28(2):155–169.
[17] Ricardo L. B. Costa, Hyo Sook Han, et al. Targeting the PI3K/AKT/mTOR pathway in triple‑negative breast cancer: a review [J]. Breast Cancer Res Treat. 2018, 169(3):397-406.
[18] Reedijk M, Odorcic S, et al. High-level coexpression of JAG1 and NOTCH1 is observed in human breast cancer and is associated with poor overall survival [J]. Cancer Res. 2005, 65:8530–7.
[19] Reedijk M, Pinnaduwage D, et al. JAG1 expression is associated with a basal phenotype and recurrence in lymph nodenegative breast cancer [J]. Breast Cancer Res Treat. 2008, 111:439–48.
[20] Hamed Al-Hussaini, Deepa Subramanyam, et al. Notch Signaling Pathway as a Therapeutic Target in Breast Cancer [J]. Mol Cancer Ther. 2011, 10(1):9-15.
[21] Slamon, D.J. et al. Human breast cancer: correlation of relapse and survival with amplification of the HER-2/neu oncogene [J]. Science. 1987, 235, 177–182.
[22] Mothaffar F. Rimawi, et al. Targeting HER2 for the Treatment of Breast Cancer [J]. Annu. Rev. Med. 2015, 66:111-28.
[23] L. Gerratanaa, D. Basilea, et al. Androgen receptor in triple negative breast cancer: A potential target for the targetless subtype [J]. Cancer Treat Rev. 2018, 68():102-110.