The Cancer Genome Atlas (TCGA) is a project collaboratively monitored by the National Cancer Institute (NCI) and the National Human Genome Research Institute in the United States (NHGRI) that has generated comprehensive, multi-dimensional maps of the key genomic changes in 33 types of cancer. It aims to apply high-throughput Genomic analysis techniques to help people have a better understanding of cancer, thereby improving the prevention, diagnosis, and treatment of cancer. Here, we combine the information of TCGA Database in following aspects, including the types of data, the methods of downloading data, and the analytical tools for TCGA base.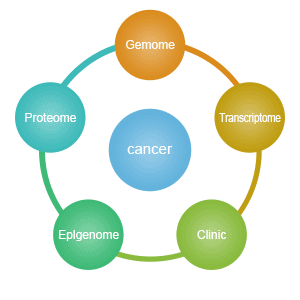 Five factors of TCGA Database
1. The Types of TCGA Data
As the largest database of cancer gene information, TCGA dataset not only contains many cancer types, but also multi-omics data, involving gene expression data, miRNA expression data, copy number variation, DNA methylation, SNP, and Compared with the GEO database. Many researchers feel that the biggest advantage of TCGA is rich and standardized clinical data, as well as a large sample size for each cancer type. And the help of their studies is irresistible. In this section, we will introduce TCGA Data from two facets.
1.1 Levels
TCGA Data has three levels, including level 1, level 2, and level 3. Level 1 refers to primary sequence data with fasta and fastq form. Level 2 is bam form file with a good comparison. Level 3 is defined as a series of data by standardization. Among of the three levels data, levle1/2 is controlled-access, and the data of level 3 is partly controlled-access. Generally, if you want to visit the controlled-access data, you should have an application on the TCGA official website. But most ordinary users can only access parts of the level3 processing and standardized data. You can click here to know more information of data types.
1.2 Limitation
As the section of levels mentioned, there are two kinds of data, controlled-access and opened data. Controlled-access data involves personal information, including primary sequence data (BAM and FASTQ files), SNP6 array level 1 and level 2 data, exon array level 1 and level 2 data, VCFs and certain information in MAFs. Conversely, it is easy to acquire the type of opened data, because it doesn't contain personal information. The opened data includes de-identified clinical and demographic data, gene expression data, copy number alterations in regions of the genome, epigenetic data, summary of data compiled across individuals and anonymized single amplicon DNA sequence data.
2. The Methods of Downloading Data
In order to download data from TCGA data portal, many sweet guys invent several methods. Here, we introduce two methods, one is the most common method to download data from TCGA official data-portal (https://portal.gdc.cancer.gov/), another is Firehose server (http://gdac.broadinstitute.org/).
2.1 TCGA official data-portal
Compared other methods, you can acquire the most complete and the fastest update data. But, if you download RNA data for one cancer, you can download hundreds of files, because each sample is a separate file. This can cause problems for later data analysis. We will describe this method step by step.
Connect to https://portal.gdc.cancer.gov/.

Select the cancer subtype you are interested in, taking for instance the Lung Adenocarcinoma (LUAD).

Taking the expression data as an example, it can be seen that there are 515 cases of LUAD with RNA-Seq data, click to enter. And now you can see a table where rows are representing different patients.

Note that the expression data is divided into three types: HTSeq-Counts, HTSeq-FPKM, and HTSeq-FPKM-UQ. Counts are the original expressions that are not processed in the data background, while FPKM and FPKM-UQ are the data after the two data are normalized. General difference expression downloads counts, download all samples and merge them, use DESeq.
If you need RAW data such as FASTQ files you have find level 1 data, but often this kind of data is not publicly available on TCGA and you might need to ask for permission in order to download it.
2.2 Firehose Server
Compared the former method, the data also comes from portal.gdc.cancer.gov, but combines the same cancer, the same type of data together, super easy, one click to download, no need to merge data. However, it should be noted that the data collected by Firehose is not the data that TCGA updates in real time. You can download these data with following steps.
Connect to http://gdac.broadinstitute.org/.
Click on the Data-Browse corresponding to LUAD.

Wait a moment, it will pop up the level 3 data of all the samples of the LUAD project, and you need to click the text to download the data, which is very convenient and fast. Of course, you can also download clinical data, etc.
3. The Analytical Tools for TCGA data
Besides the two ways download TCGA data, there also have many other useful tools for TCGA data download and analysis. Here, we list several tools for mining TCGA official web data with high score from researches.