Oct4 (octamer-binding transcription factor) is named for its ability to bind to the DNA of the Octamer motif. It is also known as Oct3, POU5F1, Oct-3/4, Otf3 or NF-A3. It is encoded by the POU5F1 gene and belongs to POU transcription factor family, class-5 subfamily. Oct4 is the gatekeeper of pluripotency of embryonic stem cells and plays an extremely important role in maintaining pluripotency and self-renewal of embryonic stem cells. Oct4 is also necessary for the production of induced pluripotent stem cells. In addition, Oct4 is highly expressed in a variety of tumors, suggesting that Oct4 may be involved in the occurrence and development of malignant tumors.
1. Tissue Specificity of Oct4
Oct4 is expressed in the developing brain, with high levels of expression in specific cell layers in the cortex, olfactory bulb, hippocampus and cerebellum. In addition, Oct4 is mainly expressed in embryonic stem cells, embryonic germ cells and embryonic/germ cell tumors. Although Oct4 is low expressed in adult tissues, it is widely expressed in various adult stem cells, mainly including:
Stem cells from breast, pancreas, stomach, liver, kidney and mesenchymal tissues.
Progenitor cells such as peripheral blood, breast epithelium, endometrium, and follicular follicles.
Pluripotent precursor cells, etc.
In vitro, Oct4 has high expression levels in undifferentiated embryonic stem cells (ES), embryonic carcinoma (EC) cells, and embryonic germ cells. As these cells differentiate, the expression of Oct4 is down-regulated [1].
In humans, Oct4 mRNA is expressed at various stages of embryonic development from unfertilized oocytes to uncompacted morula [2].
2. What Is The Oct4?
Oct4 is encoded by the Pou5fl gene and located on the human chromosome 6p21.3. Oct4 is a member of the POU family of transcription factors. It has multiple transcription initiation sites, which can be transcribed into different mRNA isoforms and thus translated into a variety of proteins.
2.1 The Subtype of Oct4
Human Oct4 gene can produce three subtypes by alternative splicing: Oct4A, Oct4B and Oct4B1 [3] [4]. Oct4 can be translated into four protein subtypes (Oct4A, oct4b-190, oct4b-265 and oct4b-164) [5].
2.1.1 Oct4A
Oct4A transcripts contain exons 1, 2b, 2d, 3, and 4. Exon 1 is a specific part of Oct4A. Oct4A is composed of 360 amino acids and is mainly expressed in the nucleus of undifferentiated cells. It is a specific transcription factor of pluripotent stem cells and is related to the undifferentiated characteristics of cells.
2.1.2 Oct4B
Oct4B contains exons 2a, 2b, 2d, 3, and 4. Compared with Oct4A, Oct4B has no exon 1 but has specific exon 2a.
Oct4B consists of 265 amino acids and is expressed in the cytoplasm of a variety of non-pluripotent cells, such as terminally differentiated peripheral blood monocytes and bladder tumor cells.
Oct4B shares a similar POU binding region and carboxy terminus with Oct4A, but differs in the transcriptional activation region at the amino terminus [6]. The N-terminus of Oct4B inhibits binding to DNA and inhibits the activation of transcriptional activity by Oct4 activators, thereby losing the regulatory function of cellular pluripotency.
2.1.3 Oct4B1
Oct4B1 transcript is highly similar to Oct4B, but contains additional exon 2c.
OctB1 is mainly expressed in human ESC and embryonal carcinoma cell (ECC), and its expression is rapidly down-regulated as cells differentiate.
OctB1 has the same amino terminal and partial POU binding regions as Oct4B, and the remaining amino acid sequences are different. Oct4B1 enhances the anti-apoptotic potential of cells and regulates the pluripotent state of cells. In addition, Oct4B1 is involved in the progression of tumors.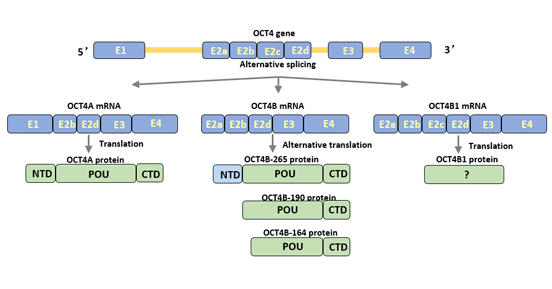 Figure 1 Structure of Oct4 isoforms
2.2 Structure of The Oct4 Gene
Oct4 Isoform 1 is one of the major subtypes of transcription, with 5 exons and 4 introns. The protein encoded by this gene contains 324 amino acids, with a length of about 16.40 kb and a relative molecular weight of 18 kD.
Oct4 consists of three domains: N-transcription domain, POU binding domain and C-transcription domain.
N-terminal region: This region is a transcriptional activation region, rich in proline, has the function of binding to DNA and activating transcription, helping to stabilize biomolecular structure, reduce cell acidity and regulate cell redox potential.
POU binding domain: A conserved DNA binding domain that binds to DNA containing an octamer motif to regulate transcription of downstream target genes.
POU binding domain contains two subunits: N-terminal and C-terminal. N-terminal is a unique conserved structural domain of POU family (POUs), rich in proline and acid residues. The C-terminal is a traditional allogeneic domain (POUh), rich in proline, serine and threonine residues. The POUs and POUh are connected by a linker peptide.
C-terminal region: Rich in serine/threonine, controlling the trans-activation of Oct4A in different cell types.
2.3 Oct4 Pseudogenes
At present, six Oct4 pseudogenes have been found, which are Oct4pg1, Oct4pg2, Oct4pg3, Oct4pg4, Oct4pg5, and Oct4pg6. These pseudogenes are highly homologous to Oct4 mRNA but do not function as Oct4. The presence of the Oct4 pseudogene can cause false positives in the experimental results, which brings some troubles to the study of tumor and stem cell Oct4.
3. Regulation of The Oct4 Gene
The upstream regulatory elements of Oct4 include a proximal enhancer (PE) and a distal enhancer (DE) that function differently at different stages of development.
For example, proximal enhancers act on ectodermal stem cells, and distal enhancers act on inner cell mass, primordial germ cells, and embryonic stem cells [7]. Many factors regulate the expression of Oct4 by acting on these two regulatory elements. For example, the orphan nuclear receptor superfamily factor can bind to PE and affect the expression of Oct4.
In addition, some substances, such as the Paf1 complex, can directly interact with the Oct4 promoter and participate in the activation of Oct4 expression. As the Oct4 activator, it plays an important role in maintaining the transcriptional activation of embryonic stem cells Oct4.
Oct4 is also regulated by Sox2. Sox2 regulates Oct4 expression directly or indirectly, thereby affecting the pluripotency of embryonic stem cells.
Oct4 protein activity is mainly regulated by phosphorylation or sulfonylation in mammals.
For example, phosphorylation of the highly conserved residues Ser 229 (mouse) or Ser 236 (human) in the POU-binding domain of Oct4 protein by protein kinase A and/or ERK MAPK can be spatially impeded DNA binding and homodimer assembly [8].
Oct4 participates in the regulation of several signaling pathways, including transforming growth factor (TGF) beta pathway, fibroblast growth factor (FGF) pathway, phosatidylinositol-3-kinase (PI3K) pathway, Wnt pathway, etc. In the process of specific differentiation of cardiac mesoderm, TGF-β signaling pathway and the classical Wnt signaling pathway jointly induce the production of Oct4 [9].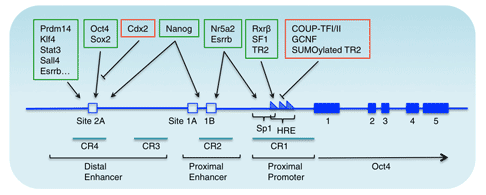 Figure 2 Genomic structure and transcriptional regulation of the mouse Oct4 gene [10]
4. The Function of Oct4
Oct4 regulates the expression of target genes by combining with ATGCAAAT in promoter or enhancer regions [11] [12]. These target genes mainly include YES1, FGF4, UTF1, ZFP206 and other genes related to the control of mammalian embryo development. By regulating its downstream target genes, it participates in normal development, especially in early embryonic development. In addition, Oct4 expression is related to pluripotency of stem cells.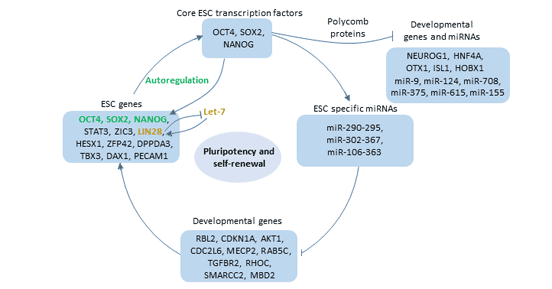 Figure 3 The function of the Oct4
4.1 Oct4 and Embryonic Development
Embryonic stem cells (ESCs) are a class of cells with self-renewal ability and multi-directional differentiation potential, which can differentiate into various types of tissue cells of the body. Oct4 is an important transcription factor in ESC and plays a pivotal role in maintaining ESC pluripotency and self-renewal capacity.
Oct4 keeps ESC self-renewing and undifferentiated by activating pluripotent genes and inhibiting the expression of differentiated genes.
Oct4 does not act alone in vivo. Oct4, together with Nanog and Sox2, forms the core of pluripotent regulatory network. And is thought to lie at the top of the cellular totipotent regulatory network. These three transcription factors bind to the promoter of their own genes [13] and activate the expression of their own genes.
On the one hand, they activate the transcription of genes involved in maintaining ES cell self-renewal. For example, Dppa4, Tdgf1, Oct4, Nanog, and Lefty2 are all positively regulated by Oct4, Sox2, and Nanog, and are preferentially expressed in ES cells.
On the other hand, Oct4, Sox2 and Nanog jointly occupy promoters of genes related to differentiation and development and promote their inactivation [14].
4.1.1 Effects of Oct4 Dose on Cell Fate
Oct4, as a transcriptional regulator, has a dual regulatory role in the transcriptional process (transcriptional inhibition and transcriptional activation), which can not only maintain the undifferentiated state of stem cells, but also control their differentiation to a certain cell type.
During embryonic development, the level of Oct4 determines the differentiation or dedifferentiation of stem cells, and the fate of ES cells is precisely regulated by the expression of Oct4. When Oct4 is overexpressed, embryonic stem cells differentiate into primitive endoderm and mesoderm cells. When Oct4 expression level is low, ES cells lose pluripotency and differentiate into trophoblast cells. Only when Oct4 is properly expressed can embryonic stem cells maintain their self-renewal status.
It was found that embryos lacking Oct4 developed only to the blastocyst stage, and the cells in the inner cell mass are not pluripotent and can only differentiate into trophoblast cells. And the blastocyst died at the time of implantation [15].
In adult stem cells, the regulatory mechanism by which Oct4 maintains pluripotency is similar to that of ESC.
4.2 Delay Cell Aging
Oct4's ability to prevent or at least delay aging could have major implications for aging research. Oct4 is important in the development of all organisms and remains active throughout the life of a cell. It protects atherosclerotic plaques in blood vessels, which are the underlying cause of heart disease and stroke.
4.3 Oct4 in Reprogramming
Cell state transitions are generally thought to shift from a less differentiated state to a more differentiated state, but studies have shown that cell state transitions from somatic cells to naive pluripotency are also possible. This process is induced by overexpression of transcription factors such as Oct4, Sox2, Klf4 and c-Myc.
Among them, Oct4 is considered to be an indispensable core transcription factor in reprogramming. Oct4 regulates cellular state transitions such as the establishment of pluripotency and differentiation of the embryonic germline.
Overexpression of Oct4 produces induced pluripotent stem cells (iPS). IPS are obtained from different types and types of somatic cells.
In the process of epithelial mesenchymal transition, Oct4 can inhibit TGF beta R3 and TGF beta 3 as well as activate the miR-200 miRNA family, thus respectively inhibiting the epithelial-mesenchymal transformation (EMT) regulating factors Snail and Zeb2, and ultimately promoting the mesenchymal to epithelial transformation (MET).
Oct4, Sox2, and Klf4 lead the reprogramming process. Exogenous reprogramming factors such as Oct4A can directly or indirectly silence somatic genes and activate pluripotent genes. Endogenous Oct4A and other pluripotent genes can maintain the pluripotent status of induced pluripotent stem cells.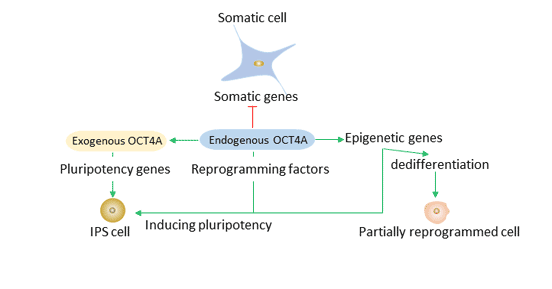 Figure 4 The role of Oct4 in reprogramming
4.4 Oct4 and Tumorigenicity
Oct4 is highly expressed in both embryonic germ cell tumors and adult cell tumors, suggesting that Oct4 may be involved in the occurrence and development of malignant tumors.
Nanog and Oct4 are highly expressed in breast cancer tissues [16]. Oct4 expression is related to the degree of differentiation of prostate cancer [17]. Strong expression of Nanog, Oct4, and CD133 in oral squamous cell carcinoma is associated with poor clinical prognosis. Oct4 expression is the key to maintain the stem-like characteristics of some lung cancer cells [18].
Multiple studies have shown that Nanog and Oct4 are overexpressed in a variety of unrestricted, poorly differentiated, invasive solid tumors, and their down-regulation may inhibit tumor development [19].
Oct4 overexpression can lead to tumorigenicity, tumor metastasis, and distant recurrence after chemotherapy and chemotherapy [20] [21].
Therefore, the self-renewal ability of tumor cells can be reduced by inhibiting the expression of Oct4.
Studies have shown that Oct4 may be involved in maintaining the survival of tumor stem cells, and silencing Oct4 is expected to be a new approach for targeted therapy of tumor stem cells. Oct4 has a significant impact on tumor growth, metastasis and recurrence. Studies have shown that Oct4 is highly expressed in human breast cancer cell line 7 (MeF7) cells, and silencing Oct4 by RNAi technology can promote the apoptosis of tumor stem cells.
References
[1] Cauffman G, Van de Velde H, Liebaers I, et al. Oct-4 mRNA and protein expression during human preimplantation development [J]. Molecular human reproduction, 2004, 11(3): 173-181.
[2]Hansis C, Grifo J A, Krey L C. Oct-4 expression in inner cell mass and trophectoderm of human blastocysts [J]. Molecular human reproduction, 2000, 6(11): 999-1004.
[3]Takeda J, Seino S, Bell G I. Human Oct3 gene family: cDNA sequences, alternative splicing, gene organization, chromosomal location, and expression at low levels in adult tissues [J]. Nucleic acids research, 1992, 20(17): 4613-4620.
[4]Atlasi Y, Mowla S J, Ziaee S A M, et al. OCT4 spliced variants are differentially expressed in human pluripotent and nonpluripotent cells [J]. Stem cells, 2008, 26(12): 3068-3074.
[5]Wang X, Dai J. Concise review: isoforms of OCT4 contribute to the confusing diversity in stem cell biology [J]. Stem cells, 2010, 28(5): 885-893.
[6]Cauffman G, Liebaers I, Van Steirteghem A, et al. POU5F1 isoforms show different expression patterns in human embryonic stem cells and preimplantation embryos [J]. Stem cells, 2006, 24(12): 2685-2691.
[7]Shi G, Jin Y. Role of Oct4 in maintaining and regaining stem cell pluripotency [J]. Stem cell research & therapy, 2010, 1(5): 39.
[8]Brumbaugh J, Hou Z, Russell J D, et al. Phosphorylation regulates human OCT4 [J]. Proceedings of the National Academy of Sciences, 2012, 109(19): 7162-7168.
[9]Li Y, Yu W, Cooney A J, et al. Brief report: Oct4 and canonical Wnt signaling regulate the cardiac lineage factor Mesp1 through a Tcf/Lef-Oct4 composite element [J]. Stem cells, 2013, 31(6): 1213-1217.
[10] Wu G, Schöler H R. Role of Oct4 in the early embryo development [J]. Cell regeneration, 2014, 3(1): 7.
[11] Schöler, H.R, Balling R, Hatzopoulos A K, et al. Octamer binding proteins confer transcriptional activity in early mouse embryogenesis [J]. The EMBO Journal, 1989, 8(9):2551-2557.
[12]YOUNGILYEOM, Ha H, Balling R, et al. Structure, expression and chromosomal location of the Oct-4 gene [J]. Mechanisms of Development, 1991, 35(3): 171-179.
[13]Niwa H. How is pluripotency determined and maintained? [J]. Development, 2007, 134(4): 635-646.
[14]Christophersen N S, Helin K. Epigenetic control of embryonic stem cell fate [J]. Journal of Experimental Medicine, 2010, 207(11): 2287-2295.
[15]Chambers I, Tomlinson S R. The transcriptional foundation of pluripotency [J]. Development, 2009, 136(14): 2311-2322.
[16] Liu C, Lu Y, Wang B, et al. Clinical implications of stem cell gene Oct-4 expression in breast cancer [J]. Annals of surgery, 2011, 253(6): 1165-1171.
[17]Miyazawa K, Tanaka T, Nakai D, et al. Immunohistochemical expression of four different stem cell markers in prostate cancer: High expression of NANOG in conjunction with hypoxia‑inducible factor‑1α expression is involved in prostate epithelial malignancy [J]. Oncology letters, 2014, 8(3): 985-992.
[18]Chen Y C, Hsu H S, Chen Y W, et al. Oct-4 expression maintained cancer stem-like properties in lung cancer-derived CD133-positive cells [J]. PloS one, 2008, 3(7): e2637.
[19]Huang Z J, You J, Luo W Y, et al. Reduced tumorigenicity and drug resistance through the downregulation of octamer-binding protein 4 and Nanog transcriptional factor expression in human breast stem cells [J]. Molecular medicine reports, 2015, 11(3): 1647-1654.
[20]Koo B S, Lee S H, Kim J M, et al. Oct4 is a critical regulator of stemness in head and neck squamous carcinoma cells [J]. Oncogene, 2015, 34(18): 2317.
[21]Boumahdi S, Driessens G, Lapouge G, et al. SOX2 controls tumour initiation and cancer stem-cell functions in squamous-cell carcinoma [J]. Nature, 2014, 511(7508): 246.