In fact, everyone has genes that possess the ability to cause cancer. These genes are known as proto-oncogenes, which are expressed to control normal cell processes such as proliferation, differentiation, and apoptosis. Although all people carry proto-oncogenes, it does not mean that everyone will necessarily develop cancer. Accumulating mutations in the normal cells activate proto-oncogenes transform into oncogenes, leading to the uncontrolled and continuous proliferation of normal cells ultimately resulting in tumorigenesis.
In this artical, we will introduce oncogenes from the definition, activation mode, category, and their relationship with cancer.
1. What Are Oncogenes?
Oncogenes, also called cancer-causing genes, were first discovered in certain retroviruses and were identified as carcinogenic agents in many animals. They are aberrantly expressed or mutated versions of their corresponding proto-oncogenes.
2. Proto-oncogenes to Oncogenes Conversion Mechanisms
Proto-oncogenes are normal growth-regulatory genes and codes for proteins including growth factors and transmembrane signal transducers, that promote cell growth, proliferation, and differentiation. Normal cells usually do not express a large number of proto-oncogenes, but alteration of sequence and expression amount of proto-oncogenes can activate them to covert into oncogenes. Upon activation by gain-of-function mutations, oncogenes anarchically continue to express, allowing cells to proliferate spontaneously to form tumors.
In humans, proto-oncogenes can be coverted to oncogenes in three ways. Although they perform differently in mechanism, all of them lead to a lack or decrease in cell regulation.
2.1 Point Mutations
Spontaneous occurring or environmental factor-causing point mutations can change, insert, or delete a single nucleotide base pair, probably producing an altered protein, thus activating proto-oncogenes and promoting their conversion into oncogenes. Point mutations are common detected in the RAS family of proto-oncogenes [1].
2.2 Chromosomal Translocations
Chromosomal translocations are frequently found in human cancer and have become guideposts for the discovery of many new oncogenes [2] [3]. The production of oncogenic fusion proteins or oncogene activation by a novel promoter or enhancer during the process of translocation leads to alteration of protein or expression level, ultimately resulting in oncogenesis [4]. The Philadelphia chromosome [t(9;22)] is the first identified specific chromosomal translocation in myeloid leukemia.
2.3 Gene Amplifications
Gene amplification refers to increased copies for a restricted region of a chromosome arm and is one of the most important chromosomal abnormalities [5]. Additional copies of amplified genes lead to more production of protein, enhancing the transformative activity of proto-oncogenes.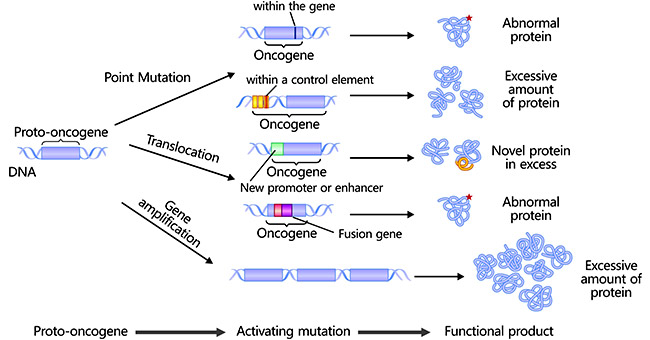 Figure: The mechanisms of proto-oncogenes conversion into oncogenes
3. Lists of Oncogenes
Oncogenes can be divided into five categories: growth factors, growth factor receptors, signal transducers, transcription factors, and others including programmed cell death regulators.
Oncogenes
Oncoproteins
Neoplasm
Mechanism of Activation
Growth Factors
v-sis
V-SIS
Glioma/fibrosarcoma
Constitutive production
int2
FGF3
Mammary carcinoma
Constitutive production
KS3
FGF4
Kaposi sarcoma
Constitutive production
HST
FGF4
Kaposi sarcoma
Constitutive production
Growth Factor Receptors
EGFR
EGFR
Squamous cell carcinoma
Gene amplification/increased protein
v-fms
V-FMS
Sarcoma
Constitutive activation
v-kit
V-KIT
Sarcoma
Constitutive activation
v-ros
V-ROS
Sarcoma
Constitutive activation
MET
MET
MNNG-treated human osteocarcinoma cell line
DNA rearrangement/ligand-independent constitutive activation (fusion proteins)
TRK
NTRK1
Colon/thyroid carcinomas
DNA rearrangement/ligand-independent constitutive activation (fusion proteins)
NEU
ERBB2
Neuroblastoma/breast carcinoma
Gene amplification
RET
RET
Carcinomas of thyroid; MEN2A, MEN2B
DNA rearrangement/point mutation (ligand-independent constitutive activation/fusion proteins)
mas
MAS
Epidermoid carcinoma
Rearrangement of 5′ noncoding region
Signal Transducers
SRC
Colon carcinoma
Constitutive activation
v-yes
V-YES
Sarcoma
Constitutive activation
v-fgr
V-FGR
Sarcoma
Constitutive activation
v-fes
V-FES
Sarcoma
Constitutive activation
ABL
ABL1
CML
DNA rearrangement translocation (constitutive activation/fusion proteins)
H-RAS
H-RAS
Colon, lung, pancreas carcinmoas
Point mutation
RAS
RAS
AML, thyroid carcinoma, melanoma
Point mutation
N-RAS
N-RAS
Carcinoma, melanoma
Point mutation
gsp
GSP
Adenomas of thyroid
Point mutation
gip
GIP
Ovary, adrenal carcinoma
Point mutation
Dbl
MCF2
Diffuse B-cell lymphoma
DNA rearrangement
Vav
VAV
Hematopoietic cells
DNA rearrangement
v-mos
V-MOS
Sarcoma
Constitutive activation
v-raf
V-RAF
Sarcoma
Constitutive activation
pim-1
PIM1
T-cell lymphoma
Constitutive activation
v-crk
V-CRK
Constitutive tyrosine phosphorilation of cellular substrates (eg, paxillin)
Trancription Factors
v-myc
MYC
Carcinoma, myelocytomatosis
Deregulated activity
N-MYC
MYCN
Neuroblastoma; lung carcinoma
Deregulated activity
L-MYC
MYCL
Carcinoma of lung
Deregulated activity
v-myb
V-MYB
Myeloblastosis
Deregulated activity
v-fos
V-FOS
Osteosarcoma
Deregulated activity
v-jun
JUN
Sarcoma
Deregulated activity
v-ski
V-SKI
Carcinoma
Deregulated activity
v-rel
V-REL
Lymphatic leukemia
Deregulated activity
Others
BCL2
BCL2
B-cell lymphomas
Constitutive activity
MDM2
MDM2
Sarcomas
Gene amplification/increased protein
(The table is cited from https://www.ncbi.nlm.nih.gov/books/NBK13714/)
4. Oncogenes and Cancer
Cancer is a molecule-based genetic disease. It specifically manifests as the deregulation of normal cellular processes involved in cell growth, differentiation, and apoptosis. The discovery that human tumors harbor activated oncogenes has inspired scientists to understand their causal role in the development of cancer. Cancer-associated oncogenes induce anarchic proliferation as well as genomic and chromosomal instability. Therefore, scientists have tried hard to target oncogenes to research cancer therapy and related drugs.
In fact, cancer is induced by multiple genetic and epigenetic aberrations. Although the carcinogenesis is complex, tumorous cells' growth and survival can often be impaired by the inactivation of a single or a few oncogenes [6] [7]. In other words, some cancers depend on one or a few oncogenes for the maintenance of their malignant phenotypes, a phenomenon known as "oncogene addiction," which provides a potent rationale for molecular targeted therapy [8]. It has remained a challenge for targeting these addicted oncogenes with specific small molecule inhibitors in human malignancies (e.g. RAS and MYC). However, successful therapeutic targeting of oncogene addiction has been achieved in some relatively uncommon types of cancer with a defined molecular pathology.
References
[1] Mark Steven Miller and Lance D Miller. RAS Mutations and Oncogenesis: Not all RAS Mutations are Created Equally [J]. Front Genet. 2012 Jan 3;2:100.
[2] Falini B and Mason DY. Proteins encoded by genes involved in chromosomal alterations in lymphoma and leukemia: clinical value of their detection by immunocytochemistry [J]. Blood. 2002;99:409–26.
[3] Tomescu O and Barr FG. Chromosomal translocations in sarcomas: prospects for therapy [J]. Trends Mol Med. 2001;7:554–9.
[4] Jie Zheng. Oncogenic chromosomal translocations and human cancer (review) [J]. Oncol Rep. 2013 Nov;30(5):2011-9.
[5] Albertson DG. Gene amplification in cancer [J]. Trends Genet. 2006;22(8):447–55.
[6] Weinstein, IB. Addiction to oncogenes—the Achilles heal of cancer [J]. Science 2002; 297: 63–4.
[7] Weinstein IB, Joe AK. Mechanisms of disease: oncogene addiction—a rationale for molecular targeting in cancer therapy [J]. Nat Clin Pract Oncol 2006; 3: 448–57.
[8] Weinstein IB, Begemann M, et al. Disorders in cell circuitry associated with multistage carcinogenesis: exploitable targets for cancer prevention and therapy [J]. Clin Cancer Res 1997; 3: 2696–702.