Neurons are highly specialized nerve cells that receive and transmit electrical or chemical signals to coordinate all of the necessary functions for life. Neurons are typically composed of a cell body, dendrites, an axon, and presynaptic terminals. The cell body contains a nucleus, Golgi body, endoplasmic reticulum, mitochondria, and other components. It is responsible for the synthesis of almost all neuronal proteins and membranes. Branch-like dendrites receive signals from other neurons and transmit signals to the cell body. The long tube-like axon, extending from the cell body, carries electrical impulses from the cell body to the axon terminals, which further passes the impulse to another neuron. The presynaptic terminals are structures on the end of an axon that can form a synapse with another neuron. Many axons are covered with a membraneous myelin sheath, which accelerates the transmission of electrical signals along the axon [1]. Oligodendrocytes make the sheath in the central nervous system (CNS) and Schwann cells in the peripheral nervous system (PNS) [1]. The presynaptic terminals possess vesicles full of neurotransmitters, which are released into the synaptic cleft when an action potential reaching the terminal, building chemical communication with the postsynaptic cell.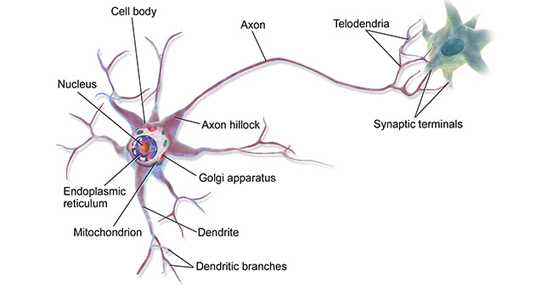 Figure: The Structure of A Neuron (* Image courtesy of Wikipedia.)
There are three types of neurons and each has different roles. The sensory neurons receive nervous impulses and carry them from the sense organs to the spinal cord or brain; motor neurons carry impulses from the brain and spinal cord to muscles, organs, and glands of the body; interneurons are only found in the CNS and connect one neuron to another thus help to pass signals between two neurons.
Neurons are fragile and can be damaged by cutting, pressure, or stretching. Injuries of neurons can block the signals transmitted to and from the brain, causing the muscles in the damaged area to not work properly or to lose feeling. Neuronal dysfunction is an important factor in many neurological diseases, so identification, characterization, and analysis of these different cells and their functions are vital to neuroscience and neuropathology research. Identifying specialized neuronal markers on different neurons is therefore of importance.
Hereafter, we mainly introduce neuronal markers from four parts, including the definition, significance, classification, and their relationship with neurodegenerative diseases.
1. What Are Neuronal Markers?
Neuronal markers are proteins specifically expressed in neurons. They allow for the detection and identification of distinct neuron types by using different techniques. For example, certain subtypes of interneurons express calretinin, while pyramidal neurons or other subtypes of interneurons may not express calretinin. Different receptors, transcription factors, enzymes, and cytoskeletal proteins can specifically recognize different neuronal cells, which is of great significance for scientific research. Taken together, these characteristics can be used to describe and classify any neuron in the central nervous system (CNS), and can provide tangible information about the function and connectivity of specific cells.
2. The Significance of Neuronal Markers
Neurons are the basic units that constitute the structure and function of the nervous system. Using the specific markers of neurons in combination with the morphological characteristics of cells, researchers can identify the expression characteristics of specific genes and have an in-depth understanding of the types, functions and abnormal manifestations of neurons in some diseases. Neuronal markers are not only used in basic research, such as the development and differentiation of neurons, but also used in clinical diagnostic research of neurodegenerative diseases, psychosis, neurotumor and other diseases.
3. Lists of Neuronal Markers
Markers as cell surface signatures would allow the identification and isolation of many neuronal cell types, including sensory neurons, motor neurons, interneurons, oligodendrocytes, and Schwann cells. In the following table, we list some commonly used markers to distinguish neurons from other cells.
| Cell Type | Markers |
| --- | --- |
| Sensory Neuron | Neuron Specific Enolase (NSE), βIII Tubulin, Tyrosine Hydroxylase (TH), NeuroD2, NeuroD6, Calretinin, Microtubule-associated Protein 2 (MAP-2), Neuronal Nuclei (NeuN), Doublecortin (DCX), Choline Acetyltransferase (ChAT), Tau, NeuroD4, CALB1, NEFL, NEFM, NEFH, NeuroD1. |
| Motor Neuron | Isl1, Isl2, Olig2, En1, p75 Neurotrophin Receptor (p75NTR), ChAT, Nkx6, Sim1, Chox10, Evx1, Evx2, Fibroblast growth factor-1/FGF1, HB9, Lim3, REG2, SMI32, Zfh1. |
| Interneuron | Calbindin, Calretinin (CR), Cholecystokinin(CCK), ChAT, Chx10, DLX, EN1, ER81, Evx1, GABA, SPO, Pax2, Isl1, mGluR1, NMDAR2D, Lhx1, Lhx3, Lhx5, Lhx6, Somatostatin, Vasoactive Intestinal Polypeptide (VIP), Parvalbumin (PV), Glutamic Acid Decarboxylase 65 (GAD65), Nkx2-2 (Nkx2.2), Mu Opioid Receptor (MOR), Substance P Receptor (SPR). |
| Cholinergic neurons | ACHE, CHAT, SLC18A3 |
| Dopaminergic neurons | DAT1 / SLC6A3, PITX3, TH, SLC18A2 |
| GABAergic neurons | GAD1 / GAD67, GAD2, GABBR1, GABBR2 |
| Glutamatergic neurons | GLS, GRIN1, GRIN2B, SLC17A6, SLC17A7 |
| Serotonergic neurons | SLC6A4, TPH1 |
4. Neuronal Markers and Neurodegenerative Diseases
As information messengers, neurons use chemical signals and electrical impulses to transmit information between different regions of the brain and between the brain and the rest of the nervous system. When neurons are damaged, the information transmitted by neurons is blocked, leading to some neurodegenerative disorders. Neuronal markers are valuable tools for checking the function of neuronal cells under normal conditions, as well as during disease and repair processes [2].
Amyotrophic Lateral Sclerosis (ALS), a fatal neurodegenerative disease resulting in a gradual loss of motor neuron function, is related to gene mutations in superoxide dismutase 1 (SOD1), TAR DNA-binding protein-43 (TDP-43), and the RNA-binding protein FUS [3-5]. Injuries to the upper motor neurons in the primary motor cortex and lower motor neurons in the brainstem and spinal cord are responsible for paralysis and other ALS symptoms [3]. Neuroinflammation, as a potential contributing factor in the pathogenesis and development of Alzheimer's disease (AD), has received more and more attention. Extensive research has shown that amyloid-β (Aβ) plaques and hyper-phosphorylated tau-rich tangles are associated with the pathogenesis of AD [6]. Furthermore, activation of astrocytes and microglia, the immune cells of the brain also play a role in the formation and progression of neurofibrillary tangles (NFTs), resulting in neuronal dysfunction and loss [7] [8]. Lewy bodies are a pathological hallmark of Parkinson's Disease (PD), characterized by the existence of α-synuclein protein inclusions, leading to loss of dopaminergic neurons [9].
References
[1] Susuki, K. Myelin: A Specialized Membrane for Cell Communication. Nature Education 2010, 3(9):59.
[2] Redwine JM and Evans CF. Markers of central nervous system glia and neurons in vivo during normal and pathological conditions [J]. Curr Top Microbiol Immunol 2002, 265: 119-40.
[3] Soldatov VO, Kukharsky MS, et al. Retinal Damage in Amyotrophic Lateral Sclerosis: Underlying Mechanisms [J]. Eye Brain. 2021;13:131- 146.
[4] van Rheenen W, Shatunov A, et al. Genome-wide association analyses identify new risk variants and the genetic architecture of amyotrophic lateral sclerosis [J]. Nat Genet. 2016;48(9):1043–1048.
[5] Pochet R. Genetics and ALS: cause for Optimism [J]. Cerebrum. 2017;2017.
[6] Ittner LM, Gotz J. Amyloid-beta and tau--a toxic pas de deux in Alzheimer's disease [J]. Nat Rev Neurosci. 2011;12(2):65–72.
[7] Heppner FL, Ransohoff RM, et al. Immune attack: the role of inflammation in Alzheimer disease [J]. Nat Rev Neurosci. 2015;16(6):358–72.
[8] Teitsdottir, U.D., Jonsdottir, M.K., et al. Association of glial and neuronal degeneration markers with Alzheimer's disease cerebrospinal fluid profile and cognitive functions [J]. Alz Res Therapy 12, 92 (2020).
[9] Xi-Xi Wang1, Ya Feng, et al. Prodromal Markers of Parkinson's Disease in Patients With Essential Tremor [J]. Front. Neurol., 25 August 2020.