Tomato mosaic virus (ToMV), first reported in the United States in 1909, is a type of plant virus with worldwide distribution and can cause severe damage to various crops [1]. So exactly what is the tomato mosaic virus?
In this article, we describe ToMV structure, transmission, infection symptoms, and comparison with tobacco Mosaic virus and provide sound advice for prevention and treatment of this plant disease.
1. What Is Tomato Mosaic Virus?
ToMV is a positive-sense, single-stranded RNA virus belonging to the Virgaviridae family, Tobamovirus genus. It is a kind of plant virus with worldwide distribution and has a wide range of hosts, which can not only infect Solanaceae, Cruciferae, and other vegetable crops, but also infect flowers and seedlings, etc. ToMV causes mosaic disease of many important crop plants, especially threatening tomato production worldwide.
2. Structure of Tomato Mosaic Virus
ToMV has a rod-shaped structure with a 300 nm length and an 18 nm radius. Its genome encodes four different proteins: 180kDa/RNA dependent RNA polymerase, 130kDa/Methyltransferase/Helicase, 30kDa/Movement protein (MP) and 18kDa/Coat protein (CP) [2]. The 130KDa and 180KDa proteins are encoded by the genomic RNA and involved in viral replication. The MP and CP proteins are translated from the respective sub-genomic mRNAs and participate in the viral package and movement. Studies have demonstrated that ToMV particles are very stable and remain infectious for many years after extraction.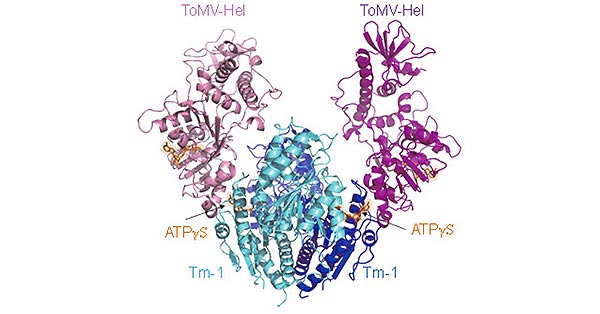 Figure: Crystal structure of the ToMV-Hel and Tm-1 (431) complex.
*The picture is cited from http://www.naro.affrc.go.jp/archive/nias/eng/research/h26/nias2014e-04.htm
ToMV and tobacco mosaic virus (TMV) are quite closely related in the genus Tobamovirus and are both spread from plant to plant by mechanical means. They are distinguished on the basis of genetic, protein, and host-range differences.
3. The Transmission of Tomato Mosaic Virus
ToMV is a particularly stable virus that can survive for several years in soil or other substrates, especially in the disinfected remains of leaves and roots, which is the main source of transmission and spread of the virus [3]. It is spread mainly by mechanical friction, and seeds, leaf and root debris also carry the virus [3]. ToMV can also be carried on the mouthparts of chewing insects or animals. However, there is no true insect vector for ToMV. Seeds are the main factor in the long-distance transmission of ToMV. Infected seeds can pass the virus to the plant, but the disease is usually introduced and spread primarily through human activity. The virus can easily be transferred from workers' contaminated hands, tools, and clothing to plants through cultural operations such as plant tying, removing of suckers, and harvest. This leads to infected plants being frequently distributed in a line in the rows worked.
4. Symptoms of Tomato Mosaic Virus Infection
ToMV may attack plants at any growth stage and any part of the plants. Different infectious parts may show distinct symptoms. The intensity of these symptoms are associated with the nature of the strains, cultivar, age of the infected plant, temperature, intensity of light, and nitrogen and boron soil content [4].
ToMV disease mainly damages the leaves, stems, and fruits of plants [4]. The leaves of the infected plants are yellow and green, with a mosaic and mottled appearance. Sometimes, the leaves are stunted. Heavily infected plants may appear like ferns, with leaves in some areas becoming dark green and raised. There are dark brown patches on the stem and tendrils, and the discoloration is only limited to the epidermal tissue, but not deep into the stem. Some plants also infect fruits. The fruits may have yellow or brown strips on the surface and be slightly concave and show internal browning just under the skin, reducing fruit number and size. Plants seedlings infected with ToMV can cause plant growth retardation and dwarf. Symptoms may be inhibited during cool temperatures. Consequently, infected seedlings may not display symptoms until moved to a warm environment.
5. Control of Tomato Mosaic Virus Infection
ToMV is one of the main factors severely impacting tomato production and cultivation. Therefore, several integrated control measurements for ToMV have been proposed [4] [5].
5.1 Plant Antiviral Varieties
There are several tomato varieties resistant to ToMV. Studies have found that tomatoes containing the Tm-22 gene could specifically resist to ToMV strains ToMV-0, ToMV-1 and ToMV-2.
5.2 Use Certified Virus-free Seeds
ToMV is transmitted from plant to plant through vegetative propagation, grafting, and seeds. It is significantly important to ensure that any seeds planted are virus-free. This blocks ToMV from being spread to healthy plants through mechanical activities.
5.3 Take Sound Sanitation Measurements
Sanitation is the most important measurement to practice when controlling ToMV. Tools and infected materials should be sanitized and disinfected carefully. Washing hands with soap and water before and during the handling of plants to reduce potential transmission among plants. Destroy any seedlings that appear stunted or distorted and then decontaminate tools and hands. Keep the area around the tomatoes weeded and free of plant detritus to minimize areas the disease can harbor. Control insects as well to lessen the chances of contamination.
6. ToMV-related Products
The impact of ToMV on crops is quite significant. So scientists have been studying ToMV to find more effective solutions for preventing or controlling ToMV infection. In order to promote the research of ToMV, CUSABIO has developed several related products, including the MP and CP of ToMV.
References
[1] Hollings, M. & Huttinga, H. 1976. Tomato mosaic virus [J]. CMI/AAB Descr. Pl. Viruses 156: 6 pp.
[2] Meshi, T., Y. Watanabe, and Y. Okada. 1992. Molecular pathology of tobacco mosaic virus revealed by biologically active cDNAs [J], p. 149-186. In T. M. A. Wilson and J. W. Davies (ed.), Genetic engineering with plant viruses. CRC Press, Inc., Boca Raton, Fla.
[3] Broadbent L, 1961. The epidemiology of tomato mosaic. I [J]. A review of the literature. Report of the Glasshouse Crops Research Institute for 1960, 96-116.
[4] Chamberlain EE, 1934. Tomato mosaic. Its appearance, cause and preventative treatment [J]. New Zealand Journal of Agriculture, 55:163-174.
[5] Broadbent L, 1976. Epidemiology and control of tomato mosaic virus [J]. Annual Review of Phytopathology, 14:75-96.