With the rapid development of life science, researches on protein significantly mount, highlighting the prominent roles of antibodies in experiments. Facing the diverse and complex antibody reagent market, it is particularly important to choose an antibody suitable for the experiment. When you are preparing to buy antibodies, many factors need to be considered. For example, what the purpose of your experiment is, and can this antibody be used in the intended experimental application? Is this antibody suitable for the cells or tissues in the experiment?
If you are studying a monoclonal, polyclonal, or recombinant antibody against the same target, how should you choose? What are the differences between them? Is one better than the other, or are they all designed for different purposes? These questions are complicated but definitely worth asking.
In this article, we will emphatically introduce these three antibodies and differences among them.
Polyclonal antibodies (pAbs) are heterogeneous mixtures produced by different B cell lineages in the body, which can recognize multiple different epitopes within the same antigen. Polyclonal production usually includes collecting blood from immunized animals, separating immunoglobulins, and affinity purification to remove non-specific antibody populations [1]. Polyclonal antibody production is most frequently performed in rabbits, but can also be in ungulates (sheep, goat, horse, pig, etc.), rodents, and chickens [2]. Compared with other species, rabbits are easier and less expensive to house and can produce strong immune responses to various antigens, including small molecules and polypeptides with or without post-translational modification. It is quite easy to obtain blood from rabbits.
Polyclonal antibodies have weak specificity, strong affinity, and high sensitivity, but they are prone to non-specific staining. So polyclonal antibodies are particularly used to detect or capture low abundance antigens. If the amount of expression is not clear, and there are economic and time constraints, polyclonal antibodies can also be selected. Polyclonal antibodies are commonly used as secondary antibodies in immunoassays, including ELISA, WB, and immunohistochemistry. In ELISA, the primary antibody (monoclonal antibody) binds to the target antigen, and the HRP-conjugated secondary antibody (polyclonal antibody) is used to bind the primary antibody, amplifying the signal thus leading to a better detection [3]. They are also specially used for the early detection of markers of cancer or immune disease [4] due to their elevated sensitivity compared to monoclonal antibodies. Since polyclonal antibodies usually contain different epitopes against a certain antigen, including denatured-resistant epitopes, they will also work well in deep-fixed samples. Polyclonal antibodies are most commonly used in the staining of paraffin-embedded tissue sections. In addition, in agricultural production, polyclonal antibodies are used for on-site monitoring of pesticide residues.
Monoclonal antibodies are homogenous antibodies derived from a single B cell clone, which can detect a single epitope in an antigen. All monoclonal antibodies start as polyclonal antibody pools but are separated through selection or cloning processes to identify and expand the desired monovalent clones. Monoclonal antibodies are usually produced from rodent hosts, rabbits, and camels, and are produced by various methods, depending on the type of antibody required.
Traditionally, monoclonal antibody production includes immunizing host animals with target proteins, extracting B cells that can recognize and respond to the antigen, and then fusing the B cells with myeloma cells to form stable immortal hybridoma cells that can continuously generate the target antibody, finally growing hybridoma cell lines in the cell culture supernatant or mouse ascites. Hybridoma technology first devised by Köhler and Milstein [5] requires immunity to produce antibodies and is affected by individual health conditions, immune status, and other factors, resulting in poor consistency and reproducibility of antibodies produced. In addition, animal-derived antibodies often cause immune responses in patients, limiting their use as clinical therapies.
Monoclonal antibodies have strong specificity but show low affinity and sensitivity. They are suitable for detecting antigens with relatively high expression levels. Since monoclonal antibodies can bind to cell-specific antigens and target these cells to destroy or neutralize any harmful effects they may have on the body, they have become effective treatments for cancer [6] [7], various autoimmune disorders, and other diseases. Monoclonal antibodies are widely used in biomedical research and medicine to combat, diagnose and research diseases, and to develop and test new drugs. The Food and Drug Administration (FDA) has approved several monoclonal antibodies for therapeutic use, and hundreds of them are undergoing clinical trials in various stages.
Monoclonal antibodies can be used to analyze the fine structure of antigens and test the unknown structural relationships between antigens and antibodies. Antibodies targeting specific molecules in complex biological mixtures can be used to isolate, analyze, and purify the specific molecular antigen. Monoclonal antibody reagents can be used for clinical diagnosis and therapy, including antibody-drug conjugates [8] and vaccines against emerging infectious diseases [9].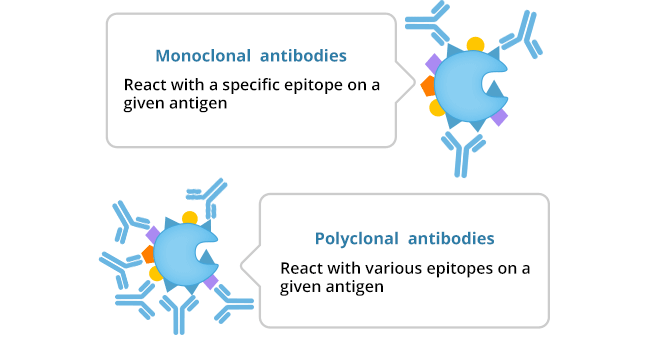 Figure 1: The main difference between monoclonal antibody and polyclonal antibody
The recombinant antibody, also called genetic engineering antibody, is produced by using gene recombination technology. The antibody gene is cloned into an expression vector and then transfected into a suitable host cell line for antibody expression. Recombinant antibodies make it possible to prepare humanized antibodies and whole human antibodies. Mammalian cell lines are most commonly used for the production of recombinant antibodies. Cell lines derived from bacteria, yeast, or insects are also suitable.
In comparison to their monoclonal counterparts, recombinant antibodies can be produced stably and on a large scale without immunization. Free immunization avoids the human immune response caused by mouse-derived antibodies. Importantly, recombinant antibodies possess good consistency, high reproducibility, and good reproducibility. More gene combinations can be recombined, including antibody fragment expression, isotype replacement, chimeric antibody, antibody humanization, etc. Recombinant antibodies exist in various forms from IgG to scFv, Fab, or VHH fragments as well as bi- and tri-specific variants [10]. New antibodies can be prepared according to the needs of treatment. Due to stable transfection to screen stable cell lines for in vitro expression, recombinant antibodies are suitable for the rapid industrialization of monoclonal antibody drugs. The smaller molecular weight of recombinant antibodies confers them stronger penetrability so that they are easier to reach the core of the lesion. Recombinant antibodies can be produced in large quantities by prokaryotic cells, eukaryotic cells, or plant expression systems, greatly reducing the production cost.
4. Advantages and Disadvantages of Polyclonal, Monoclonal, and Recombinant Antibodies
With the rapid development of antibody preparation technology, polyclonal, monoclonal, and recombinant antibodies appear successively. Each type of antibody has its own unique advantages, as well as unavoidable disadvantages. Therefore, some experiments use several antibodies in tandem to exploit their respective strengths to achieve better experimental results. The following table lists the advantages and disadvantages of the three antibodies in different aspects.
| | Polyclonal antibody | Monoclonal antibody | Recombinant antibody |
| --- | --- | --- | --- |
| Reproducibility | Low | High; the difference between batches is small | Higher; high purity, smaller difference between batches |
| Specificity | Weak | Strong | Stronger |
| Production Cycle | 2 to 3 months development and production | 4 to 6 months development; 4 to 6 weeks production | 4 months development; 1 to 6 weeks production |
| Animal Immunization | Yes | Yes | No |
| Isotype Switching | difficult | difficult | convenient |
| Expression System | Commonly in mammalian cells (rabbit, sheep, goat, etc.) | Mouse ascites method, cell culture supernatant Method, and recombinant antibody expression system | Commonly in mammalian cell lines, also can be expressed in specially-engineered cell lines from yeast, bacteria, insects, and transgenic plants |
| Cost | Relatively low cost | Expensive to produce; require more specialized people to operate [11] | Require technical expertise and significant investments in time and money to produce [11] |
| Human Immune Response | Unavoidable | Unavoidable | Avoidable |
Of course, when you are preparing to purchase an antibody, in addition to considering the type of antibody, host source, purity, immunogen, reactive species, markers, experimental verification applications, and supporting data are also necessary reference factors. A suitable antibody can help you get an ideal experimental result.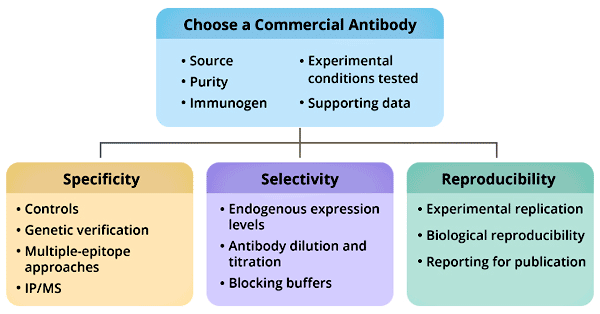 Figure 2: How to choose a commercial antibody
*The picture is cited from https://www.ncbi.nlm.nih.gov/pmc/articles/PMC6983856/
References
[1] Carey Hanly W, Artwohl JE, Taylor Bennett B. Review of polyclonal antibody production procedures in mammals and poultry [J]. ILAR J. 37(3), 93–118 (1995).
[2] Chiou VY. The development of IgY(DeltaFc) antibody based neuro toxin antivenoms and the study on their neutralization efficacies [J]. Clin. Toxicol. 46(6), 539–544 (2008).
[3] Cox KL, Devanarayan V, et al. Assay Guidance Manual [Internet]. In: Immunoassay Methods. Sittampalam GS, Coussens NP, Brimacombe K et al. (Eds). Eli Lilly & Company and the National Center for Advancing Translational Sciences, MD, USA, 223–266 (2012).
[4] Kulagin AD, L.I, Miloserdov IA, et al. Polyclonal rabbit antithymocyte globulin (thymoglobulin): immunomodulatory effects and new aspects of its clinical application [J]. Ter Arkh, 2010. 82(7).
[5] Köhler G,Milstein C. Continuous cultures of fused cells secreting antibody of predefined specificity [J]. Nature (1975) 256:495–7.
[6] Gharwan H, Groninger H. Kinase inhibitors and monoclonal antibodies in oncology: clinical implications [J]. Nat. Rev. Clin. Oncol. 13(4), 209–227 (2015).
[7] Carvalho S, Levi-Schaffer F, et al. Immunotherapy of cancer: from monoclonal to oligoclonal cocktails of anti-cancer antibodies: IUPHAR Review 18 [J]. Br. J. Pharmacology 173(9), 1407–1424 (2016).
[8] Shepard HM, Phillips GL, et al. Developments in therapy with monoclonal antibodies and related proteins [J]. Clin. Med. (Lond.) 17(3), 220–232 (2017).
[9] Wang Q, Yan J, Fu Gao G. Monoclonal antibodies against Zika virus: therapeutics and their implications for vaccine design [J]. J. Virol. 9, e01049–17 (2017).
[10] Carl A Ascoli & Birte Aggeler. Overlooked benefits of using polyclonal antibodies [J]. BIOTECHNIQUESVOL. 65, NO. 3, 2018.
[11] Lipman NS, Jackson LR, et al. Monoclonal versus polyclonal antibodies: distinguishing characteristics, applications, and information resources [J]. ILAR J. 46(3), 258–268 (2005).