Virus, a small size and simple composition infectious agent that can multiply only in living cells of animals, plants, or bacteria. The name is derived from a Latin word meaning "slimy liquid" or "poison". Originally, virus were distinguished by their inability to replicate outside of and without a living host cell. Because these properties are shared by certain bacteria. Now, virus are characterized by their simple composition and their unique mode of replication. General speaking, whether not inside an infected cell or in the process of infecting a cell, viruses exist with the form of independent particles. These viral particles, also known as virions, consist of genetic material, which may be either DNA or RNA, and is surrounded by a protein coat and, in some viruses, by a membranous envelope. The shapes of these virus particles range from simple helical and icosahedral forms for some virus species to more complex structures for others. Most virus species have virions that are too small to be seen with an optical microscope. The average virion is about one one-hundredth the size of the average bacterium. In this article, we are prepared some brief introduction of common viruses for you, and we hope that can give you some assistance, including Influenza virus (Flu), Hepatitis viruses, Human immunodeficiency virus (HIV), Rabies virus (RV), and Epstein-Barr virus (EBV).
2. Hepatitis Viruses
What Is Hepatitis Viruses?
Viral hepatitis, as the name shown, is an inflammatory condition of the liver caused by a viral infection. But there are other possible causes of hepatitis, including autoimmune hepatitis and hepatitis that occurs as a secondary result of medications, drugs, toxins, and alcohol. Among of these causes, viral infection is the most universal, and it may present in acute (recent infection, relatively rapid onset) or chronic forms[5].
The Classification of Hepatitis Viruses
There are five different hepatitis virus in viral infections of the liver, including hepatitis A, B, C, D, and E. type A virus is responsible for each type of virally transmitted hepatitis. Hepatitis A is always an acute, short-term disease, while hepatitis B, C, and D are most likely to become ongoing and chronic. Hepatitis E is usually acute but can be particularly dangerous in pregnant women. As shown in Table 1, there are many differences between the five types virus.
Table 1. The Five Types of Hepatitis Viruses


HAV
HBV
HCV
HDV
HEV
Discovery(year)
1973
1965(HBsAg)
1970(HBV particle)
1989
1977(Delta antigen)
1986(HDV cloned)
1983(virus particle)
1990(HEV cloned)
classification
Picornavirus
Orthohepadnavirus
Hepacivirus
Deltavirus
Hepevirus
Virus structure
28nm; nonenveloped nucleocapsid
42 nm; enveloped nucleocapsid
50 nm; enveloped nucleocapsid
40 nm; enveloped nucleocapsid
27–34 nm; nonenveloped nucleocapsid
Genome
+ssRNA
partially dsDNA
+ssRNA
-ssRNA
+ssRNA
Mutation rate
high (1/1,000–1/6,000 bases/year)
low (1/100,000 bases/year)
high (1/1,000 bases/year)
high (1/300–1/3,000 bases/year)
high (1/700 bases/year)
Genotype
3 major genotypes; 6 subtypes
8 genotypes (8% intergroup divergence)
6 major genotypes; more than 50 subtypes
8 genotypes
8 genotypes
Severity/Chronicity
Mild; acute
Occasionally severe; 5–10% chronic
Subclinical; 70% chronic
Exacerbates symptoms of HBV; chronic w/ HBV
Normal patients, mild; pregnant women, severe; acute
Transmission
enteral, fecal-oral
parenteral
parenteral
parenteral
enteral, fecal-oral; infrequent: parenteral
Vaccine
10 year protection
3 injections, lifetime protection
None available
None available
Investigational (approved in China)
Treatment of persistent infection
not applicable
IFN-a-based therapy achieves seroconversion in a minority of patients; nucleoside analogs suppress but do not eradication of HBV
pegylated IFN-a, ribavirin, direct acting antivirals; HCV clearance in 45%–80% of individuals depending on HCV genotype
high doses of IFN-a-based therapy effective in only about 20% of patients; HDV relapses in most cases after cessation of treatment
not applicable
*the content of the table 1 is derived from the Su-Hyung Park's research[6] and wikipedia
The latest researches about Hepatitis viruses
In this part, we are listing some latest researches about Hepatitis viruses.
#1 in Tsachouridou O's team, vaccination coverage for vaccine-preventable diseases was found to be insufficient for HIV positive adults in Northern Greece. Also, low educational level, lack of insurance coverage and economic distress have contributed to poor vaccine compliance, leading to poor protection of the HIV positive population and decreased immune coverage in the community. Please click here to view the article.
#2 the data of Edgren G's research provide no evidence for transfusion transmission of agents causing liver disease after the implementation of screening for hepatitis B and C, and suggest that if such transmission does occur, it is rare. Please click here to view the article.
#3 Inoue J, Ninomiya M, et al. revealed that cellular membrane trafficking machineries ssed by the hepatitis viruses. Please click here to view the article.
3. Human Immunodeficiency Virus
What is Human Immunodeficiency Virus
The human immunodeficiency virus (HIV) is a type of virus called a Lentivirus (a subgroup of retrovirus) spread through certain body fluids that attacks the body's immune system, especially the CD4 cells, often called T cells, and over time acquired immunodeficiency syndrome (AIDS) if not treated[7]. Unlike some other viruses, the human body can't get rid of HIV completely, even with treatment. So once you get HIV, you have it for life. The HIV epidemic emerged in the early 1980s with HIV infection as a highly lethal disease among men who have sex with men and among frequent recipients of blood product transfusions[8]. General speaking, HIV is present to variable degrees in the blood and genital secretions of virtually all untreated individuals infected with HIV, regardless of whether or not they have symptoms. The spread of HIV can occur when these secretions come in contact with tissues such as those lining the vagina, anal area, mouth, eyes (the mucus membranes), or with a break in the skin, such as from a cut or puncture by a needle. The most common ways in which HIV is spreading throughout the world include sexual contact, sharing needles, and by mother-to-child transmission during pregnancy, labor (the delivery process), or breastfeeding.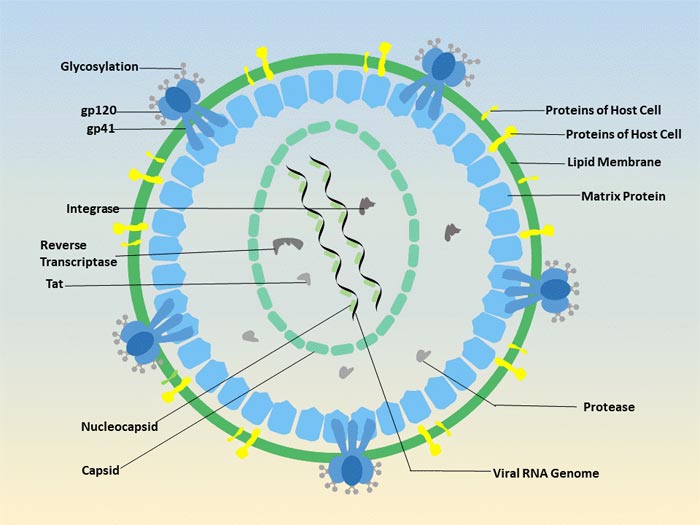 Fig.1 The structure of HIV
The Classification of Human Immunodeficiency Virus
HIV is a member of the genus Lentivirus, which belongs the family Retroviridae. Lentiviruses have many morphologies and biological properties in common. There are two types of HIV, which have been characterized, HIV-1 and HIV-2. As shown in the Table 2, HIV-1 is the virus that was initially discovered and termed both human T-lymphotropic virus 3 (HTLV-III) and lymphadenopathy associated virus (LAV). HIV-1 is more virulent and more infective than HIV-2, and is the cause of the majority of HIV infections globally. The lower infectivity of HIV-2, compared to HIV-1, implies that fewer of those exposed to HIV-2 will be infected per exposure. Due to its relatively poor capacity for transmission, HIV-2 is largely confined to West Africa[9][10].
Table 2. Comparison of HIV species
| Species | Virulence | Infectivity | Prevalence | Inferred origin |
| --- | --- | --- | --- | --- |
| HIV-1 | High | High | Global | Common chimpanzee |
| HIV-2 | Lower | Low | West Africa | Sooty mangabey |
*The content of Table 2 is derived from Wikipedia
What Are The Stage of Human Immunodeficiency Virus?
HIV infection is generally a slowly progressive disease in which the virus is present throughout the body at all stages of the disease. When people get HIV and don't receive treatment, they will typically progress through three stages of disease-acute HIV infection, chinical latency (HIV inactivity or dormancy) and acquired immunodeficiency syndrome (AIDS).
Stage 1. Acute HIV infection
The initial stage of infection (primary infection), which occurs within 2 to 4 weeks of acquiring the virus, often is characterized by a flu- or mono-like illness, which may last for a few weeks. This is natural response to infection in body. When people have acute HIV infection, they have a large amount of virus in their blood and are very contagious. But people with acute infection are often unaware that they're infected because they may not feel sick right away or at all. If you think you have been exposed to HIV through sex or drug use and you have flu-like symptoms, seek medical care and ask for a test (a fourth-generation antibody/antigen test or a nucleic acid (NAT) test) to diagnose acute infection.
Stage 2: Clinical latency (HIV inactivity or dormancy)
This period is also called chronic asymptomatic infection (meaning a long duration of infection without symptoms) lasts an average of eight to 10 years without treatment, but some may progress through this phase faster. During this phase, IV is still active but reproduces at very low levels. People may not have any symptoms or get sick during this time. People who are taking medicine to treat HIV (ART) in the right way may be in this stage for several decades. It's important to notice that people can still transmit HIV to others during this phase, but people who are on ART and stay virally suppressed (having a very low level of virus in their blood) are much less dangerous to transmit HIV than those who are not virally suppressed. At the end of this phase, a person's viral load starts to go up and the CD4 cell count begins to go down. As this happens, the person may begin to have symptoms as the virus levels increase in the body, and the person moves into Stage 3
Stage 3. Symptomatic infection
The stage of symptomatic infection, in which the body's immune (or defense) system has been suppressed and complications have developed, is called the acquired immunodeficiency syndrome (AIDS), also known as opportunistic illnesses. AIDS is the most severe phase of HIV infection. Without treatment, people with AIDS typically survive about 3 years. Common symptoms of AIDS include chills, fever, intellectual deterioration, swollen lymph glands, weakness, and weight loss. People are diagnosed with AIDS when their CD4 cell count drops below 200 cells/mm or if they develop certain opportunistic illnesses. People with AIDS can have a high viral load and be very infectious.
4. Rabies virus
What is Rabies virus?
Rabies virus is a neurotropic virus that causes rabies in humans and animals, belongs to the Lyssavirus genus of the Rhabdoviridae family, viruses with a nonsegmented, negative-stranded RNA genomes. The RNA genome of the virus encodes five genes whose order is highly conserved. These genes code for several key protein of virus, including nucleoprotein (N), phosphoprotein (P), matrix protein (M), glycoprotein (G) and the viral RNA polymerase (L)[11].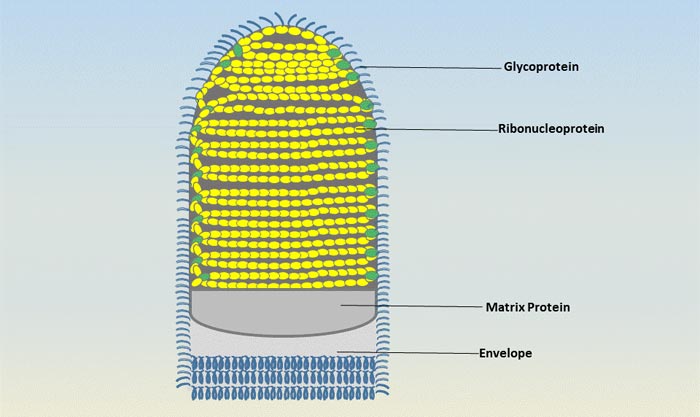 Fig.2 the structure of rabies virus
What you need to know about the common sense of rabies virus
In this part, we summarize the common sense of rabies from several aspects as following, including types, symptoms, transmission, incubation period and prevention.
1. The types of rabies
Based on different symptoms, rabies can be divided into two types, one is Furious/encephalitic rabies, which occurs in 80 percent of human cases. The person is more likely to experience hyperactivity and hydrophobia. Another is paralytic/dumb rabies, which dominant symptom is paralysis.
2. The general symptoms and incubation period of rabies
The first symptoms of rabies may be very similar to the flu including general weakness, fever, and may last for days. As the disease progress, later signs and symptoms may include: nausea, vomiting, agitation, anxiety, confusion, hyperactivity, difficulty swallowing, excessive salivation, fear of water (hydrophobia) because of the difficulty in swallowing, hallucinations, insomnia, and partial paralysis. General speaking, the time usually lasts from 3 to 12 weeks before symptoms appear, but it also can take as little as 5 days or more than 2 years.
3. Transmission
The rabies virus is usually transmitted by a bite through the saliva of animals and less commonly through contact with human saliva. Rabies virus, like many rhabdoviruses, has an extremely wide host range. In the United States, animals most likely to transmit rabies include bats, coyotes, foxes, raccoons and skunks. In rare cases, the virus has been transmitted to tissue and organ transplant recipients from an infected organ. Besides that, the virus can affect the body in one of two ways: It enters the peripheral nervous system (PNS) directly and migrates to the brain. It replicates within muscle tissue, where it is safe from the host's immune system. From here, it enters the nervous system through the neuromuscular junctions. Note that, once inside the nervous system, the virus produces acute inflammation of the brain. Coma and death soon follow.
4. Prevention
If you want to keep away the rabies, you should follow some safety rules to reduce the chance of contracting rabies. (I) Vaccinate your pets. (II) Keep your pets confined. (III) Protect small pets from predators. (IV) Report stray animals to local authorities. (V) Don't approach wild animals. (VI) Keep bats out of your home. (VII) Consider the rabies vaccine if you're traveling. Keep mind, anyone who may have been exposed to the virus should seek medical help at once, without waiting for symptoms. By the time symptoms appear, rabies is usually fatal.
5. Epstein-Barr virus
What Is Epstein-Barr Virus
Epstein-Barr virus (EBV), also known as human herpesvirus 4 (HHV-4), is a member of the herpes virus family that causes mononucleosis, and it is one of the most common human viruses. You might know this disease better by its nickname, "kissing disease", because kissing is one way you can spread it to someone else. EBV is found all over the world. Most people get infected with EBV at some point in their lives. EBV spreads most commonly through bodily fluids, primarily saliva. It is also associated with particular forms of cancer, such as Burkitt's lymphoma, nasopharyngeal carcinoma, Hodgkin's lymphoma, gastric cancer, and conditions associated with human immunodeficiency virus (HIV), such as hairy leukoplakia and central nervous system lymphomas[12].
The Common Sense of Epstein-Barr Virus
As well as the common sense of rabies virus, in this part, we summarize the common sense of rabies from several aspects as following, including types, symptoms, transmission, incubation period and prevention.
1. Subtypes of EBV
EBV can be divided into two major types, EBV type 1 and EBV type 2. These two subtypes have different EBNA-3 genes. As a result, the two subtypes differ in their transforming capabilities and reactivation ability. Type 1 is dominant throughout most of the world, but the two types are equally prevalent in Africa. One can distinguish EBV type 1 from EBV type 2 by cutting the viral genome with a restriction enzyme and comparing the resulting digestion patterns by gel electrophoresis[13].
2. Symptoms
Once you're infected with EBV, symptoms can latent 4 to 6 weeks to show up. When they do, they're often mild, especially in young children. Kids' symptoms may be more like a cold or flu. Teens often have more obvious symptoms of mono. Symptoms of EBV infection can include fatigue, fever, lack of appetite, swollen lymph nodes in the neck, enlarged spleen, swollen liver, or rash.
3. Transmission
EBV is found in bodily fluids, especially saliva, so you can catch mono from kissing someone who's infected. You can also get it from using objects, for instance, toothbrush or drinking glass that an infected person recently used. Besides that, EBV can also spread via blood and semen during sexual contact, blood transfusions, and organ transplantations. The first time you get infected with EBV (primary EBV infection) you can spread the virus for weeks and even before you have symptoms. Once the virus is in your body, it stays there in a latent state. If the virus activates again, you can potentially spread EBV to others no matter how much time has passed since the initial infection.
4. Prevention
Currently, there is not vaccine to protect you against the EBV virus. The best way to avoid catching it is to stay away from anyone who has mono, refuse to kiss, share drinks, food or personal items with others, who have EBV virus. In additional, if you get EBV infected by accident, these tips can be done to help you to relieve the symptoms, including drinking fluids to stay hydrated, getting plenty of rest, and taking over-the-counter medications for pain and fever.
Epstein-Barr Virus and Diseases
Epstein-Barr virus is famous as cause of mononucleosis. But accumulating evidence has implicated that it also can lead to other diseases, including infectious mononucleosis, Burkitt's lymphoma, Hodgkin's lymphoma, nasopharyngeal carcinoma, multiple sclerosis[14][15][16]. If you want to obtain the catalogue of related products of virus, please click here to download the PDF form.
References
[1] Vainionpää R, Hyypiä T. Biology of parainfluenza viruses [J]. Clin. Microbiol. Rev. 1994, 7 (2): 265–75.
[2] Hause BM, Collin EA, et al. Characterization of a novel influenza virus in cattle and swine: proposal for a new genus in the Orthomyxoviridae family [J]. MBio. 2014, 5 (2): e00031–14.
[3] Song H, Qi J, et al. An open receptor-binding cavity of hemagglutinin-esterase-fusion glycoprotein from newly-identified Influenza D Virus: Basis for its broad cell tropism [J]. PLoS Pathog. 2016, 12 (1): e1005411.
[4] Smith DB, Gaunt ER, et al. Detection of influenza C virus but not influenza D virus in Scottish respiratory samples [J]. J Clin Virol. 2016, 74: 50–53.
[5] Stanaway, Jeffrey D; Flaxman, Abraham D, et al. The global burden of viral hepatitis from 1990 to 2013: findings from the Global Burden of Disease Study 2013 [J]. The Lancet. 2016, 388 (10049): 1081–8.
[6] Su-Hyung Park1 and Barbara Rehermann. Immune Responses to HCV and Other Hepatitis Viruses [J]. Immunity.2014, 40(1):13-24.
[7] ouek DC, Roederer M, et al. Emerging Concepts in the Immunopathogenesis of AIDS [J]. Annual Review of Medicine. 2009, 60: 471–84.
[8] Hariri S,McKenna MT. Epidemiology of human immunodeficiency virus in the United States [J]. Clin Microbiol Rev. 2007, 20(3): 478-88.
[9] Gilbert PB, McKeague IW, E; et al. Comparison of HIV-1 and HIV-2 infectivity from a prospective cohort study in Senegal [J]. Statistics in Medicine. 2003, 22 (4): 573–593.
[10] Reeves JD, Doms RW. Human Immunodeficiency Virus Type 2 [J]. Journal of General Virology. 2002, 83 (Pt 6): 1253–65.
[11] inke S, Conzelmann KK. Replication strategies of rabies virus [J]. Virus Res. 2005, 111 (2): 120–131.
[12] Maeda E, Akahane M, et al. Spectrum of Epstein–Barr virus-related diseases: a pictorial review [J]. Jpn J Radiol. 2009, 27 (1): 4–19.
[13] Odumade, O. A.; Hogquist, Balfour. Progress and Problems in Understanding and Managing Primary Epstein–Barr Virus Infections [J]. American Society for Microbiology. 2011, 24 (1): 193–209.
[14] Weiss, LM; O'Malley, D. Benign lymphadenopathies [J]. Modern Pathology. 2013, 26 (Supplement 1): S88–S96.
[15] Dogan, S; Hedberg, ML; et al. Human papillomavirus and Epstein–Barr virus in nasopharyngeal carcinoma in a low-incidence population [J]. Head & neck. 2014, 36 (4): 511–6.
[16] Mechelli R, Manzari C, et al. Epstein–Barr virus genetic variants are associated with multiple sclerosis [J]. Neurology. 2015, 84 (13): 1362–8.