Interleukin-6, also known as IL-6, is a cytokine that belongs to the class of interleukins. It is produced by fibroblasts, monocytes/macrophages, T lymphocytes, B lymphocytes, epithelial cells, keratinocytes, and various tumor cells. The production of interleukin-6 can be induced in normal cells by various factors, involving IL-1, TNF-a, PDGF, viral infection, double-stranded RNA and so on.
For this reason, IL-6 plays a critical role in acute inflammatory response. Here, we collect the information of IL-6 from the following aspects, and hope these things can help you understand the IL-6.
1. What is IL-6?
IL-6 is a polypeptide, and consists of two glycoprotein chains; one is an alpha chain with a molecular weight of 80 kDa; the other is a beta chain with a molecular weight of 130 kDa. The α-chain lacks the intracellular region and can only bind to IL-6 with low affinity, and then the complex compound binds to the high-affinity β-chain immediately and transmits information to the cell through the β-chain. As shown in the figure 1, IL-6 contains four long alpha-helical chains that are arranged in an up-up-down-down topology.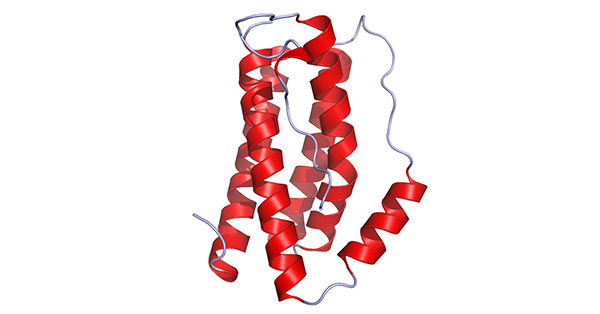 Figure 1. The diagram of IL-6 structure
(*this picture is derived from wikipedia)
2. The Function of IL6
IL-6 is produced by numerous different cell types and plays a critical role in regulating the acute phase response, hematopoiesis, inflammation, metabolic control, liver regeneration, bone metabolism and cancer progression.
Its continued production of disorders leads to the development and progression of various autoimmune and chronic inflammatory diseases. IL-6 was originally known as B cell stimulating factor-2, which induces the production of antibodies by activated B cells. IL-6 binding to TGF-β preferentially induces differentiation of primary CD4+ T cells into Th17 cells, whereas IL-6 inhibits TGF-β-induced regulatory T cell (Treg) development.
As the figure 2 shows, IL-6 induces the production of acute phase proteins such as C-reactive protein (CRP), fibrinogen, serum amyloid A (SAA) and hepcidin, which can reduce albumin synthesis in hepatocytes. High levels of serum amyloid A and hepcidin cause amyloid an amyloidosis and inflammatory anemia, respectively. In the bone marrow, IL-6 induces megakaryocyte maturation into platelets and promotes hematopoietic stem cell activation. In addition, IL-6 promotes differentiation of osteoclasts and angiogenesis, proliferation of keratinocytes and mesangial cells, and growth of myeloma and plasmacytoma cells.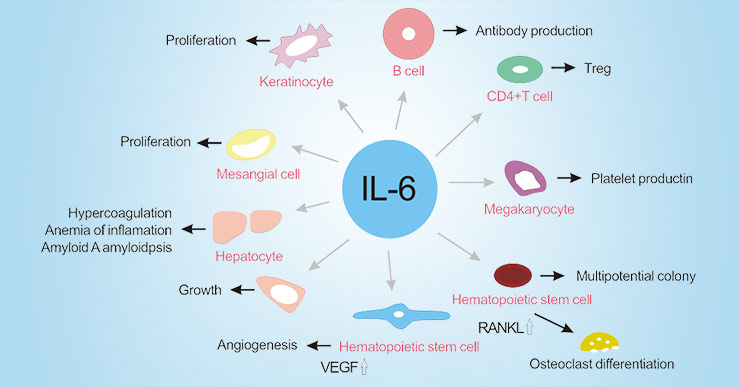 Figure 2. The function of IL-6 in autoimmune and chronic inflammatory diseases
3. IL6 Family
The IL-6 family is a group of cytokines consisting of IL-6, Interleukin-11 (IL-11), IL-27 p28/IL-30, Interleukin 31 (IL-31), Leukemia inhibitory factor (LIF), Oncostatin M (OSM), Ciliary neurotrophic factor (CNTF), Cardiotrophin-1 (CT-1), and Neuropoietin. They are grouped into one family because the receptor complex of each cytokine contains two (IL-6 and IL-11) or one molecule (all others cytokines) of the signaling receptor subunit gp130.
3.1 Interleukin-11
IL-11, an IL-6-type cytokine, is produced by a variety of stromal cells including fibroblasts, epithelial cells and osteoblasts. It binds to a multimeric receptor complex which contains an IL-11-specific α subunit and a promiscuous 130 kDa β subunit (gp130). Its structure is shown in the figure 3.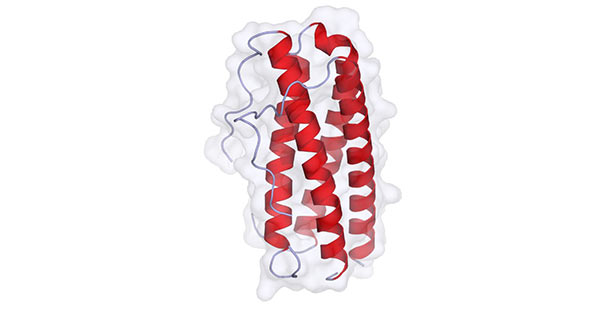 Figure 3. The diagram of IL-11 structure
(*this picture is derived from wikipedia)
IL-11 stimulates multiple aspects of hematopoiesis and hepatocyte production of acute phase response proteins. Moreover, it also inhibits the genesis of adipocytes, activates osteoclasts, alters neural phenotype, stimulates tissue fibrosis and regulates chondrocyte, synoviocyte and B cell function [1].
3.2 IL-27 p28/IL-30
IL-27 p28/IL-30, also known as IL-27, an IL-12 family member, is a heterodimeric cytokine consisting of an IL-12 p40-related protein and an IL-12 p35-like protein (p38). IL‐27 is mainly expressed on activated macrophages and dendritic cells. IL‐27 receptor (IL-27R), however, is widely expressed and is detected on naive T cells, natural killer (NK) cells, monocytes, mast cells, vascular endothelium, keratinocytes, activated B cells, Langerhans' cells, and dendritic cells.
Generally, IL-27 signals through a receptor complex consisting of IL‐27α and the protein gp130 [2]. Binding to its receptor is a cause of JAK/STAT pathway activation [3] [4]. IL‐27 is expressed at sites of inflammation in autoimmune/inflammatory diseases, such as RA, PsA, systemic sclerosis (SSc), inflammatory bowel disease (IBD), multiple sclerosis, and sarcoidosis [5] [6] [7]. It also suggests that IL-27 has a closely relationship with inflammation diseases.
3.3 Interleukin-31
IL-31 is a cytokine with an anti-parallel four-helix bundle structure in the gp130/IL-6 cytokine family. It is preferentially produced by T helper type 2 cells. Emerging evidence has shown that T cell-derived cytokines are important in the development of an effective immune response, but when dysregulated they can promote disease [8].
Commonly, IL-31 sends signals through a receptor complex made of IL-31RA and oncostatin M receptor β (OSMRβ) expressed in immune and epithelial cells. These signals activate three pathways: ERK1/2 MAP kinase, PI3K/AKT, and JAK1/2 signaling pathways [9].
3.4 Leukemia Inhibitory Factor
Leukemia inhibitory factor, also known as LIF, is an interleukin 6 class cytokine that plays an important role in a wide array of biological processes, including inducing differentiation of leukemia cell, inflammatory response, neuronal development, embryonic implantation, stem cell self-renewal and cancer progression, etc.[10].
LIF gene is highly conserved between humans and mice. LIF protein is a monomeric glycoprotein which is often modified by glycosylation [11]. The molecular weight of the unglycosylated LIF protein is 20–25 kDa, while the molecular weight of the glycosylated protein is in the range of 37–63 kDa. The structure of LIF is presented in the figure 4.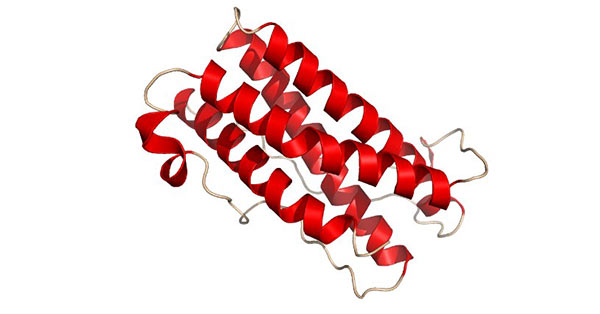 Figure 4. The diagram of LIF structure
(*this picture is derived from wikipedia)
3.5 Oncostatin M
Oncostatin M, also known as OSM, is a member of the multifunctional cytokine IL6-type cytokine family. It is mainly produced in cell types such as activated T lymphocytes, macrophages, monocytes, neutrophils and in microglial cells.
OSM is made up of 196 residues. The primary sequence analysis of OSM links it to the gp130 group of cytokines. This protein most resembles LIF, bearing a 22% identity to it, as well as a 30% similarity. The genes for OSM and LIF occur in tandem on the human chromosome 22, and both have very similar gene structures, sharing similar promoter features and intron-exon structure. The structure of OSM is presented in the figure 4.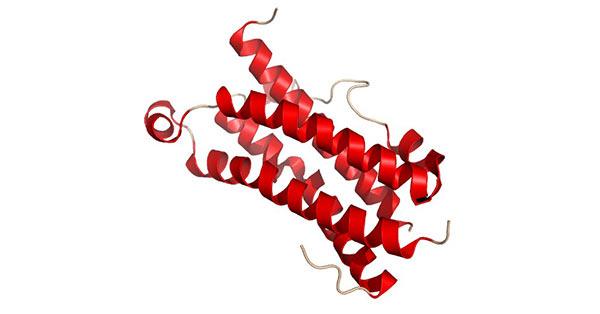 Figure 5. The diagram of OSM structure
(*this picture is derived from wikipedia)
3.6 Ciliary Neurotrophic Factor
Ciliary neurotrophic factor, also known as CNTF, is the most extensively studied member of the cytokine family that signal through intracellular chains of the gp130/LIFRβ receptor. The severe phenotype in patients suffering from mutations inactivating LIFRβ indicates that members of this cytokine family play key, non-redundant roles during development.
The primary structure of CNTF suggests it to be a cytosolic protein with strong similarity to the alpha-helical cytokine family which is characterized by a bundle of four anti-parallel helices. CNTF exerts its activity via complexation with CNTF receptor (CNTF-R). This complex consists of a CNTF-binding protein (CNTF-R) and two proteins important for signal transduction [gp130 and leukaemia inhibitory factor receptor (LIF-R)].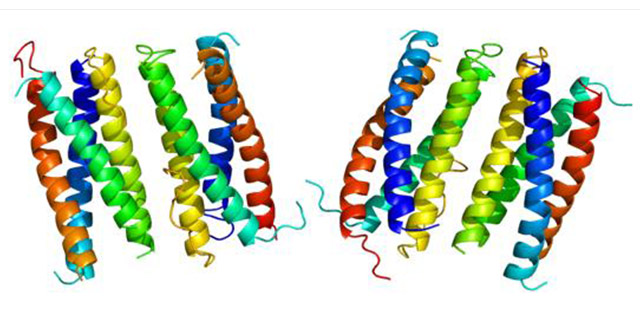 Figure 6. The diagram of CNTF structure
(*this picture is derived from wikipedia)
3.7 Cardiotrophin-1
Cardiotrophin-1, also known as CT-1, is a 201 amino acid member of the IL-6 family of cytokines which was originally identified in a screen based on the finding that conditioned medium from differentiated embryoid bodies derived from mouse embryonic stem cells, was able to induce a hypertrophic response in neonatal cardiac myocytes [12].
CT-1 was also detected in normal adult human lung and was expressed in both fetal and adult airway smooth muscle cells. CT-1activates gp130 dependent signaling and stimulates the Janus kinase/signal transducers and activators of transcription (JAK/STAT) pathway to transduce hypertrophic and cytoprotective signals in cardiac myocytes. CT-1 has also a neurotrophic function.
3.8 Neuropoietin
Neuropoietin (NP), also known as cardiotrophin-2, is a member of the IL-6 cytokine family. It displays a four-helix bundle structure, and signal through gp130-containing receptor complexes. The human Neuropoietin gene has evolved toward a pseudogene, suggesting that the alternative signaling via CNTF is an effective compensatory pathway. Recombinant murine Neuropoietin is a 19.8 kDa protein containing 183 amino acid residues.
Similar to CNTF, and CT-1, NP has been shown to promote embryonic motor neuron survival, neural precursor cell proliferation, and astrocyte differentiation in vitro. Significantly, however, NP is expressed when the expression of these other IL-6 family cytokines is low, suggesting that NP may have a unique role in mouse nervous system development.
4. IL-6 Signaling Pathway
IL-6 is a pleiotropic cytokine produced by various types of lymphoid and nonlymphoid cells, and IL-6 provokes a broad range of cellular and physiological responses. Here, we present the fundamental mechanism of IL-6 signaling pathway cascade.
IL-6 signals is initiated by binding to its receptor named IL-6R. IL-6R protein has two forms in cells, one is membrane-bound form, and another is soluble (aIL-6R) form. If cells do not express IL-6R, they can be stimulated by a complex formed by IL-6 and a sIL-6R. Releasing the IL-6R protein presenting cells, which presents a gp130-responsive response to IL-6 cytokines. In addition, IL-6 responsive cells are very sensitive to IL -6R.
As the figure 7 shows, IL-6 forms a complex with a specific IL-6R and can bind with two gp130 with high affinity to form a tetramer or hexamer IL-6/IL-6R/gp130 complex. Then gp130 conducts biological signaling through two pathways: the JAK/STAT pathway and the Ras/MAPK pathway.
The JAK/STAT pathway: Activated JAK kinases phosphorylate and activate STAT transcription factors, particularly STAT3 and SHP2. Once activated, phosphorylated STAT3 forms a dimer and translocates into the nucleus to activate transcription of genes containing STAT3 response elements. STAT3 is essential for GP130-mediated cell survival and G1 to S cell-cycle-transition signals. Both c-Myc and Pim have been identified as target genes of STAT3 and together can compensate for STAT3 in cell survival and cell-cycle transition. SHP2 links the cytokine receptor to the Ras/MAP kinase pathway and is essential for mitogenic activity.
Ras/MAPK pathway: gp130 activation induces the formation and activation of the complex of Shc and Grb2 and binds to Sos. Activation of the Ras protein requires the interaction of these proteins. Ras activation usually induces activation of downstream signaling proteins such as MAPK cascade phosphorylation, and MAPK kinases are involved in regulating cell growth. The substrates for phosphorylation of MAPK are c-Myc, c-Jun, c-Fos and the like.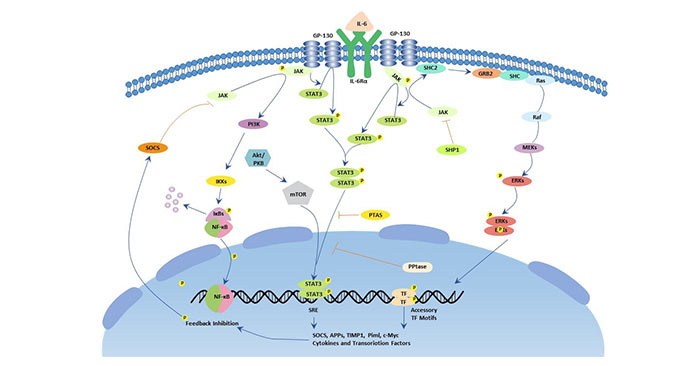 Figure 7. The picture of IL-6 signaling pathway
5. IL-6 and Diseases
As mentioned before, IL-6 is a pleiotropic cytokine that not only affects the immune system, but also acts in other biological systems and many physiological events in various organs, including inflammation, hematopoiesis, and oncogenesis by regulating cell growth, as well as gene activation, proliferation, survival, and differentiation.
According to a large amount of research data, IL-6 has been reported in various diseases as an indicator. Jones BE from Translational Research Program in Benaroya Research Institute has suggested that IL-6 is implicated in the development and progression of autoimmune diseases in part by influencing CD4 T cell lineage and regulation. Elevated IL-6 levels drive inflammation in a wide range of autoimmune diseases, some of which are also characterized by enhanced T cell responses to IL-6 [13].
Additionally, targeting the IL-6/IL-6R axis in humans has been shown to successfully ameliorate a subset of autoimmune conditions.
Besides inflammation, IL-6 also has been revealed the relationship with cancer [14], such as gastrointestinal cancer [15], pancreatic and colorectal cancer [16].
References
[1] Shawn X.Leng, Jack A.Elias. Interleukin-11 [J]. The International Journal of Biochemistry & Cell Biology. 1997, 8(29): 1059-1062.
[2] Yoshida, H, Nakaya, M, et al. Interleukin 27: a double-edged sword for offense and defense [J]. J Leukoc Biol. 2009; 86: 1295-303.
[3] Ursula Fearon. Interleukin-27: A master regulator in inflammation [J]. ARTHRITIS & RHEUMATISM. 2011, 63(8): 2157-2160.
[4] Pflanz S, Timans JC, et al. IL-27, a heterodimeric cytokine composed of EBI3 and p28 protein, induces proliferation of naive CD4+ T cells [J]. Immunity. 2002, 16:779–90.
[5] Shahrara S, Huang Q, et al. TH-17 cells in rheumatoid arthritis [J]. Arthritis Res Ther. 2008, 10:R93.
[6] Niedbala W, Cai B, et al. Interleukin 27 attenuates collagen-induced arthritis [J]. Ann Rheum Dis. 2008, 67:1474–9.
[7] Yoshizaki A, Yanaba K, et al. Elevated serum interleukin-27 levels in patients with systemic sclerosis: association with T cell, B cell and fibroblast activation [J]. Ann Rheum Dis. 2011, 70:194-200.
[8] Dillon SR1, Sprecher C, et al. Interleukin 31, a cytokine produced by activated T cells, induces dermatitis in mice [J]. Nat Immunol. 2004, 5(7):752-60.
[9] Cornelissen C, Lüscher-Firzlaff J, et al. Signaling by IL-31 and functional consequences [J]. European Journal of Cell Biology. 2012, 91 (6–7): 552–66.
[10] Xuetian Yue, Lihua Wu, et al. The regulation of leukemia inhibitory factor [J]. Cancer Cell Microenviron. 2015, 2(3): e877.
[11] Metcalfe SM. LIF in the regulation of T-cell fate and as a potential therapeutic [J]. Genes Immun. 2011, 12:157–168.
[12] David S Latchman. Cardiotrophin-1 (CT-1): a novel hypertrophic and cardioprotective agent [J]. Int J Exp Pathol. 1999, 80(4): 189–196.
[13] Jones BE, Maerz MD, et al. IL-6: a cytokine at the crossroads of autoimmunity [J]. Curr Opin Immunol. 2018, 55, 9-14.
[14] Jones SA, Jenkins BJ. Recent insights into targeting the IL-6 cytokine family in inflammatory diseases and cancer [J]. Nat Rev Immunol. 2018, Sep.
[15] Vainer N, Dehlendorff C, et al. Systematic literature review of IL-6 as a biomarker or treatment target in patients with gastric, bile duct, pancreatic and colorectal cancer [J]. Oncotarget. 2018, 9(51): 29820-29841.
[16] Johnson DE, O'Keefe RA. Targeting the IL-6/JAK/STAT3 signalling axis in cancer [J]. Nat Rev Clin Oncol. 2018, Feb.