Glial fibrillary acidic protein (GFAP) belongs to class III intermediate filaments (IFs) and is specifically expressed in the cytoplasm of central nervous system astrocytes (AS). It acts as an astrocyte-specific marker. Together with microtubules and microfilaments, it forms the cytoskeleton of most eukaryotic cells, provides mechanical support for plasma membranes contacted by other cells or extracellular matrices, maintains astrocyte morphological stability, participates in blood-brain barrier formation, and regulates a variety of biological functions such as synaptic function. In addition, GFAP is involved in cell migration, movement and mitosis.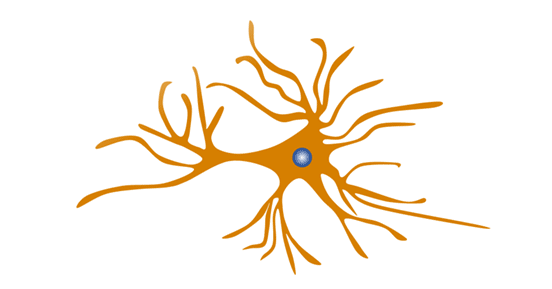 Figure 1 Astrocytes
1. History of GFAP Discovery
Glial fibrous acidic proteins were originally found in the brains of patients with multiple sclerosis (MS) [1]. In 1969, the amino acid (AA) composition of GFAP was first proposed [2]. In 1984, the mouse GFAP gene was first cloned, which is the beginning of GFAP molecular biology research. In 1989, the human GFAP gene was cloned [3].
2. Tissue Specificity of GFAP
Glial fibrillary acidic protein (GFAP) is a class III intermediate filaments, present in astrocytes of the central nervous system, unmyelinated Schwann cells of the peripheral nervous system, and mature enteric glial cells (EGCs) [4]. In addition, GFAP is also expressed in chondrocytes, fibroblasts, myoepithelial cells, lymphocytes and hepatic astrocytes.
However, some studies have shown that GFAP expressed by peripheral system may be structurally different from GFAP expressed by central nervous system.
3. GFAP Gene
The human GFAP gene is located on chromosome 17q21 and contains 8 introns and 9 exons, plus 2 alternative intron DNAs and 4 alternative exon DNAs to promote the formation of a DNA fragment with a size of about 10 kb and the mature mRNA produced by it is about 3 kb.
The human GFAP gene is highly homologous to mouse and rat gene coding regions [5].
The GFAP gene has alternative splicing [6], which results in the production of multiple transcriptional variants encoding different subtypes of proteins.
Ten GFAP splicing isomers are known to be expressed in the nervous systems of mice and humans. Isomers expressed in mouse brain include GFAPα, β, γ, δ, ζ, κ, and ∆exon 7, and Isomers expressed in human brain include GFAPα, β, δ, ζ, κ, ∆135, ∆164, ∆exon6 and ∆exon 7 [7]. The most abundant subtype is GFAPα.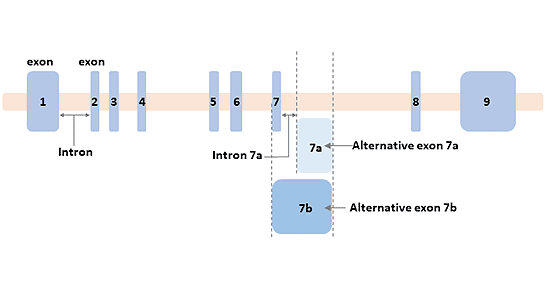 Figure 2 The structure of the GFAP gene
4. GFAP Protein
GFAP is an acidic protein, consisting of 432 amino acids, with a relative molecular weight of 50 ~ 52KD and an equipotential point of 5.7 ~ 5.8.
GFAP is an important skeleton protein of AS. The cytoskeleton of astrocytes is formed by the polymerization of a large number of GFAP monomers.
The GFAP monomer polymerizes to form a polymer, a component of the cytoplasmic intermediate filaments (IFs). IFs belong to the IFs superfamily type III, which is the same as vimentin, desmin, and peripheral proteins, with more than 70% homology between them.
All types of IFs proteins contain three major domains: the amino terminus, the central helix rod, and the carboxy terminal tail domain.
The rod domain of the IF protein (310 - 350 AA residues) is highly conserved, while the size and amino acid sequence of the head and tail domains are highly polymorphic between species.
Different domains of GFAP participate in the formation of IFs in different ways.
GFAP proteins form dimers and tetramers through rod domains.
As for the tail domain of type III IF protein, it is currently believed that it can stabilize protofilament interaction in vitro and control filament width, thus forming an appropriate IF network in vivo.
5. Expression Regulation of GFAP
GFAP expression is affected by a variety of factors (such as brain injury and disease) and fluctuates during the diurnal cycle. GFAP gene expression is regulated by GFAP promoter. The basal promoter is essential for proper transcription, and other elements on the promoter determine expression specificity. TATA-box, an important element of the base promoter, is essential for binding to the general transcription factor IID (TFIID).
GFAP is also subject to a variety of post-translational modifications, including phosphorylation and dephosphorylation. These modifications have important effects on its structure and properties.
Phosphorylation and dephosphorylation of specific amino acid residues in the head region of GFAP participate in the regulation of GFAP assembly, which is important for the redistribution of GFAP in the cell cycle. These phosphorylated amino acid residues are usually conserved. In addition to phosphorylation, other post-translational modifications such as glycosylation and citrullination also affect the structure and properties of GFAP.
Expression and modification of the GFAP gene affect astrocyte function: initial activation of the GFAP gene indicates astrocyte differentiation, and its up-regulation is usually accompanied by a reactive response to central nervous system injury.
6. The Function of GFAP
Astrocytes are the most abundant cell type in the brain. They provide structural and functional support for neurons (including the release of neurotransmitter glutamate and nutrient factors), and play an important role in neurophysiological activities, nerve tissue regeneration and immunity, and the incidence of various neurological diseases.
Glial fibrillary acidic protein acts as the main cytoskeletal protein in astrocytes. GFAP forms a junction between the nucleus and cell membrane, participates in cytoskeleton reorganization in the cell, cell adhesion, maintaining myelin formation in the brain and neuron structure as well as involved in cell signal transduction pathways [8] [9], it is also involved in cell migration, movement, and mitosis. Glial fiber acidic protein can maintain stable morphology of astrocytes, participate in the formation of blood-brain barrier and regulate synaptic functions.
The specific role of GFAP is as follows:
6.1 Mobility and Migration
GFAP is involved in cell movement and migration, but its contribution to the normal physiological or pathological function of different astrocytic subtypes is unclear. Transfection of glioma cell lines U1242 MG and U251 MG with a vector system that induces GFAP expression indicated that GFAP plays a role in cell movement. Studies have shown that mandatory expression of GFAP inhibits cell movement.
In the study of mutant GFAP associated with alexander disease, more evidence was found regarding the role of GFAP in motility. Compared to cells transfected with wild-type GFAPα or mutant GFAPα mutated in the tail domain, glioma cells transfected with two mutant GFAPs (V87G and R88C) mutated in the rod domain of GFAP shows increased athletic ability.
6.2 Proliferation
Numerous studies have shown that changes in GFAP expression alter the ability of astrocytes to proliferate or other features of astrocyte transformation. GFAP expression level was negatively correlated with proliferation level [10]. Compared with wild-type mice, the proliferation of primary astrocytes from GFAP-/- mice was enhanced.
6.3 Vesicle Transport and Autophagy
Astrocytes release a variety of colloidal transmitters, including classical transmitters, peptides, chemokines, and cytokines.
Exocytosis is one of the ways in which astrocytes release substances from vesicles. During this process, vesicles are transported along the cytoskeleton to the plasma membrane and fused to the plasma membrane.
The general depolymerization of IFs will affect the directional migration of vesicles in astrocytes in vitro. The destruction of IF network will reduce the linear length of vesicles and reduce the fluidity of vesicles.
6.4 The Interaction of Astrocyte and Neuronal
Astrocytes are involved in a variety of neuronal functions, including synapse formation and plasticity, energy and redox metabolism, and synaptic homeostasis of neurotransmitters and ions.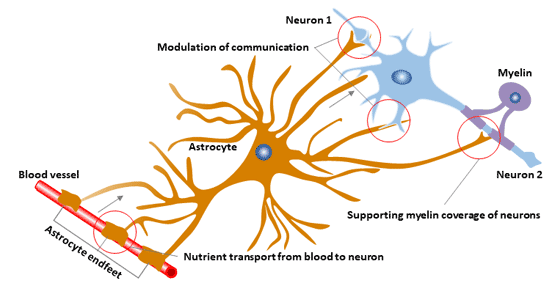 Figure 3 The function of astrocyte
6.5 Blood-Brain Barrier and Myelinogenesis
The blood-brain barrier (BBB) is formed by capillary endothelial cells and surrounded by a specific end of the basal layer and perivascular astrocytes.
In the mouse model, the mutated mouse BBB contains a single layer of astrocytes with few IFs and a higher permeability than wild-type mice. GFAP-/- mice also showed delayed central nervous system myelination, white matter loss in older mice, and hydrocephalus.
7. GFAP Related Signaling Pathway
In the Jak-STAT signaling pathway, by regulating the expression of GFAP, it controls cell differentiation and regulates the cell cycle. The signal diagram is shown below: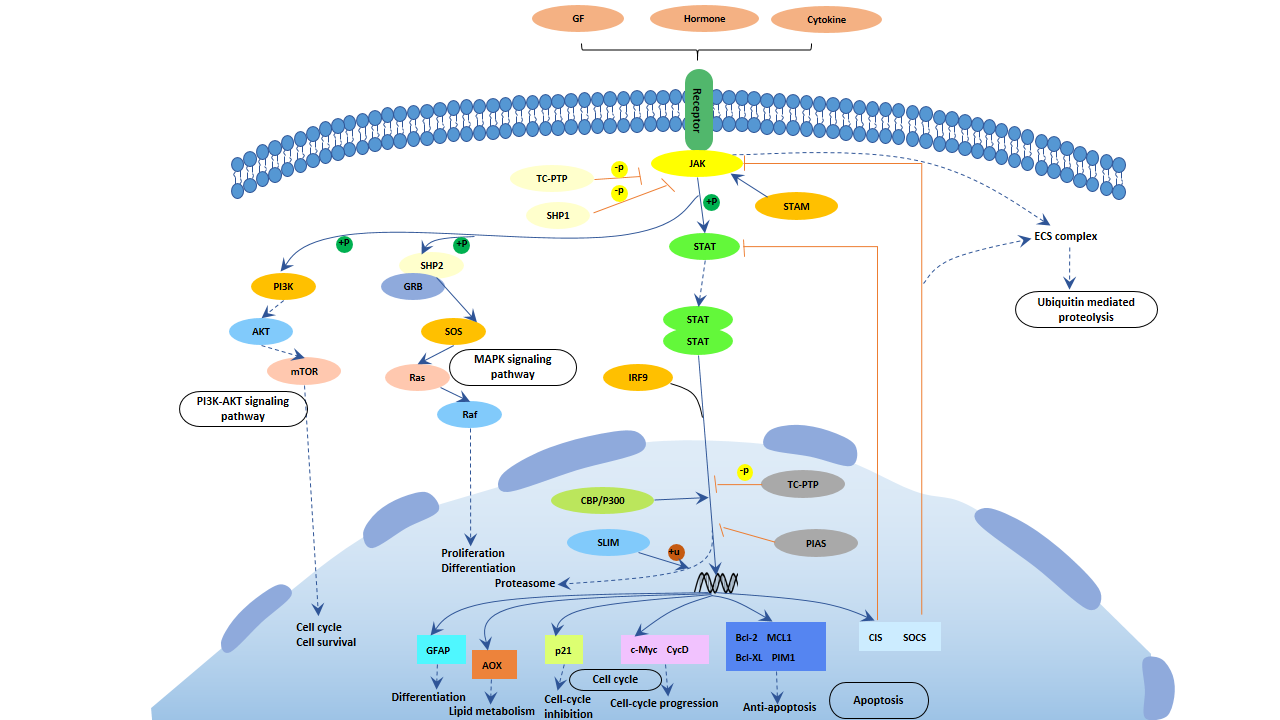 Figure 4 Jak-STAT signaling pathway
8. The Relationship between GFAP and Disease
Astrocytes are involved in a variety of central nervous system diseases, including trauma, ischemia, and neurodegeneration.
GFAP mRNA and protein levels are elevated in a variety of diseases. These diseases mainly include: Alzheimer's disease, scrapie and creutzfeldt-Jakob disease. In central nervous system injuries including cerebrovascular accidents, stab wounds and other injuries as well as experimental allergic encephalomyelitis, the expression of GFAP is also increased.
8.1 Alzheimer's disease
Astrocytic disease is a significant neuropathologic change in Alzheimer's disease (AD), and the severity of AD pathology is related to the density of reactive astrocytes and the strong up-regulation of GFAP expression in tissues and cerebrospinal fluid (CSF).
The hippocampus of Alzheimer's patients is more severely affected by astrocyte disease than the hippocampus of other older brains. There is a strong correlation between GFAP mRNA levels and the density of neuronal plaques in the frontal cortex of the AD brain.
8.2 Depression
Astrocytes play an important role in establishing and maintaining the blood-brain barrier. They can control the movement of soluble molecules and harmful substances, regulate brain homeostasis, regulate neuronal function and promote neurogenesis in adults. Therefore, dysfunction of astrocytes may affect the pathological process of depression.
Studies have found that GFAP is less expressed in schizophrenia, bipolar disorder, and depression [11]. GFAP is involved in the regulation of multiple neurotransmitters during the onset of depression.
8.3 Alexander's Disease (AxD)
The occurrence of Alexander's disease is related to GFAP gene mutation [12]. GFAP gene mutation leads to changes in GFAP assembly, resulting in the accumulation of GFAP and pathological deposition in cells.
Alexander disease belongs to the central nervous system degenerative disease, which is a genetic disease.
The disease is characterized by progressive myasthenia in infancy, with progressive spasm and mental disorders.
Messing et al proposed that the method of targeted therapy can prevent GFAP aggregation and pathological deposition, and increase the rate of proteasome clearance of GFAP.
Studies have shown that antisense oligonucleotides inhibit GFAP can provide a therapeutic strategy for the treatment of Alexandria [13].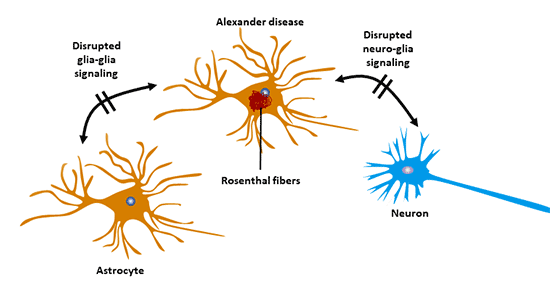 Figure 5 Astrocyte and Alexander's disease
9. The Application of GFAP in Diagnostic
Under normal conditions, GFAP degrades intracellular or extracellular spontaneously, and the level of GFAP in blood is relatively stable. In pathological conditions, when the patient's central nervous system is injured, AS is damaged or dies, the GFAP polymer breaks down and decomposes, spilling out of the injured glial cells into the surrounding intercellular space and entering the blood through the blood-brain barrier, so that the level of GFAP in the blood is upregulated.
Therefore, GFAP humoral levels are an important means of assessing astrocytosis and activation, indirectly feeding back the extent of nerve damage.
9.1 Cerebral Trauma
Astrocytes often appear hyperplasia in the central nervous system after brain injury, which is the main manifestation of neurological changes caused by degenerative diseases and central nervous system injury. S100β protein and glial fibrillary acidic protein are two major glial cell marker proteins [14]. Compared with NSE and S100 beta protein, GFAP has an earlier peak time, stronger specificity and higher sensitivity in serum of patients with hemorrhagic brain injury [15].
9.2 Cerebral Apoplexy
Early, rapid, and accurate diagnosis of cerebral apoplexy has positive implications for its treatment and prognosis.
GFAP has been extensively studied as a novel marker reflecting brain damage. Plasma GFAP levels are elevated in patients with acute ischemic stroke. The plasma GFAP level was increased in patients with acute ischemic stroke. The measurement of plasma GFAP level could reflect the injury and death of central nerve cells in patients with acute ischemic stroke. GFAP level is related to cerebral infarction area [16].
References
[1] Eng L F, Vanderhaeghen J J, Bignami A, et al. An acidic protein isolated from fibrous astrocytes [J]. Brain research, 1971, 28(2): 351-354.
[2] Eng L F, Ghirnikar R S, Lee Y L. Glial fibrillary acidic protein: GFAP-thirty-one years (1969–2000) [J]. Neurochemical research, 2000, 25(9-10): 1439-1451.
[3] Reeves S A, Helman L J, Allison A, et al. Molecular cloning and primary structure of human glial fibrillary acidic protein [J]. Proceedings of the National Academy of Sciences, 1989, 86(13): 5178-5182.
[4]Yang Z, Wang K K W. Glial fibrillary acidic protein: from intermediate filament assembly and gliosis to neurobiomarker [J]. Trends in neurosciences, 2015, 38(6): 364-374.
[5] Brenner M. Structure and transcriptional regulation of the GFAP gene [J]. Brain pathology, 1994, 4(3): 245-257.
[6]Blechingberg J, Holm I E, Nielsen K B, et al. Identification and characterization of GFAPκ, a novel glial fibrillary acidic protein isoform[J]. Glia, 2007, 55(5): 497-507.
[7]Hol E M, Pekny M. Glial fibrillary acidic protein (GFAP) and the astrocyte intermediate filament system in diseases of the central nervous system [J]. Current Opinion in Cell Biology, 2015, 32: 121-130.
[8] Rutka J T, Murakami M, Dirks P B, et al. Role of glial filaments in cells and tumors of glial origin: a review [J]. Journal of neurosurgery, 1997, 87(3): 420-430.
[9]Kamphuis W, Kooijman L, Orre M, et al. GFAP and vimentin deficiency alters gene expression in astrocytes and microglia in wild‐type mice and changes the transcriptional response of reactive glia in mouse model for Alzheimer's disease [J]. Glia, 2015, 63(6): 1036-1056.
[10]Toda M, Miura M, Asou H, et al. Suppression of glial tumor growth by expression of glial fibrillary acidic protein [J]. Neurochemical research, 1999, 24(2): 339-343.
[11]Johnston-Wilson N L, Sims C D, Hofmann J P, et al. Disease-specific alterations in frontal cortex brain proteins in schizophrenia, bipolar disorder, and major depressive disorder [J]. Molecular psychiatry, 2000, 5(2): 142.
[12]Brenner M, Johnson A B, Boespflug-Tanguy O, et al. Mutations in GFAP, encoding glial fibrillary acidic protein, are associated with Alexander disease [J]. Nature genetics, 2001, 27(1): 117.
[13]Hagemann T L, Powers B, Mazur C, et al. Antisense suppression of glial fibrillary acidic protein as a treatment for Alexander disease [J]. Annals of neurology, 2018, 83(1): 27-39.
[14]Hua Y A N, Zhang H, WU Q, et al. Increased leakage of brain antigens after traumatic brain injury and effect of immune tolerance induced by cells on traumatic brain injury [J]. Chinese medical journal, 2012, 125(9): 1618-1626.
[15]Senn R, Elkind M S V, Montaner J, et al. Potential role of blood biomarkers in the management of nontraumatic intracerebral hemorrhage [J]. Cerebrovascular Diseases, 2014, 38(6): 395-409.
[16]Wunderlich M T, Wallesch C W, Goertler M. Release of glial fibrillary acidic protein is related to the neurovascular status in acute ischemic stroke [J]. European journal of Neurology, 2006, 13(10): 1118-1123.