Cell-based assays are generic tools for measuring numerous biochemical or cellular functions. Bioassays can study various events including cell proliferation, morphology, migration, apoptosis, genetics, and signal transduction. Compared to in vivo studies, in vitro cell-based assays are cheaper and can be performed at high throughput. Cell-based assays are often used in cytotoxicity tests to assess the drug efficacy, to determine the mechanism of action (MOA) of major research, and to identify whether patient-producing antibodies neutralize the drug product. The premise of cell-based assays is to ensure that cells in the culture medium are alive. Cell viability should be evaluated before conducting cell-based assays. The determination of cell viability plays a significant role in all forms of cell culture [1].
In this article, we will introduce cell viability from six aspects, including its definition, detection significance, indicators, detection assays, the comparison between different detection assays, and the difference between viability, vitality, and proliferation.
1. What Is Cell Viability?
Cell viability is a measure of the proportion of viable cells in a whole population. Cell viability is a relative measure expressed as a percentage. It is usually consistent with cell health and the capability of a cell population to survive and function successfully.
2. Why Is the Cell Viability Measured?
Cell viability measurement aims to quantify the overall healthy cells in a sample and evaluate cellular response to various treatments and stimuli.
For instance, cell viability assays help to screen chemicals for their cytotoxicity to various cells and to select an anti-cancer drug and its dose in cancer chemotherapy.
Measure the viability of the cells separated from the tissue to understand whether the isolation process damages the cells.
After resuscitation, cell viability should also be checked to understand the effect of freezing and resuscitation.
Sometimes, cell viability assays are used to optimize the cell culture or environment conditions.
Alternatively, cell variability can be used to correlate cell behavior as well as cell number, thus providing a detailed analysis of cell metabolism.
3. What Are the Indicators of Cell Viability?
Cell viability reflects the overall health of cells in a population. So cell membrane permeability, cellular metabolic activity, ATP production, enzyme activity, and proliferative ability can indicate the viability of cells [2].
4. Cell Viability Detection Assays
Cell viability can be assessed through numerous methods, which range from the most simplest and widely used dye exclusion assays to highly complex analyses of ATP content and enzyme activity. To choose the optimal viability assay, the cell type, the applied culture conditions, and the cost, speed, and complexity of the equipment required should be considered in detail.
4.1 Dye Exclusion Assays
Dye exclusion assays are simple and most commonly used methods for cell viability identification. The principle of dye exclusion assays is that dead cells take up dyes and become stained whereas live cells exclude dyes because they house intact cell membranes. So the number of dead (stained) or viable (colorless) cells can be counted using a hemocytometer. Among various employed dyes, trypan blue is the most widely used one. In trypan blue staining, dead cells are stained blue and living cells are not stained [3] . However, apoptotic cells are also counted as viable cells in dye exclusion assays because their membranes are still intact. So credible cell viability and health studies often measure the level of apoptotic cells as well as the number of viable cells through flow cytometry.
4.2 Cell Proliferation Assays
Healthy cells proliferate actively, while cells that are stunted, senescent, dead, or dying cannot. Therefore, cell proliferation tests are useful tools for assessing cell viability. Cell proliferation assays can be performed by measuring DNA synthesis and immunostaining cell cycle-specific proteins. Many biological companies have developed fluorescence microplate-based cell proliferation assay kits for quantifying cells and assessing cell proliferation. Most commonly used proliferative proteins include proliferating cell nuclear antigen (PCNA) [4], MKI67 [5], Phospho-histone H3 (H3-3A) [6], and MCM2 [7], can be detected using WB, IF, IHC, flow cytometry, and ELISA.
4.3 Colorimetric Assays
Metabolic activity is commonly evaluated by detecting cellular reducing capacity. In living cells, NADPH reduces tetrazolium salts, including MTT, MTS, and XTT into purple formazan derivatives. The MTT colorimetric assay was the first homogeneous cell viability assay developed for a 96-well format suitable for high throughput screening (HTS) [8] [9]. In viable cells, the yellow MTT is reduced to purple formazan. And the amount of formazan produced in the MTT assay is measured by recording absorbance readings at 560 nm via spectrophotometry and is directly proportional to the number of viable cells. The MTS method is similar to the MTT assay in principle, but is higher in sensitivity and simpler in the operation [10].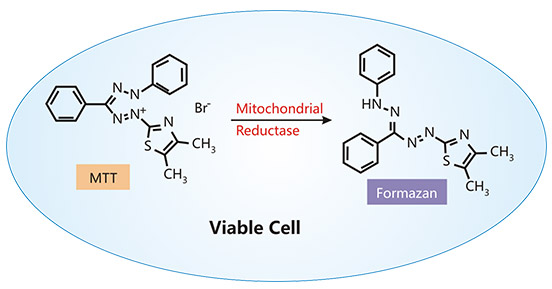 Figure: MTT assay
4.4 Bioluminometric Assays
Bioluminometric assays can rapidly and simply determine cell proliferation and cytotoxicity in mammalian cells. Cell proliferation and cytotoxicity can indirectly reflect cell viability.
● ATP Assay
The ATP-based cell viability assay is a sensitive and reliable method. Only viable cells can synthesize ATP. Endogenous ATP is the most basic source of energy for living cells. When cells die, ATP rapidly hydrolyzes. Therefore, the determination of endogenous ATP content can timely reflect the activity and viability of cells.
The reaction principle of ATP-based cell viability assay is that luciferase catalyzes the oxidation of luciferin to oxyluciferin in the presence of Mg2+ and ATP, resulting in a luminescent signal that proportional to the intracellular ATP concentration [11-13]. The intensity of signal produced therefore indirectly reflects the relative number of viable cells [14].
● Real-time Viability Assay
The real-time viability assay is a newly developed bioluminescent assay that allows for the monitor of cellular growth over the entire time course. Duellman SJ and his colleagues added a small molecule prosubstrate and an engineered luciferase derived from a marine shrimp to the cell culture medium as a reagent. It should be noted that the pro-substrate is not a substrate of luciferase. In living cells, the pro-substrate was reduced into a substrate, which was catalyzed by luciferase to produce a luminescent signal. The luminescent signal can be repeatedly recorded from the sample wells over a long period of time to measure the number of cells in real-time [15].
4.5 Enzymatic Activity
Different from nonviable cells, viable cells are enigmatically active. Esterase activity, as a measure of the substrate, such as the non-fluorescent cell-permeable dye carboxyfluorescein diacetate (CFDA), is usually used as an indicator of overall enzyme activity. Upon diffusion into living cells, intracellular esterases hydrolyze CFDA into the carboxyfluorescein, a negatively charged fluorescent molecule. The carboxyfluorescein is non-covalently retained in living cells and produces green fluorescence. The luminous intensity is positively correlative to the number of viable cells.
5. The Comparison between Different Detection Assays
The cell viability assays mentioned above have their own advantages and disadvantages. The table below lists them separately.
| Cell Viability Assays | Advantages | Disadvantages |
| --- | --- | --- |
| Dye Exclusion Assays | Simple and rapid; low cost ; requires small numbers of cells; can detect cell killed in non-dividing cell populations. | Some dyes are toxic side effect on mammalian cells; difficult to process large number of samples concurrently; the final results are not very accurate (including the number of apoptotic cells). |
| Cell Proliferation Assays | Accurate and reliable. | Time-consuming. |
| Colorimetric Assays | Easy to use, safe, rapid, reliable, sensitive, economic, highly reproducible. | Many factors, including enzymatic regulation, pH, cellular ion concentration, incubation time, cell type and number may affect the end results. |
| Bioluminometric Assays | Speed, sensitive, and simple. | The sensitivity of ATP assay is usually limited by reproducibility of pipetting replicate samples; the depletion of pro- substrate by eventual metabolically active cells limits the results of the real-time assay. |
| Enzymatic Activity | CFDA is nontoxic to cells. | Fluorescent interference from test compounds may affect the final results. |
6. Cell Viability, Cell Vitality, and Cell Proliferation
Viability, vitality, and proliferation are three distinct physiological states of a cell. They all reflect a cell is alive. Differently, viability is the quantification of the number of living cells in a population whereas proliferation is a measure of cell number over a period of time [16]. Assays for cell viability such as dye exclusion methods just distinguish live cells from dead cells. The measurement of cell proliferation can monitor the number of cells over a period of time, the number of cell divisions, metabolic activity, or DNA synthesis. However, not all viable cells divide. Although proliferation can be easily interpreted as viability, non-proliferation should not automatically be considered a sign of cell death.
In addition to cell death, toxic effects of chemical or physical factors may cause apoptosis or necrosis (cellular metabolic and physiological consequences that prevent the cell from dividing), but the cell itself may still be alive [17]. This phenomenon is called "cell vitality," that is, the physiological capabilities of cells.
At present, a wide range of cell viability assays has been applied in the fields of toxicology and pharmacology. An ideal in vitro viability determination method should be fast, safe, reliable, efficient, time- and cost-effective, and no interfering with the test compound. The mode of action of the test compound, tissue, or cell type used in the study can also affect the performance of the cell viability assays. Therefore, it is better to try and compare different methods before choosing a test method. If possible, multiple detection methods should be used in in vitro studies to determine cell viability, thus obtaining reliable and accurate results.
References
[1] Martin J Stoddart. Cell viability assays: introduction [J]. Methods Mol Biol. 2011;740:1-6.
[2] Ishiyama M, Tominaga H, et al. Combined assay of cell viability and in vitro cytotoxicity with a highly water-soluble tetrazolium salt, neutral red and crystal violet [J]. Biological & Pharmaceutical Bulletin. 1996;19(11):1518-1520.
[3] Strober W. Trypan blue exclusion test of cell viability [J]. Current Protocols in Immunology. 2001;21(3B):A.3B.1-A.3B.2.
[4] Wojciech Strzalka and Alicja Ziemienowicz. Proliferating cell nuclear antigen (PCNA): a key factor in DNA replication and cell cycle regulation [J]. Ann Bot. 2011 May; 107(7): 1127–1140.
[5] Scholzen T, Gerdes J. The Ki-67 protein: from the known and the unknown [J]. J Cell Physiol. 2000;182:311-22.
[6] Hu C, Wang W, et al. Vertebrate diapause preserves organisms long term through Polycomb complex members [J]. Science. 2020;367:870- 874.
[7] Coolen M, Labusch M, et al. Mosaic Heterochrony in Neural Progenitors Sustains Accelerated Brain Growth and Neurogenesis in the Juvenile Killifish N. furzeri [J]. Curr Biol. 2020;30:736-745.e4.
[8] Mosmann T. Rapid colorimetric assay for cellular growth and survival: Application to proliferation and cytotoxicity assays [J]. J. Immunol. Meth. 1983;65:55–63.
[9] László Kupcsik. Estimation of cell number based on metabolic activity: the MTT reduction assay [J]. Methods Mol Biol. 2011;740:13-9.
[10] Berridge M, Herst P, et al. Tetrazolium dyes as tools in cell biology: new insights into their cellular reduction [J]. Biotechnol Annu Rev. 2005;11:127-52.
[11] Mueller H, Kassack MU, et al. Comparison of the usefulness of the MTT, ATP and calcein assays to predict the potency of cytotoxic agents in various human cancer cell lines [J]. Journal of Biomolecular Screening. 2004;9:506-515.
[12] Lundin A, Hasenson M, et al. Estimation of biomass in growing cell lines by adenosine triphosphate assay [J]. Methods Enzymol. 1986;133:27-42.
[13] Crouch S, Kozlowski R, et al. The use of ATP bioluminescence as a measure of cell proliferation and cytotoxicity [J]. J Immunol Methods. 1993;160:81-8.
[14] Andreotti PE, Cree IA, et al. Chemosensitivity testing of human tumors using a microplate adenosine triphosphate luminescence assay: Clinical correlation for cisplatin resistance of ovarian cancer [J]. Cancer Research. 1995;55:5276-5282.
[15] Duellman SJ, Zhou W, et al. Bioluminescent, nonlytic, real-time cell viability assay and use in inhibitor screening [J]. Assay and Drug Development Technologies. 2015;13(8):456-465.
[16] N.Yang, S.D.Ray, et al. Cell Proliferation [J]. Encyclopedia of Toxicology (Third Edition) 2014, Pages 761-765.
[17] Magdalena Kwolek-Mirek and Renata Zadrag-Tecza. Comparison of methods used for assessing the viability and vitality of yeast cells [J]. FEMS Yeast Research, Volume 14, Issue 7, November 2014, Pages 1068–1079.