Last month saw the newest FDA-approved orphan drug APX005M, an anti-CD40 agonist antibody. The company Apexigen announced that FDA has granted orphan drug designation status to APX005M for the treatment esophageal and gastroesophageal junction cancer, as well as pancreatic cancer. Apexigen Inc., delving into a new generation of antibody drugs for tumors, it has been said that the company will bring $158 million total equity financing for the clinical trials. Initially, the importance of CD40 was not appreciated after it had been first identified. Now, many investigators are working on the CD40 targeting and focusing on new drug designs. But what's CD40? How's the role of CD40 in anti-tumor therapies?
1. The Structure and Expression of CD40 and Its Ligand
CD40 (also known TNFRSF5, tumor necrosis factor receptor superfamily member 5), a 45-50 kDa type I glycoprotein, is a member of tumor necrosis factor receptor (TNFR) superfamily protein [1]. CD40 is widely expressed by antigen presenting cells (APCs) or all stages of B cells [2]. The human CD40 gene is located on chromosome 20q11-13 and encodes a polypeptide chain of 277 amino acids [3]. To better present CD40 structure, CD40 protein is depicted in Fig.1, which is a type I transmembrane receptor. The extracellular region of CD40 is cysteine-rich with 20 residues, marked by the horizontal lines. Initially, four cysteine-rich domains were firstly discovered [4]. Subsequently, researchers have suggested that each domain can be divided into two cysteine modules, called A1, A2 and B1, B2 (Fig.1).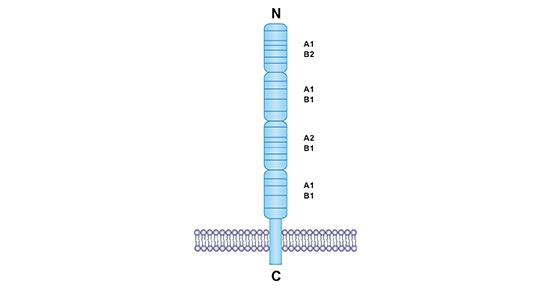 Figure 1. Structure of CD40 protein
*This figure is derived from the publication on Journal of Leukocyte Biology [5]
CD154 (known as CD40L) is the ligand of CD40, a type II transmembrane protein, with a variable molecular weight between 32-39 kDa [6, 7]. CD40L is mainly expressed on activated CD4+ T cells and is a member of TNF superfamily [8]. The human CD40L gene is located on the X chromosome, Xq26.3‑Xq27.1 [9]. The structure of the TNF-like region of human CD40L has been resolved by X-ray crystallography. CD40L boasts an intracellular amino terminus and an external carboxy terminus. The three-dimensional organization was shown in Fig.2 [5].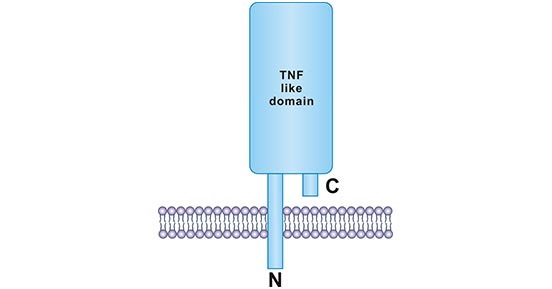 Figure 2. Structure of CD40L protein
*This figure is derived from the publication on Journal of Leukocyte Biology [5]
Notably, CD40/CD40L interaction plays an important role in immune regulation. CD40/CD40L belongs to receptor-ligand families: TNFR and TNF family [1, 10]. Families are characterized by structural homologies, clustered chromosome location, and shared signal transduction pathways. In addition, families usually overlap biological events like cell growth, differentiation and death [5].
2. CD40/CD40L Interaction on APCs
CD40/CD40L interaction is considered as one of the most effective APC activation signals [11]. Generally, CD40/CD40L mediates a variety of immune processes, such as cytokines secretion; the survival, proliferation, differentiation and adhesion of B cells; the development of memory B cell generation and germinal centres [12].
To be more specified, firstly, activation of CD40 on APCs strongly promotes CD80/CD86 expression and induces IL-12 production, thereby enhancing T cell co-stimulation or skewing of T-helper (Th) in the Th1 direction (Fig.3A). Besides, CD40/CD40L interactions have a direct CD40L-mediated effect on T cell activation and T cell cytokine production via a series of signaling mechanisms (Fig.3B). Moreover, it has been demonstrated that activation of CD40 on APC/dendritic cells (DCs) enables the process of cytotoxic T cells (CTLs) priming (Fig.3C). CD40 activation on APCs has additional effects, such as production of inflammatory mediators and some newly identified gene products with unknown function yet (Fig.3D) [5, 13]. These specific factors play a huge part on APCs.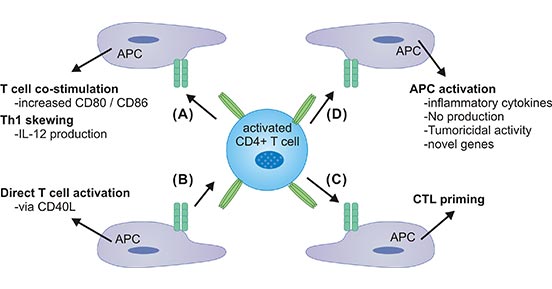 Figure 3. CD40 and CD40L interaction on APCs
*This figure is derived from the publication on Journal of Leukocyte Biology [5]
3. CD40/CD40L Pathway in Tumors
Previous studies confirmed that CD40/CD40L triggers activation on B cells but induced apoptosis of tumor cells. Like some other members of the TNFR family, CD40 signaling is usually mediated via a complicated series of downstream adapter molecules rather than by inherent kinase or other signal transduction activity of the CD40 cytoplasmic tail [14, 15].
As presented in Fig.4, CD40 and CD40L interactions cause redistribution of CD40 to plasma membranes. A conformational change first recruits TNF receptor (TNFR)-associated factors (TRAF) to at least two distinct binding sites on the CD40 cytoplasmic tail. TRAFs then recruit TRAF-interacting kinases, and finally together affects a series of well-characterized signal transduction pathways, including the nuclear factor-κB (NF-κB), p38/mitogen-activated protein kinase (MAPK), and c-Jun-NH2-kinase (JNK) pathways (Fig.4) [14].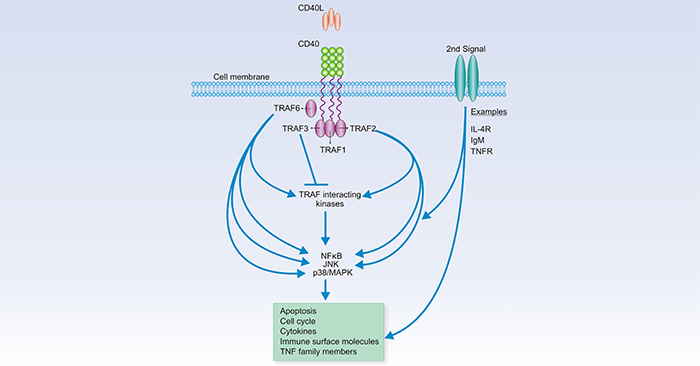 Figure 4. The CD40 signaling system
*This figure is derived from the publication on Clinical Cancer Research [14]
Existing studies on CD40/CD40L interactions have suggested that CD40/CD40L has effects on key molecules in diverse tumor-immune systems. For example, CD40L in certain B-cell malignancies causes an increase in the expression of anti-apoptotic factors such as Bcl-XL, TNF-α-induced protein 3(TNFAIP3), B-cell lymphoma 2 related protein A1a, and c-FLIP. These factors protect the cells from apoptosis induced by apoptotic agents, such as serum withdrawal, IgM and anti-Fas, TNF-related apoptosis-induced ligand [15, 16]. In addition, low-level of CD40/CD40L could facilitate malignant cell growth, proliferation, whereas protect these cells from apoptosis [15].
4. CD40 As a Therapeutic Target in Cancer
To activate the CD40/CD40L pathway in the clinical therapeutic, agonistic CD40 antibodies as the major approach have been widely investigated, which enhance the activity of the CD40/CD40L axis to promote CD40 anti-tumor effects. Commonly, antibody drugs have been developed to either activate (agonists) or suppress (antagonists) the CD40 immune pathway. Intriguingly, researchers recently revealed that an antagonist CD40 antibody can be transformed into an agonist by simply modifying the "constant" domain of the antibody, which gives novel insights into clinical research of CD40 targeting [17]. Apparently, more and more researchers turned attention to the investigation of CD40 anti-tumor therapy. But reported drugs like Ravagalimab and Bleselumab have just received FDA approval for clinical use. Globally, there is a huge gap in the market of anti-CD40 monoclonal antibodies (mAbs) that desperately needed to be filled. Here, summary of clinical drugs of anti-CD40 mAbs was shown in the table.
Name
Research Phase
Company
Indications
Last Updated Date
Ravagalimab
Phase II
AbbVie;
Ulcerative colitis;
2020-08-28
Bleselumab
Phase II
Astellas Pharma Global Development Inc;
Organ transplant rejection;
2020-08-28
CDX-1140
Phase II
Celldex;
Melanoma;
2020-08-28
Anti-CD40 ChiLob7/4
Phase II
Biontech;
Head and neck cancer;
pancreatic cancer;
2020-08-28
FFP-102
Phase II
FF Pharma;
PanGenetics;
Crohn's disease;


psoriatic arthritis;
2020-08-28
Iscalimab
Phase II
Novartis;
Sjtoegren's syndrome;
2020-08-28
APX-005M
Phase II
Apexigen Inc;
Epitomics;
Non-small cell lung cancer;
2020-08-28
BI-655064
Phase II
Abbvie Inc;
Lupus nephritis;
Rheumatoid arthritis;
2020-08-28
CD40L-GVAX
Phase II

University Of South Florida;
Lung cancer;
Melanoma;
Myelodysplastic syndromes;
2020-09-23
FFP-104
Phase II
FF Pharma;
Biliary cirrhosis;
Crohn's disease;
2020-08-28
SEA-CD40
Phase I
Seattle Genetics Inc;
B-cell lymphoma;
Hematologic tumors;
2020-08-28
SHR-1704
Phase I
Jiangsu Hengrui Medicine Co.,Ltd.;
Blood disorders;
2020-08-28
Mitazalimab (mizolizumab)
Phase I
Janssen Research & Development LLC;
Solid tumors;
2020-08-28
MEDI-5083
Phase I
Medimmune LLC;
Tumors;
2020-08-28
Autologous IL2 and CD40 ligand-expressing tumor cells
Phase I
Baylor College of Medicine;
Chronic lymphocytic leukemia;
2020-08-28
Selicrelumab
Phase I
F. Hoffmann-La Roche AG;
Non-hodgkin's lymphoma;
Pancreatic cancer;
Neoplasia;
2020-08-28
NJA-730
Phase I
Napajen Pharma;
Graft-versus-host disease;
2020-08-28
*This data derives from pharmacodia
5. Recent advance in CD40 anti-tumor therapies
2020 Nicholas F. Kuhn, et al. use a syngeneic immunocompetent mouse model to examine the interaction between CD40L+ CAR T cells and host APCs in the tumor setting. Tumor-targeted CAR T cells to constitutively express CD40L were applied. It suggests that through direct CD40/CD40L-mediated cytotoxicity and indirect induction of an immune response by enhancing recruitment and activation of immune effectors, the CD40L+ CAR T cells overcome tumor immune escape via antigen loss [18].
2020 Farsaneh Sadeghlar et al. examine in vitro activation of the immune checkpoint CD40/CD40L. Induction of cytotoxic effector cells works on cholangiocellular, pancreatic, and colorectal tumor cells by activation of the immune checkpoint CD40/CD40L on dendritic cells. The findings suggested that in vitro activation of the immune checkpoint CD40/CD40L can improve DC action towards bile duct, pancreas, and colorectal carcinoma [19].
References
[1] Grinyo, B.J.M.I., et al., Strategies for prevention and/or treatment of diseases based on CD40 silencing. Free Patents Online, 2014.
[2] Vyth-Dreese, F.A., et al., Localization in situ of the co-stimulatory molecules B7.1, B7.2, CD40 and their ligands in normal human lymphoid tissue. European Journal of Immunology, 1995. 25(11): p. 3023-3029.
[3] Banchereau, J., et al., The CD40 antigen and its ligand. Annual Review of Immunology, 1994. 12(1): p. 881-922.
[4] Cai, J., et al., Identification and characterization of CD40 from humphead snapper (Lutjanus sanguineus). Fish Shellfish Immunol, 2017. 70: p. 665-672.
[5] Van, K.C. and J. Banchereau, CD40-CD40 ligand. Journal of Leukocyte Biology, 2000. 67(1): p. 2.
[6] ZIRLIK, A., D. WOLF, and K. PETER, Selective targeting of the CD40L/Mac-1 interaction by small peptide inhibitors and its use for the treatment of inflammation and atherogenesis, 2017.
[7] Tikam, C.D., et al., Mechanistic basis of co-stimulatory CD40-CD40L ligation mediated regulation of immune responses in cancer and autoimmune disorders. Immunobiology, 2020. p. 151899.
[8] Rangel-Santos, A., et al., Molecular characterization of patients with X‐linked hyper‐IgM syndrome: description of two novel CD40L mutations. Scandinavian Journal of Immunology, 2010. 69(2): p. 169-173.
[9] Graf, D., et al., Cloning of TRAP, a ligand for CD40 on human T cells. European Journal of Immunology, 1992.
[10] Brams P, Black A, Padlan E A, et al., A humanized anti-human CD154 monoclonal antibody blocks CD154-CD40 mediated human B cell activation. International Immunopharmacology, 2001, 1(2): p. 277-294.
[11] Shen, L., K.L. Rock, and M.G. Hernandez, CD40-CD40 ligand interaction between dendritic cells and CD8+ T cells is needed to stimulate maximal T cell responses in the absence of CD4+ T cell help. The Journal of Immunology, 2007, 178(5): p. 2844-2852.
[12] Kawabe, T., et al., CD40/CD40 ligand interactions in immune responses and pulmonary immunity. Nagoya Journal of Medical Science, 2011. 73(3-4): p. 69-78.
[13] Clatza, A., et al., CD40-Induced aggregation of MHC class II and CD80 on the cell surface leads to an early enhancement in antigen presentation. Journal of Immunology, 2003. 171(12): p. 6478-87.
[14] Vonderheide and R. H., Prospect of targeting the CD40 pathway for cancer therapy. Clinical Cancer Research, 2007. 13(4): p. 1083-1088.
[15] Elgueta, R., et al., Molecular mechanism and function of CD40/CD40L engagement in the immune system. Immunological Reviews. 2009.
[16] Kitada, S., et al., Bryostatin and CD40-ligand enhance apoptosis resistance and induce expression of cell survival genes in B-cell chronic lymphocytic leukaemia. Br J Haematol, 2015. 106.
[17] Yu, X., et al., Isotype switching converts anti-CD40 antagonism to agonism to elicit potent antitumor activity. Elsevier Sponsored Documents, 2020, 37(6).
[18] Kuhn, N.F., et al., CD40 ligand-modified chimeric antigen receptor T cells enhance antitumor function by eliciting an endogenous antitumor response. Cancer cell, 2019. 35(3): p. 473-488.e6.
[19] Sadeghlar F, Vogt A, Mohr R U, et al., Induction of cytotoxic effector cells towards cholangiocellular, pancreatic, and colorectal tumor cells by activation of the immune checkpoint CD40/CD40L on dendritic cells. Cancer Immunology, Immunotherapy, 2020. p. 1-14.