On March 17, 2021, a research paper entitled "Targeting transcription of MCL-1 sensitizes HER2-amplified breast cancers to HER2 inhibitors" [1] has attracted attention. Researchers found that the combination of MCL-1 inhibitor and HER2 inhibitor can effectively reverse the drug tolerance of HER2-amplified breast cancer cells, which provides new insights into the drug-resistant tumors. HER2, as an attractive marker for targeted therapy, its roles has received increasing attention in recent years. So, what is HER2 main function? What is the prospect of targeting HER2 in cancer treatment? Let's learn more about it.
1. Structure of HER2 and Its Functions
Human epidermal growth factor receptor 2 (HER2, also known as ERBB2) is a member of the epidermal growth factor receptor family (EGFR) [2]. The HER2 gene is localized on chromosome 17q21. HER2 encodes a transmembrane glycoprotein with tyrosine kinase activity, which has a molecular weight of approximately 185 kDa, also known as p185 [3, 4]. As shown in Figure 1, the HER2 protein structure consists of three parts, the extracellular binding domain (ECD), a transmembrane domain (TM), and an intrcellular domain (ICD). The extracellular domain can be divided into four subdomains (I-IV): subdomains I and III are binding sites for ligands; subdomains II and IV are rich in cysteines and can form homo- or heterodimers. The transmembrane domain is the α-helical structure. The intracellular domain contains active site of tyrosine kinase [5, 6].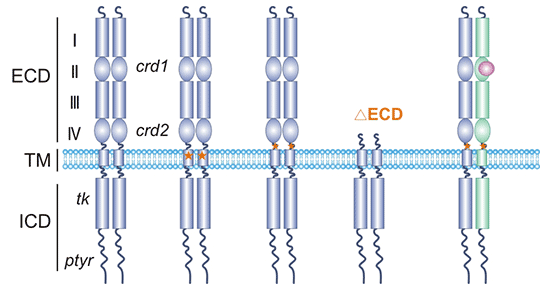 Figure 1. HER2 structure
*The figure is derived from Nature Structural & Molecular Biology publication [5]
HER2 plays a crucial role in tissue development and is essential for normal embryonic development [7]. However, HER2 is usually under- or non-expressed in normal adult body tissues. Over-expressed HER2 often causes biological dysfunction [8]. Many studies have shown that HER2 expression is closely related to the occurrence of many tumors [9].
2. HER2-Mediated Signal Transduction Pathway
Notably, no ligands have yet been identified. HER2 can heterodimerise with any of the other three receptors and is also considered to be the preferred dimerisation partner of the other ERBB receptors. HER2 dimerization results in a conformational change that activates intracellular tyrosine kinase activity, thereby initiating a variety of signaling pathways mainly including RAS-RAF-MEK-ERK for cell proliferation [10] and PI3K-AKT-mTOR pathway for cell survival [11].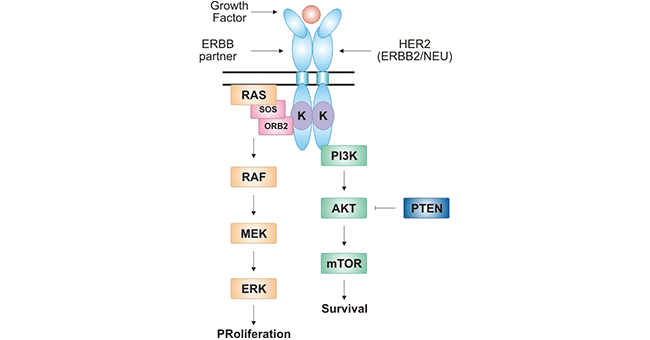 Figure 2. HER2-mediated signal transduction pathway
* The figure is derived from China National GeneBank (CNGB) [12].
As presented in Figure 2, ligand-independent HER2 forms a heterodimer with HER3 or HER4. The intracellular tyrosine kinase activity is activated. In the cell membrane, the binding of guanylate exchange factor (SOS) to the receptor converts the RAS-GDP to RAS-GTP. Subsequently, serine-threonine kinase (RAF) and MEK with dual kinase activity are activated. Finally, mitogen-activated protein kinase (ERK) cascade is activated. As the activation of ERK, signals are relayed to the nucleus, which further activates the transcription of multiple transcription factors (e.g. c-myc, c-fos, and c-jun), causing cell proliferation [13]. On the other hand, activation of HER2 activates inositol triphosphate (PI3K), which induces AKT activation and further activates mTOR. PI3K-AKT-mTOR signaling pathway is closely related to cell growth, proliferation, and apoptosis [14]. More importantly, many studies have shown that the two signaling pathways mediated by HER2 are associated with various tumors [15].
3. The Role of HER2 in Tumors
As mentioned earlier, HER2 forms heterodimers with other HER family genes to activate downstream signaling pathways, leading to tumor cell invasion and metastasis [13-15]. HER2 has been found to be associated with different tumors, including breast cancer, gastric cancer, colon cancer, bladder cancer, ovarian cancer, endometrial cancer, and lung cancer [16,17]. Particularly, most of the studies on HER2 have been carried out in breast cancer and gastric cancer.
HER2, as a proto-oncogene, induces overexpression of HER2 protein on cell membranes by high level of HER2 amplification. It has been widely reported that HER2 gene is over-expressed in about 20-30% of breast cancer patients. Overexpression of HER2 often contributed to a high risk of recurrence and metastasis [18]. Further evidence suggests that the response to chemotherapy in patients was not satisfactory [19].
In addition, studies also suggested that HER2 mutations play an important role in anti-HER2 therapy resistance. HER2 mutations occur in the tyrosine kinase domain or extracellular domain , which may be an key factor in breast cancer occurrence [20]. In recent years, HER2-targeted breast cancer therapy has been a topic of broad interest.
In gastric cancer, HER2 is up-regulated in more than 20% of patients. Some data suggested that HER2-targeted therapy significantly prolongs the survival of patients with HER2-positive advanced gastric cancer [21], whereas some studies suggest that HER2 is not associated with the prognosis of gastric cancer [22]. Although HER2 monoclonal antibodies have become a hot spot for targeted therapy, the relationship between HER2 and prognosis is still controversial. The in-depth study of the relationship between HER2 and prognosis is expected to provide new treatment approaches to patients with gastric cancer.
4. HER2-Targeted Therapy and Clinical Prospect
HER2-targeted drugs-Trastuzumab is the first targeted therapy drug for solid tumor treatment, which opened the door to more precise targeted therapies. The FDA-approved HER2 inhibitors that have been marketed so far are: 1) Trastuzumab and patuximab: the combination of the two drugs can effectively inhibit HER2 pathway; 2) Antibody-drug conjugates (ADC): T-DM1 (trastuzumab emtansine) is a novel ADC, which is formed by linking trastuzumab and cytotoxic drug DM1. T-DM1 exerts anti-tumor effects more strongly than trastuzumab. 3) Lapatinib: a dual HER1/HER2 tyrosine kinase inhibitor, blocking HER2 downstream signaling pathway; 4) Pyrrolidine: is an oral, irreversible pan-ERBB tyrosine kinase inhibitor (TKI) that potently inhibits EGFR/HER1, HER2 and HER4, which is an innovative drug developed by China.
HER2 is highly expressed in a variety of tumors, particularly in a significant proportion of breast cancer. Currently, HER2-targeted therapy have achieved significant clinical efficacy in the treatment of breast cancer. Moreover, in patients treated with trastuzumab, T-DM1, and patuximab, there was a significant improvement in prognosis [23]. In addition, studies for gastric and colorectal cancers are also underway. Among them, trastuzumab combined with chemotherapy has shown outstanding efficacy in the second-line treatment of advanced gastric cancer [24]. The combination of trastuzumab and lapatinib was effective and well tolerated in the treatment of HER2-positive metastatic colorectal cancer [25]. To further optimize treatment strategies, scientists are exploring studies related to drug mechanisms and drug resistance. HER2-targeted therapy is offering new hope for cancer patients.
With the emergence of new anti-HER2 agents, HER2-targeted therapies have extremely improved treatment outcomes in tumors. The past two decades have seen many encouraging advances in anti-HER2 therapy. It offers cancer patients more options, dual target combinations that improve clinical efficacy, the use of antibody-drug conjugates that exerts stronger cytotoxic effect, and new multi-targeted agents that further reduce the risk of recurrence. Today, targeted therapies play an increasingly important role. With few side effects and significant efficacy, targeted therapy have created a huge market opportunity while improving the quality of patient survival. Accounting for nearly 2.26 million new cases of breast cancer have been diagnosed in 2020, surpassing lung cancer (2.2 million) for the first time. The demand for anti-HER2 agents is also increasing with the rising number of patients with breast cancer and gastric cancer. HER2 targeted drugs design, as one of the most trending research topics, there is bound to be in high demand for anti-HER2 antibodies in the market.
References
[1] Yang, Xiang, et al. "Rewiring ERBB3 and ERK signaling confers resistance to FGFR1 inhibition in gastrointestinal cancer harbored an ERBB3-E928G mutation." Protein & cell 11.12 (2020): 915-920.
[2] Wang, Shizhen Emily, et al. "HER2 kinase domain mutation results in constitutive phosphorylation and activation of HER2 and EGFR and resistance to EGFR tyrosine kinase inhibitors." Cancer cell 10.1 (2006): 25-38.
[3] Yarden, Yosef. "Biology of HER2 and its importance in breast cancer." Oncology 61.Suppl. 2 (2001): 1-13.
[4] Read, Linnea D., et al. "Hormonal modulation of HER-2/neu protooncogene messenger ribonucleic acid and p185 protein expression in human breast cancer cell lines." Cancer research 50.13 (1990): 3947-3951.
[5] Sliwkowski, Mark X. "Ready to partner." Nature Structural & Molecular Biology 10.3 (2003): 158-159.
[6] Niazi, Sarfaraj, et al. "Revealing the molecular interactions of aptamers that specifically bind to the extracellular domain of HER2 cancer biomarker protein: An in silico assessment." Journal of Molecular Graphics and Modelling 83 (2018): 112-121.
[7] Cho, Hyun-Soo, et al. "Structure of the extracellular region of HER2 alone and in complex with the Herceptin Fab." Nature 421.6924 (2003): 756-760.
[8] Scholl, S., P. Beuzeboc, and P. Pouillart. "Targeting HER2 in other tumor types." Annals of oncology 12 (2001): S81-S87.
[9] Menard, S., et al. "Role of HER2/neu in tumor progression and therapy." Cell Mol Life Sci 61.23 (2004): 2965-78.
[10] Yarden, Yosef. "Biology of HER2 and its importance in breast cancer." Oncology 61.Suppl. 2 (2001): 1-13.
[11] Britten, Carolyn D. "PI3K and MEK inhibitor combinations: examining the evidence in selected tumor types." Cancer chemotherapy and pharmacology 71.6 (2013): 1395-1409.
[12] China National GeneBank (CNGB), Jinsha Road, Dapeng District, Shenzhen. https://db.cngb.org/dissect/repository/gene/detail/MET/
[13] Hilger, R. A., M. E. Scheulen, and D. Strumberg. "The Ras-Raf-MEK-ERK pathway in the treatment of cancer." Oncology Research and Treatment 25.6 (2002): 511-518.
[14] Gil, Eva Maria Ciruelos. "Targeting the PI3K/AKT/mTOR pathway in estrogen receptor-positive breast cancer." Cancer treatment reviews 40.7 (2014): 862-871.
[15] McCubrey, James A., et al. "Ras/Raf/MEK/ERK and PI3K/PTEN/Akt/mTOR cascade inhibitors: how mutations can result in therapy resistance and how to overcome resistance." Oncotarget 3.10 (2012): 1068.
[16] Park, John W., et al. "Anti-HER2 immunoliposomes for targeted therapy of human tumors." Cancer letters 118.2 (1997): 153-160.
[17] Menard, Sylvie, et al. "Biologic and therapeutic role of HER2 in cancer." Oncogene 22.42 (2003): 6570-6578.
[18] Oh, Do-Youn, and Yung-Jue Bang. "HER2-targeted therapies-a role beyond breast cancer." Nature Reviews Clinical Oncology 17.1 (2020): 33-48.
[19] Yarden, Yosef. "Biology of HER2 and its importance in breast cancer." Oncology 61.Suppl. 2 (2001): 1-13.
[20] Bose, Ron, et al. "Activating HER2 mutations in HER2 gene amplification negative breast cancer." Cancer discovery 3.2 (2013): 224-237.
[21] Boku, Narikazu. "HER2-positive gastric cancer. "Gastric Cancer 17.1 (2014): 1-12.
[22] Kunz, Pamela L., et al. "HER2 expression in gastric and gastroesophageal junction adenocarcinoma in a US population: clinicopathologic analysis with proposed approach to HER2 assessment." Applied immunohistochemistry & molecular morphology: AIMM 20.1 (2012): 13.
[23] Goutsouliak, Kristina, et al. "Towards personalized treatment for early stage HER2-positive breast cancer." Nature Reviews Clinical Oncology 17.4 (2020): 233-250.
[24] Mitani, Seiichiro, and Hisato Kawakami. "Emerging targeted therapies for HER2 positive gastric cancer that can overcome trastuzumab resistance." Cancers 12.2 (2020): 400.
[25] Tosi, Federica, et al. "Long-term Clinical Outcome of Trastuzumab and Lapatinib for HER2-positive Metastatic Colorectal Cancer." Clinical Colorectal Cancer 19.4 (2020): 256-262.