With the increase in the number of diagnosed diabetes, the diabetes drugs market is estimated to grow year by year. The new drugs design over diabetes treatment has soaked up more ink and excited more passion in recent years. GCGR, as a key molecule for regulating blood glucose levels and glucose homeostasis has triggered attention among researchers. Certain GCGR targeted drugs have been marketed from pharmaceutical companies such as Novo Nordisk and Eli Lilly. In addition, GCGR combined with multi-target receptor agonists has also become a focus in the field of diabetes treatment. At present, more domestic and foreign companies are entering the market, which will further occupy market shares of multinational giants like Novo Nordisk and Eli Lilly. It is believed that the trend will set to shake up GCGR marketing in the near future. Today, let's learn more about GCGR.
1. What is the Structure and Expression of GCGR?
Glucagon receptors (glucagon receptors, GCGRs) belong to the family of class B G-protein-coupled receptors (GPCRs) that play a key role in the maintenance of glucose homeostasis in humans [1]. Other related G-protein-coupled receptors include glucagon-like peptide-1 receptor (GLP-I), glucagon-like peptide-2 receptor (GLP-2), and gastric inhibitory peptide receptor [2]. The human GCGR gene is localized on chromosome 17q81 and has a molecular weight of 62 kDa [3]. Although in 2013, the transmembrane domain (TMD) of GCGR was resolved. However, due to the flexibility and diversity of the full-length class B GPCR conformation, its structural resolution is extremely difficult. The current technical tools have revealed that the class B G protein receptor is characterized by a large molecular weight and tertiary structure of the N-terminal Extracellular domain (ECD) connected to the TMD. Based on free electron laser analysis, the full-length GCGR protein was found to possess 477 amino acids, the N-terminal extracellular region, seven transmembrane helices and the eighth helix structure (Figure 1) [4].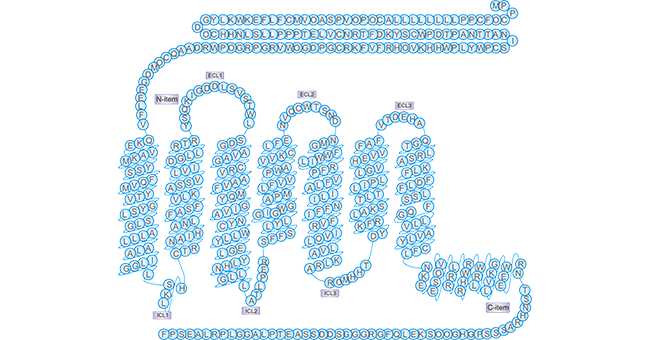 Figure 1. Schematic diagram of GCGR protein
*The figure was derived from the MAbs publication [4]
2. What is the Ligand of GCGR?
The natural ligand of GCGR is Glucagon. Glucagon is secreted by pancreatic alpha cells (α-cells) and is a straight-chain peptide containing 29 amino acids [7]. In contrast to the action of insulin, glucagon is a catabolic hormone that promotes gluconeogenesis and catabolism, inhibits hepatic glycogen synthesis, and acts to increase blood glucose, with the main target organs being the liver and kidney. The physiological effects of glucagon are mediated through the GCGR. Glucagon binds to the receptor to activate the Gs protein, which activates adenylate cyclase [7]. The receptor GCGR binds to the natural ligand glucagon to regulate glucose homeostasis in vivo and is an important drug target for type 2 diabetes [8]. It has been suggested that both the extracellular region (ECD) and the transmembrane region (TMD) of the class B GPCR are involved in the binding of peptide ligands [9]. Although the structure of the transmembrane region of GCGR was resolved, the resolution of the full-length protein structure is challenging. Therefore, the resolution of the full-length protein structure of the GCGR receptor is essential for the study of the interaction pattern and activation mechanism of GCGR and the ligand.
3. GCGR Signaling Mechanisms
In vivo, GCGR binds to its ligands and exercises its function mainly through activation of Gs proteins. However, an increasing number of studies have shown that GCGR can also interact with other types of G proteins, such as Gi and Gq, to exert different biological effects. It implied the complexity and diversity of the GCGR signaling process [10]. It has been shown that GCGR, when not activated, has an ECD-TMD interaction that inhibits receptor activity, whereas once GCGR binding to the ligand that release the intrinsic activating properties of the ECD, shifting GCGR from an inhibited to an activated state.
GCGR activation by ligands regulates hepatic glucose synthesis and catabolism in vivo, thereby maintaining blood glucose concentrations in vivo. As denoted in Figure 2, activated GCGR induces adenylate cyclase activation by binding to the heterotrimeric Gs, which generates cAMP and activates protein kinase A, resulting in increased hepatic glycogenolysis and gluconeogenesis, leading to increased blood glucose in vivo. GCGR/Glucagon also activates another signaling pathway, which is the increase in the second messenger IP3 and Ca2+ by coupling Gq [11]. To better know the receptor signaling mechanisms, it is important for further exploration of structural information on GCGR binding and activation with G proteins.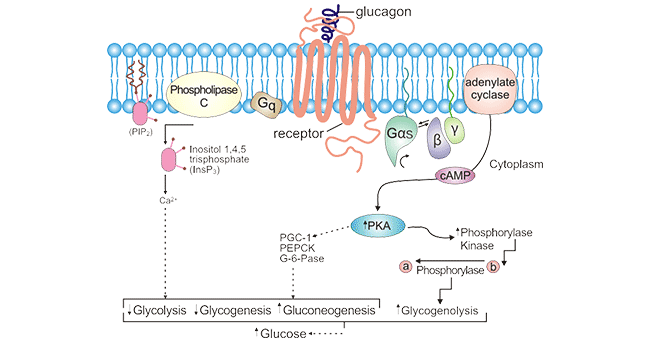 Figure 2. GCGR-mediated signal transduction pathways
*The figure was derived from the Cancer Epidemiology and Prevention Biomarkers publication [11]
4. The Role of GCGR in Diabetes
We know that pancreatic α-cells (mainly secrete glucagon) and pancreatic β-cells (mainly secrete insulin) are the two main types of islet cells. Both play an important role in the development of diabetes. The imbalance in function between α-cells and β-cells is a major pathological cause of diabetes. Therefore, diabetes is considered to be a class of diseases with dual hormonal imbalance.
Although the advent of insulin started a new journey in the pharmacological treatment of diabetic patients, many clinical data indicate that insulin is not adequate for glycemic control in diabetic patients, especially in type 1 diabetic patients. Therefore, more research is needed to better control blood glucose in diabetic patients. Much of the early research focused on pancreatic β-cells, with relatively little attention paid to α-cells. Researches found that in type 1 diabetic mice, the number of islet β cells also increased significantly after blocking the glucagon signaling pathway. Thus, the converting of islet α cells to islet β cells was one of the reasons for the increase in the number of islet β cells [12]. Then, antibodies specific for the glucagon receptor GCGR targeting could promote β-cell regeneration in type 1 diabetic animals, which provides a promising approach to improve the treatment of type 1 diabetic patients. Successive studies have reported that GCGR is also associated with metabolic diseases such as kidney, fatty liver, and obesity [13]. Notably, GCGR has led to breakthroughs in diabetes research. Currently, GCGR has become an important target in the fight against diabetes.
5. Prospects for Clinical Applications of Targeting GCGR
It is clearly true that GCGR-based drugs have been widely studied and applied in recent years. In diabetes treatment, multiple blocking strategies against GCGR are being tried, including antisense oligonucleotides, small interfering RNAs, small molecule antagonists, etc. Targeting GCGR has been shown to have better glucose-lowering efficacy in animal experiments and early clinical studies. Currently, according to the International Diabetes Federation (IDF) report, approximately 463 million people in the 20-79 age group worldwide have been diagnosed diabetes in 2019 and it is expected to reach 578.4 million people with diabetes by 2030. Poor blood glucose control can lead to irreversible microvascular and macrovascular complications such as vision loss, blindness, renal insufficiency, peripheral neuropathy, stroke, and amputation. The three main characteristics of diabetes, high incidence, insidiousness, and serious complications, are a serious threat to human health. Currently, more and more pharmaceutical companies are developing drugs targeting GCGR for the treatment of diabetes and other diseases (As shown in the table below).
Name
R&D Status
Company
Indications
Last update date
Glucagon (rDNA origin, Lilly) (glucagon (Lilly))
Approval
Eli Lilly and Company;
Hypoglycemia;
Type 1 diabetes;
2020-08-28
Glucagon (rDNA origin, Novo Nordisk) (glucagon (Novo Nordisk))
Approval
Novo Nordisk Pharmaceuticals;
Hypoglycemia;
2020-08-28
Glucagon (Xeris Pharmaceuticals)
Approval
Xeris Pharmaceuticals;
Xeris Pharmaceuticals Inc;
Hypoglycemia;
Hyperinsulinemia;
2020-08-28
Glucagon intranasal (Eli Lilly/Locemia Solutions)
Approval
/
Hypoglycemia;
Type 1 diabetes;
Type 2 diabetes;
Diabetes mellitus ;
2020-08-28
HM-15136
Clinical Phase II
Hanmi Pharmaceutical Co;
Congenital hyperinsulinemia;
Hyperinsulinemia;
Type 2 diabetes mellitus;
2021-02-03
Oxyntomodulin (Xenetic Biosciences)
Clinical Phase II
Pharmsynthez;
Xenetic Biosciences;
Type 2 diabetes;
Obesity;
2020-08-28
volagidemab (voradizumab)
Clinical Phase II
Ajinomoto Althea Inc;
Amgen;
Beijing Kexinmed Biomedical Technology Co;
Remd Biotherapeutics;
Remd Biotherapeutics Inc;
Type 2 diabetes;
Type 1 diabetes;
Diabetes mellitus;
2020-08-28
HM-15211
Clinical Phase II
Hanmi Pharmaceutical Co;
Non-alcoholic fatty liver;
Obesity;
2021-09-03
Efinopegdutide
Clinical Phase II
Hanmi Pharmaceutical Co;
Merck Sharp & Dohme;
Type 2 diabetes;
Non-alcoholic fatty liver;
Obesity;
End-stage renal disease;
2020-08-28
LY-3437943
Clinical Phase II
Eli Lilly and Company;
Overweight;
Obesity;
Type 2 diabetes mellitus;
2021-09-03
Glucagon (Translational Research Institute for Metabolism and Diabetes, Florida) (Glucagon (Translational Research Institute for Metabolism and Diabetes)
Clinical Phase I
Translational Research Institute For Metabolism And Diabetes;
Obesity;
2020-08-28
NN-9277
Clinical Phase I
Novo Nordisk Pharmaceuticals;
Overweight;
Obesity;
2020-08-28
BioChaperone Glucagon
Clinical Phase I
Adocia;
Hypoglycemia;
Type 1 diabetes;
2020-08-28
Data was derived from https://www.pharmacodia.com/
References
[1] Hilger, Daniel, et al. "Structural insights into differences in G protein activation by family A and family B GPCRs." science 369.6503 (2020).
[2] Ali, Safina, and Daniel J. Drucker. "Benefits and limitations of reducing glucagon action for the treatment of type 2 diabetes. "American Journal of Physiology-Endocrinology and Metabolism 296.3 (2009): E415-E421.
[3] Baig, M. H., et al. "Interaction of glucagon G-protein coupled receptor with known natural antidiabetic compounds: multiscoring in silico approach." Evidence-Based Complementary and Alternative Medicine 2015 (2015).
[4] van der Woning, Bas, et al. "DNA immunization combined with scFv phage display identifies antagonistic GCGR specific antibodies and reveals new epitopes on the small extracellular loops." mabs. vol. 8. no. 6. Taylor & Francis, 2016.
[5] Jalilian, Amir, et al. "Preparation and biological evaluation of radiogallium labeled glucagon for SPECT imaging." journal of radioanalytical and nuclear chemistry 285.3 (2010): 555-561.
[6] Sinclair, Elaine M., et al. "Glucagon receptor signaling is essential for control of murine hepatocyte survival. "Gastroenterology 135.6 (2008): 2096 -2106.
[7] Sammons, Matthew F., and Esther CY Lee. "Recent progress in the development of small-molecule glucagon receptor antagonists. "Bioorganic & medicinal chemistry letters 25.19 (2015): 4057-4064.
[8] Graham, Galyna V., et al. "Glucagon-related peptides from phylogenetically ancient fish reveal new approaches to the development of dual GCGR and GLP1R agonists for type 2 diabetes therapy." Peptides 110 (2018): 19-29.
[9] Zhao, Li-Hua, et al. "Differential requirement of the extracellular domain in activation of class BG protein-coupled receptors." journal of Biological Chemistry 291.29 (2016): 15119-15130.
[10] Meister, Jaroslawna, et al. "Chemogenetic approaches to identify metabolically important GPCR signaling pathways: therapeutic implications." Journal of Neurochemistry (2021).
[11] Wilson, Chantell, et al. "The paracrine hormone for the GCGR tumor suppressor, guanylin, is universally lost in colorectal cancer." Cancer Epidemiology and Prevention Biomarkers 23.11 (2014): 2328-2337.
[12] Wang, May-Yun, et al. "Glucagon blockade restores functional β-cell mass in type 1 diabetic mice and enhances function of human islets." Proceedings of the National Academy of Sciences 118.9 (2021).
[13] Guzman, Cristina B., et al. "Treatment with LY 2409021, a glucagon receptor antagonist, increases liver fat in patients with type 2 diabetes." Diabetes, Obesity and Metabolism 19.11 (2017): 1521-1528.