TNFRSF17 is a member of the TNF-receptor family and is known as the tumor necrosis factor receptor superfamily member 17, also known as the B cell mature antigen (BCMA or BCM) or CD269, which is a protein encoded by the TNFRSF17 gene. The receptor is expressed on the surface of B lymphocytes and plasmocyte and is a marker protein for B lymphocyte maturation [1].
1. Tumor Necrosis Factor Receptor Superfamily
In mammalian cells, 30 tumor necrosis factor receptor (TNFR) superfamily members have been discovered, most of which are type I (extracellular N-terminal, intracellular C-terminal) transmembrane proteins. Affected by different types of cells and different external environments, they can regulate different physiological functions of cells, such as cell activation, proliferation, transformation, survival, apoptosis and death.
Some of these superfamily members have death domains in their cytoplasm. Most of the members combine with the corresponding ligands to form trimers, which initiate signal transduction, regulate various biological functions, and participate in various pathological injuries.
2. Structure
TNFRSF17 is a B cell surface molecule belonging to the tumor necrosis factor receptor (TNFR) family and is a type I transmembrane receptor [2]. It is mainly expressed on the surface of mature B cells and plasmocyte, and plays an important role in the maturation and autoimmune response of B cells. TNFRSF17 is located on chromosome 16p13.1 and was initially cloned as a translocation product in human T cell lymphoma. Its mRNA length was about 1.2 kb.
BCMA consists mainly of 184 amino acid residues, its intracellular domain contains 80 amino acid residues, which interacts with TRAF (TNFR-associated factor) 1, TRAF 2, TRAF3 and activates TRAF-dependent NF-κB, JNK and p38 MAPK pathway [3]. Its extracellular region has a short sequence with only one cysteine-rich region (CRD), and can conduct cell-stimulatory signals through protein-protein interactions.
3. Tissue Specificity
BCMA is detected in spleen, thymus, bone marrow and heart, and at lower levels in kidney and lung. BCMA is a glycosyl-free protein expressed on the surface of B cells, and its expression level gradually increases as the B cells mature [4].
4. BCMA Ligand
Its main ligands are BAFF (B cell activating factor, also known as TALL-1, BLyS or THANK) and a proliferation-inducing ligand (APRIL) [5].
4.1 APRIL
As an important ligand of BCMA, APRIL belongs to the TNF (Tumor necrosis factor) receptor family (TNFSF-13A), which has 30% sequence homology with the ligand BAFF. It consists of 250 amino acids, of which 28 amino acids encode intracellular regions and 201 amino acids encode type II transmembrane proteins and their extracellular regions.
APRIL is mainly secreted by osteoclasts and can directly promote the survival of malignant plasma cells through proteoglycan. It is highly expressed in tumor tissues [6]. The combination of APRIL and BCMA increases the viability of bone marrow blood cells and plasmablasts, while upregulating key immune checkpoint molecules.
4.2 BAFF
BAFF, also known as BLys, is a member of the TNF family (TNFSF-13B). It is a type II transmembrane protein composed of 285 amino acids. It exists in both membrane-bound and soluble protein forms. It is mainly expressed by immune cells such as monocytes, macrophages, and dendritic cells [7].
BAFF activates the NF-κB pathway by binding to its receptors BCMA and TACI, which ultimately increases the proliferation and survival rate of B cells.
Overexpression of BAFF induces the development of multiple myeloma, and its lack can lead to low immune function and cause some immunodeficiency diseases.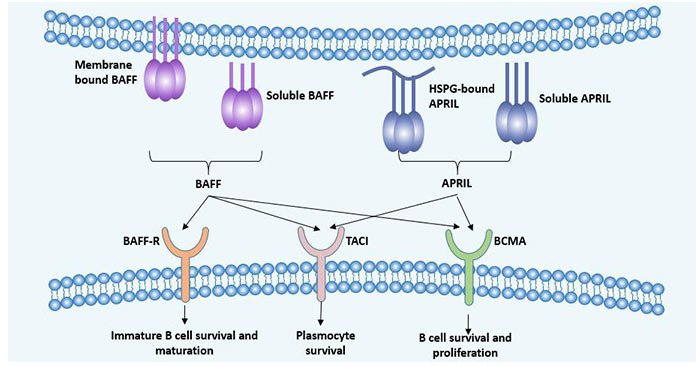 Figure 1 Ligand and function of BCMA
5. The Function of BCMA
B-cell maturation antigen (BCMA) can be combined with B cell activation factor BAFF or APRIL (a proliferation induced ligand) ligands, respectively.
In addition, the receptor of BAFF also includes a TNFR family member (TACI) and a B cell activating factor belonging to the TNF family receptor (BAFF). The system composed of these three receptors and two ligands can regulate immunologically active cells in many ways [8].
In the body, BCMA can have a series of biological effects after binding with its corresponding ligand, and participate in the physiological and pathological changes of human multi-system [9].
Studies have shown that TNFRSF17 can mediate physiological processes related to cell differentiation and growth by binding with TRAF protein and activating signal transduction molecules such as p38, c-jun, Elk and NF-kappaB [3]. The long-term survival of bone marrow plasma cells in BCMA-/- mice was damaged, indicating that BCMA plays an important role in the maintenance of long-term survival of bone marrow plasma cells. Studies have also shown that BCMA is closely related to the proliferation of B cells.
BCMA knockout mice did not show any dysfunction of B cell development and humoral immune function [10], but plasmocyte were significantly reduced, suggesting that BCMA plays an important role in maintaining plasmocyte survival. Blocking BCMA selectively inhibits plasmocyte survival. Therefore, BCMA can be a potential target for the treatment of systemic lupus erythematosus (SLE).
In some cells, overexpression of BCMA activates some protein kinases, which are involved in the development of certain diseases. BCMA has been found to play a role in the pathogenesis of autoimmune diseases. Combined with the ligand APRIL, BCMA can also induce tumor cell proliferation [11].
In addition, the study found that [12] BCMA can also enhance the humoral immunity in vivo by promoting the survival of immunoglobulin secreting cells (ISCs) by binding to ligand BLyS.
6. BCMA Related Signaling Pathway
The binding of BCMA to the ligand activates the corresponding signal transduction pathway. The common BCMA-related signaling pathways are the NF-κB signaling pathway [13] and JNK signaling pathway.
6.1 NF-κB Signaling Pathway
In the absence of stimulation signal, NF-κB existed in the cytoplasm and bound with its inhibitor IκB, with no transcriptional activity. The binding of BCMA with its ligands activates the classic NF-kappa B signaling pathway.
In this signaling pathway, the intracellular tumor necrosis factor receptor-related factor TRAF is used as the second messenger [14], which activates the IKK complex (IKKα, IKKβ, IKKγ) and further phosphorylates IκB, releasing nuclear factor P50 /p65, which binds to the target gene in the nucleus, and regulates the transcription and translation of the target gene, resulting in up-regulation of the anti-apoptotic proteins Bcl-2, Bcl-x L, Mcl-1 and Bcl-w. The proapoptotic proteins such as bax and bak are down-regulated. Finally, the proliferation and survival rate of B cells are increased.
This signaling pathway is critical for the survival of B cell malignancies, including multiple myeloma.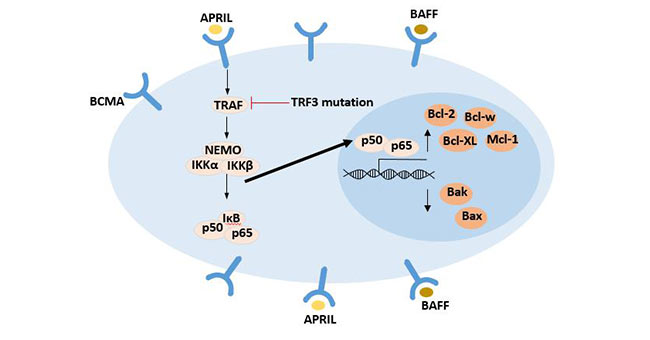 Figure 2 NF-κB signaling pathway activated upon BCMA ligand binding
6.2 JNK/SAPK Signaling Pathway
The JNK/SAPK signaling pathway is one of the important pathways in the MAPK pathway. Inhibition of JNK signaling pathway can reduce the mRNA and protein expression levels of BCMA, indicating that the activation of JNK pathway is positively correlated with the expression of BCMA, and can regulate the expression of BCMA.
7. BCMA and Disease
Binding of BCMA to ligand can activate a series of intracellular signaling pathways such as p38 and Elk, which play an important role in both autoimmune diseases and humoral immunity. Therefore, BCMA may be related to many diseases.
Hodgkin's lymphoma is derived from a large number of clones of malignant HRS cells (Hodgkin and Reed-Sternberg cells), which are composed of more than 10% of Hodgkin's lymphoma. HRS cells express TACI and BCMA receptors on the surface, and BAFF and APRIL promote the survival and proliferation of HRS cells by binding to their receptors.
Multiple myeloma (MM) is an incurable malignant tumor, characterized by malignant hyperplasia of plasmocyte in patients' bone marrow. The disease is related to BCMA. Currently, proteasome inhibitors and immune modulators are mainly used to alleviate the symptoms of multiple myeloma, but the tumor cannot be completely eliminated [15].
The pathogenesis of primary biliary cirrhosis is related to the enhancement of humoral immunity and immune tolerance, and studies have shown that BCMA may be involved in the progression of primary biliary cirrhosis.
BCMA plays an important role in tumor of blood system. And it may be associated with tumor cell escape. In addition, studies have proven that BCMA is closely related to various autoimmune diseases [16].
In the serum test of patients with rheumatoid arthritis (RA), the expression of APRIL, a ligand of BCMA, was found to be significantly increased, and the expression of BCMA on rheumatoid arthritis involving the synovial surface was also increased [17].
In patients with systemic lupus erythematosus, the expression level of BCMA is significantly increased [18], indicating that BCMA may also be associated with disease activity in systemic lupus erythematosus.
In tumor research, it was found that BCMA and APRIL-mediated tumor cell proliferation play an important role in tumors such as liver cancer, ovarian cancer, and nervous system glioma [19].
TNFRSF17 is a candidate susceptibility gene for the pathogenesis of inflammatory bowel disease (IBD). Haplotypes of the TNFRSF17 polymorphism may be associated with susceptibility to ulcerative colitis and irritable bowel syndrome.
APRIL and BAFF can play a role in the progression of breast cancer by increasing the expression of pluripotent genes, increasing the transformation and migration ability of epithelial cells to mesenchymal cells of breast cancer cells, and the number of cancer stem cells. These effects are mediated by BCMA (TNFRSF17) and JNK signaling pathways [20].
8. Targeted Therapy of BCMA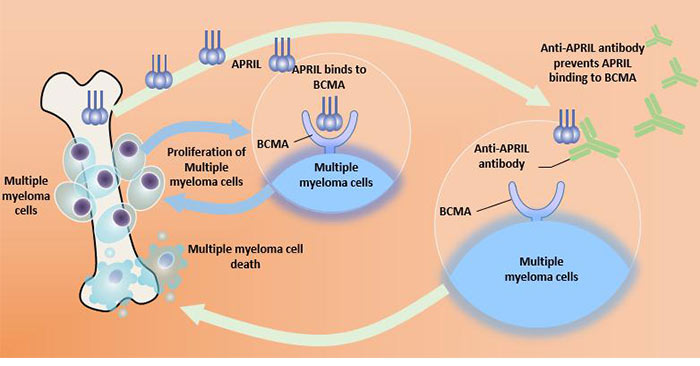 Figure 3 Targeted therapy of BCMA
B-cell maturation antigen is highly expressed in malignant proliferating B lymphocytes (eg, myeloma cells, leukemia cells). It plays a key role in cell survival, proliferation, metastasis, and drug resistance by mediating downstream signaling pathways, making it a target for immunotherapy, particularly for the treatment of multiple myeloma.
Currently, novel tumor immunotherapy methods for BCMA mainly include Chimeric Antigen Receptor T-Cell Immunotherapy (CAR-T) [21], Bispecific antibody (BsAb) and Antibody-drug coupling (ADC). Recent studies [22] have also shown that CAR-T targeting BCMA is effective in clearing myeloma cells in vivo.
Table 1 Tumor immunotherapy targeting BCMA in pre-clinical and clinical studies
| | |
| --- | --- |
| Antibody type | Drugs |
| CAR-T | LCAR-B38M |
| CAR-T | KITE-585 |
| CAR-T | bb2121 |
| BsAb | BI836909 |
| ADC | GSK-2857916 |
References
[1] Mackay F, Schneider P, Rennert P, et al. BAFF and APRIL: a tutorial on B cell survival [J]. Annual Review of Immunology, 2003, 21(1): 231-264.
[2] Carbonnel F. A new gene, BCM, on chromosome 16 is fused to the interleukin 2 gene by a t (4;16)(q26;p13) translocation in a malignant T cell lymphoma [J]. Embo Journal, 1992, 11(11): 3897-3904.
[3] Hatzoglou A, Roussel J, Bourgeade M F, et al. TNF Receptor Family Member BCMA (B Cell Maturation) Associates with TNF Receptor-Associated Factor (TRAF) 1, TRAF2, and TRAF3 and Activates NF-?B, Elk-1, c-Jun N-Terminal Kinase, and p38 Mitogen-Activated Protein Kinase [J]. The Journal of Immunology, 2000, 165(3): 1322-1330.
[4] Laabi Y, Gras M P, Brouet J C, et al. The BCMA gene, preferentially expressed during B lymphoid maturation, is bidirectionally transcribed [J]. Nucleic Acids Research, 1994, 22(7): 1147-1154.
[5] Salazar-Camarena D C, Ortiz-Lazareno P C, Cruz A, et al. Association of BAFF, APRIL serum levels, BAFF-R, TACI and BCMA expression on peripheral B-cell subsets with clinical manifestations in systemic lupus erythematosus [J]. Lupus, 2015: 0961203315608254.
[6] Xu H, Dong P, Ma X, et al. B cell-activating factor regulates the survival of B lymphocytes infected with human cytomegalovirus [J]. Immunology Letters, 2017, 187: 1-6.
[7] Tai Y T, Acharya C, An G, et al. APRIL and BCMA promote human multiple myeloma growth and immunosuppression in the bone marrow microenvironment [J]. Blood, 2016, 127(25): 3225-3236.
[8] Yu G, Boone T, Delaney J, et al. APRIL and TALL-1 and receptors BCMA and TACI: system for regulating humoral immunity [J]. Nature Immunology, 2000, 1(3): 252-256.
[9] Coquery C M, Erickson L D. Regulatory roles of the tumor necrosis factor receptor BCMA [J]. Critical Reviews in Immunology, 2012, 32(4): 287-305.
[10] O"Connor B P, Raman V S, Erickson L D, et al. BCMA Is Essential for the Survival of Long-lived Bone Marrow Plasma Cells [J]. Journal of Experimental Medicine, 2003, 199(1): 91-98.
[11] Rennert P, Schneider P, Cachero T G, et al. A Soluble Form of B Cell Maturation Antigen, a Receptor for the Tumor Necrosis Factor Family Member April, Inhibits Tumor Cell Growth [J]. Journal of Experimental Medicine, 2000, 192(11): 1677-1684.
[12] Avery D T, Kalled S L, Ellyard J I, et al. BAFF selectively enhances the survival of plasmablasts generated from human memory B cells [J]. Journal of Clinical Investigation, 2003, 112(2): 286-97.
[13] Keats J J, Fonseca R, Chesi M, et al. Promiscuous Mutations Activate the Noncanonical NF-κB Pathway in Multiple Myeloma [J]. Cancer Cell, 2007, 12(2): 131-144.
[14] Smulski C R, Kury P, Seidel L M, et al. BAFF- and TACI-Dependent Processing of BAFFR by ADAM Proteases Regulates the Survival of B Cells [J]. Cell Reports, 2017, 18(9): 2189-2202.
[15] OrmhoJ M, Bedoya F, Frigault M J, et al. CARs in the Lead Against Multiple Myeloma [J]. Current Hematologic Malignancy Reports, 2017, 12(2): 119-125.
[16] Vincent F B, Saulep-Easton D, Figgett W A, et al. The BAFF/APRIL system: Emerging functions beyond B cell biology and autoimmunity [J]. Cytokine & growth factor reviews, 2013, 24(3): 203-215.
[17] Nagatani K, Itoh K, Nakajima K, et al. Rheumatoid arthritis fibroblast-like synoviocytes express BCMA and are stimulated by APRIL [J]. Arthritis & Rheumatism, 2007, 56(11): 3554-3563.
[18] Ju S, Zhang D, Wang Y, et al. Correlation of the expression levels of BLyS and its receptors mRNA in patients with systemic lupus erythematosus [J]. Clinical Biochemistry, 2006, 39(12): 1131-1137.
[19] Pelekanou V, Notas G, Kampa M, et al. BAFF, APRIL, TWEAK, BCMA, TACI and Fn14 Proteins Are Related to Human Glioma Tumor Grade: Immunohistochemistry and Public Microarray Data Meta-Analysis [J]. PLOS ONE, 2013, 8.
[20] Vasiliki P, George N, Paraskevi A, et al. BCMA (TNFRSF17) Induces APRIL and BAFF Mediated Breast Cancer Cell Stemness [J]. Frontiers in Oncology, 2018, 8: 301-.
[21] Lee L, Bounds D, Paterson J, et al. Evaluation of B cell maturation antigen as a target for antibody drug conjugate mediated cytotoxicity in multiple myeloma [J]. British Journal of Haematology, 2016.
[22] De-Xiu B, Reshma S, Choi E E, et al. Pre-clinical validation of B cell maturation antigen (BCMA) as a target for T cell immunotherapy of multiple myeloma [J]. Oncotarget, 2018, 9(40).