CD14 (cluster of differentiation 14), formerly known as MY23 antigen, is a surface antigen and is a member of the cell surface glycoprotein family. The protein encoded by the CD14 gene is preferentially expressed in monocytes/macrophages.
CD14 is a high affinity receptor for gram-negative endotoxin lipopolysaccharide LPS and LPS binding protein (LBP) complexes. CD14 recognizes and binds to LPS, causing tyrosine phosphorylation, nuclear factor NF-κB translocation, triggering release of cytokines and production of oxygen free radicals, and plays an important role in a series of reactions caused by immune and defense systems.
1. Discovery of CD14
In 1981, CD14 was first discovered on the surface of human monocytes. In 1985, soluble CD14 was found in human serum [1], which has a similar structure to the previously found CD14 on the surface of monocytes [2]. In 1990, CD14 was found to be a receptor for LPS/LPS binding protein complexes that mediate LPS-like cellular responses [3].
2. The Classification of CD14
CD14 exists in two forms, one is the membrane bound form CD14, which is immobilized on the membrane by the glycosylphosphatidylinositol tail (mCD14), and the other is the soluble form (sCD14).
mCD14 is a 55 kDa glycoprotein that does not contain a transmembrane region. Compared to mCD14, sCD14 has a lower molecular weight because of its lack of PI structure [4]. There are two types of soluble CD14: sCD14α and sCD14β, which have molecular weights of 49 kDa and 55 kDa, respectively [5].
Monocytes can produce sCD14 in two ways:
It is formed by shedding of mCD14 under the catalysis of protease or phospholipase.

CD14 proteins, which are transcribed and synthesized by CD14 genes, are not subjected to PI or escapes PI, and is finally secreted via intracellular vesicles.
3. Structural Characteristics of CD14
The CD14 gene is located in the 5q23-31 region of the long arm of human chromosome 5, approximately 3900bp.
The precursor protein polypeptide chain of human CD14 consists of 375 amino acids. The mature membrane CD14 composed of 356 amino acids is formed by removing the first 19 signal peptides of the precursor peptide, and its molecular weight is 55 kDa.
N-terminal residues at sites 39-44 are the most basic part of human CD14 and LPS binding sites. Residues at sites 86-329 contain 10 characteristic repetitive sequences rich in leucine [6], which can interact with lipids to form hydrophilic beta-folding and may play an important role in protein-protein recognition. The carboxyl terminal of CD14 amino acid sequence contains 17 hydrophobic neutral amino acids and 5 N-glycosyl binding sites.
The common features of CD14 mature proteins in humans and mice are:
1. It contains large amounts of leucine.
2. Multiple N-glycosidic bonds.
3. Several cysteine residues.
4. Leucine-based repeats in the central part of the molecule.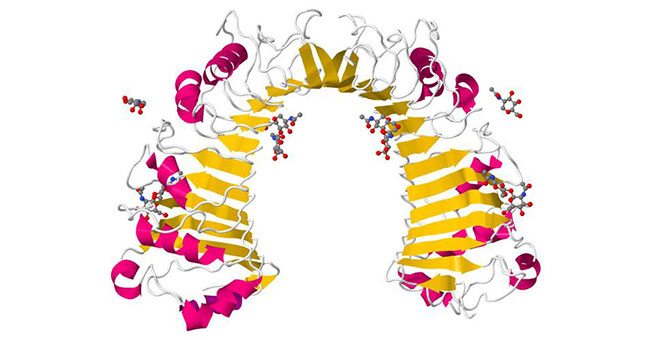 Figure 1 Structure of CD14
This picture is from wikipedia
4. Tissue Distribution
The expression of CD14 in human and mouse has tissue specificity and cell specificity.
mCD14 is mainly distributed on the cell surface of monocytes, macrophages and dendritic cells, so CD14 (mCD14) can be used as a useful marker for distinguishing monocytes or macrophages. In addition, a small amount of mCD14 was also present on the surface of activated neutrophils [7], while mCD14 has not been found on the surface of endothelial cells and epithelial cells. sCD14 is present in the plasma (serum) of normal humans and animals. The normal concentration of sCD14 in human blood is 2~5 mg/ mL, accounting for 99% of all CD14 in blood. sCD14 is also present in trace amounts in the urine.
5. Ligands
mCD14 is located on the surface of immune effector cells, and its ligands include lipopolysaccharide (LPS), peptide polysaccharide, teichoic acid, lipopeptide and various other microbial signals. In addition, mCD14 can recognize endogenous ligands such as heat shock protein 60, ceramides, phospholipids and lipoproteins. CD14 is also a receptor for peptidoglycan (PGN) (cell wall component of gram-positive bacteria), lipoarabinomannan of mycobacterium and many pathogens [8].
6. The Function of CD14
CD14 is a ubiquitous pattern recognition receptor. As the cell membrane receptor of bacterial LPS, CD14 plays a key role in a series of pathological reactions caused by immune and defense systems.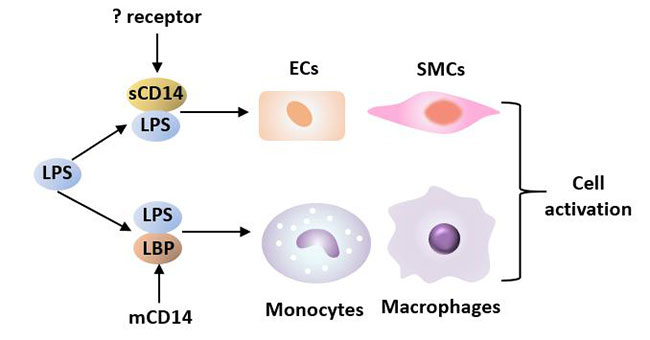 Figure 2 LPS interacts with LBP and CD14 to induce cell activation
mCD14: In cells with mCD14 such as monocytes, macrophages and neutrophils, mCD14, after being subjected to its ligand LPS/LBP, can cause target cells to produce cytokines, thereby inducing the body to produce an immune response and pathological damage. mCD14 stimulates monocytes to secrete TNF, IL-1 and other cytokines. mCD14 stimulates macrophages to produce FGF, transforming growth factor-β (TGF-β) and PDGF, all of which can induce cell growth.
In addition to being involved in cell activation as an LPS receptor, CD14 has other functions. CD14 is one of the receptors for the recognition and phagocytosis of apoptotic cells on macrophages. It has been suggested that CD14 may act as a signal recognition molecule and activate signals in combination with other receptors CR3(CD11b/CD18) and CR4(CD11c/CD18) to mediate apoptosis.
sCD14: Soluble CD14 (sCD14) competes with cell membrane CD14 for binding to LPS and mediates the response of endothelial cells and smooth muscle cells that do not express CD14 to LPS. Soluble CD14 binds to LPS and exerts different physiological functions under different concentration conditions. At physiological concentration, sCD14 acts as LPS agonist, while at higher concentration, sCD14 acts as LPS antagonist. For example, increased concentration of sCD14 in blood can reduce the binding of LPS/LBP complex to monocytes and further reduce the production of inflammatory cytokines, thereby regulating the inflammatory response [9].
7. CD14 Mediated Signaling Pathway
CD14 and LPS signaling mainly include transmembrane signal transduction and intracellular signal transduction.
7.1 Transmembrane Signal
There are three modes of CD14 transmembrane conduction pathway [10]:
Mode I is a single-component receptor signaling receptor model: LPS (LPS/LBP) starts to transmit signals after ligation with mCD14, and is recognized by transmembrane proteins when signals are transmitted to cells; the other two models consider LPS receptors to be multi-component receptors, including ligand-binding subunit mCD14 and transmembrane protein signaling. These models suggest that CD14 plays an important role in cell binding to LPS, but additional proteins are required in transmembrane signaling.
LPS mostly exists in aqueous solution in the form of polymers and is depolymerized into monomers at low speed. LBP can recognize LPS and accelerate the depolymerization of LPS polymers.
LBP can bind with LPS monomer and deliver LPS to the surface of myeloid cells, and then bind with mCD14 on the surface of myeloid cells to form the triple complex of LPS-LBP-CD14. The triple complex is transported to the TLR4-MD2 protein complex and binds to TLR4 with the help of MD-2, activating TLR4 and making dimerization of TLR4. TLR4 mediates the interaction with downstream protein kinases [11]. TLR4-MD2 is also an important component of toll-like signaling pathway, indicating that CD14 has a strong correlation with this signaling pathway.
7.2 Intracellular Signaling
After the signal is transmitted to the cell, the myeloid differentiation factor 88 (MyD88) is activated by tyrosine kinase, followed by phosphorylation of IRAK-1, and the signal is transmitted to tumor necrosis factor receptor-related factor 6 (TRAF6) for activation. Activated TRAF6 activates the corresponding NF-κB pathway and mitogen-activated protein kinase (MAPK) pathway by activating the nuclear factor κB inducing kinase (NIK) and transforming growth factor beta-activated kinase (TAK1).
7.2.1 NF-κB Signal
NIK activates NF-κB inhibiting protein kinase (IKK), induces IKK phosphorylation, and releases NF-κB from the cytoplasm into the nucleus, initiating the transcription of related cytokines and completing the NF-κB pathway. The NF-κB-regulated gene mainly encodes cytokines involved in immune responses, inflammatory responses, immunoreceptor molecules, and acute phase proteins. Therefore, CD14 molecules and their signaling pathways play an important role in the body's immune response and inflammatory response.
7.2.2 MAPK Pathway
In the MAPK pathway, TAK1 activates the C-Jun N-terminal kinase (JNK), p38, and extracellular signal-regulated kinase (ERK), and activates the transcription factor AP-1, which induces the expression of related cytokine genes.
These two pathways eventually lead to the release of IL-1, IL-6, TNF-α and NO [12], leading to sepsis, inflammation and other diseases.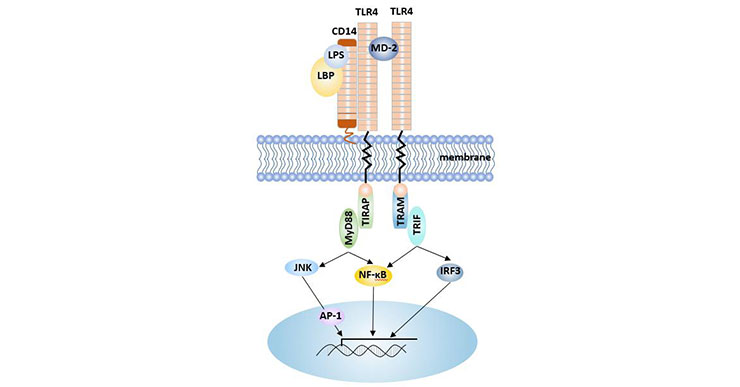 Figure 3 CD14-LPS mediated signaling pathway
8. Disease
CD14 is associated with multiple diseases and plays a dual role in host resistance to infection, which depending on the microbe and the PAMPs it expresses.
CD14-amplified responses can be beneficial to the host by induction of an adequate inflammatory and immune response to eradicate the invading microbe. It can also be detrimental to the host by excessive inflammation and/or dissemination of the pathogen.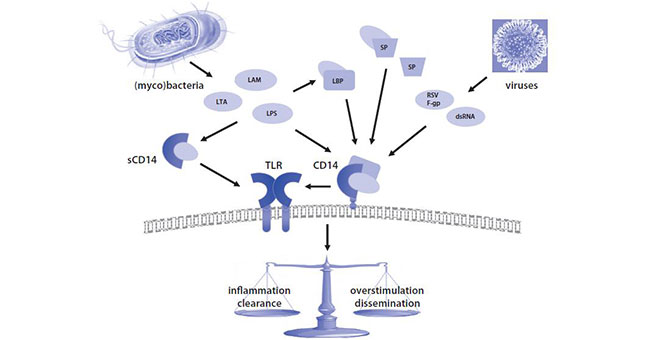 Figure 4 Central role of CD14 in pathogen- and pathogen-associated molecular pattern
(PAMP)-induced responses in the lung.[13]
8.1 Sepsis
Sepsis refers to the systemic inflammatory response syndrome caused by infection, which is one of the serious complications of patients with severe clinical emergencies such as trauma, burn, shock and infection, and also an important cause of sepsis shock and multi-organ dysfunction syndrome. Sepsis is mainly caused by an imbalance in the inflammatory response.
LPS is an important trigger for systemic inflammatory response and is closely related to the inflammatory process of sepsis, severe sepsis, and septic shock. High concentrations of sCD14 are associated with increased mortality of sepsis caused by gram-negative bacteria [14]. Studies have shown that sCD14 levels in plasma are significantly elevated in patients with sepsis, and mCD14 levels are significantly reduced, and this change is associated with disease severity and prognosis. Serum sCD14 is a good prognostic indicator of gram-positive sepsis, and elevated sCD14 levels are associated with high mortality.
Studies have shown that [15], Presepsins-a sCD14 subtype, can be used as a novel biomarker for sepsis. Presepsin has a high sensitivity and is better than traditional markers such as PCT, CRP and IL-6 in the early diagnosis, severity assessment and prognosis of sepsis, so it is expected to be an ideal biomarker for sepsis. However, its disadvantage is lack of specificity [16].
8.2 Immune System Disease
In patients with autoimmune diseases, sCD14 was significantly increased in peripheral blood and mCD14 expression was increased. When patients received hormone therapy, sCD14 level and mCD14 expression in peripheral blood were inhibited.
8.3 Cardiovascular Disease
sCD14 promotes endothelial cell activation and accelerates the formation of atherosclerotic plaques. The combination of CD14 on the surface of monocytes with LPS can induce the activation of monocytes, which can also accelerate or promote the formation of atherosclerosis [17]. CD14 is a very important risk factor that plays an important role in causing atherosclerosis [18].
Elevated levels of sCD14 are associated with aortic sclerosis, carotid plaque formation, and unstable angina [19].
In addition, CD14 plays an important role in regulating dendritic cell apoptosis, predicting cardiovascular events, and assessing the prognosis of chronic kidney disease. High concentrations of sCD14 are associated with a gradual increase in mortality in AIDS patients.
The expression of CD14 mRNA and TLR4 mRNA is related to the severity of disease in PD patients, suggesting that the body's innate immunity may be involved in the development of PD.
CD14 is a gene involved in the development and progression of RA [20].
The monocyte surface receptor CD14 is involved in the development and maintenance of chronic inflammation.
CD14 is closely related to chronic kidney disease (CKD).
9. Latest Research Progress
Chakraborty et al. [21] published a paper in the journal EBioMedicine in 2018 showing that CD14 has a leading role in plasmodium falciparum malaria. It established a functional basis for the genetic association between rs5744454 and p. falciparum severe malaria by demonstrating the cis-regulating effect of the promoter polymorphism. In addition, the study points to a new direction for artemisinin-based anti-malaria treatment.
Bedell et al. [22] published in the journal Biomaterials in 2018 showed that targeting CD14 in blood-derived cells can improve intracortical microelectrode performance. Improving the performance of intracortical microelectrodes may overcome the difficulty of treatment across the blood-brain barrier.
References
[1] Todd R F, Nadler L M, Schlossman S F. Antigens on human monocytes identified by monoclonal antibodies [J]. Journal of Immunology, 1981, 126(4): 1435-1442.
[2] Maliszewski C R, Currier J, Fisher J, et al. Monoclonal antibodies that bind to the My23 human myeloid cell surface molecule: Epitope analysis and antigen modulation studies [J]. Molecular Immunology, 1987, 24(1): 17-25.
[3] Wright S, Ramos R, Tobias P, et al. CD14, a receptor for complexes of lipopolysaccharide (LPS) and LPS binding protein [J]. Science, 1990, 249(4975): 1431-1433.
[4] Frey E A, Miller D S, Jahr T G, et al. Soluble CD14 participates in the response of cells to lipopolysaccharide [J]. Journal of Experimental Medicine, 1993, 176(6): 1665-1671.
[5] Landmann R, Zimmerli W, Sansano S, et al. Increased Circulating Soluble Cd14 Is Associated With High Mortality In Gram-Negative Septic Shock [J]. Journal of Infectious Diseases, 1995, 171(3): 639-644.
[6] Viriyakosol S, Kirkland T N. The N-terminal half of membrane CD14 is a functional cellular lipopolysaccharide receptor [J]. Infection & Immunity, 1996, 64(2): 653-6.
[7] Fearns C, Ulevitch R J. EFFECT OF RECOMBINANT INTERLEUKIN-1β ON MURINE CD14 GENE EXPRESSION IN VIVO [J]. Shock, 1998, 9(3): 157-163.
[8] Tobias P S, Gegner J, Tapping R, et al. Lipopolysaccharide dependent cellular activation [J]. Journal of Periodontal Research, 1997, 32(1): 99-103.
[9] Bazil V, Strominger J L. Shedding as a mechanism of down-modulation of CD14 on stimulated human monocytes [J]. Journal of immunology, 1991, 147(5): 1567-1574.
[10] Ulevitch R J, Tobias P S. Receptor-Dependent Mechanisms of Cell Stimulation by Bacterial Endotoxin [J]. Annual Review of Immunology, 1995, 13(1): 437-457.
[11] Botos I, Segal D, Davies D. The Structural Biology of Toll-like Receptors [J]. Structure, 2011, 19(4): 447-459.
[12] Martel G, Rousseau S. TPL2 signalling: From Toll-like receptors-mediated ERK1/ERK2 activation to Cystic Fibrosis lung disease [J]. The International Journal of Biochemistry & Cell Biology, 2014, 52: 146-151.
[13] Anas A, Van d P T, de Vos A F. Role of CD14 in Lung Inflammation and Infection [M]. Intensive Care Medicine. Springer New York, 2010.
[14] Olad E, Sedighi I, Mehrvar A, et al. Presepsin (Scd14) as a Marker of Serious Bacterial Infections in Chemotherapy Induced Severe Neutropenia [J]. Iranian Journal of Pediatrics, 2014, 24(6): 715.
[15] Endo S, Suzuki Y, Takahashi G, et al. Usefulness of presepsin in the diagnosis of sepsis in a multicenter prospective study [J]. Journal of Infection and Chemotherapy, 2012, 18(6): 891-897.
[16] Liu B, Chen Y X, Yin Q, et al. Diagnostic value and prognostic evaluation of Presepsin for sepsis in an emergency department [J]. Critical Care, 2013, 17(5): R244
[17] Hubacek J A, Rothe G, Pitha J, et al. C(-260)-->T polymorphism in the promoter of the CD14 monocyte receptor gene as a risk factor for myocardial infarction [J]. Circulation, 1999, 99(25): 3218-3220.
[18] Kitchens R L, Thompson P A. Viriyakosol S, et al. Plasma CD14 decreases monocyte responses to LPS by transferring cell-bound LPS to plasma lipoproteins [J]. Journal of Clinical Investigation, 2001, 108(3): 485-493.
[19] Reiner A P, Lange E M, Jenny N S, et al. Soluble CD14: Genomewide Association Analysis and Relationship to Cardiovascular Risk and Mortality in Older Adults [J]. Arteriosclerosis, Thrombosis, and Vascular Biology, 2013, 33(1): 158-164.
[20] Fontaine L D L, Schwarz M J, Riedel M, et al. Investigating disease susceptibility and the negative correlation of schizophrenia and rheumatoid arthritis focusing on MIF and CD14 gene polymorphisms [J]. Psychiatry Research, 2006, 144(1): 0-47.
[21] Chakraborty B, Mondal P, Gajendra P, et al. Deciphering genetic regulation of CD14 by SP1 through characterization of peripheral blood mononuclear transcriptome of P. faiciparum and P. vivax infected malaria patients [J]. EBioMedicine, 2018.
[22] Bedell H W, Hermann J K, Ravikumar M, et al. Targeting CD14 on blood derived cells improves intracortical microelectrode performance [J]. Biomaterials, 2018, 163: 163-173.