On September 4th, 2020, IMAB and AbbVie jointly announced the establishment of a broad global partnership of the innovative CD47 monoclonal antibody lemzoprlimab (TJC4) independently developed by IMAB. IMAB will receive a total of 1.94 billion US dollars in installments and a double-digit percentage of tiered royalties in future global sales. So far, innovative tumor immunotherapy once again grabbed the attention of publics, but this time it wasn't PD-L1, but CD47. So what is CD47? And why has it become the most potential tumor immune research target after PD-L1? Continuing to read this article, you will find the answer to the above questions.
1. What is The CD47 and Its Function?
CD47, an integrin-related protein that is expressed in all normal and diseased tissues. It was first discovered in stem cells, and then found to have different expression patterns in almost all normal tissues. CD47 belongs to the immunoglobulin superfamily (IgSF), with a single N-terminal extracellular IgV-like domain, a highly hydrophobic stretch with five transmembrane helices, an alternatively spliced cytoplasmic C-terminus ranging in length from 4–34 amino acids (Fig. 1). Four cytoplasmic tails range in length from four amino acids (Type 1) to 34 amino acids (Type 4), but the 16 amino acid tail isoform (Type 2) is the most abundant and is expressed on the majority of cells in humans and mice. Among of them, form 4 is the longest one shown in its entirety [1] [2] [3].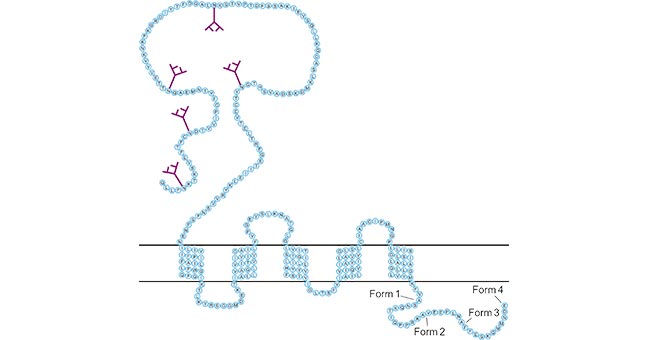 Figure 1. The structure of CD47
*This figure is derived from the publication on TRENDS in Cell Biology [1]
Furthermore, an X-ray crystal structure of CD47 shows an IgV (variable) topology with α-helical as well as β-sheet secondary structures and a conserved intramolecular disulfide bridge spanning the middle of the β-sandwich [4]. An additional disulfide bridge also forms between the extracellular domain and one of the transmembrane domains, which is unusual for IgSF proteins. And some evidence suggests it orients the Ig domain for optimal receptor binding [5] [6].
CD47 participates in a series of physiological processes (including cell proliferation, apoptosis, migration, phagocytosis, and innate immune response [7]) by interacting with its corresponding receptors.
2. What are The Extracellular Ligands of CD47?
CD47 interacts primarily with three categories of extracellular receptors: integrins, thrombospondin-1 (TSP-1) protein and SIRPα. TSP1 is an adhesive glycoprotein that inhibits angiogenesis mainly through direct interaction with VEGF. TSP1 binds to CD47 on endothelial cells to inhibit the activation of VEGFR2, thereby destroying the angiogenesis response. However, the role of TSP1-CD47 signaling pathway in human cancer is still uncertain and needs to be explored. In this article, we primarily focus on the SIRPα.
SIRPα, also known as SHPS-1, SIRPA, p84, is also an IgSF, a transmembrane protein and its expression on hematopoietic cells is restricted to myeloid cells: macrophages, monocytes, dendritic cells, and granulocytes (and not T cells, etc.) [8]. As the figure 2 shows, SIRPα contains three immunoglo-bulin (Ig)-like domains in its extracellular region. One N-terminal V-like domain (V, D1 domain) and two C1-like domains (C1, D2, D3 domain)—which is a structure shared by a larger family of SIRPs [9]. The N-terminal IgV domain of SIRPα is responsible for the binding of the extracellular Ig-domain of CD47. One transmembrane helix connects to cytoplasmic tails of varying lengths that govern signaling in the SIRPs. SIRPα's cytoplasmic tail has four tyrosine residues that conform to an immune-receptor tyrosine-based inhibitory motif (ITIM), which mediates association with SHP-1 and SHP-2 for inhibitory signaling.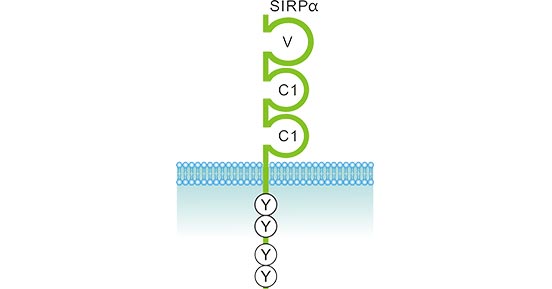 Figure 2. The structure of SIRPα
CD47 is the main ligand for SIRPα across mouse, rat and human (CD47- SIRPα interaction will be introduced detailed in next section). Additionally, SIRPα also interacts with other ligands, such as surfactant proteins (in lung) Sp-A and Sp-D, respectively. Evidences revealed that Sp-D binds SIRPα in D3, rather than D1 [10].
3. CD47–SIRPα Signaling Pathway in Tumor Immune
As mentioned before, SIRPα is a transmembrane protein that contains three Ig-like domains (one V-like and two C1-like Ig domains) in its extracellular region and two tyrosine phosphorylation sites in its C-terminal cytoplasmic region. As the Figure 3 shows, the tyrosine-phosphorylated sites of SIRPα bind to the protein tyrosine phosphatases, SHP-1 and SHP-2 and thereby activate these phosphatases. The N-terminal IgV-like domain of SIRPα trans-interacts with the IgV-like domain of CD47. The binding of CD47 to SIRPα promotes the tyrosine phosphorylation of the latter protein. This binding also activates Cdc42, a Rho family small GTP-binding protein, downstream of CD47. In addition, CD47 cis-interacts with integrins through its extracellular region and thereby regulates their function.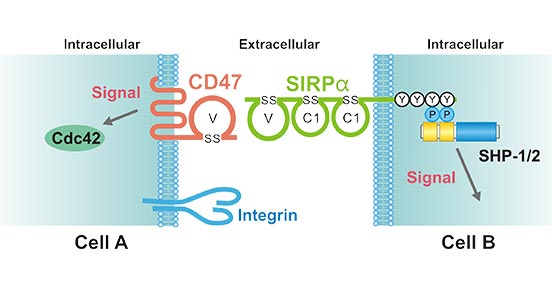 Figure 3. The CD47–SIRPα signaling system
*This figure is derived from the publication on The Journal of Biochemistry [11]
The CD47-SIRPα interaction is a key process to stimulate cell fusion and T cell activation, especially to inhibit macrophages from phagocytosis of target cells. SIRPα is mainly expressed in phagocytes, including macrophages and dendritic cells, and its function is performed by binding protein tyrosine phosphatase SHP2. CD47 binds to SIRPα expressed on macrophages to activate the Src homology 2 domain containing tyrosine phosphatase, inhibit the accumulation of myosin in the phagocytic synapse, and finally produce don't-eat-me. The signal protects tumor cells from phagocytosis and clearance by macrophages. In addition, the interaction between CD47-SIPRα and DC inhibits the maturation of DCs and inhibits the production of cytokines by mature DCs, thereby inhibiting the presentation of tumor antigens to CD8 T cells. Studies have found that in some leukemia cancer cells, they can also escape macrophages through high expression of CD47.
4. The Information of Clinic Drug Targeting CD47
It is based on this major discovery that in recent years, CD47 has been regarded by the industry as the next important target in the field of tumor immunity after PD-1/PD-L1. Although no CD47 monoclonal antibody has been approved for marketing globally, according to incomplete statistics, there are already about 20 companies that are developing products targeting CD47 targets. Not only CD47 monoclonal antibodies, but also CD47 and other targets more than a dozen of bispecific antibodies have entered the stage of clinical research. In this section, we collect the latest development information of clinic drug targeting CD47 that have entered the clinical trial stage.
Name
Research Phase
Company
Indications
The Latest Updated Date
IMC-002
Phase I
Immuneoncia Therapeutics Inc;
Solid tumours, Lymphoma
2020-10-27
ZL-1201
Phase I
ZaiLab
Tumor
2020-10-15
SHR-1603
Phase I
Jiangsu Hengrui Medicine
Solid tumours, Lymphoma, Malignancies
2020-09-29
HX-009
Phase I
Hansi Biological Pharmaceutical, Wuhan Hanxiong Biotechnology Co., Ltd.
Gastric cancer, Colorectal neoplasms, Liver cancer
2020-08-28
IBI-188
Phase III
Innovent Biologics
Acute myeloid Leukemia (AML); Tumor
2020-08-28
TJC-4
Phase II
I-MAB Biopharma
Acute myeloid Leukemia (AML); Lymphoma
2020-08-28
DSP-107
Phase II
KAHR Medical, Roche
Non-small cell lung cancer (NSCLC), Solid tumours
2020-08-28
TTI-622
Phase I
Trillium Therapeutics Inc;
Multiple myeloma (MM), Lymphoma
2020-08-28
AK-117
Phase I
Akeso;
Tumor
2020-08-28
IBI-322
Phase I
Innovent Biologics
Tumor
2020-08-28
IMM-0306
Phase I
ImmuneOnco
Lymphoma, Non-Hodgkin B-cell lymphomas
2020-08-28
SRF-231
Phase I
Surface Oncology;
hematological malignancies, Solid tumours
2020-08-28
ALX-148
Phase II
Alx Oncology Inc;
Myelodysplastic syndrome (MDS)
2020-08-28
TTI-621
Phase I
The Hospital For Sick Children; Trillium Therapeutics Inc; University Health Network;
hematological malignancies, Solid tumours, Mycosis fungoides
2020-08-28
TG-1801
Phase I
Tg Therapeutics Inc;
B-cell lymphoma
2020-08-28
AO-176
Phase II
Arch Oncology;
Multiple myeloma (MM)
2020-08-28
IMM01
Phase I
Modulate Therapeutics Ltd;
Lymphoma
2020-08-28
Anti-CD47 mAb

(Biocad)
Phase I
Biocad;
Tumor
2020-08-28
Magrolimab
Phase III
F. Hoffmann-La Roche Ag; Gilead Sciences Inc; Ono Pharmaceutical Co Ltd;
Myelodysplastic syndrome (MDS)
2020-08-28
CC-90002
Phase I
Cancer Centre of Monoclonal Therapy
Acute myeloid Leukemia (AML); Lymphoma
2020-08-28
5. The Latest Progress of CD47 Research
2020.10 Wang H et al. demonstrated that CD47/SIRPα blocking peptides, pep-20 and its derivate, could serve as promising candidates to promote macrophages-mediated phagocytosis and immune response in cancer immunotherapy, and this paper has been published on J Immunother Cancer [12].
2020.09 Candas-Green D et al. provided the evidence that aggressive behavior of radio-resistant BC is caused by CD47-mediated anti-phagocytosis conjugated with HER2-prompted proliferation. Dual blockade of CD47 and HER2 is suggested to eliminate resistant cancer cells in BC radiotherapy [13].
2020.08 Morrissey MA et al. utilized a reconstituted system with a defined set of signals to interrogate the mechanism of SIRPA activation and its downstream targets. The results of their study demonstrated that the CD47-SIRPA axis suppresses phagocytosis by inhibiting inside-out activation of integrin signaling in the macrophage, with implications to cancer immunotherapy applications [14].
References
[1] Eric J. Brown and William A. Frazier. Integrin-associated protein (CD47) and its ligands [J]. TRENDS in Cell Biology. 2001, 11(3): 130-135.
[2] Lindberg, F.P. et al. Molecular cloning of Integrin-Associated Protein: an immunoglobulin family member with multiple membrane spanning domains implicated in αvβ3-dependent ligand binding [J]. J. Cell Biol. 1993, 123, 485–496.
[3] Reinhold MI, Lindberg FP, Plas D, Reynolds S, et al. In vivo expression of alternatively spliced forms of integrin-associated protein (CD47) [J]. J Cell Sci. 1995, 108:3419-25.
[4] Hatherley D, Graham SC, Turner J, et al. Paired receptor specificity explained by structures of signal regulatory proteins alone and complexed with CD47 [J]. Mol Cell. 2008, 25; 31(2): 266-77.
[5] Rebres RA, Vaz LE, Green JM, et al. Normal ligand binding and signaling by CD47 (integrin-associated protein) requires a long range disulfide bond between the extracellular and membrane-spanning domains [J]. J Biol Chem. 2001, 14; 276(37): 34607-16.
[6] AbdelAziz R Jalil, Jason C Andrechak, and Dennis E Discher. Macrophage checkpoint blockade: results from initial clinical trials, binding analyses, and CD47-SIRPα structure–function [J]. Antib Ther. 2020 Apr; 3(2): 80–94.
[7] Soto-Pantoja DR, Kaur S, Roberts DD. CD47 signaling pathways controlling cellular differentiation and responses to stress [J]. Crit Rev Biochem Mol Biol. 2015, 50(3): 212-30.
[8] Veillette A, Thibaudeau E, Latour S. High expression of inhibitory receptor SHPS-1 and its association with protein-tyrosine phosphatase SHP-1 in macrophages [J]. J Biol Chem. 1998, 28; 273(35):22719-28.
[9] Barclay AN, Brown MH. The SIRP family of receptors and immune regulation [J]. Nat Rev Immunol. 2006, 6(6): 457-64.
[10] Fournier B, Andargachew R, Robin AZ, et al. Surfactant protein D (Sp-D) binds to membrane-proximal domain (D3) of signal regulatory protein α (SIRPα), a site distant from binding domain of CD47, while also binding to analogous region on signal regulatory protein β (SIRPβ) [J]. J Biol Chem. 2012, 287(23):19386-98.
[11] Yoji Murata, Takenori Kotani, Hiroshi Ohnishi, et al. The CD47–SIRPα signalling system: its physiological roles and therapeutic application [J]. The Journal of Biochemistry. 2014, 155 (6): 335–344.
[12] Wang H, Sun Y, Zhou X, et al. CD47/SIRPα blocking peptide identification and synergistic effect with irradiation for cancer immunotherapy [J]. J Immunother Cancer 2020, Oct; 8(2).
[13] Candas-Green D, Xie B, Huang J, et al. Dual blockade of CD47 and HER2 eliminates radioresistant breast cancer cells [J]. Nat Commun 2020 09 14; 11(1).
[14] Morrissey MA, Kern N, Vale RD. CD47 Ligation Repositions the Inhibitory Receptor SIRPA to Suppress Integrin Activation and Phagocytosis [J]. Immunity 2020 Aug 18; 53 (2).