On April 23, 2019, Autolus Therapeutics announced that the FDA had granted the AUTO3 drug name. Autolus Therapeutics is a clinical biopharmaceutical company that develops the next generation of programmed T cell therapies for cancer treatment. AUTO3 is used for autologous enrichment of T cells genetically modified by retroviral vectors to target both CD19 and CD22 chimeric antigen receptors for acute lymphoblastic leukemia therapy. This T cell therapy emergence is undoubtedly a stimulus for CAR-T cell therapy developers. As of November 2019, there are nearly 108 clinical studies related to CD22. What is CD22? What are the main function and mechanism of CD22? This article will introduce CD22 from the following sections:
1. What is CD22?
CD22, also known as Siglec-2, is mainly expressed in mature B cells, and is a cell surface adhesion molecule that regulates B cell activation, which helps B cells to regulate the sensitivity of antigen response [1][2][3]. Tedder TF, et al. further demonstrated that CD22 expression is specific in B cells and is regulated by development in both mice and humans [4].
As shown in Figure 1, CD22 is expressed in pro-B cells and pre-B cells, and gradually transferred to the cell surface, but the expression level is lower. The vast majority of human I IgM+ and IgD+ B cells express cell surface CD22. But eventually it's down-regulated in CD27+ memory B cells, especially plasma cells [5]. In lymphoid tissues, hCD22 is expressed by follicular mantle and marginal zone (MZ) B cells, but only weakly by germinal center B cells. In addition, recent studies have found that CD22 expression is also observed in mouse intestinal acid granulocytes, a novel expression pattern indicating that CD22 may have eosinophil regulation [6].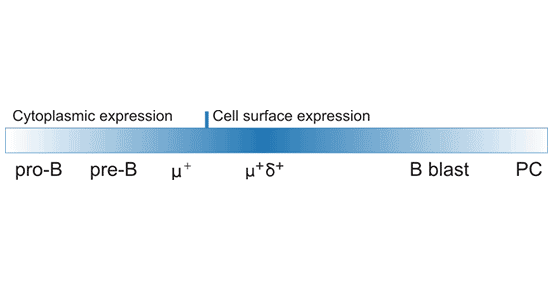 Figure 1. CD22 protein expression during B-cell development and activation.
2. The Structure of CD22
As shown in Figure 2, the human CD22 gene is located on the long arm of chromosome 19 (19q13.1) with at least 15 exons, of which exon 4-10 encodes a single-chain Ig domain, and exon 11-15 encodes a transmembrane domains and intracellular domains.

Figure 2. CD22 chromosomal location and organization.
The CD22 protein is a type I transmembrane protein with a molecular weight of 140 kDa and is an important member of the sialic acid-binding immunoglobulin-like lectin family. The extracellular domain of CD22 contains seven Ig domains (Figure 3), and the most distal V-set Ig domain plays a major role in binding to α2,6 sialic acid (α2,6sia) ligands. The function of C2-set Ig domain is to fold the V-set Ig field correctly [7] [8].
The intracellular domain of CD22 includes the immune-receptor tyrosine inhibition motif (ITIM) and the immune-receptor tyrosine activation motif (ITAM) [9]. Ig-like domains 1 and 2 comprise a ligand binding region; when one or more of the six conserved tyrosine residues are phosphorylated, various effector molecules are recruited to the cytoplasmic domain. CD22α and CD22β are two subtypes of CD22, and their extracellular domains have 5 and 7 Ig domains, respectively. These two cDNA subtypes are derived from different splicing of the same gene.

Figure 3. CD22 structure.
3. The Ligands of Signaling Pathway of CD22
3.1 The Ligands of CD22
CD22 can interact with sialic acid-containing cells, including T cells, B cells, neutrophils, monocytes, and red blood cells [10] [11]. The B cell surface sialic acid ligand which interacts with the CD22 extracellular ligand binding domain is a cis-ligand, and the other cell surface ligands are a trans-ligand. CD22 binds to ligands on the surface of B cells by cis-acting and binds to other cell surface ligands, soluble glycoproteins or cell-linked antigens by trans-acting [12].
The cis-ligand is the major binding ligand for CD22 and is also an important regulator of CD22 activity. As a co-receptor of B cell receptor (BCR), CD22 cross-links CD22 and BCR through antigen, triggers CD22 phosphorylation, dephosphorylating and inactivating downstream signaling proteins. Then BCR signaling is inhibited. CD22 is an essential factor to BCR.
The function of trans-action of CD22 mainly includes Intercellular cross-linking mediation and B cell adhesion and migration regulation. CD22 on the surface of most B cells is obscured, limiting their interaction with the trans-ligand unless the cells are pretreated with sialidase or periodate to bind exogenous sialic acid. Non-masked CD22 may promote its interaction with specific subunits of the trans- or cis-ligand (possibly including BCR).
3.2 The Signaling Pathway of CD22
The ability of CD22 to modulate B-cell signaling is dependent on its proximity to the BCR and is governed by extracellular interactions. As the figure 4 shows, upon B-cell receptor (BCR) cross-linking and translocation to lipid rafts, Lyn phosphorylates the immune-receptor tyrosine-based activation motif tyrosine residues of immunoglobulin a/b [13] [14]. This creates docking sites for other protein tyrosine kinases such as spleen tyrosine kinase (Syk), which in turn phosphorylate and recruit the adaptor molecule BLNK (B-cell linker protein). BLNK forms a scaffold for the association of numerous signaling components, including Vav-1, Btk (Bruton's tyrosine kinase), and phospholipase Cc2 (PLCγ 2).
Many of these proteins also contain pleckstrin homology domains, and are stabilized in this complex by interaction with the phospholipid PI(3,4,5)P3 (produced by phosphoinositide 3-kinase [PI3K]). Calcium induction upon BCR ligation is brought about by PLCγ 2, which converts PI(4,5)P2 to I(1,4,5)P3 (IP3) and diacylglycerol (DAG). IP3 promotes calcium release from intracellular stores, which in turn triggers an influx of calcium through the opening of Ca2+ release-activated channels (CRACs), and activation of the nuclear factor κB, nuclear factor of activated T cells, and extracellular signal-regulated kinase signaling pathways. Calcium efflux is mediated by the plasma membrane Ca2+ ATPase (PMCA4). [15]
CD22 serves to inhibit the BCR signal at several points in this signaling cascade. Following phosphorylation of its immune-receptor tyrosine-based inhibitory motif residues by Lyn, CD22 provides a docking site for the recruitment of SHP-1 [16]. SHP-1 acts to dephosphorylate and inactivate Vav-1, BLNK, and CD19 (accompanied by a reduction in PI3K activity) to effect a dampening of the BCR signal. SHP-1 also promotes calcium efflux through activation of PMCA4.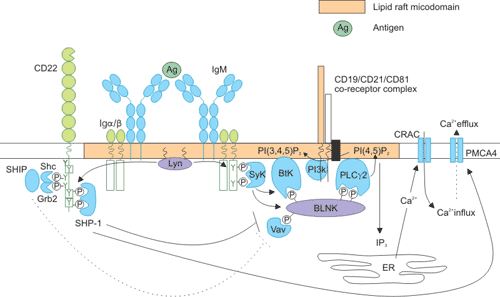 Figure 4. Intracellular signaling pathways of CD22
4. CD22 and Disease
As mentioned before, The CD22 molecule inhibits the signal produced by the BCR complex recognition antigen [16]. This inhibition was further validated in studies of CD22-deficient mice [17]. B cells in CD22-deficient mice showed mild activation, the number of mature B cells with high IgD and low IgM increased, B cell surface IgM (sIgM) levels decreased, IgM secretion increased and the expression of MHC class II molecules increased [18]. As an antigen that limits B cells, CD22 provides an effective target for the treatment of autoimmune diseases and B cell dysregulation in blood cancer.
4.1 CD22 and Autoimmune Diseases
CD22 cross-links with BCR, inhibits B cells' response to autoantigens, and prevents autoreactive B cell activation, thereby inhibiting the development of autoimmune diseases. Impaired expression or function of CD22 plays a role in the pathogenesis of autoimmune diseases such as systemic lupus erythematosus (SLE) and rheumatoid arthritis (RA) [19] [20].
SLE is a common chronic systemic autoimmune disease involving multiple organs. Its main features are abnormal activation of polyclonal B cells, autoantibody production, and deposition of immune complexes, causing multiple organ damage. The B cells of CD22-deficient mice are overreacted to the receptor signal, and the increase in Ca2+ influx caused by BCR binding increases the serum IgG anti-dsDNA antibody titer. These antibodies are of polyclonal origin, with poor mutation and high affinity.
4.2 CD22 and Blood Cancer
In the first part, we have already mentioned that CD22 is only expressed in mature B cells. In most cases, CD22 molecules are still expressed during normal B cell transformation into tumor cells. Related data show that approximately 60-80% of B cell line lymphoma and leukemia cells express CD22 molecules. In addition to chemotherapy, radiation therapy, and naked mAb therapy, radio immunotherapy is currently becoming the fourth treatment for patients with non-Hodgkin's lymphoma. Radiolabeled CD22 mAbs are highly sensitive in the diagnosis and staging of B cell lymphoma. The binding of 131I or 90Y-labeled CD22 mAb (LL2, Eprazumab) to the third Ig domain outside of CD22 completely attenuates antibody- and complement-dependent cytotoxicity mediated by naked CD22 mAb (LL2) in vitro [21] [22].
5. The Latest Research Progression of CD22 related Drugs
CD22 molecule is one of the B cell surface inhibitory co-receptors, which is closely related to the development, differentiation and function of B cells. CD22 is restrictedly expressed on the surface of mature B cells and most B lymphoma cells. Taking CD22 as a target, tumor immunotherapy has become one of the hot research topics. Currently, immune-targeting therapy for CD22 molecules, in addition to therapeutic antibodies, also has CAR-T cell therapy. As of November 2019, although only two CD-related antibody drugs have been approved for marketing, there are nearly 108 clinical studies on CD22 CAR-T cell therapy and antibody drugs. The FDA has approved the listing of CD22 related drugs as shown in the following table:
| Target | Name | Product Name | Actions | Indication | Company | Approved Time |
| --- | --- | --- | --- | --- | --- | --- |
| B-cell receptor CD22 | Inotuzumab ozogamicin | Besponsa | Antibody | relapsed or refractory CD22-positive B cell precursor acute lymphoblastic leukaemia | WYETH PHARMS INC | 08/17/2017 |
| B-cell receptor CD22 | Moxetumomab Pasudotox | Lumoxiti | Binder | Relapsed/Refractory Hairy Cell Leukemia | ASTRAZENECA AB | 09/13/2018 |
Investigating Drugs
| Target | Name | Product Name | Actions | Indication | Company | Phase |
| --- | --- | --- | --- | --- | --- | --- |
| B-cell receptor CD22 | Epratuzumab | / | Antibody | Investigated for use/treatment in leukemia (lymphoid), lymphoma (non-hodgkin's), and systemic lupus erythematosus | UCB Pharma | Phase II |
More details about CAR-T therapy of CD22, please click the following link: https://clinicaltrials.gov/ct2/results?cond=&term=CD22&cntry=&state=&city=&dist=.
References
[1] Pezzutto A, Rabinovitch PS, et al. Role of the CD22 human B cell antigen in B cell triggering by anti-immunoglobulin [J]. J Immunol. 1988, 140:1791–1795.
[2] Wilson GL, Fox CH, et al. cDNA cloning of the B cellmembrane protein CD22: amediator of B-B cell interactions [J]. J ExpMed. 1991, 173:137–146.
[3] Thomas Dorner, Anthony Shock, et al. CD22 and Autoimmune Disease [J]. International Reviews of Immunology. 2012, 31:363–378.
[4] Tedder TF, Poe JC, et al. CD22: a multifunctional receptor that regulates B lymphocyte survival and signal transduction [J]. Adv Immunol. 2005, 88:1-50.
[5] Daridon C, Blassfeld D, et al. Epratuzumab targeting of CD22 affects adhesion molecule expression andmigration of B-cells in systemic lupus erythematosus [J]. Arthritis ResTher. 2010, 12:R204.
[6] Wen T, Mingler MK, et al. The pan-B cell marker CD22 is expressed on gastrointestinal eosinophils and negatively regulates tissue eosinophilia [J]. J Immunol. 2012, 188:1075–1082.
[7] Engel P, Wagner N, et al. Identification of the ligand-binding domains of CD22, a member of the immunoglobulin superfamily that uniquely binds a sialic acid-dependent ligand [J]. J ExpMed. 1995, 181:1581–1586.
[8] Nath D, van derMerwe PA, et al. Theamino-terminal immunoglobulin like domain of sialoadhesin contains the sialic acid binding site: comparison with CD22 [J]. J Biol Chem. 1995, 270:26184–26191.
[9] Wilson GL, Fox CH, et al. cDNA cloning of the B cell membrane protein CD22: a mediator of B-B cell interactions [J]. J ExpMed. 1991, 173:137–146.
[10] Engel P, Nojima Y, et al. The same epitope on cD22 of B lymphocytes mediates the adhesion of erythmcytes, T and B lymphocytes, neutrophils, and monocytes [J]. J Immunol. 1993, 150(11):4719-4732.
[11] Ramya TN, Weerapana E, et al. In situ trans ligands of CD22 identi6ed by glycan-protein photocross-linking-enabled proteomics [J].Mol Cell Pmteomics. 2010, 9(6):1339-1351.
[12] Smith KGC, Tarlinton DM, et al. Inhibition of the B cell by CD22: a requirement for Lyn [J]. J ExpMed. 1998, 187:807-811.
[13] Xu Y, Harder KW, et al. Lyn tyrosine kinase: accentuating the positive and the negative. Immunity [J]. 2005, 22:9–18.
[14] Doody GM, Justement LB, et al. A role in B cell activation for CD22 and the protein tyrosine phosphatase SHP [J]. Science. 1995, 269:242–244.
[15] Gerlach J, Ghosh S, et al. B cell defects in SLP65/BLNK-deficient mice can be partially corrected by the absence of CD22, an inhibitory coreceptor for BCR signaling [J]. Eur J Immunol. 2003, 33:3418–3426.
[16] June Ereño-Orbea, Taylor Sicard, et al. Molecular basis of human CD22 function and therapeutic targeting [J]. Nature Communications. 2017, 8(764).
[17]Samardzie T, Marinkovic D, et al.Reduction of marginal zone B cells in CD22-deficient mice [J]. Eur J Immunol. 2002, 32(2):561-567.
[18] Tooze RM, Doody GM, et al. Counterregulation by the coreceptom CDl9 and CD22 of MAP kinase activation by membrane immunoglobulin [J]. Immunity. 1997, 7(1):59-67.
[19] O Keefe TL, Williams GT, et al. Hyperresponsive B cells in CD22-de6cient mice [J]. Science. 1996, 274(5288):798-801.
[20] Nakiri Y, Minowa K, et al. E1pression of CD22 on peripheral B cells in patients with rheumatoid arthritis: relation to CD5-positive B cells [J]. Clin Rheumatol. 2007, 26(10):1721-1723.
[21] Thomas F. Tedder, Jonathan C. Poe, et al. CD22: A Multifunctional Receptor That Regulates B Lymphocyte Survival and Signal Transduction [J]. Advances in immunology. 2005, 88:1-50.
[22] Carnahan, J., Wang, P., et al. Epratuzumab, a humanized monoclonal antibody targeting CD22: Characterization of in vitro properties [J]. Clin. Cancer Res. 2003, 9:3982S–3990S.