On July 22, 2020, a study published in the journal Cell Death & Differentiation reveals a new regulation mechanism in terms of the osteoprotegerin (OPG). The research implies for the first time that osteoprotegerin (OPG) levels play important roles to p53-mediated osteogenic differentiation in mesenchymal stem cells, which proposes a novel regulatory approach about tumor-related bone remodeling [1]. Albeit it has been well-established that OPG is closely related to bone resorption and reconstruction, it is believed that the potential value of OPG is far-reaching in future. Here we review the actions of OPG in diverse biological activities, in order to provide insights into its full clinical potential as a biomarker and/or therapeutic options against certain diseases.
1. OPG Structure and Function
OPG is a member of tumor necrosis factor (TNF) receptor superfamily (TNFRS), also known as TNFRS member 11B (TNFRS11B) or osteoclastogenesis inhibitory factor (OCIF). OPG lacks a transmembrane and cytoplasmic domain, but it consists of 7 structural domains: Domains 1–4 are cysteine-rich N-terminal domains involved in the inhibition of osteoclastogenesis; Domains 5-6 contains two death domain homologous regions; Domain 7 possesses a heparin-binding site important for the interaction of OPG with proteoglycans. In particular, Cys-400 within domain 7 is responsible for dimer formation of OPG (Figure 1) [2, 3].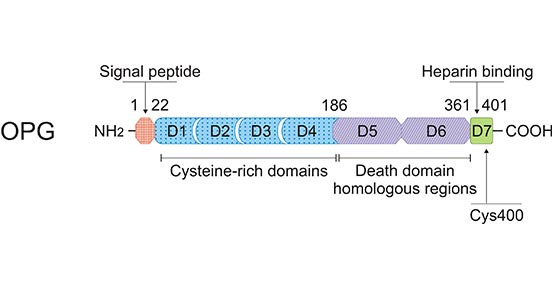 Figure 1. Schematic representation of the protein structure of OPG
*This figure is derived from the publication on Cellular and molecular life sciences [3]
OPG is expressed primarily by bone marrow stromal cells. In addition, its expression can be detected also in immune system (e.g. lymph nodes, B cells and dendritic cells (DCs)), and vascular system (e.g. the heart, arteries and veins) [4]. OPG expression has traditionally been linked to a number of bone-related diseases. But there is additional evidence that OPG can promote cell survival by inhibiting TNF-related apoptosis-inducing ligand (TRAIL)-induced apoptosis [5]. Importantly, a number of in vitro, in vivo and clinical studies suggest the role of OPG in tumors [6].
2. OPG and Its Ligands
OPG exerts either direct or indirect effects through binding to its ligands. RANKL is one of OPG ligands, it was originally described as "OPG ligand/OPGL" [7]. RANKL, as a member of the TNF family of cytokines, exists either as a type II membrane or as a soluble protein RANKL [8]. It is mainly expressed by activated immune cells and osteoblasts [9]. Researches showed that RANKL often participates a variety of biological activities. For example, RANKL promotes the differentiation of monocytic precursor cells, which could attribute to the form of mature osteoclasts [10]; RANKL enhances the bone resorption activity of mature osteoclasts [11]. In addition, RANKL exerts its pro-osteoclastic activity by interacting with its cognate high affinity transmembrane receptor RANK [12].
Besides RANKL, OPG is also able to bind another TNF familexertsy member, TRAIL. Similarly to RANKL, TRAIL is also expressed either as a type II membrane protein or as a soluble protein [13, 14]. Existing evidence suggests that OPG/TRAIL levels could be associated with vascular calcification, which is largely responsible for the diabetes [15].
Comparison between the effects of OPG on RANKL and TRAIL, as shown in Figure 2, the proapoptotic activity of TRAIL is mediated by two (TRAIL-R1 and TRAIL-R2) of its four membrane receptors. OPG could efficiently bind to RANKL or TRAIL, preventing the association between RANKL or TRAIL with their corresponding transmembrane receptors. The process could restrain RANKL-mediated osteoclastogenesis as well as the pro-apoptotic activity of TRAIL [3].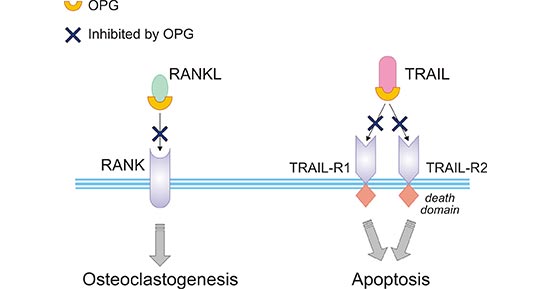 Figure 2. Comparison between the effects of OPG on RANKL and TRAIL
*This figure is derived from the publication on Cellular and molecular life sciences [3]
3. Mechanism of Action of OPG/RANKL/RANK
It is well-known that OPG/RANKL/RANK pathway is the major signaling pathway of OPG, which is mainly involved in osteoclastogenesis. As presented in Figure 3, osteoblasts firstly produce RANKL, following RANKL binding to RANK on the surface of osteoclastic precursors, and TRAF 2, 5 and 6 to the RANK cytoplasmic domain. Subsequently, multiple molecules are activated, including JNK, p38, ERK, Akt and NF-κB. Further, activated NF-κB moves to the nucleus, and then finally interacts with NFATc1 to trigger osteoclastogenic gene transcription [16].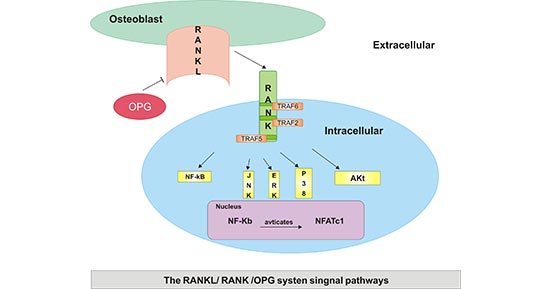 Figure 3. Mechanism of Action of OPG/RANKL/RANK Biological Activities
*This figure is derived from the publication on Molecular Medicine Reports [16]
The OPG/RANKL/RANK pathway not only works as a dominant mediator in osteoclast activation, formation and survival, but also functions in other tissues, including the mammary glands, brain and lymph nodes. Disorders of the OPG/RANKL/RANK system are associated with certain human diseases, including postmenopausal osteoporosis, rheumatoid arthritis (RA), bone tumors and certain bone metastatic tumors. Moreover, the system may be a key regulator in the formation of lymph nodes and in the autoimmune disease RA, which further suggests that the immune system may interact with the OPG/RANKL/RANK [17-19].
4. OPG in Bone, Vascular, and Tumor Diseases
OPG is central in the regulation of bone-related disease. Several studies have assessed the role of OPG in osteoporosis, rheumatoid arthritis, periodontitis, and Juvenile Paget's disease (JPD). Osteoporosis is a disease characterized by low bone mineral density (BMD) due to increased osteoclast activity, and one of the major causes in women is postmenopausal oestrogen deficiency [20]. Rheumatoid arthritis involves the chronic inflammation of the synovium of the joints, which is accompanied by cartilage and bone destruction, partly as a result of increased osteoclastogenesis [21]. Besides, some research suggest that the bone resorption observed in periodontitis partly involves a reduction in OPG, resulting in increased osteoclast activity [22].
In addition, it suggests that mutations in the gene encoding OPG have a strong association with JPD [23]. This disorder, also known as idiopathic hyperphosphatasia is a rare autosomal recessive disease characterized by accelerated bone remodelling of the entire skeleton. As demonstrated in Figure 4, studies of JPD, patients suggest the presenting phenotype to partly depend on mutations present within the OPG gene [2].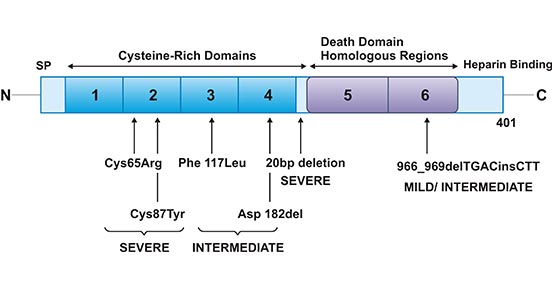 Figure 4. OPG mutations in Juvenile Paget's disease
*This figure is derived from the publication on European journal of cell biology [2]
Besides, the links between OPG and vascular related diseases have now been demonstrated through numerous clinical studies [24]. For example, it showed that the increased OPG levels showed increased risk of coronary artery disease [25]. In addition, initial evidence for a role of OPG in vascular disease suggested that OPG-deficient mice exhibited calcification of the aorta and renal arteries [26]. Nevertheless, researchers recently reported that there is a significant inverse association between OPG and renal function. Consistent with these data, high levels of OPG have been associated with long-term risk of renal function decline [27]. It can be argued that OPG might be a risk marker of kidney disease.
Of note, research into the role of OPG in tumor is making waves, particularly in cancer induced bone disease and in tumor cell survival. Researchers found that elevated OPG serum levels have been reported in colorectal, pancreatic, as well as squamous cell head and neck cancer [2]. In particular, there appears to be an association of increased OPG serum levels with the presence of bone metastases, including breast, lung and prostate cancer [6].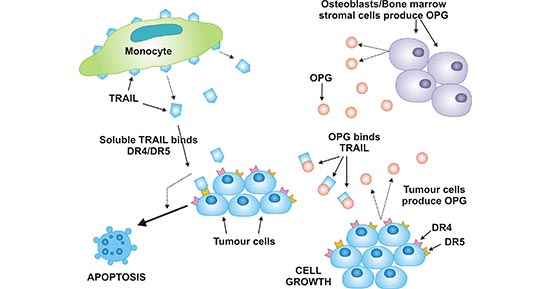 Figure 5. The proposed role of OPG in tumor cell survival
*This figure is derived from the publication on Clinical science [6]
More specifically, the proposed role of OPG in tumor cell survival was demonstrated in Figure 5, monocytes produce TRAIL that binds to DR4/DR5 (TRAIL-R1/TRAIL-R2) on the surface of tumor cells, initiating apoptotic cell death. OPG, produced either by tumor cells or by osteoblasts/BMSCs, binds to TRAIL and prevents the binding of TRAIL to DR4/DR5 [6].
Intriguingly, on the plus side, OPG inhibits cancer-induced bone disease [6]. On the downside, OPG inhibits TRAIL-induced apoptosis in tumor [5]. Therefore, whether OPG can promote or inhibit tumor progression remains to be fully elucidated and may vary between cancer types and stages of the disease. Taken together, findings support a role of OPG in tumor development as shown in below [3].
Experimental context
Observations
Endothelial cell biology

OPG promotes endothelial cellsurvival

OPG induces angiogenesis

OPG promotes proliferation and migration of microvascular endothelial cells

OPG induces leukocyte adhesion to endothelial cells

Cancer cell cultures

OPG is overexpressed in colon cancer cell lines

OPG protects TRAIL mediated-apoptosis of tumor cells

Preclinical studies

Overexpression of OPG by breast cancer cells correlated with bone-specific homing and colonization potential of the tumor

Clinical studies

Endothelial OPG expression in malignant tumors, but not in normal tissues

Elevated serum OPG levels in patients with cancer

Correlation between serum OPG levels and tumor stage and aggressiveness
5. The Clinical Prospect of OPG
Overall, it is now widely accepted that OPG is central to bone-related diseases including osteoporosis, Paget's disease, arthritis, and bone resorption. In terms of vascular related diseases and tumorigenesis, the role of OPG seems to be more complex. Thereby, OPG is attracting much attention as a potential biomarker or therapeutic target. In another words, the application of OPG antibody or anti-OPG products in clinical research is expected to monitor disease-related progression and complications.
Globally, antibody therapy market size was valued at USD 123.03 billion in 2019 and is expected to reach USD 350.10 billion by 2027. So far, only one study has been reported from a clinical trial in cancer patients receiving a recombinant OPG construct (AMGN-0007) [6]. The finding provided sound evidence for the use of OPG mediated therapies against certain disease. Currently, it suggests the increased focus of researchers on the roles of OPG, in order to further elucidate whether OPG is protective or detrimental. Consistent with this, it is believed that there would be a huge market potential for OPG antibody or anti-OPG antibody products over the long term.
References
[1] Velletri T, Huang Y, Wang Y, et al. Loss of p53 in mesenchymal stem cells promotes alteration of bone remodeling through negative regulation of osteoprotegerin [J]. Cell Death & Differentiation. 2020; 21:1-4.
[2] Reid P, Holen I. Pathophysiological roles of osteoprotegerin (OPG) [J]. European journal of cell biology. 2009; 88(1):1-7.
[3] Zauli G, Melloni E, Capitani S, Secchiero P. Role of full-length osteoprotegerin in tumor cell biology. Cellular and molecular life sciences [J]. 2009; 66(5):841-51.
[4] Deligiorgi MV, Panayiotidis MI, Griniatsos J, Trafalis DT. Harnessing the versatile role of OPG in bone oncology: counterbalancing RANKL and TRAIL signaling and beyond. Clinical & experimental metastasis [J]. 2020; 37(1):13-30.
[5] Lane D, Matte I, Laplante C, et al. Osteoprotegerin (OPG) activates integrin, focal adhesion kinase (FAK), and Akt signaling in ovarian cancer cells to attenuate TRAIL-induced apoptosis [J]. Journal of ovarian research. 2013; 6(1):82.
[6] Holen I, Shipman CM. Role of osteoprotegerin (OPG) in cancer [J]. Clinical science. 2006; 110(3):279-91.
[7] Theoleyre S, Wittrant Y, Tat SK, et al. The molecular triad OPG/RANK/RANKL: involvement in the orchestration of pathophysiological bone remodeling [J].Cytokine & growth factor reviews. 2004; 15(6):457-75.
[8] Theill LE, Boyle WJ, Penninger JM. RANK-L and RANK: T cells, bone loss, and mammalian evolution [J]. Annual review of immunology. 2002; 20(1):795-823.
[9] Feng W, Guo J, Li M. RANKL-independent modulation of osteoclastogenesis [J]. Journal of oral biosciences. 2019; 61(1):16-21.
[10] Kim, J.M., Jeong, D., Kang, H.K., et al. Osteoclast precursors display dynamic metabolic shifts toward accelerated glucose metabolism at an early stage of RANKL-stimulated osteoclast differentiation [J]. Cellular Physiology and Biochemistry. 2017; 6:935-946.
[11] Steeve KT, Marc P, Sandrine T, Dominique H, Yannick F. IL-6, RANKL, TNF-alpha/IL-1: interrelations in bone resorption pathophysiology [J]. Cytokine & growth factor reviews. 2004; 15(1):49-60.
[12] Sobacchi C, Menale C, Villa A. The RANKL-RANK axis: A bone to thymus round trip [J]. Frontiers in immunology. 2019; 10:629.
[13] Corallini F, Celeghini C, Rimondi E, et al. Trail down‐regulates the release of osteoprotegerin (OPG) by primary stromal cells. Journal of cellular physiology [J]. 2011; 226(9):2279-86.
[14] Wajant H, Moosmayer D, Wüest T, et al. Differential activation of TRAIL-R1 and-2 by soluble and membrane TRAIL allows selective surface antigen-directed activation of TRAIL-R2 by a soluble TRAIL derivative [J]. Oncogene. 2001; 20(30):4101-4106.
[15] Kawano N, Mori K, Emoto M, et al. Association of serum TRAIL levels with atherosclerosis in patients with type 2 diabetes mellitus [J]. Diabetes research and clinical practice. 2011; 91(3):316-320.
[16] Liu W, Zhang X. Receptor activator of nuclear factor-κB ligand (RANKL)/RANK/osteoprotegerin system in bone and other tissues [J]. Molecular Medicine Reports. 2015; 11(5):3212-8.
[17] Boyce BF, Xing L. The Rankl/Rank/Opg pathway [J]. Current osteoporosis reports. 2007; 5(3):98-104.
[18] Chen Gaoping, Kanishka Sircar, Armen Aprikian, et al. Expression of RANKL/RANK/OPG in primary and metastatic human prostate cancer as markers of disease stage and functional regulation [J]. Cancer. 2006; 107:289-298.
[19] Walsh MC, Choi Y. Biology of the RANKL–RANK–OPG system in immunity, bone, and beyond [J]. Frontiers in immunology. 2014; 5:511.
[20] Weitzmann MN. The role of inflammatory cytokines, the RANKL/OPG axis, and the immunoskeletal interface in physiological bone turnover and osteoporosis [J]. Scientifica. 2013.
[21] Van Tuyl LH, Voskuyl AE, Boers M, et al. OPG ratio and markers of bone and cartilage degradation predict annual radiological progression over 11 years in rheumatoid arthritis [J]. Annals of the rheumatic diseases. 2010; 69(9):1623-8.
[22] Crotti T, Smith MD, Hirsch R, et al. Receptor activator NF κB ligand (RANKL) and osteoprotegerin (OPG) protein expression in periodontitis [J]. Journal of periodontal research. 2003; 38(4):380-387.
[23] Brunetti G, Marzano F, Colucci S, et al. Genotype-phenotype correlation in Juvenile Paget disease: role of molecular alterations of the TNFRSF11B gene [J]. Endocrine. 2012; 42(2):266-71.
[24] Harper E, Forde H, Davenport C, et al. Vascular calcification in type-2 diabetes and cardiovascular disease: Integrative roles for OPG, RANKL and TRAIL [J]. Vascular pharmacology. 2016; 82:30-40.
[25] Venuraju SM, Yerramasu A, Corder R, Lahiri A. Osteoprotegerin as a predictor of coronary artery disease and cardiovascular mortality and morbidity [J]. Journal of the American College of Cardiology. 2010; 55(19):2049-61.
[26] Bucay N, Sarosi I, Dunstan CR, et al. Osteoprotegerin-deficient mice develop early onset osteoporosis and arterial calcification [J]. Genes & development. 1998; 12(9):1260-8.
[27] Lewis JR, Lim WH, Zhu K, et al. Elevated osteoprotegerin predicts declining renal function in elderly women: a 10-year prospective cohort study [J]. American journal of nephrology. 2014; 39(1):66-74.