Ion channels are pore-forming proteins. It is a passive transport pathway for various inorganic ions across the membrane and an important way for living cells to carry out metabolic activities and material exchange. Ion channels regulate the entry and exit of corresponding substances through the opening and closing of ion channels, which is of great significance for the realization of various functions of cells. Almost all cellular processes depend on ion channels.
1. History of Ion Channel Research
In 1990, American scholar Fontaine et al. first reported that there might be genetic mutations in voltage-dependent sodium channel alpha subunits in skeletal muscle membranes of patients with hyperkalemic periodic paralysis (Hypp), which initiated the research on ion channel disease.
In 1991, two German scientists, Erwin Nell and Bert Zachman, received the Nobel Prize in Physiology for discovering intracellular ion channels and pioneering patch clamp techniques.
In 1998, the resolution of K+ ion channel structure [2].
In 2002, the resolution of the Cl- ion channel structure [3].
In 2011, the resolution of the Na+ ion channel structure [4].
These studies have greatly improved the understanding of the structural basis behind the ion channel function.
2. Type of Ion Channel
Biofilms can transport inorganic ions across membranes in two ways: passive transport (cis-ion concentration gradient) and active transport (inverse ion concentration gradient).The channel of passive transport is called ion channel, and the ion carrier of active transport is called ion pump.
According to different classification standards, they can be divided into different types:
2.1 Ion Types
According to the selectivity of the channel to the ion type, it can be divided into two categories, namely the cation channel and the anion channel. This is closely related to the charge of the amino acid residues at the entrance and exit of each subunit unit.
2.2 Gated Type
The opening and closing of ion channels is called gating. According to the different gating mechanisms, ion channels can be divided into four categories:
Voltage gated ion channels
Voltage gated ion channels, also known as voltage dependent or voltage-sensitive ion channels, are gated and closed by sensing changes in membrane potential. There are four main types of ion channels: K+, Na+, Ca2+ and Cl- channels [5]. This electrical activity is important for many processes in electrically excited cells such as neurons and muscles as well as in non-excited cells.
Structure: Voltage-dependent ionic channel complexes are characterized by a single macromolecular polypeptide, each molecule containing four homologous repeat sequences, forming ion channels across membranes. Each repeating sequence unit contains 6 transmembrane segments.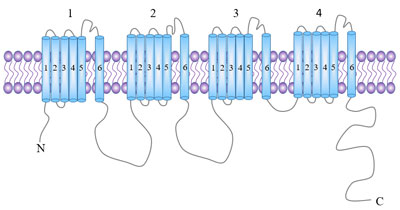 Figure 2 Voltage-dependent ion channels
Ligand Gated Ion Channels
Ligand gated ion channels (or receptor gated channels) are known as chemical gated ion channels. The opening and closing of these ion channels are controlled by receptors coupled to the channels, which are the effectors that carry out the receptor function.
Receptors belonging to this class: nicotinic acetylcholine receptor (nAchR) [6] [7], 5-HT3 [8] [9], ionotropic glutamate [10], P2X receptor [11], glutamate receptor channel, aspartate receptor channel, γ-aminobutyric acid receptor (GABAR) [12], glycine receptors [13], etc.
Structure: NAchR is one of the more clearly studied of these receptors. NAchR is a 5-molecule protein that is composed of 5 highly homologous subunits, including 2 alpha subunits, 1 beta subunit, 1 gamma subunit and 1 delta subunit, with ion channels in the middle. The binding site of this receptor is on two alpha subunits, which are located outside the membrane and have glycosylated sites.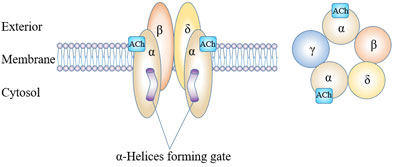 Figure 3 Molecular structure of ligand-gates ion channels
Mechanically Sensitive Ion Channel
Mechanical force sensitive ion channels, also known as mechanical sensitivity ion channels. This ion channel opens when the cell is stimulated by various mechanical forces.
According to the permeability, it can be divided into ion selectivity channel and non-ion selectivity channel.
According to the function, it can be divided into tension activated ion channel and tension deactivated ion channel.
Cyclic Nucleotide-Gated Ion Channels
The ion channel is regulated by the ion concentration of intracellular cGMP, cAMP.
2.3 Organelle Ion Channel
In addition, there are organelle ion channels, such as voltage dependent anion channels (VDACs), which are widely distributed on the outer membrane of mammalian cell mitochondria. Ryanodine receptor channel, IP3 receptor channel located on the sarcoplasmic reticulum (SR) or endoplasmic reticulum (ER) membrane.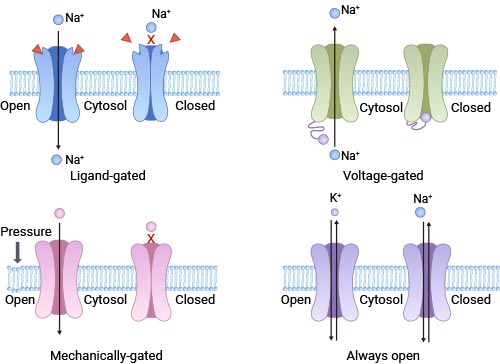 Figure 4 Ion channels of different gating types
4. Channelopathy
Definition: When a gene encoding an ion channel subunit is mutated/expressed abnormally or a pathological endogenous substance is present in the body, the function of the channel is weakened or enhanced to varying degrees, resulting in disorder of the overall physiological function of the body.
Most channelopathy are not new, but previously we have not found that they have lesions at the ion channel level, such as myasthenia gravis, migraines, seizures, and so on [14][15].
4.1 Ion Channel Changes in Disease
A large number of studies have found that some endogenous pathogenic substances (such as β-amyloid, β-amyloid precursor, presenilin-1, 2) may be present in patients with Alzheimer's disease (AD).It affects the structure and/or regulation process of potassium channel and calcium channel, and participates in the early memory loss and cognitive function decline of AD patients.
Cerebral ischemia can affect the permeability of nerve cells by affecting calcium and sodium ion channels, resulting in acute osmotic swelling of nerve cells.
The pathogenic factors of bronchial asthma act on the calcium channels on the cell membrane of mast cells, causing the opening of calcium ion channels, which activate the downstream signaling pathways through calcium ions, and ultimately lead to the release of histamine, leading to inflammatory reactions and asthma attacks.
4.2 Ion Channel Related Diseases
The structure and function of cellular ion channels are the basis of life-sustaining processes, and their genetic variation and dysfunction are related to the occurrence and development of many diseases, mainly involving the nervous system, muscles, heart, kidney and other systems and organs.
The ion channel disease, which is well studied, mainly involves the fields of K+, Na+, Ca2+ and Cl- channels.
K+ Channel Disease
Benign familial neonatal convulsions (BFNC), episodic ataxia type 1, paroxysmal choreoathetosis with episodic ataxia, epilepsy, Jervell and Lange-Nielsen syndrome, Andersen syndrome, etc.
Na+ Channel Disease
High-potassium type periodic paralysis, partially low-potassium type periodic paralysis, congenital accessory myotonia, 3-type long QT syndrome, 1-type pseudoaldosteronism, Liddle syndrome, generalized epilepsy with febrile seizures plus, etc.
Ca2+ Channel Disease
Calcium channels are involved in physiological processes of the nervous, muscular, secretory and reproductive systems.
Calcium channel diseases have been found: familial hemiplegic migraine, hypokalemic periodic paralysis, 2-type episodic ataxia, 6-type spinal cerebellar ataxia, central core disease of muscle, malignant hyperthermia, etc. Excessive accumulation of calcium ions in smooth muscle cells is one of the important causes of bronchial asthma.
Cl- Channel Disease
The main functions of chloride channels are humoral transport, membrane potential and cellular immune responses. Chloride channel disease: congenital myotonia, recessive hereditary systemic myotonia, cystic fibrosis, hereditary kidney stone disease, 3-type Bartter syndrome. Gastric cancer is a highly aggressive and fatal malignancy that is also affected by chloride ion channels.
References
[1] Joel A. Butterwick, Josefina del Mármol, Kelly H. Kim, et al. Cryo-EM structure of the insect olfactory receptor Orco [J]. Nature, 2018, 560: 447–452.
[2] Doyle D, Morais Cabral J, Pfuetzner RA, et al. The structure of the potassium channel: molecular basis of potassium conduction and selectivity [J]. Science, 1998, 280: 69–77.
[3] Dutzler R, Campbell E B, Cadene M, et al. X-ray structure of a ClC chloride channel at 3.0 A reveals the molecular basis of anion selectivity [J]. Nature, 2002, 415(6869): 287-294.
[4] Payandeh J J, Scheuer T T, Zheng N N, et al. The crystal structure of a voltage-gated sodium channel [J]. Nature, 2011, 475(7356): 353-358.
[5] Hille, Bertil. Ionic Channels of Excitable Membranes [J]. Neurology, 1992, 42(7):1439-1439.
[6] Millar N S, Gotti C. Diversity of vertebrate nicotinic acetylcholine receptors [J]. Neuropharmacology, 2009, 56(1): 237-246.
[7] Changeux, Jean-Pierre. Allosteric Receptors: From Electric Organ to Cognition [J]. Annual Review of Pharmacology and Toxicology, 2010, 50(1): 1-38.
[8] Barnes N M, Hales T G, Lummis S C R, et al. The 5-HT3 receptor--the relationship between structure and function [J]. Neuropharmacology, 2009, 56(1): 273-284.
[9] Walstab J, Rappold G, Niesler B. 5-HT3 receptors: Role in disease and target of drugs [J]. Pharmacology & Therapeutics, 2010, 128(1): 146-169.
[10] Traynelis S F, Wollmuth L P, Mcbain C J, et al. Glutamate Receptor Ion Channels: Structure, Regulation, and Function [J]. Pharmacological Reviews, 2010, 62(3): 405-496.
[11] Surprenant A, North R A. Signaling at Purinergic P2X Receptors [J]. Annual Review of Physiology, 2009, 71(71): 333-359.
[12] Olsen R W, Sieghart W. International Union of Pharmacology. LXX. Subtypes of γ-Aminobutyric AcidA Receptors: Classification on the Basis of Subunit Composition, Pharmacology, and Function. Update [J]. Pharmacological Reviews, 2008, 60(3): 243-260.
[13] Yevenes G E, Zeilhofer H U. Allosteric modulation of glycine receptors [J]. British journal of pharmacology, 2011, 164(2): 224-236.
[14] Louis Ptáček. Ion Channel Diseases: Episodic Disorders of the Nervous System [J]. Seminars in Neurology, 1999, 19(04): 363-369.
[15] Davies N P, Hanna M G. Neurological channelopathies: diagnosis and therapy in the new millennium [J]. Annals of Medicine, 1999, 31(6): 15.
[16] Cotter T G. Apoptosis and cancer: the genesis of a research field [J]. Nature Reviews Cancer, 2009, 9(7): 501-7.
[17] Ramachandran K V, Hennessey J A, Barnett A S, et al. Calcium influx through L-type CaV1.2 Ca2+ channels regulates mandibular development [J]. Journal of Clinical Investigation, 2013, 123(4): 1638-1646.
[18] Daniel Mines, Patricia Tennis, Suellen M Curkendall, et al. Topiramate use in pregnancy and the birth prevalence of oral clefts [J]. Pharmacoepidemiology and Drug Safety, 2014, 23(10): 1017-1025.
[19] Dahal G R, Rawson J, Gassaway B, et al. An inwardly rectifying K+ channel is required for patterning [J]. Development, 2012, 139(19): 3653-3664.
[20] Pai V P, Aw S, Shomrat T, et al. Transmembrane voltage potential controls embryonic eye patterning in Xenopus laevis [J]. Development, 2012, 139(2): 313-23.
[21] Overington J P, Allazikani B, Hopkins A L. How many drug targets are there? [J]. Nature Reviews Drug Discovery, 2006, 5(12): 993-6.