As of March 25, 2020, SARS-CoV-2 (formally named 2019-nCoV) has raged in more than 40 countries and regions, with a cumulative diagnosis of more than 338,924 people worldwide, and nearly 15,568 deaths. Previously, many studies found that SARS-CoV-2 and SARS-CoV can invade the human body through the same receptor-ACE2 protein, and it is the main way for SARS-CoV-2 to invade the human body.
Recently, with the gradual development of the COVID-19 (a pneumonia caused by SARS-CoV-2 infection) research, on March 14, Chen Zhinan et al, from the Fourth Military Medical University reported the second route of SARS-CoV-2 invasion, namely SARS-CoV-2 invasion through the new CD147 route. The research was published on BioRxiv and entitled "SARS-CoV-2 invades host cells via a novel route: CD147-spike protein". So what exactly is CD147? How did it become a target for SARS-CoV-2 to invade the human body?
1. What is CD147?
The immunoglobulin superfamily (IgSF) consists of proteins with at least one Ig domain and plays an important role in inter-cellular communication. CD147, also known as Basigin or EMMPRIN, is a highly glycosylated single-transmembrane protein with 50kDa-60kDa and belongs to the immunoglobulin superfamily. According to the source of CD147, it is also named differently. In humans, it is called basilgin, leukocyte activation-related M6 antigen, and liver cancer cell antigen Hab18G; in mice, it is called basilin or gp42; in rats, it is called OX47 ; and in chickens, it is called HT7 or neurothelin.
CD147 recognizes molecules in the same cell, especially molecules in the same membrane (Cis recognition) and molecules located outside the cell (Trans recognition). As shown in Figure 1, in Cis recognition, BSG or BSG1 (the two subtypes of CD147) can bind to proteins in the same cell (especially the same membrane), such as GLUT1 and CD44; in Trans recognition, GPV1 And RdCVF can be combined with BSG or BSG1 [1] [2].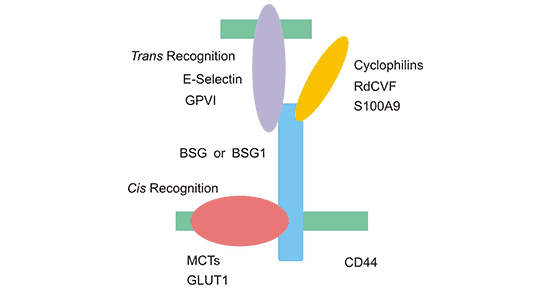 Figure 1. The two manners of recognizing various molecules of BSG or BSG1
2. What is The Structure of CD147and Subtypes?
The gene of CD147 is located at 19p13.3 and consists of 10 exons. According to the cloned cDNA sequence, the length of the mRNA of CD147 molecule is about 1.7kb, and about 115 nucleotides before the N-terminal start are non-coding regions. The coding region encodes 269 amino acids, 21 amino acids are signal peptides, and 185 are in the middle which constitute the extracellular domain. A total of 24 amino acids from 206-229 are transmembrane regions, which are highly conserved between species and members of the BSG family [3] [4]. The 39 amino acids at the C-terminus are intracellular domains, the transmembrane region includes 3 leucines and a phenylalanine, and appears every 7 amino acids, which is a typical leucine zipper structure.
CD147 has two subtypes in humans (Basigin-1 and Basigin-2), which are caused by different splicing and different transcription start sites. As shown in Figure 2, Basigin-1 (BSG1) has three Ig domains and is a retinal-specific form. Basigin-2 (BSG2) is a common form with two Ig domains. Because of its widespread distribution, we usually also refer to BSG2 as BSG. The Ig domain is divided into V region, C1 and C2 regions, and I region. The I area is usually located between the V and C areas. Related studies have determined the spatial structure of the extracellular part of BSG by X-ray crystallography and NMR spectroscopy [5] [6]. The Ig domain of the BSG is allocated as follows: D0, I area; D1, C2 area; D2, I area.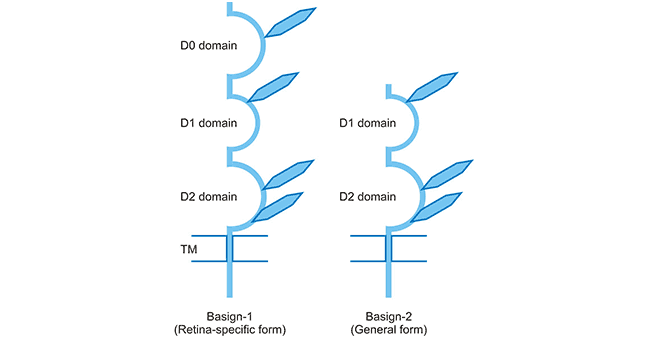 Figure 2. Schematic presentation of two BSG isoforms
3. What is The Function of CD147?
CD147 is widely distributed in the body. Different types of CD147 produced by the same gene are caused by different forms of glycosylation, while CD147 of a heterologous gene is caused by a different N-terminal sequence in the DNA encoding it. CD147 existing in different systems of the body can participate in a variety of different physiological processes and has a variety of different physiological functions.
The study found that CD147 molecule is expressed in many normal cell types, including adult and embryonic tissues, and the expression levels are different. However, EMMPRIN/CD147 is expressed in various tumor tissues, especially malignant tumors, such as breast cancer, lung cancer, kidney cancer, and lymphoma, and the expression is significantly higher than corresponding normal tissues. EMMPRIN can stimulate fibroblasts to produce MMPs in tumor cells, such as MMP-1, MMP-2, MMP-3, and MMP-9. Moreover, these MMPs produced by mesenchymal cells can greatly accelerate tumor progression in vivo [7].
In the central nervous system, CD147 is often called neurothelin, which mainly expresses blood-brain barrier endothelial cells, choroidal epithelial cells and retinal pigment epithelium. It is one of the markers of blood-brain barrier formation. Cell maturation is consistent and related to the function of the normal blood-brain barrier of the human body. Because the blood-brain barrier forms an anatomical barrier between the central nervous system and the body's immune system, neurothelin may be involved in cell recognition. In addition, CD147 molecule can participate in the interaction between neurons and glial cells [8].
In addition, related research shows that CD147 is also expressed in the basal layer of epidermal cells, outer root sheath cells of hair follicles, sperm head, blood system, digestive system and urinary system. Therefore, CD147 is not only closely related to tumorigenesis and development, but also participates in tissue reconstruction, lymphocyte response, spermatogenesis, viral infection, and neurological function regulation in early development. In Figure 3, we summarize the biological functions of CD147 and the corresponding interacting molecules.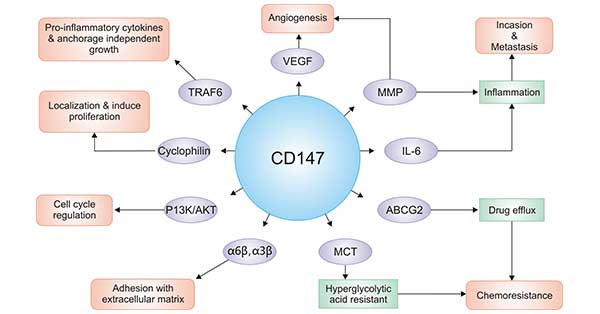 Figure 3. The collection of CD147 biological function
4. How does The Virus Invade The Human through CD147?
CD147 plays an important role in the infection of various viruses on the human body, such as HIV, HBV, HCV, KSHV and so on. Related studies have shown that during HIV-1 infection, cyclophilin A (CyPA) of the host cells incorporates the nascent virus through interaction with HIV-1 Gag protein. As the virus matures to release the Gag protein, CyPA redistributes on the surface of the virus, and mediates HIV-1 adhesion to target cells by interacting with protein receptors expressed by host cells. The combination of CD4 and chemokine receptors on the host cell promotes the fusion of the virus and the cell membrane, and eventually causes the virus to invade the host cell. The CD147 molecule of the host cell can promote the infection of the host cell by the HIV-1 virus through interaction with the virus-associated CyPA.
During the severe acute respiratory syndrome (SARS) coronavirus invasion into host cells, CD147 molecule can mediate its similar mechanism in HIV-1 invasion through interaction with CyPA. CD147-antagonist peptide 9 has a high binding rate to HEK293 cells and has an inhibitory effect on SARS-CoV. Since SARS coronavirus and SARS-CoV-2 have similar characteristics, Chen Zhinan's research team investigated the possible role of CD147 in the latter's invasion of host cells. Experiments have shown that blocking CD147 on host cells has an inhibitory effect on SARS-CoV-2, and that CD147 plays an important role in promoting the invasion of host cells by the virus. In addition, surface plasmon resonance analysis confirmed the interaction between CD147 and S (Spike glycoprotein)[9].
5. CD147and Disease
CD147 is a transmembrane glycoprotein widely existing on the surface of cell membranes. It belongs to the immunoglobulin superfamily. It can be widely involved in normal physiological metabolism and pathophysiological processes by combining with various factors. In this section we focus on several studies that are relatively hot for CD147-related diseases.
CD147 and Malignant Tumors
CD147 is expressed at high levels in a variety of malignant tumors. In the development of tumors, CD147 promotes tumor growth, invasion and metastasis by inducing the production of matrix metalloproteins (MMPs). The development of tumors is a dynamic process involving the interaction of different cellular and non-cellular components of the tumor microenvironment (TM) [10].
The infiltration and metastasis of malignant tumor cell needs to cross the basement membrane and tissue gap mechanism. The high expression of CD147 can increase the expression and activity of MMPs, thereby degrading the essential components of the basement membrane, destroying the tissue mechanical barrier, and promoting tumor infiltration and metastasis. The effect of CD147 on MMPs can be accomplished by activating MMPs or MMPs activators. CD147 participates in cell-matrix adhesion by forming complexes with α3β1 and α6β1, and promotes the spread and metastasis of malignant tumor cells. In addition, the changes in the C-terminal structure of CD147 cells affect the aggregation and disaggregation of skeletal proteins in the cells, and participate in the movement of cells and the formation of pseudopods [11].
CD147 and Acute Kidney Injury
In general, acute kidney injury (AKI) accounts for 1-2% of hospitalized patients, while more than 40% of patients enter the intensive care unit, and the mortality rate of patients with AKI and multiple organ failure in the ICU exceeds 50%. currently, the mechanism of AKI is unclear.
Previous studies have shown that in cecal ligation and puncture (CLP) -induced organ dysfunction, differential gel electrophoresis (DIGE) confirmed that after CLP and sepsis-induced renal insufficiency, CyPA increased, but CyPA decreased after injection of CD147 antibody. The result indicates that CyPA receptors are inhibited by intraperitoneal anti-CD147 antibodies. In addition, The concentrations of TNF-α, IL-6, and IL-10 in serum were significantly reduced after CLP in 24 hours, suggesting that injection of CD147 antibody significantly reduced the production of pro-inflammatory and anti-inflammatory cytokines. This also confirms that anti-CD147 can prevent AKI [12].
Several studies have shown that extracellular CyPA can exert as a pro-inflammatory factor through CD147, while anti-CD147 antibodies have an anti-proinflammatory effect (Figure 4). The pathophysiological relevance of CyPA-CD147 interactions to inflammatory processes has been studied in many animal models. Studies on synovial macrophages in patients with rheumatoid arthritis have found that the expression of CyPA and CD147 can be detected, and the stimulation of CD147 can induce the production of MMP-9 and pro-inflammatory cytokines, and promote macrophage cell migration. Therefore, in a collagen-induced arthritis model, blocking the interaction between CD147 and CyPA by antibodies can significantly reduce the symptoms of arthritis [13].
However, in terms of ischemic kidney injury, CD147 may be a double-edged sword in the disease process, because upregulation of CD147 can increase the production of MMP and induce the adaptation of leukocytes in ischemic tissues, thereby destroying the tissues [14]. Studies have found that CD147 interacts with E-selectin and can promote renal inflammation in renal ischemia/reperfusion injury by increasing the adaptability of neutrophils to the renal tubule interstitium.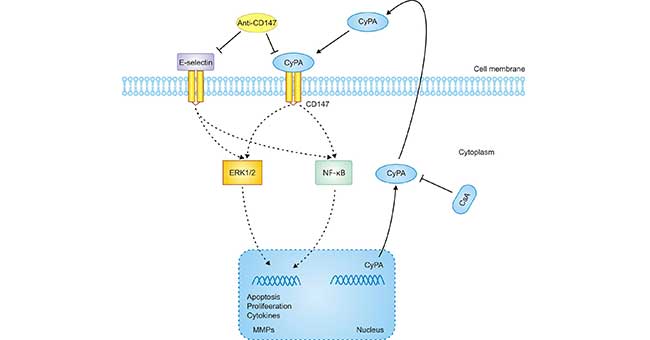 Figure 4. A proposed mechanism implicated in CyPA/CD147-mediated cell response in AKI
As mentioned, CD147 plays an important role in many physiological and pathological processes as a highly glycosylated transmembrane adhesion molecule. Recent studies have shown that oxidized low-density lipoprotein can promote the expression of CD147 in platelets, and CD147 can degrade the extracellular matrix through MMPs, leading to rupture or instability of atherosclerotic cherry plaques. This lays a theoretical foundation for the role of CD147 molecules in cardiovascular disease.
In the researches of human endometrial epithelial cell, CD147 levels in patients with endometriosis were higher than normal levels. WB results showed that in the experimental group containing CD147 antibodies, Bax and Caspase3 involved in apoptosis were significantly up-regulated. Causes increased endometrial epithelial cell apoptosis and decreased cell viability.
In addition, in the rabbit hydraulic injury model, it was found that the content of CD147 in the injured area of brain tissue was significantly increased and the expression of MMP9 was increased, which indicates that CD147 has an important role in the inflammatory response after traumatic brain injury.
6. The Latest Progression of CD147 Research
In this section, we collect several latest progression of CD147 research as follows:
On March 24, 2020, Chen Zhinan et al. from the Air Force Military Medical University published a study on the pre-printed platform medRxiv online without peer review entitled "Meplazumab treats COVID-19 pneumonia: an open-labelled, concurrent controlled add-on clinical trial". Meclizumab can competitively bind to CD147, block the binding of SARS-CoV-2 S (Spike glycoprotein) to CD147, and prevent the virus from continuing to infect new cells.

The study found that humanized anti-CD147 antibody meplazumab (metapzumab) is safe and effective in the treatment of patients with COVID-19 pneumonia. The results of this study support the large-scale clinical study of meplazumab (meplezumab) as a drug for the treatment of COVID-19 pneumonia [15].

On 07 April 2020, Xinling Wang et al. published a study on Cellular & Molecular Immunology entitled "SARS-CoV-2 infects T lymphocytes through its spike protein-mediated membrane fusion". This study demonstrated that SARS-CoV-2 can infect T cells via its spike protein-mediated membrane fusion, resulting in lymphocytopenia. Moreover, besides ACE2, the results of this study also suggested that other receptors mediate the entry of SARS-CoV-2 into T cells, such as CD147, present on the surface of T lymohocytes [16].

On April 21, 2020, Ulrich H and Pillat MM from University of São Paulo published a review on Stem Cell Rev Rep entitled "CD147 as a Target for COVID-19 Treatment: Suggested Effects of Azithromycin and Stem Cell Engagement". This review have collected the studies of CD147 for COVID-19 treatment.

As you know, CD147, a receptor on host cells, is a novel route for SARS-CoV-2 invasion. Thus, drugs that interfere in the spike protein/CD147 interaction or CD147 expression may inhibit viral invasion and dissemination among other cells. Studies suggest beneficial effects of azithromycin in reducing viral load of hospitalized patients, possibly interfering with ligand/CD147 receptor interactions; however, its possible effects on SARS-CoV-2 invasion has not yet been evaluated. Moreover, resident lung progenitor/stem are extensively differentiated into myofibroblasts during pulmonary fibrosis, a complication observed in COVID-19 patients. This process, and the possible direct viral invasion of progenitor/stem cells via CD147 or ACE2, could result in the decline of these cellular stocks and failing lung repair [17].
References
[1] Miyauchi, T., Kanekura, T., et al. Basigin, a new, broadly distributed miber of the immunoglobulin superfamily, has strong homology with both the immunoglobulin V domain and the b-chain of major histocompatibility complex class II antigen [J]. J. Biochi. 1990, 107, 316-323.
[2] Takashi Muramatsu. Basigin (CD147), a multifunctional transmibrane glycoprotein with various binding partners [J]. J. Biochi. 2016, 1-10.
[3] Curtin, K.D., Meinertzhagen, I.A., and Wyman, R.J. Basigin (iMPRIN/CD147) interacts with integrin to affect cellular architecture [J]. J. Cell Sci. 2005, 118, 2649-2660.
[4] Miyauchi, T., Masuzawa, Y., and Muramatsu, T. The basigin group of the immunoglobulin superfamily: complete conservation of a segment in and around transmibrane domains of human and mouse basigin and chicken HT7 antigen [J]. J. Biochi. 1991, 110, 770-774.
[5] Schlegel, J., Redzic, J.S., et al. Solution characterization of the extracellular region of CD147 and its interaction with its enzyme ligand cyclophilin A [J]. J. Mol. Biol. 2009, 391, 518-535.
[6] Redzic, J.S., Armstrong, G.S., et al. The retinal specific CD147 Ig0 domain: from molecular structure to biological activity [J]. J. Mol. Biol. 2011, 411, 68-82.
[7] Lijuan Xiong, Carl K. Edwards, et al. The Biological Function and Clinical Utilization of CD147 in Human Diseases: A Review of the Current Scientific Literature [J]. Int. J. Mol. Sci. 2014, 15.
[8] Dana P, Saisomboon S, et al. CD147 augmented monocarboxylate transporter-1/4 expression through modulation of the Akt-FoxO3-NF-κB pathway promotes cholangiocarcinoma migration and invasion [J]. Cell Oncol (Dordr). 2019 Nov 15.
[9] Ke Wang, Wei Chen, et al. SARS-CoV-2 invades host cells via a novel route: CD147-spike protein [J]. BioRxiv.
[10] Alexandra Landras, Coralie Reger de Moura, et al. CD147 Is a Promising Target of Tumor Progression and a Prognostic Biomarker [J]. Cancers (Basel).2019, 11(11).
[11] Fei F, Li S, et al. The roles of CD147 in the progression of gliomas [J]. Expert Rev Anticancer Ther. 2015, 15(11):1351-9.
[12] X i n Qu, Chunting Wang, et al. The Roles of CD147 and/or Cyclophilin A i n Kidney Diseases [J]. Mediators Inflamm.2014, 2014():728673.
[13] J. Y. Kim, W. J. Kim, et al., The stimulation of CD147 induces MMP-9 expression through ERK and NF-kappaB in macrophages: implication for atherosclerosis [J]. Immune Network. 2009, 9(3):90–97.
[14] X. Zhu, Z. Song, et al. CD147: a novel modulator of inflmmatory and immune disorders [J]. Current Medicinal Chiistry. 2014, 21(19): 2138–2145.
[15] Chen Zhinan, Zhu Ping, et al. Meplazumab treats COVID-19 pneumonia: an open-labelled, concurrent controlled add-on clinical trial [J]. medRxiv, 2020.
[16] Xinling Wang, Wei Xu, et al. SARS-CoV-2 infects T lymphocytes through its spike protein-mediated membrane fusion [J]. Cell Mol Immunol. 2020.
[17] Ulrich H and Pillat MM. CD147 as a Target for COVID-19 Treatment: Suggested Effects of Azithromycin and Stem Cell Engagement [J]. Stem Cell Rev Rep. 2020 Apr 20.