Recently, a study published in the journal Protein & Cell (impact factor: 10.164), attracted attention. The research found that ERBB3 mutation were closely related to tumor tolerance, and further revealed that anti-ERBB3 antibodies effectively reversed drug tolerance in gastrointestinal tumor [1]. This study provides fresh ideas for tumor target therapy and more researches are also underway to find ERBB3-targeted treatments in tumors. So, what is ERBB3 and why is it so popular among researchers? Let's learn more about it.
1. Structure of ERBB3 and its Function
ERBB3, also known as HER3 (human epidermal growth factor receptor 3), is a member of the epidermal growth factor receptor (EGFR) family. The ERBB3 gene is located on the long arm of human chromosome 12 (12q13), which has a molecular weight of 160 or 180 kDa glycoprotein. [2]. As shown in Figure 1, ERBB3, like the other members of the EGFR family, consists of three parts: a extracellular domain, a transmembrane domain, and an intracellular domain. The intracellular region is divided into a juxtamembrane region, a kinase domain and C-terminal tail. The juxtamembrane region is divided into JM-A and JM-B. The kinase domain includes N-lobe, helix α C, activation loop and C-lobe [3]. Since ERBB3 itself lacks intrinsic kinase activity, it cannot activate downstream signaling. However, ERBB3 can bind to its two nature ligands, heregulin (HRG1/2) (also known as NRG1/2). Ligand binding leads to conformational changes, which further results in receptor dimerization, phosphorylation, and activation of signal transduction pathways [4].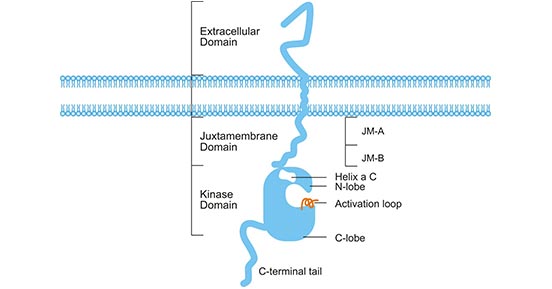 Figure 1. Structure of ERBB3 receptor
* The figure is derived from Boston University Libraries publication [3].
ERBB3 is expressed in skin, bone, muscle, nervous system, heart, lungs, and intestinal epithelium [5]. Indeed, ERBB3 itself is regulated by two ubiquitin ligases, NEDD4 and NRDP1, which regulate its ubiquitination and proteasomal degradation [6]. Overexpression of ERBB3 was found to be associated in many cancers, including prostate, bladder, and breast cancers [6].
2. ERBB3/ERBB2-Mediated Signal Transduction Pathway
As aforementioned, ERBB3 cannot be autophosphorylated due to the absence of intrinsic tyrosine kinase activity, but ERBB3 is able to form heterodimers with other members of EGFR family, ERBB1(also known as EGFR, HER1), ERBB2/HER2, and ERBB4. The heterodimers provide an approach to activate downstream pathways that affect cell proliferation and differentiation [4]. Among them, the ERBB3/ERBB2 heterodimer is considered the most active of the ERBB3 dimers and exhibits a higher signaling activity than other heterodimers [7]. This heterodimer conformation allows the signaling complex to activate multiple pathways including MAPK/ERK and PI3K/AKT [8, 9].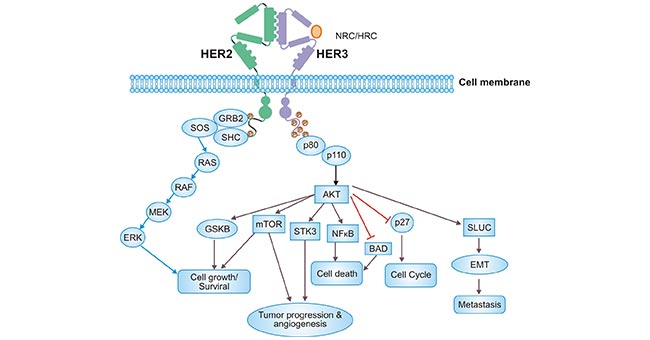 Figure 2. ERBB3/ERBB2 heterodimer activates downstream signaling pathways
* The figure is derived from Oncology reviews publication [8].
As in Figure 2, ERBB3 binds to the ligand NRG and induces ERBB3 to form a heterodimeric complex with ERBB2. On the one hand, ERBB3 and ERBB2 forms a heterodimer and activates the classical MAPK/ERK pathway as follows: ligand (NRG1/HRG) → ERBB3/ERBB2 → junction protein (GRB2) → SOS (guanylate exchange factor of RAS) → RAS protein → RAF → MAPKKK (MAPK kinase kinase) → MEK → MAPKK (MAPK kinase) → ERK/MAPK [8]. On the other hand, the regulation of cell growth and proliferation by ERBB3 is also associated with the kinase AKT, which activates the downstream PI3K/AKT signal pathway. Specifically: ERBB3 is the p85 regulatory subunit of PI3K. As p85 binding to the activated receptor ERBB3, ERBB3 is able to recruit p110α catalytic subunit of PI3K, which in turn recruits AKT. Further, the AKT is activated by PDK1 and mTORC2. Moreover, AKT phosphorylation activates or inhibits its downstream target proteins Bad, Caspase9, NF-κB, GSK-3, mTOR, p27, etc. Briefly, once ERBB3/ERBB2 heterodimer is formed so that ERBB3 can be phosphorylated. The stimulated signaling cascades together regulate a variety of important biological activities such as cell growth, differentiation, and inflammatory responses. Of note, the signaling pathways mediated by ERBB3/ERBB2 are usually involved in the cell proliferation, differentiation, migration, and anti-apoptosis in many tumor cells [8, 9].
3. The Role of ERBB3 in Tumors
Among the ERBB family, ERBB3 is related to the development of many types of tumors. It can form heterodimers with other ERBB family receptors (especially ERBB2), which activates a number of downstream signaling cascades. ERBB3/ERBB2 influences cell growth, proliferation, invasion, metastasis, and chemo-resistance [10]. ERBB3 overexpression is identified in breast, lung, colorectal, gastric, head and neck squamous, ovarian, melanoma, prostate and bladder cancers [11, 12].
In breast cancer, one research pointed that ERBB3 overexpression was detected in 50% to 70% of breast cancer patients and ERBB3 levels were assessed by immunohistochemistry (IHC). In breast cancer, co-expression of ERBB3 and ERBB2 was observed [13].
In non-small cell lung cancer (NSCLC), ERBB3 binds its ligand NRG1, which in turn promotes ERBB3/ERBB2 binding to form a heterodimer (Figure 3) [14]. NRG1 is an oncogene that is closely associated with NSCLC [15]. It has been shown that even in the absence of ligand, ERBB3 forms a dimer with ERBB2 as ERBB2 is overexpressed, which in turn activates downstream signaling pathway and then leading to tumorigenesis [16, 17]. Therefore, blocking the formation of ERBB3/ERBB2 heterodimers in cells by targeting ERBB3 would provide a new way for cancer therapy.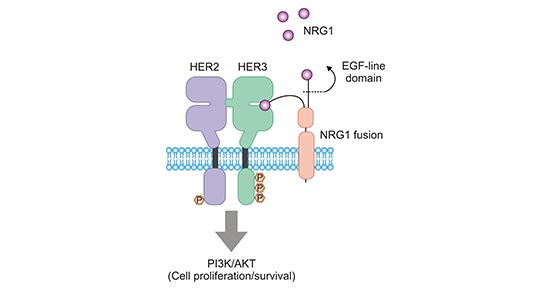 Figure 3.ERBB3/ERBB2 (HER3/HER2) stimulates tumor cell proliferation and survival
* The figure is derived from Oncology reviews publication [14].
In addition to ERBB3 overexpression, ERBB3 mutations are also responsible for the tumorigenesis. In human colon and gastric cancers, ERBB3 mutations have been reported, and some of mutations have also triggered function mutations [18, 19]. As represented in Figure 4, it shows the hotspot mutation sites on ERBB3 protein sequence, which are associated with multiple tumors [18].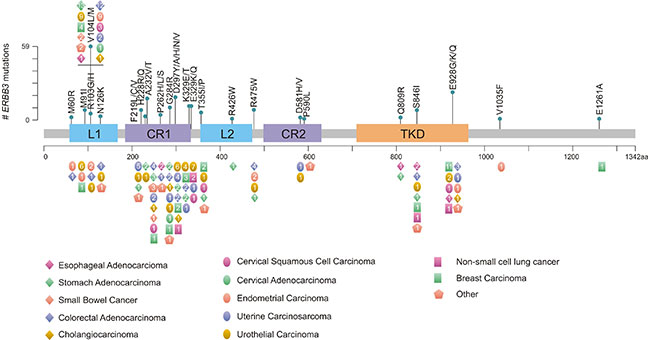 Figure 4. The hotspot mutation sites on ERBB3 protein sequence
* The figure is derived from Oncogene publication [18].
4. Development of ERBB3-Targeted Therapy and Clinical Significance
Since ERBB3 plays an important role in many tumors, ERBB3 is gradually becoming an important target for tumor therapy. Currently, the role of ERBB3 receptor in tumor therapy has attracted much attention. Several types of drugs targeting ERBB3 have emerged worldwide, such as monoclonal antibodies targeting ERBB3 and bispecific antibodies targeting both ERBB3 and other receptors. These antibody drugs interfere with tumor cell growth through different mechanisms, including inhibition of ligand binding, inhibition of receptor dimerization and unactivated ERBB3 conformation.
Seribantumab (MM-121) is an anti-ERBB3 human monoclonal antibody, which is currently in phase I and II clinical trials for the treatment of breast, NSCLC, ovarian and other solid tumors. SI-B001 is the first clinically approved ERBB3 bispecific antibody for the treatment of locally advanced or metastatic epithelial tumors. Patritumab deruxtecan (U3-1402) is an anti-ERBB3 antibody-drug conjugate, which has shown strong efficacy in the treatment of lung cancer. Given its high potential in the tumor therapy, increasing number of researchers and pharmaceutical companies are trying to develop ERBB3-targeted drugs. Most of these drugs are currently in clinical studies, as shown in the table below.
Name
Research Phrase
Company
Indications
Last Update Date
Tesevatinib
Clinical Phase III
Exelixis Inc;
Autosomal dominant polycystic kidney disease;
Non-small cell lung Cancer;
Glioblastoma;
Brain cancer;
Breast cancer;
2020-08-28
Patritumab
Clinical Phase III
Amgen;
Daiichi Sankyo Corporation;
Non-small cell lung Cancer;
Breast cancer;
Head and neck cancer;
2020-08-28
Patritumab Deruxtecan
Clinical Phase II
Daiichi Sankyo Corporation;
Non-small cell lung Cancer;
Colorectal cancer;
Breast cancer;
2020-12-10
Zenocutuzumab
Clinical Phase II
Merus;
Breast cancer;
Non-small cell lung Cancer;
Ovarian cancer;
2020-08-28
Allitinib Tosylate (eritinib mesylate)
Clinical Phase II
Shanghai Allys Pharmaceutical Technology Co;
Non-small cell lung Cancer;
Lung cancer;
Breast cancer;
2020-08-28
KTN-3379
Clinical Phase II
Medimmune;
Head and neck cancer;
Breast cancer;
2020-08-28
Seribantumab
Clinical Phase II
Merrimack;
Bladder cancer;
Breast cancer;
Non-small cell lung Cancer;
Adenocarcinoma;
Squamous cell carcinoma of the head and neck;
Triple negative breast tumors;
2020-08-28
Sapitinib
Clinical Phase II
AstraZeneca Pharmaceuticals Ltd;
Colorectal cancer;
Breast cancer;
Metastatic cancer;
2020-08-28
Lumretuzumab
Clinical Phase II
Roche;
Non-small cell lung Cancer; Breast cancer;
Tumor;
2020-08-28
Recombinat humanized HER3-targeting antibody(recombinant anti-HER3 humanized monoclonal antibody)
Clinical Phase I
Shanghai Institute of Biological Products Co;
Solid tumors;
2020-09-07
Recombinant human ErbB3 fragment vaccine (Zensun)(Recombinant human New epitope peptide)
Clinical Phase I
Shanghai Zesheng Technology;
Tumors;
2020-08-28
Sirotinib Maleate (selotinib maleate)
Clinical Phase I
Shandong Xuanzhu Pharmaceutical Technology Co;
Non-small cell lung Cancer;
Squamous cell carcinoma;
Gastric cancer;
2020-08-28
SI-B001 (SI-B001 bispecific antibody)
Clinical Phase I
Sichuan Baili Pharmaceutical Co;
Carcinoma;
Glandular and epithelial tumors;
2020-08-28
GSK-2849330
Clinical Phase I
GlaxoSmithKline;
Tumors;
2020-08-28
ISU-104
Clinical Phase I
Isu Abxis;
Tumors;
2021-01-06
AV-203
Clinical Phase I
Aveo;
Tumors;
2020-08-28
MP-0274
Clinical Phase I
Molecular Partners Ag;
Tumors;
2020-08-28
Recombinant Human Neuromodulin 1-Anti-HER3 Antibody Fusion Protein (Salubris)
Clinical Applications
Shenzhen Xinlitai Pharmaceutical Co;
/
2020-09-21
HMBD-001
Preclinical
Hummingbird Biotechnology;
Tumors;
2020-10-27
Molecularly targeted therapy in tumor has become a hot spot for the high specificity, anti-tumor efficacy, and lower toxicity, etc. Many tumor molecularly targeted drugs are being developed. ERBB3, as one of the most popular targets, accumulating researches suggested that ERBB3 is closely associated with a variety of tumors. Therefore, ERBB3, as a biomarker, more and more antibodies against ERBB3 are currently exploring. ERBB3 monoclonal antibodies or bispecific antibodies are expected to bring more options for tumor treatment.
References
[1] Yang, Xiang, et al. "Rewiring ERBB3 and ERK signaling confers resistance to FGFR1 inhibition in gastrointestinal cancer harbored an ERBB3-E928G mutation." Protein & cell 11.12 (2020): 915-920.
[2] Maurer, Christoph A., et al. "Increased expression of erbB3 in colorectal cancer is associated with concomitant increase in the level of erbB2." Human pathology 29.8 (1998): 771-777.
[3] Chandra, Ankush. "The Role of ErbB3 Inhibitors as Cancer Therapeutics." Boston University, Massachusetts, USA, MSc (2015).
[4] Kirouac, Daniel C., et al. "HER2+ cancer cell dependence on PI3K vs. MAPK signaling axes is determined by expression of EGFR, ERBB3 and CDKN1B." PLoS computational biology 12.4 (2016): e1004827.
[5] Coussens, Lisa, et al. "Tyrosine kinase receptor with extensive homology to EGF receptor shares chromosomal location with neu oncogene." Science 230.4730 (1985): 1132-1139.
[6] Mujoo, Kalpana, et al. "Regulation of ERBB3/HER3 signaling in cancer." Oncotarget 5.21 (2014): 10222.
[7] Tzahar, Eldad, et al. "A hierarchical network of interreceptor interactions determines signal transduction by Neu differentiation factor/neuregulin and epidermal growth factor." Molecular and cellular biology 16.10 (1996): 5276-5287.
[8] Mishra, Rosalin, et al. "HER3 signaling and targeted therapy in cancer." Oncology reviews 12.1 (2018).
[9] Lee, Youngseok, et al. "Role of erbB3 receptors in cancer therapeutic resistance." Acta Biochim Biophys Sin 46.3 (2014): 190-198.
[10] Holbro, Thomas, et al. "The ErbB2/ErbB3 heterodimer functions as an oncogenic unit: ErbB2 requires ErbB3 to drive breast tumor cell proliferation." Proceedings of the National Academy of Sciences 100.15 (2003): 8933-8938.
[11] Hafeez, Umbreen, et al. "New insights into ErbB3 function and therapeutic targeting in cancer." Expert Review of Anticancer Therapy (2020): 1-18.
[12] Sithanandam, G., and L. M. Anderson. "The ERBB3 receptor in cancer and cancer gene therapy." Cancer gene therapy 15.7 (2008): 413-448.
[13] Aurisicchio, Luigi, et al. "The promise of anti-ErbB3 monoclonals as new cancer therapeutics." Oncotarget 3.8 (2012): 744.
[14] Schram, A. M., et al. "Clinical proof-of-concept for MCLA-128, a bispecific HER2/3 antibody therapy." NRG1 fusion-positive cancers. Presented at the AACR-NCI-EORTC Congress. 2019.
[15] Chen, Hui, et al. "Afatinib reverses ceritinib resistance (CR) in ALK/ROS1-positive non-small-cell lung cancer cell (NSCLC) via suppression of NRG1 pathway." OncoTargets and therapy 11 (2018): 8201.
[16] Jacob, Wolfgang, et al. "Clinical development of HER3-targeting monoclonal antibodies: perils and progress." Cancer treatment reviews 68 (2018): 111-123.
[17] Karachaliou, Niki, et al. "HER3 as a Therapeutic Target in Cancer." BioDrugs 31.1 (2017): 63-73.
[18] Kiavue, Nicolas, et al. "ERBB3 mutations in cancer: biological aspects, prevalence and therapeutics." Oncogene 39.3 (2020): 487-502.
[19] Ahmed, Ayesha. "Prevalence of Her3 in gastric cancer and its association with molecular prognostic markers: a Saudi cohort based study." Libyan Journal of Medicine 14.1 (2019): 1574532.