On July 4, 2021, an article published in the journal Frontiers in immunology (IF: 7.561) entitled "Circulating and Tumor-Infiltrating NK Cells From Clear Cell Renal Cell Carcinoma Patients Exhibit a Predominantly Inhibitory Phenotype Characterized by Overexpression of CD85j, CD45, CD48 and PD-1" revealed that CD48 is highly expressed in renal clear cell carcinoma (ccRCC) and may be associated with tumor-infiltrating NK cell immune evasion [1]. In fact, CD48 has become an essential biomarker for inflammatory and allergic diseases. It is believed that CD48, as an emerging immune co-stimulatory molecule, is likely to provide new insights for tumor immunotherapy research. As a candidate molecule for immunotherapy in diseases, therefore, How's progress on the CD48 research? Today, let's learn more about it.
1. What is the Structure and Expression of CD48? (H2)
CD48 (also known as BLAST-1 or SLAMF2) is a member of the glycosylphosphatidylinositol (GPI)-linked immunoglobulin superfamily [2]. The human CD48 gene is located on chromosome 1q21-23, encoding a glycoprotein with a molecular weight of approximately 45 kD [3]. CD48 is present in human serum and plasma in a soluble form, but how its solubility arises remains to be elucidated [4]. The CD48 protein structure consists of an immunoglobulin-like IgV domain and an immunoglobulin IgC2 domain, which contains conserved cysteine residues that form disulfide bonds (Figure 1). CD48 has no the transmembrane domain, whereas CD48 anchors to the cell membrane through GPI linkages and thus binds to relevant signaling molecules to exert biological effects [5, 6].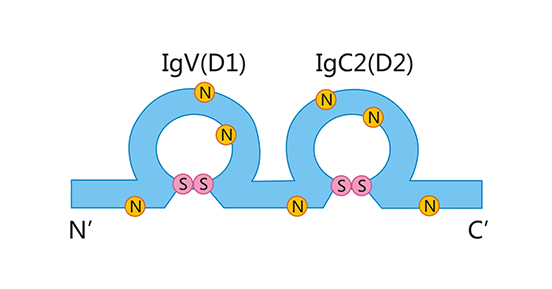 Figure 1. CD48 structure
*The figure was derived from the Clinical Immunology publication [6]
CD48 is expressed on the surface of NK cells, T cells, monocytes, and basophils, which is involved in the adhesion and activation signaling pathways of these cells [7]. CD48 expression in human peripheral blood monocytes was found to be increased when cytokines such as IFN-α, IFN-β, and IFN-γ were exposed [8]. CD48 affects the immune process by binding different ligands. Numerous studies have shown that CD48 plays multiple roles in the pathophysiological mechanisms of many diseases.
2. What are the Ligands of the CD48?
The main ligands of CD48 are CD2, CD244, and FimH. The activation of CD48 by binding to a variety of ligands could cause rearrangement of signaling factors in lipid rafts, Lck kinase activity, and tyrosine phosphorylation, contributing to different immune functions [9].
The ligand CD2 is expressed mainly on T cells and NK cells. The ligand CD244 is expressed on NK cells, some memory CD8+T cells, monocytes, and granulocytes. CD48 can promote immune cell interactions by binding to CD2 and CD244 on other hematopoietic cells, whereas CD48 has a higher affinity for CD244. CD48 can also bind the lectin FimH on E. coli, which could promote macrophage and mast cells in the recognition and phagocytosis of bacteria. In addition, in humans, CD58 is a high-affinity ligand for CD2 [9]. Therefore, the interaction of CD48 with its ligands is influenced by the expression of its ligand and CD58, as well as the affinity of each receptor-ligand interaction. As shown in Figure 2, CD48 participates in many immune processes by forming receptor/ligand pairs, including T cell activation, adhesion of antigen-presenting cells, and regulation of CD8+T cell and NK cell immunity [10].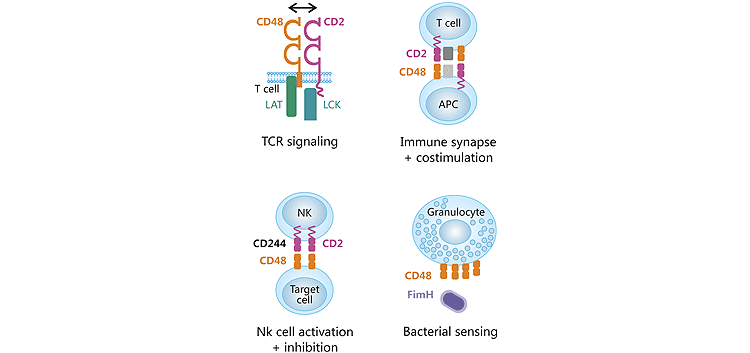 Figure 2. Interactions of CD48 with its ligands
*The figure was derived from the Clinical immunology publication [10]
3. What is the Counter Receptor of CD48 and Their Regulatory Mechanisms?
In human NK cells, CD48 is a counter-receptor for the important NK cell activator CD244. Namely, CD48 acts as a ligand for the receptor CD244. CD48/CD244 plays an important role in cell-cell interactions. It has been suggested that CD48/CD244 may play a variety of different functions in promoting or inhibiting downstream signaling pathways. In promoting downstream signaling pathways, CD48/CD244 activates T-cell activation ligand protein (LAT). Besides, CD48/CD244 also induces phosphorylation of the immunoreceptor tyrosine transition motif (ITSM) and recruits the junctional protein SAP. Meanwhile, SAP binds to ITSM to recruit the tyrosine kinase Fyn, which drives phosphorylation of downstream proteins and thus activates NK cells (Figure 3A). However, how CD48/CD244 is regulated in the inhibition of downstream signaling pathways has not been clearly elucidated. It is speculated that CD48/CD244 inhibits downstream signaling pathways in a similar manner to the inhibitory receptor Ly49 (Figure 3B) [11]. It has been reported that CD48/CD244 activates signals in human NK cells, but inhibits signals in murine NK cells [12].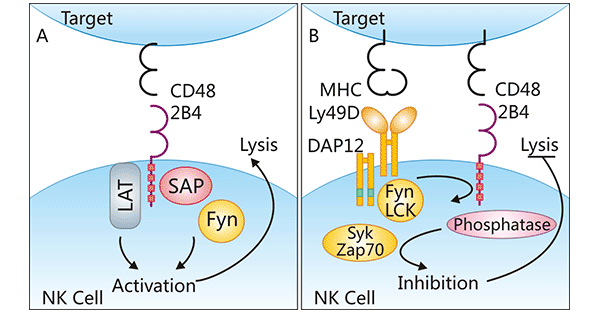 Figure 3. CD48/CD244 regulatory mechanisms
*The figure was derived from the Molecular immunology publication [11]
4. The Role of CD48 in the Diseases
CD48 acts as an adhesion molecule, which is involved in immune regulatory mechanisms in B and T lymphocytes, NK cells, mast cells, and eosinophils. An increasing number of studies have revealed the role of CD48 in autoimmunity, inflammation, allergy, hematopoiesis, and tumors.
In mouse models of inflammatory bowel disease, CD48/CD244 inhibits CTL cell differentiation or CTL effector functions [13]. In mouse tumor models, CD244 is highly expressed on dysfunctional CD8+T cells [14]. In addition, CD244 is associated with CD8+T cell depletion [14]. However, it is not clear of CD48 functions in these biological processes. Some in vitro studies have shown that the binding of CD48 to CD244 inhibited IFN-β production and prolonged DC cell survival. Additionally, IFN-β could mediate apoptosis of mature DC cells, promoting the production of PI-9, a granzyme B inhibitor, thereby reducing activated T cell depletion [15]. These studies suggest that CD48 and CD244 act not only to influence the functions of NK cells, but also to regulate the proliferation and functions of T cells.
Another report suggests that reduced expression of CD48 on CD8+T cells may play a role in the pathogenesis of rheumatoid arthritis. Researchers analyzed that decreased expression of CD48 molecule on peripheral blood CD8+T cells contributed to decreased activation and proliferation of CD8+T cells. The decrease in the number of CD8+T cells led to a diminished role of suppressor T cells, which might cause the development of rheumatoid arthritis in patients [16]. In addition, accumulating studies have pointed out that upregulated CD48 is closely associated with allergic diseases, including intermittent allergic rhinitis (IAR) [17], allergic rhinitis [18], and asthma [19]. It has also been noted that CD48 expression is associated with dysfunctional hematopoietic stem cells in mice. Intriguingly, in recent years, studies have found that CD48 is associated with some types of cancer, such as breast cancer [20], glioma [21], hepatocellular carcinoma [22], and cutaneous T-cell lymphoma [23], but the exact mechanism remains to be determined. In a nutshell, further elucidation of the immunoprotective or damaging mechanisms of CD48 will be crucial for the treatment of various diseases.
5. The Clinical Prospect of CD48
In recent years, it has been found that the CD48 is involved in the regulation of cellular immune responses, affecting the development of related diseases. CD48, as a key molecule of the immune response, it is considered to be an important biomarker or therapeutic target for autoimmune or allergic reactive diseases. CD48 protein or antibodies in clinical studies may be useful in the treatment of allergy, inflammation, and autoimmune syndromes. Currently, there is only one CD48-targeting antibody-drug conjugate (SGN-CD48A), a potent drug in clinical phase I for multiple myeloma. Crucially, more studies regarding CD48 have been reported for exploring one or more diseases, including the treatment of allergic conditions, other inflammatory conditions, tumors, etc. To date, the findings on CD48 are only the tip of the iceberg. But more research are underway to clarify the roles of CD48, which are expected to bring more options for immunotherapy in diseases.
References
[1] Ziblat, Andrea, et al . "Circulating and Tumor-Infiltrating NK Cells From Clear Cell Renal Cell Carcinoma Patients Exhibit a Predominantly Inhibitory Phenotype Characterized by Overexpression of CD85j, CD45, CD48 and PD-1." Frontiers in immunology 12 (2021): 2143.
[2] Moran, Miriana, and M. Carrie Miceli. "Engagement of GPI-linked CD48 contributes to TCR signals and cytoskeletal reorganization: a role for lipid rafts in T cell activation." Immunity 9.6 (1998): 787-796.
[3] Vassen, Lothar, et al. "Growth Factor Independence 1 (Gfi1) Regulates Cell-Fate Decision of the Bipotential Granulocytic-Monocytic Precursors Defined by Expression of CD48 As a New Marker." Blood 118.21 (2011): 3217.
[4] Gangwar, Roopesh S., et al. "CD 48 on blood leukocytes and in serum of asthma patients varies with severity." Allergy 72.6 (2017): 888-895.
[5] Velikovsky, C. Alejandro, et al. "Structure of natural killer receptor 2B4 bound to CD48 reveals basis for heterophilic recognition in signaling lymphocyte activation molecule family." Immunity 27.4 (2007): 572-584.
[6] Pahima, Hadas, Pier Giorgio Puzzovio, and Francesca Levi-Schaffer. "2B4 and CD48: A powerful couple of the immune system. "Clinical Immunology 204 ( 2019): 64-68.
[7] Morandi, Barbara, et al. "Distinctive lack of CD48 expression in subsets of human dendritic cells tunes NK cell activation." The Journal of Immunology 175.6 (2005): 3690-3697.
[8] Branicka, Olga, et al. "Elevated Serum Level of CD48 in Patients with Intermittent Allergic Rhinitis." International Archives of Allergy and Immunology 182.1 (2021): 39-48.
[9] McArdel, Shannon Leah. Immunoregulatory roles of CD48 in autoimmunity and tolerance. Harvard University, 2015.
[10] McArdel, Shannon L., Cox Terhorst, and Arlene H. Sharpe. "Roles of CD48 in regulating immunity and tolerance. "Clinical immunology 164 (2016): 10-20.
[11] McNerney, Megan E., Kyung-Mi Lee, and Vinay Kumar. "2B4 (CD244) is a non-MHC binding receptor with multiple functions on natural killer cells and CD8+ T cells." Molecular immunology 42.4 (2005): 489-494.
[12] Vaidya, Swapnil V., and Porunelloor A. Mathew. "Of mice and men: different functions of the murine and human 2B4 (CD244) receptor on NK cells. "Immunology letters 105.2 (2006): 180-184.
[13] O'Keeffe, Michael S., et al. "SLAMF4 is a negative regulator of expansion of cytotoxic intraepithelial CD8+ T cells that maintains homeostasis in the small intestine." Gastroenterology 148.5 (2015): 991-1001.
[14] Blackburn, Shawn D., et al. "Coregulation of CD8+ T cell exhaustion by multiple inhibitory receptors during chronic viral infection." Nature immunology 10.1 (2009): 29-37.
[15] Kis-Toth, Katalin, and George C. Tsokos. "Engagement of SLAMF2/CD48 prolongs the time frame of effective T cell activation by supporting mature dendritic cell survival." The Journal of Immunology 192.9 (2014): 4436-4442.
[16] Sun, Lin, et al. "Advances in Understanding the Roles of CD244 (SLAMF4) in Immune Regulation and Associated Diseases." Frontiers in Immunology 12 (2021) : 731. : 731.
[17] Branicka, Olga, et al. "Elevated Serum Level of CD48 in Patients with Intermittent Allergic Rhinitis." International Archives of Allergy and Immunology 182.1 (2021): 39-48.
[18] Zeddou, Mustapha, Philippe Delvenne, and Amr E. El-Shazly. "Dynamics and function of eosinophils' CD48 molecules in allergic rhinitis and in response to eotaxin stimulation." Advances in Cellular and Molecular Otolaryngology 1.1 (2013): 22389.
[19] Munitz, Ariel, Ido Bachelet, and Francesca Levi-Schaffer. "CD48 as a novel target in asthma therapy. "Recent Patents on Inflammation & Allergy Drug Discovery 1.1 (2007): 9-12.
[20] Mamoor, Shahan. "CD48 (SLAMF2) is differentially expressed in the lymph nodes of patients with metastatic breast cancer."(2021).
[21] Zou, Cunyi, et al. "CD48 is a key molecule of immunomodulation affecting prognosis in glioma." OncoTargets and therapy 12 (2019): 4181.
[22] Wu, Yan, et al. "Monocyte/macrophage-elicited natural killer cell dysfunction in hepatocellular carcinoma is mediated by CD48/2B4 interactions." Hepatology 57.3 (2013): 1107-1116.
[23] Dulmage, B. O., et al. "Black cat in a dark room: the absence of a directly oncogenic virus does not eliminate the role of an infectious agent in cutaneous T -cell lymphoma pathogenesis." British Journal of Dermatology 172.5 (2015): 1449-1451.