Interleukin
What are Interleukins?
Interleukins, also abbreviated as ILs, are a group of cytokines that were first seen to be expressed by white blood cells (leukocytes) in the 1970s.
ILs can be divided into four major groups based on distinguishing structural features. Currently, it is found to be produced by a lot of cells including macrophages, lymphocytic cells with a solid structure and function. They play a critical role in immunological regulation and homeostasis.
Families of Interleukins
The latest data indicates that the members of interleukin are wealthy named IL-1~IL-38. The interleukin receptors can be classified as type I, type II and other types.
The type II interleukin receptors include interleukin-10, 20, 22, 28 receptors, the other type include interleukin-1, 8 receptors, the rest of them are type I interleukin receptors. That is a big family, and it is better to have a comprehensive understanding of all Interleukins and their receptors.
CUSABIO almost owns all of interleukins and receptors, as the table below shows, all of them have great biological activity and high purity. Additionally, all of them are in stock. We've listed several pictures of hot interleukins for your reference.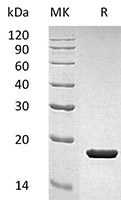 Recombinant Human Interleukin-1 receptor antagonist protein (IL1RN) (CSB-AP004601HU)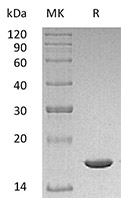 Recombinant Mouse Interleukin-1 beta (Il1b) (CSB-AP004731MO)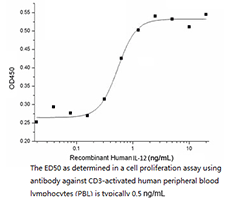 Recombinant Human Interleukin-12(IL12) (CSB-AP004691HU)
As is known to all, interleukin is important for transmitting information, activating and regulating immune cells, mediates the activation, proliferation and differentiation of T cells and B cells. Among of them, some mechanisms of interleukins have been illustrated clearly via signaling pathway.
Take an example like IL-17 signaling pathway, there are 6 members in the IL-17 family, including IL-17/IL-17A, IL-17B, IL-17C, IL-17D, IL-17E/IL-25, and IL-17F, which are produced by a number of different cell types and primarily promote pro-inflammatory immune responses. And its receptor family contains 5 members, involving IL-17 R/IL-17RA, IL-17B R/IL-17RB, IL-17RC, IL-17RD/SEF, and IL-17RE. IL-17A is the hallmark in this family that it protects the host against extracellular pathogens, but also promotes inflammatory pathology in autoimmune disease, similar to IL-17C. While IL-17F involves in the mucosal host defense, IL-17E amplifies the Th2 immune response. The IL-17 family activates antibacterial cytokines and chemokines in MAPK, NF-κB and C/EBPs pathway. Act1 is considered as the master mediator in this pathway. You can click here to view the complete picture of IL-17 signaling pathway.
Besides IL-17 signaling pathway, a thoughtful guy from CUSABIO also make out other signaling pathways, including IL-1 signaling pathway, IL-10 pathway, IL-12 pathway and IL-7 pathway. You can click the corresponding pathway name to view the picture of signaling pathway in details, respectively.
As mentioned in the paragraph 1, Interleukin plays a critical role in immunological regulation and physiological and pathological process. Take an example like inflammation, inflammation is a productive conduct to stimuli such as pathogens and damage cells. Its characters are heat, redness, swelling, pain and loss of function, sometimes accompanied with fever. There are many studies have revealed the relation between interleukin and diseases caused by inflammation, such as psoriasis, rheumatoid arthritis, systemic lupus erythematosus and crohn's disease.
For instance, in 2008, the study of Lockshin B et al. demonstrated that over-expressing IL-17 causing increased inflammatory cells and levels of nitric oxide synthase (iNOS), cyclooxygenase-2 (COX-2), nitric oxide (NO) makes more severe psoriasis, and endothelial dysfunction. Additionally, accumulating evidence suggested efficient to take antibody-based therapies directed against TNF or interleukin-12/interleukin-23 p40 subunit antibody or integrins in moderate-to-severe Crohn's disease.