CD Antigen
CD antigens, also known as cell surface antigens of leukocytes or cluster of differentiation, are molecules originally defined as being present on the cell surface of leucocytes and recognized by specific antibody molecules, but now including some intracellular molecules and molecules present on cells other than leucocytes. They are important for immune reactions of organisms.
With the 12 years' experience of developing protein, CUSABIO has established five recombinant expression systems from prokaryotic to eukaryotic. Now, CUSABIO provide a series of proteins of CD antigens. All of them will undergo our standardized quality control process before shipped, including protein concentration, molecular, purity, endotoxin and biological activity detection. You can click the following link to view more information about Protein QC: https://www.cusabio.com/QC_protein.html.
Here, we numerate several features of CUSABIO's CD antigens
High purity (>=95%)
Low endotoxin
Validated bioactivity
Multiple species: Human, Rat, Mouse
Various tags: His, Flag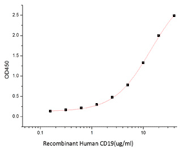 The ED50 as determined by its ability to binding CD19 used funtional ELISA is less than 20 ug/ml
The CD system is commonly used as cell markers; this allows cells to be defined based on what molecules are present on their surface. These markers are often used to associate cells with certain immune functions or properties. While using one CD molecule to define populations is uncommon (though a few examples exist), combining markers has allowed for cell types with very specific definitions within the immune system.
The most commonly known CD antigens are CD4 and CD8 which are markers for T-helper and T-suppressor cells, respectively. CD4 binds to relatively invariant sites on class II major histocompatibility complex molecules outside the peptide-binding groove, which interacts with the T-cell receptor. CD4 is also the central docking receptor for human immunodeficiency virus. CD8 binds to relatively invariant sites on class I major histocompatibility complex molecules outside the peptide-binding groove. CD8 is also expressed on a subset of dendritic cells. Other more important CD antigens include the leukocytes integrins (CD11/CD18) and the hematopoietic stem cell marker CD34.
CD Antigens are not merely markers on the cell surface, but also can act in numerous ways and are important for immune reactions of organisms. They often act as receptors or ligands important to the cell, initiating a signal cascade and altering the behavior of the cell, including CD44, CD46, etc. Some cluster of differentiation antigens do not play a role in cell signaling, but have other functions, such as CD22 (also known as BL-CAM).
CD Antigens not only play a key role in the diagnosis of cancer, they also can help identify which types of treatment may be most successful and measure how effective the treatment is by monitoring changes in the relevant CD molecules. Moreover, researchers are today able to create a type of defensive protein, known as a monoclonal antibody (mAb), which is matched to a specific CD antigen. These cloned antibodies mimic those produced by the body and can be used to fight cancer in a form of treatment known as targeted immunotherapy. And these specific CD antigens are also known as immune checkpoints, such as CD274 (PD-L1) and CD276 (B7H3).