Transmembrane protein (TP), also known as intact protein, is a type of membrane protein exists in the whole biofilm, that is, transmembrane proteins span from one side of the membrane to another side. Transmembrane proteins play an important role in molecular transport, signal transduction, energy utilization and other basic physiological processes.
For example, many natural transmembrane proteins act as channels for specific substances to pass through the biofilm, and some transmembrane proteins receive or transmit cellular signals. The strong attachment of the transmembrane protein to the biofilm is due to the hydrophobic interaction of the membrane lipid with the hydrophobic region of the protein.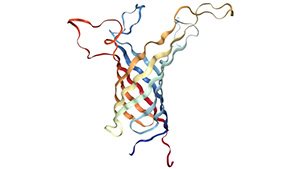 Figure 1 The structure of outer membrane protein A transmembrane domain
1. Physicochemical Properties of Transmembrane Proteins
Transmembrane proteins have some common physicochemical properties. Since the transmembrane protein crosses the phospholipid bilayer of the membrane, this determines that the transmembrane region must be composed of strongly hydrophobic amino acids. Typical transmembrane proteins include 1 to 20 transmembrane regions that are completely spanned or partially inserted into the cell membrane.
2. Classification of Transmembrane Proteins
2.1 Alpha Helix
Most of the transmembrane regions are alpha - helical. This protein is present in the inner membrane of bacterial cells or in the plasma membrane of eukaryotic cells and sometimes in the outer membrane of eukaryotic cells. It is estimated that 27% of all proteins in the body are alpha - helical membrane proteins.
2.2 β - Barrel Membrane Protein
So far, such proteins have been found only in the outer membrane of gram-negative bacteria, the cell wall of gram-positive bacteria, and the outer membrane of mitochondria and chromatin. All β - tubular transmembrane proteins have common evolutionary origins and similar folding mechanisms.
2.3 Other Classification
It can also be classified according to the position of its N-terminal and C-terminal domains.
Type I transmembrane proteins are anchored to the lipid membrane by stop-transport anchoring sequences, and their N-terminal domains target the endoplasmic reticulum cavity during synthesis.
Types II and III are anchored by signal anchoring sequences. The type II targets the ER cavity with its C-terminal domain. Type III targets the ER cavity with its N-terminal domain.
There are two subtypes of type IV: IV-a and IV-b. IV-a targets the cytoplasm with its N-terminal domain, while IV-b targets the cavity with its N-terminal domain.
In these four types, type I, II and III are single-transmembrane proteins, while type IV is multi-transmembrane proteins.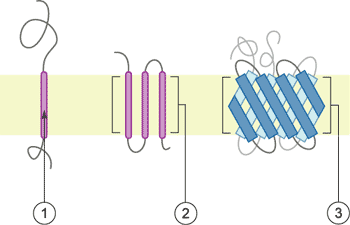 Figure 2 Schematic representation of transmembrane proteins
①1a single transmembrane α-helix.
②2a polytopic transmembrane α-helical protein.
③3a polytopic transmembrane β-sheet protein.
Note: This image is from wikipedia
3. Studies on Transmembrane Proteins
3.1 Studies on Transmembrane Proteins
Transmembrane proteins are located at the interface between cells and the outside world, mediating the signal transduction between cells and the outside world, and performing many important cellular biological functions.
For example, it is a receptor for various signaling molecules, hormones and other substrates; it is involved in the exchange of substances, energy and signal between the inside and outside of the cell membrane; it constitutes a channel for various ion transmembranes, which inputs nutrients and some inorganic electrolytes into cells, and discharges toxic or useless metabolites into cells; and it constitutes respiratory chains and transporters.

Figure 3 The function of transmembrane proteins
Different transmembrane proteins also have different functional characteristics, and understanding the functions of these membrane proteins provides clues to further elucidate the functions of different membrane systems [1].
Interferon Induces Transmembrane Proteins
IFITM1 is a member of the interferon-induced transmembrane protein family, and its gene product is one of the leukocyte antigens involved in the transmission of anti-proliferation and homogenous anti-adhesion signal complexes on lymphocytes [2]. Studies have found that IFITM protein can help inhibit viral infection caused by viral bacteria in the cell, which is the most effective method for HIV transmission [3]. IFITM proteins, especially IFITM2 and IFITM3, block HIV cell-to-cell transmission. IFITM proteins often affect the lipid properties of cell membranes and impede the fusion of different viruses with host cells.
In recent years, studies on high expression of IFITM1 have reported in colon cancer, lung cancer, rectal cancer, gastric cancer and head and neck squamous cell carcinoma. Its role in the occurrence, proliferation and invasion of malignant tumors is attracting more and more attention. Studies on gene expression analysis of ovarian cancer showed that IFITM1 was the most promising new molecular marker [4].
Experiments show that [5] IFITM1 mRNA is overexpressed in both early and late stages of murine and human intestinal tumors. In humans, its mechanism is activated by Wnt/β-catenin signaling pathway, and IFITM1 is a candidate target gene. It can be used as a genetic marker for clinical diagnosis of colorectal cancer.
Transmembrane Protein Gp41
AIDS is an acquired immune deficiency syndrome (AIDS) caused by human immune deficiency virus (HIV) infection. Early diagnosis of AIDS allows patients to be treated early and prevents further spread of HIV. High purity specific HIV antigen is necessary for the development of HIV diagnostic kit. The transmembrane protein Gp41 is a key protein in the fusion process between the HIV-1 envelope and the target cell membrane. Gp41 is exposed to the surface of HIV and is the dominant epitope for inducing antibodies in the body. It is therefore the preferred target for HIV antibody detection and an epitope for protein vaccine development [6] [7].
Gp41, with a conserved sequence and no homology with human proteins, is considered to be an ideal target for HIV-1 fusion inhibitors. Currently, the developed peptides hiv-1 fusion inhibitor Fuzeon (enfuvirtide, T-20) targeting Gp41 has been approved by FDA, which is the first and the only anti-HIV-l fusion inhibitor applied in clinical practice.
Transmembrane 4 superfamily
The four-pass transmembrane protein is a protein that can be linked to intramembrane-transmembrane and extramembranous proteins, and plays the role of connecting biological signals inside and outside the membrane. CD151 is one of the important members of the four-transmembrane protein superfamily, which has been confirmed to play an important role in the invasion and metastasis of liver cancer, and the overexpression of CD151 can promote the invasion and metastasis of liver cancer [8].
Tetraspanins are evolutionarily highly conserved four-time transmembrane proteins that interact with surrounding molecules to form a broad molecular network of interactions, namely four transmembrane protein networks (TEMs). Tetraspanins are associated with the pathogenesis of malignant tumors, the immune system, and infectious diseases, so they have become potential targets for the treatment of these diseases. It is currently known that TEMs can provide access to or exit for human papillomavirus (HPV) and human immunodeficiency virus (HIV) [9] and other viruses [10] [11].
CD81, a member of the Tetraspanins family, is a four-transmembrane protein molecule with multiple biological activities. It plays a role in many different cell types, such as brain development, retinal pigment epithelial cell development and fertilization.
In addition, CD81 plays an important role in hepatitis c virus (HCV) infection, plasmodium falciparum parasitism and listeria monocyte proliferation. The results showed that [12] CD81 could provide a platform for the endocytosis triggered by HPV pseudovirus (PsV).
In Drosophila, a large transmembrane protein uninflatable (Uif) with EGF like repeats is shown to combat classical Notch signals [13].
3.2 Applied Research on Transmembrane Proteins
Membrane proteins play an important role in life sciences, but only a few of them have been studied thoroughly due to their difficulty in expression and activity in vitro. In order to maintain the hydrophobic structure and protein activity of membrane proteins, integrated membrane proteins with lipids and detergents have been studied. The integration of transmembrane proteins into vesicles for structural and functional studies is a hot topic in membrane protein research.
There are several advantages to properly integrating membrane proteins into vesicles:
Studies on transport and catalytic functions can be carried out without interference from other membrane components.
A large number of membrane proteins are integrated into the vesicles to form a crystal structure, which solves the problem that the hydrophobic membrane protein cannot form a crystal structure and a natural conformation in an aqueous solution.
In addition, scientists have demonstrated that it is now possible to accurately design complex multi-transmembrane proteins that can be expressed in cells [14]. This will make it possible for researchers to design transmembrane proteins with novel structures and functions. These proteins, like naturally occurring transmembrane proteins, can pass through the membrane multiple times and assemble into a stable multiprotein complex.
4. Transcription Factor
Transmembrane proteins are widely present in plants and play important physiological functions. In current genomic data, 20%-30% of gene products are predicted to be transmembrane proteins [15]. As a special class of proteins, transmembrane proteins have some special physical and chemical properties, which may make it difficult to study. Nevertheless, the expression of plant membrane proteins in different systems (e.g., yeast, insect cells, etc.) has been successfully used to study the transport activities of ions and solute transporters in cells.
Currently, there are five main expression systems: E. coli expression system, yeast expression system, insect cell expression system, mammalian cell expression system and cell-free protein expression system.
The cell-free protein expression system is particularly suitable for the expression of transmembrane proteins and toxic proteins. In recent years, proteins that are difficult to express by conventional intracellular means have been successfully expressed in cells in vitro [16] [17] [18].
The cell-free protein expression system is also known as the in vitro translation system. The cell-free protein synthesis system is a rapid and efficient method for synthesizing target proteins by supplementing various substrates and energy substances required for transcription and translation in the enzyme system of cell extracts. In recent years, the advantages of cell-free protein expression systems in the expression of complex proteins, toxic proteins and membrane proteins have gradually emerged, demonstrating their potential applications in the biopharmaceutical field.
Cell-free technology can easily and controllably add a variety of unnatural amino acids to achieve complex modification processes that are difficult to solve after conventional recombinant expression [19]. Cell-free protein expression systems have high application value and potential for drug delivery and vaccine development using viroid-like particle VLPs. A large number of membrane proteins have been successfully expressed in cells free.
CUSABIO's cell-free expression platform can provide you with complete technical services. It can solve specific problems related to protein expression, such as low protein yield, expression of special proteins (such as membrane proteins, toxic proteins, etc.), protein complexes production, parallel synthesis of many different proteins. We have successfully expressed many transmembrane proteins, please refer to the specific content:
https://www.cusabio.com/protein_service/In_vitro_E.coli_Expression_System.html
There are some features of cell-free protein expression systems as follows:
Compared with the traditional protein expression system, many processes are omitted, such as transformation of plasmids, cell culture, collection, crushing and centrifugation etc., which greatly improves the working efficiency.
The reaction system is small and can simultaneously parallel synthesizing many different proteins.
Short reaction cycles, meeting the scientific requirements for high-throughput ligand screening and proteomics.
The open reaction system is more easy change the reaction conditions and is conducive to the regulation of gene transcription, protein synthesis and post-translational modifications, and avoids the formation of inclusion bodies.
Stable reaction system, can be coupled with other processes to form automated, procedural, and scale production and accelerate the purification, functional characterization and subsequent structural analysis of recombinant proteins.
No cell structures restriction, can be used to produce exogenous proteins that are toxic to the host as it seeks to avoid the lethal effect of protein expression on host cells.
Add unnatural amino acids or isotopically labeled amino acids to express specific proteins.
Significant improvements have been made in items that have difficulty to express in common cell lines due to multiple transmembrane or hydrophobic conditions.
For more details, please see the article: https://www.cusabio.com/catalog-54-1.html
Based on these advantages, CUSABIO can express 36000+ multiple transmembrane proteins, mainly including:
G-protein-coupled receptors (GPCR).
Aquaporin (AQP).
Ion channel.
ATP-Binding Cassette (ABC).
Human leucocyte antigen (HLA).
Others.
Product applications include: Antibody production; protein crystallization; immunoprecipitation; receptor-ligand interaction studies; mass spectrometry; NMR; protein array construction.
References
[1] Cui S, Huang F, Wang J, et al. A proteomic analysis of cold stress responses in rice seedlings [J]. Proteomics, 2005, 5(12): 3162-3172.
[2] Deblandre G A, Marinx O P, Evans S S, et al. Expression Cloning of an Interferon-inducible 17-kDa Membrane Protein Implicated in the Control of Cell Growth [J]. Journal of Biological Chemistry, 1995, 270(40): 23860-23866.
[3] Yu J, Li M, Wilkins J, et al. IFITM Proteins Restrict HIV-1 Infection by Antagonizing the Envelope Glycoprotein [J]. Cell Reports, 2015, 13(1): 145-156.
[4] Maria Rosa Bani. Gene expression correlating with response to paclitaxel in ovarian carcinoma xenografts [J]. Molecular Cancer Therapeutics, 2004, 3(2): 111-121.
[5] Andreu P, Colnot S, Godard C, et al. Identification of the IFITM family as a new molecular marker in human colorectal tumors [J]. Cancer Research, 2006, 66(4): 1949.
[6] Huang X, Xu J, Qiu C, et al. Mucosal priming with PEI/DNA complex and systemic boosting with recombinant TianTan vaccinia stimulate vigorous mucosal and systemic immune responses [J]. Vaccine, 2007, 25(14): 0-2629.
[7] Keenan P A, Keenan J M, Branson B M. Rapid HIV testing. Wait time reduced from days to minutes [J]. Postgraduate Medicine, 2005, 117(3): 47-52.
[8] Ai-Wu K, Guo-Ming S, Jian Z, et al. CD151 amplifies signaling by integrin α6β1 to PI3K and induces the epithelial-mesenchymal transition in HCC cells [J]. Gastroenterology, 2011, 140(5): 1629-1641.e15.
[9] Krementsov D N, Rassam P, Margeat E, et al. HIV-1 Assembly Differentially Alters Dynamics and Partitioning of Tetraspanins and Raft Components [J]. Traffic, 2010, 11(11): 1401-1414.
[10] Spriel A B V, Figdor C G. The role of tetraspanins in the pathogenesis of infectious diseases [J]. Microbes & Infection, 2010, 12(2): 106-112.
[11] Monk P N, Partridge L J. Tetraspanins - Gateways for Infection [J]. Infectious Disorders - Drug Targets, 2012, 12(1):-.
[12] Homsi Y, Schloetel J G, Scheffer K, et al. The Extracellular δ-Domain is Essential for the Formation of CD81 Tetraspanin Webs [J]. Biophysical Journal, 2014, 107(1): 100-113.
[13] Krogh A, Larsson B, Heijne G V, et al. Predicting transmembrane protein topology with a hidden markov model: application to complete genomes [J]. Journal of Molecular Biology, 2001, 305(3): 0-580.
[14] Peilong Lu, Duyoung Min, Frank DiMaio, et al. Accurate computational design of multipass transmembrane proteins. Science, 2018, 359(6379): 1042-1046.
[15] Xie G, Zhang H, Du G, et al. Uif, a Large Transmembrane Protein with EGF-Like Repeats, Can Antagonize Notch Signaling in Drosophila [J]. PLOS ONE, 2012, 7.
[16] Goerke A R, Swartz J R. Development of cell-free protein synthesis platforms for disulfide bonded proteins [J]. Biotechnology and bioengineering, 2008, 99(2): 351-367.
[17] Kanter G, Yang J, Voloshin A, et al. Cell-free production of scFv fusion proteins: An efficient approach for personalized lymphoma vaccines [J]. Blood, 2007, 109(8): 3393-3399.
[18] Yang J, Kanter G, Voloshin A, et al. Rapid expression of vaccine proteins for B-cell lymphoma in a cell-free system [J]. Biotechnology & Bioengineering, 2010, 89(5): 503-511.
[19] Jennings G T, Bachmann M F. The coming of age of virus-like particle vaccines [J]. Biological Chemistry, 2008, 389(5).