Lung cancer is the leading cause of cancer deaths in both men and women in the U.S. and worldwide. It claims more lives each year than do colon, prostate, ovarian and breast cancers combined, and the cause of lung cancer is still not completely clear. For this reason, the pathogenesis and treatment of lung cancer has always been the focus of research by researchers. Here, combining with the latest research data, we discuss the lung cancer from six aspects as follows:
1. What is Lung Cancer?
Lung cancer is a malignant tumor that begins in the lungs. Our lungs are two spongy organs in your chest that take in oxygen when you inhale and release carbon dioxide when you exhale. Clinically, lung cancer, also called primary bronchogenic carcinoma, is a type of cancer that originates in the bronchi and alveoli. As the figure 1 shows: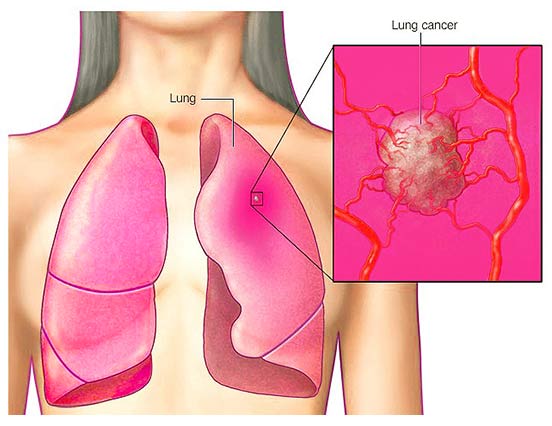 Figure 1. Lung cancer begins in the cells of your lungs
2. Symptoms
The clinical symptoms of lung cancer are very complex. Actually, lung cancer typically doesn't cause signs and symptoms in its earliest stages. Signs and symptoms of lung cancer typically occur only when the disease is advanced.
Generally speaking, the symptoms of lung cancer include cough, blood in the sputum, chest pain, hoarseness, shortness of breath and fever.
2.1 Cough
Cough is the most common symptom, which accounts for 35% to 75% in the lung cancer patients as the first symptom. Cough mainly manifests as repeated irritating cough, dry cough without sputum or only a small amount of white foamy sputum, and general cough medicine is difficult to control.
If the tumor grows in the thin bronchial mucosa below the segment, the cough is not obvious. But for patients with smoking or chronic bronchitis, if the degree of cough is aggravated, the frequency is changed, and the cough properties change, such as high-pitched metal tones, especially in the elderly, the possibility of lung cancer is highly alert.
2.2 Blood in The Sputum
Blood or hemoptysis in the sputum is also a common symptom of lung cancer, which accounts for about 30% of the first symptoms. Due to the rich blood supply of the tumor tissue, the blood vessels rupture and cause bleeding during the cough. Moreover, the hemoptysis may also be caused by local necrosis or vasculitis. The hemoptysis of lung cancer is characterized by discontinuity or persistence.
2.3 Chest Pain
About 25% of patients with lung cancer who have chest pain as the first symptom. Chest pain often manifests as irregular pain or dull pain in the chest. In most cases, chest pain is caused by infection or tumor invasion of the chest wall.
2.4 Hoarseness
Hoarseness is the most important and dangerous signs of the lung cancer. It indicates that cancer is advanced.
5% to 18% of lung cancer patients who have hoarseness as the first complaint. They usually accompany by cough. Vocal sputum generally suggests a direct mediastinal invasion or lymph node enlargement involving the ipsilateral recurrent laryngeal nerve leading to left vocal cord paralysis. Vocal cord paralysis can also cause upper airway obstruction.
2.5 Shortness of Breath
Shortness of breath is usually caused by pleural effusion caused by tumor obstruction of the trachea or tumor.
2.6 Fever
The fever is usually around 38℃, mostly in the afternoon and evening. If anti-infective treatment is used, the body temperature will drop, but it may have a fever again soon.
3. The Types of Lung Cancer
Lung cancer can occur in any lung of both lungs, but the right lung is more than the left lung, the upper lobe is more than the lower lobe, the middle lobe is the least, and the upper lobe is the most.
Clinically, lung cancer is mainly divided into non-small cell lung cancer (NSCLC) and small cell lung cancer (SCLC). And non-small cell lung cancer accounts for about 85% of lung cancer.
The proliferation and expansion of NSCLC and SCLC are completely different, and the treatment measures are different.
3.1 The Feature of NSCLC
Based on different cell morphology, NSCLC can be divided into three subtypes, including adenocarcinoma, squamous cell carcinoma and large cell carcinoma.
3.1.1 Adenocarcinoma
Adenocarcinoma, among the three subtypes, accounts for 40% of all lung cancer types, accounting for about 55% of non-small cell lung cancer. The tumors often occupy a place in the surrounding area of the lungs.
In this subtype of NSCLC, the more common mutant genes are EGFR, ALK, c-Met, ROS1, HER2, KRAS, etc., and are currently the most targeted cancer drugs. The drugs that can be used for EGFR gene mutation include gefitinib, erlotinib, and ectinib; the target drugs for ALK mutation include crizotinib, ceritinib, and erlotinib.
3.1.2 Squamous Cell Carcinoma
Squamous cell carcinoma is a common subtype of smoking. It is more common in male patients, often originates from a larger airway. Therefore it tends to occupy a central position in the lungs.
In the United States, squamous cell carcinoma accounts for about 25% to 30% of the total number of lung cancers, including papillary squamous cell carcinoma, clear cell squamous cell carcinoma, small cell squamous cell carcinoma, and basal squamous cell carcinoma.
In this subtype of NSCLC, common gene mutations include FGFR1, STK11, SOX, PIK3CA, DDR2, PDGFRA, MDM2, etc. Targeted drugs for squamous cell carcinoma are still in clinical stage.
3.1.3 Large cell Carcinoma
Large cell carcinoma accounts for about 10%-15% of NSCLC, including four subtypes, clear cell large cell carcinoma, basal cell-like large cell carcinoma, pulmonary lymphoepithelial neoplasia, and lung large cell neuroendocrine carcinoma.
It appears as a highly undifferentiated or immature large cell through the microscope, and can occupy any part of the lungs without the tendency to be surrounded or centered. Currently, there is no particularly effective targeted drug for large cell lung cancer.
3.2 The Feature of SCLC
SCLC can observe very small cells under the microscope, and the shape of the cells is spindle-shaped or polygonal. It accounts for about 15% of the total number of lung cancers and has a high degree of malignancy and limited treatment.
Currently, there are no approved targeted drugs, and it has a good response to chemotherapy and radiotherapy. The occurrence of small cell lung cancer is closely related to smoking, and only 1% of small cell lung cancer has nothing to do with smoking.
It grows and spreads faster than non-small lung cancer, and tends to metastasize early in the disease. Most patients have already metastasized at the time of diagnosis. In addition, small cell lung cancer tends to occupy a large airway, so it is generally located in the center of the lung.
4. Related Signaling Pathways
Although the pathogenesis mechanism of lung cancer is still not completely clear, we refer to the research data and pathway from KEGG and summarize several lung cancer related signaling pathways.
References
[1] De Marco C, Laudanna C, et al. Specific gene expression signatures induced by the multiple oncogenic alterations that occur within the PTEN/PI3K/AKT pathway in lung cancer [J]. PLoS One.2017, 12(6).
[2] Fan J, Bao Y, et al. Mechanism of modulation through PI3K-AKT pathway about Nepeta cataria L.'s extract in non-small cell lung cancer [J]. Oncotarget. 2017, 8(19):31395-31405.
[3] Jin X, Luan H, et al. Netrin?1 interference potentiates epithelial?to?mesenchymal transition through the PI3K/AKT pathway under the hypoxic microenvironment conditions of non?small cell lung cancer [J]. Int J Oncol.2019, 54(4):1457-1465.
[4] Pikor LA, Lockwood WW, et al. YEATS4 is a novel oncogene amplified in non-small cell lung cancer that regulates the p53 pathway [J]. Cancer Res.2013, 73(24):7301-12.
[5] Sun Y, Cao L, et al. WDR79 promotes the proliferation of non-small cell lung cancer cells via USP7-mediated regulation of the Mdm2-p53 pathway [J]. Cell Death Dis. 2017, 8(4):e2743.
[6] Xing Y, Liu Y, et al. TNFAIP8 promotes the proliferation and cisplatin chemoresistance of non-small cell lung cancer through MDM2/p53 pathway [J]. Cell Commun Signal. 2018, 16(1):43.
[7] Okimoto RA, Lin L, et al. Preclinical efficacy of a RAF inhibitor that evades paradoxical MAPK pathway activation in protein kinase BRAF-mutant lung cancer [J]. Proc Natl Acad Sci U S A. 2016, 113(47):13456-13461.
[8] Bhardwaj V, Mandal AKA. Next-Generation Sequencing Reveals the Role of Epigallocatechin-3-Gallate in Regulating Putative Novel and Known microRNAs Which Target the MAPK Pathway in Non-Small-Cell Lung Cancer A549 Cells [J]. Molecules. 2019, Jan, 24, 2.
[9] Wagner AH, Devarakonda S, et al. Recurrent WNT pathway alterations are frequent in relapsed small cell lung cancer [J]. Nat Commun. 2018, Sep 17;9(1):3787.