The phosphatidylinositol 3'-kinase (PI3K)-Akt signaling pathway is an intracellular signal transduction pathway important in regulating metabolism, proliferation, cell survival, growth and angiogenesis and is activated by many types of cellular stimuli or toxic insults. This is mediated through serine/threonine phosphorylation of a range of downstream substrates. Key proteins involved are phosphatidylinositol 3-kinase (PI3K) and Akt. In recent years, it has been shown that PI3K/Akt signaling pathway, involved in the above and other processes, are frequently disturbed in many human cancers. In this article, we introduce the relationship between the classical signal transduction pathway and cancer from following aspects, including activated mechanism, key regulators, characteristic of PI3K-Akt signaling pathway, cancer treatment and latest researches.
1. The history of PI3K-Akt signaling pathway
The origins of Akt research can back to the discovery by Staal and co-workers in 1977, which is a previously undescribed oncogene in a virus termed ATK8, and this cell-derived oncogenic sequence were isolated and named Akt. In 1991, three different research teams identified genes corresponding to Akt. These three cloning papers established Akt as a novel phospho-protein kinase that was widely expressed, and paved the way for future experiments into the role of Akt in diverse cellular processes. An enzyme termed phosphatidylinositol 3-kinase (PI3K) had been isolated in 1990 by Cantley's team. In 1995 Richard Roth and his partners reported that Akt was activated by insulin. Then, several researches suggested that membrane phospholipids generated by PI3K were an integral element required for Akt activation[1].
2. The mechanism of PI3K-Akt signaling pathway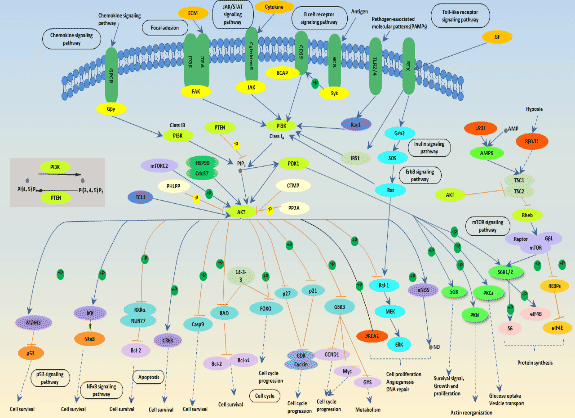 Fig.1 The picture of PI3K-Akt signaling pathway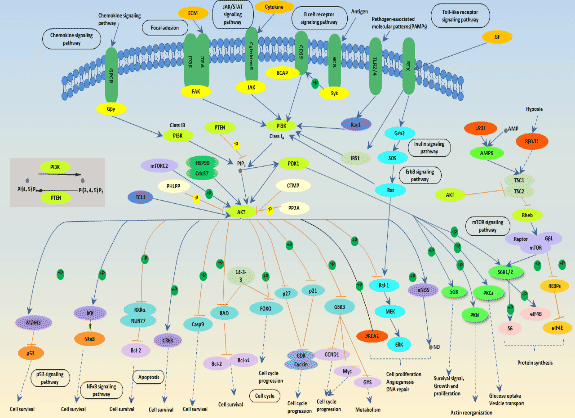 As shown in Fig. 1, activation of growth factor receptor protein tyrosine kinases including epidermal growth factor receptor (EGFR) by external growth factors results in auto-phosphorylation on tyrosine residues and subsequent events to activate these intracellular pathways. PI3K is recruited to the membrane by directly binding to phosphotyrosine consensus residues of growth factor receptors or adaptors through one or both SH2 domains in the adaptor subunit. This leads to allosteric activation of the catalytic subunit. Activation results in production of the second messenger phosphatidylinositol-3, 4, 5-trisphosphate (PIP3). The lipid product of PI3K, PIP3, recruits a subset of signaling proteins with pleckstrin homology (PH) domains to the membrane, including PDK1 and Akt. PTEN, is a PI-3, 4, 5-P3 phosphatase, which negatively regulates the PI3K/Akt pathway. Once activated, Akt mediates the activation and inhibition of several targets, resulting in cellular survival, growth and proliferation through various mechanisms[2]. If you want to view all of the signaling pathway targets, please click the following link. https://www.cusabio.com/pathway/PI3K-Akt-signaling-pathway.html
3. The key regulators of PI3K-Akt signaling pathway
PI3Ks
PI3Ks, the abbreviation of phosphatidylinositol-3 kinases, constitute a lipid kinase family characterized by their ability to phosphorylate inositol ring 30-OH group in inositol phospholipids[3]. PI3Ks family can be divided into four different classes based on primary structure, regulation, and in vitro lipid substrate specificity, including Class I, Class II, Class III, and Class IV[4]. The PI3K-Akt signaling pathway involves Class I PI3Ks. Class I PI3Ks are responsible for producing phosphatidylinositol 3-phosphate (PI(3)P), phosphatidylinositol (3,4)-bisphosphate (PI(3,4)P2), and phosphatidylinositol (3,4,5)-trisphosphate (PI(3,4,5)P3)[5]. The PI3K is activated by G protein-coupled receptors and tyrosine kinase receptors. Class-I PI3Ks, composed of a catalytic subunit (p110) and an adaptor/regulatory subunit (p85), are heterodimers. They are further divided into IA and IB subclass on sequence similarity. Class IA PI3K consists of a heterodimer-a p110 catalytic subunit and a p85 regulatory subunit, activated by receptors with protein tyrosine kinase activity (Receptor Protein Tyrosine Kinase, RPTK)[6]. And the subclass IB is composed of the regulatory p101 subunit and catalytic p110γ subunit, which is activated by receptors coupled with G proteins. The substrate for class I PI3Ks is phosphatidylinositol-4, 5-bisphosphate (PI-4, 5-P2) to generate the second messenger phosphatidylinositol-3, 4, 5-trisphosphate (PI-3, 4, 5-P3). Three isoforms of catalytic subunit p110, named a, b and c, and seven adapting protein generated by alternative splicing of three genes (p85a, p85b and p55c) are known for PI3K class IA.
Akt
Akt, also known as protein kinase B (PKB), is a serine/threonine-specific protein kinase that plays a key role in multiple cellular processes such as cell survival, cell cycle progression and cellular growth[7][8][9]. There are three isoforms of Akt, named Akt1 (PKBa), Akt2 (PKBb), and Akt3 (PKBc)[10]. Akt isoforms are overexpressed in a series of human tumors, and, at the genomic level, are amplified in gastric adenocarcinomas (Akt1), ovarian (Akt2), pancreatic (Akt2) and breast (Akt2) cancer [11]. The role of Akt3 is less clear, though it appears to be predominantly expressed in the brain. Although they are generated by different genes, they are closely related to each other, with up to 80% of amino acid homology. The three genes have differential expression-a broader expression for Akt1 and Akt2 and a more restricted expression for Akt3. Each isoform presents a plekstrin homology (PH) domain of approximately 100 amino acids in the N-terminal region. There is then the kinase domain, which is very similar to those of PKA and PKC[12][13]. In this region, phosphorylated a treonine residue (T308 in Akt1) is required for Akt activation. Following the kinase domain is a hydrophobic C-terminal tail containing a second regulatory phosphorylation site (S473 in Akt1). T308 and S473 phosphorylation occurs in response to growth factors and other extracellular stimuli, and is essential to maximal Akt activation.
4. The function of PI3K-Akt signaling pathway in the characteristic process of Cancer
As indicated by Hanahan, et al., most of genetic changes related to tumor phenotype are representative of a finite succession of physiologic disturbances, which, collectively, cause the cell to become malignant. In this part, as shown in Table 1, Akt-regulated signaling plays an outstanding role in numerous processes which are known to be characteristic of cancer.
Table 1. The function of PI3K-Akt signaling pathway in the characteristic process of Cancer
| Process | Akt Function |
| --- | --- |
| Growth signal autonomy | Akt overexpression or activation may lead to increased response to ambient levels of growth factors. |
| Insensitivity to anti-proliferative signals | Induces nuclear entry of Mdm2, which leads to inhibition of p53 regulated processes. Induces cytoplasmic localization of p21Cip/Waf1 and p27Kip, promoting proliferation. Stabilizes Cyclin D1. |
| Inhibition of apoptosis | Inactivates the proapoptotic factors Bad and Procaspase-9. Activates IKK, activating the transcription of NF-κB regulated antiapoptotic genes. Inactivates Forkhead family transcription factors, inhibiting proapoptotic gene expression, such as Fas ligand. |
| Unlimited replicative potential | Increases telomerase activity by phosphorylation of hTERT. |
| Angiogenesis | Pomotes angiogenesis through eNOS activation. |
| Invasion and metastasis | Contributes to invasiveness by inhibiting anoikis and stimulating MMP secretion. |
*the content of Table 1 refers to the study by Juan Angel Fresno Vara team[2].
5. The PI3K-Akt signaling pathway, as a target for cancer treatment
There are numerous abnormal mutations of the PI3K/AKT pathway in human cancers, including loss of the lipid phosphatases PTEN and INPP4B, as well as mutation and amplification of the genes encoding the PI3K catalytic subunits p110α (PIK3CA) and p110β (PIK3CB), et al.[14][15]. In recent clinic cancer treatment, several drugs targeting the PI3K/AKT pathway have been developed and are currently in clinical trials in different phases of clinical development, such as PI3K Inhibitors, Isoform-Specific PI3K Inhibitors, Dual PI3K/mTOR Inhibitors, Mtor inhibitors, and so on. Among of them, PI3K inhibitors are more effective, as shown in the Table 2, there are a part drugs of targeting PI3K/Akt in clinical development[16][17][18].
Table 2. A part Drugs of Targeting PI3K/Akt in Clinical Development
| Target | Drug | Phase of Development |
| --- | --- | --- |
| PI3K | Buparlisib (BKM120) | Phase 3 |
| PI3K (p110α) | Taselisib (GDC0032) | Phase 3 |
| PI3K (p110δ) | Idelalisib (CAL-101) | Phase 3 |
| PI3K/mTOR | BEZ235 | Phase 2 |
| PDK1 | UCN-01 (Kyowa Hakko Kogyo) | Phase I/II |
| EGFR | MC-C225 cetuximab (Erbitux; Imclone) | Phase III |
| Ras | R115777 (Johnson and Johnson) | Phase II/III |
Multiple phase I, II, and III clinical trials are evaluating the role of PI3K pathway inhibitors, alone or in combination, in both solid tumors and hematologic malignancies. In summary, despite early signals of clinical activity, several challenges for the therapeutic targeting of PI3K/AKT remain. Many of the effects of the new-targeted anticancer drugs have mechanistic connections with the PI3K/Akt pathway, and therefore a better understanding of this essential crossroad Akt signaling and cancer can help to fully exploit the potential benefits of these new drugs.
6. The latest researches of the PI3K-Akt signaling pathway
#1 Yang YF, Zhang MF, et al. demonstrated that SPAG5 interacts with CEP55 and exerts oncogenic activities via PI3K/AKT pathway in hepatocellular carcinoma. The newly identified miR-363 3p/SPAG5/CEP55 axis may represent a potential therapeutic target for the clinical intervention of HCC. Please click here to view the article.
#2 Hsu AH's team revealed that crosstalk between PKCα and PI3K/AKT signaling is tumor suppressive in the endometrium. The study pointed to PKCα as a crucial tumor suppressor in the endometrium, with deregulation of a PKCα→PP2A/PP2A-like phosphatase signaling axis contributing to robust AKT activation and enhanced endometrial tumorigenesis. Please click here to view the article.
#3 Ruiz-Saenz A, Dreyer C, et al. reported that HER2 amplification in tumors activates PI3K/Akt signaling independent of HER3. The data of the study shows that progressive functional gains by HER2 can increase its repertoire of activities such as the activation of PI3K and overcome its dependency on HER3. Please click here to view the article.
References
[1] Brazil D P, Hemmings B A. Ten years of protein kinase B signalling: a hard Akt to follow [J]. Trends in biochemical sciences, 2001, 26(11): 657-664.
[2] Juan Angel Fresno Vara, Enrique Casado, et al. PI3K/Akt signalling pathway and cancer [J]. Cancer Treat Rev.2004 30(2):193-204.
[3] Leevers SJ, Vanhaesebroeck B, et al. Signalling through phosphoinositide 3-kinases: the lipids take centre stage [J]. Current Opinion in Cell Biology. 1994, 11 (2): 219–25.
[4] Okkenhaug K. Signaling by the phosphoinositide 3-kinase family in immune cells [J]. Annual Review of Immunology. 2013, 31 (2): 675–704.
[5] Fruman DA, Meyers RE, et al. Phosphoinositide kinases [J]. Annu Rev Biochem 1998, 67:481–507.
[6] Carpenter CL, Duckworth BC, et al. Purification and characterization of phosphoinositide 3-kinase from rat liver [J]. The Journal of Biological Chemistry. 1990, 265 (32): 19704–11.
[7] Chen X, Thakkar H, et al. Constitutively active Akt is an important regulator of TRAIL sensitivity in prostate cancer [J]. Oncogene 2001; 20:6073–83.
[8] Wang Q, Wang X, Hernandez A, et al. Regulation of TRAIL expression by the phosphatidylinositol 3-kinase/Akt/GSK-3 pathway in human colon cancer cells [J]. J Biol Chem. 2002; 277:36602–10.
[9] Viglietto G, Motti ML, Bruni P, et al. Cytoplasmic relocalization and inhibition of the cyclin-dependent kinase inhibitor p27Kip1 by PKB/Akt-mediated phosphorylation in breast cancer [J]. Nat Med 2002; 8:1136–44.
[10] Murthy SS, Tosolini A, Taguchi T, Testa JR. Mapping of AKT3, encoding a member of the Akt/protein kinase B family, to human and rodent chromosomes by fluorescence in situ hybridization [J]. Cytogenet Cell Genet 2000; 88:38–40.
[11] Mitsiades CS, Mitsiades N, et al. The Akt pathway: molecular targets for anti-cancer drug development [J]. Curr Cancer Drug Targets. 2004, 4 (3): 235–56.
[12] Jones PF, Jakubowicz T, et al. Molecular cloning of a second form of rac protein kinase [J]. Cell Regul. 1991, 2:1001–9.
[13] Andjelkovic M, Jones PF, et al. Developmental regulation of expression and activity of multiple forms of the Drosophila RAC protein kinase [J]. J Biol Chem. 1995, 270:4066–75.
[14] Thorpe LM, Yuzugullu H, et al. PI3K in cancer: divergent roles of isoforms, modes of activation and therapeutic targeting [15]. Nat. Rev. Cancer. 2015, 15:7–24.
[15] Ingrid A. Mayer and Carlos L. Arteaga. The PI3K/AKT Pathway as a Target for Cancer Treatment [J]. Annu. Rev. Med. 2016. 67:15.1–15.18.
[16] Singh SB, Lingham RB. Current progress on farnesyl protein transferase inhibitors [J]. Curr Opin Drug Discov Dev 2002, 5:225–44.
[17] Herbst RS. targeting the epidermal growth factor receptor in cancer therapy [J]. Expert Opin Investig Drugs. 2002, 11:837–49.
[18] Lynch DH, Yang XD. Therapeutic potential of ABX-EGF: a fully human anti-epidermal growth factor receptor monoclonal antibody for cancer treatment [J]. Semin Oncol. 2002, 29: 47–50.